Buying Judaica
This ain't your mama's seder plate
When trying to understand all the abstract and lofty notions that come along with Judaism--and parenting, for that matter--sometimes it's nice to know that there are certain things money can buy. Filling your home with a few essential items is a simple way to embrace Jewish traditions while offering a jumping off point to teach your children about their background. And plus, some of these items are real lookers. Here's a list of Judaica that we at Kveller find just awesome enough to earn a spot in our readers' homes. Happy shopping!
Mezuzah
A mezuzah is a small scroll inscribed with verses from the Torah that is enclosed in a decorative case. It is customary to hang a mezuzah on the doorpost of every room in a house to mark a family's commitment to creating a Jewish household. Plenty of people choose to only hang a mezuzah on their front door, too.
These days, there are plenty of truly beautiful mezuzot (plural of mezuzah) for sale in stores and online. The Jewish Museum Shop offers a great variety, like this darling polka dot mezuzah ($48). Another good place to look is Etsy.com, where shop owners sell their unique handmade items. Check out Emily Rosenfeld's Etsy shop for one of a kind mezuzot like this pewter dove and olive branch ($36) that will complete any doorpost.
Keep in mind, mezuzah scrolls are usually sold separately, and can be found at most stores and websites that sell Judaica.
Kiddush Cup
Shabbat officially begins at sundown on Friday night and includes the kiddush ceremony. The kiddush cup is filled with wine and a prayer is recited. Even if you don't plan to observe Shabbat every week, a kiddush cup can be a lovely addition to your dining room table.
If you want a more traditional kiddush cup, you can't go wrong with a sterling silver cup from Jewish Bazaar ($30). This one even comes with a snazzy velvet box, and you can never have too many snazzy velvet boxes.
For those looking to spruce up the cup, Modern Tribe has a great pewter branch kiddush cup ($56) that won't resemble anything your grandmother owns but will look stylish on your table any day of the week. Also check out the matching candlestick holders to complete the look. If Israeli artwork is more your thing, check out this colorful hand-painted wooden kiddush cup ($61) from Zara Mart.
Candlestick Holders
Nearly every Jewish holiday involves candle lighting in some way. Commonly, two candles are lit to begin Shabbat while a blessing is recited.
Luckily for you, while there are many Shabbat-specific candlestick holders available, any candlestick holder will do, so you're free to find a pair that will go perfectly with your décor. Anthropologie has some wonderful vintage-inspired candlestick holders that you can even mix and match (Analiese Taper Holder, Orange $24, Analiese Tape Holder, Gold Leaves $24).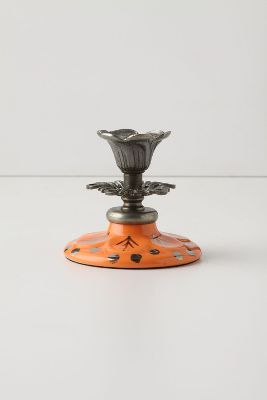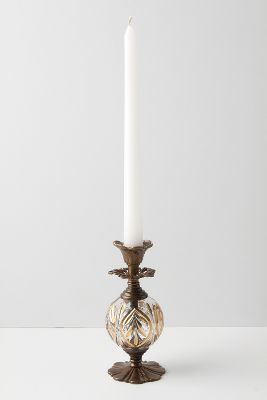 Or, if you're feeling spendy, Gallery Judaica has a chic set of modern candlestick holders ($630) that will lighten any Shabbat dinner (and your wallet at the same time).
Menorah
A menorah (or, if you want to get technical, a hanukkiyah) is the nine-branched candelabrum used in the celebration of Hanukkah. A new candle is lit each night of Hanukkah, with the ninth spot reserved for the shamash, the candle used to light the others.
Children love to participate in Hanukkah because of all the exciting rituals involved. Presents! Chocolate! Start your youngster off early with this fun plush menorah ($14.95) from Modern Tribe or get biblical with this cute Noah's Ark menorah ($43) from Zion Judaica.
For those of us old enough to play with fire, there are enough tempting menorahs out there for every night of Hanukkah, and then some. This elegant olive branch menorah ($210) from The Jewish Museum Shop conjures up peace and harmony and all those other fuzzy holiday feelings. Be warned, though, this one isn't technically "kosher" for Hanukkah--the eight candles are supposed to be in a row--but if you're not a stickler for such things, it sure is pretty. If you like doing things the old fashioned way, this matchstick menorah ($240) from Unica Home actually uses oil candles, just like our pals, the Maccabees.
Tzedakah Box
Tzedakah (translated loosely as "charity") is one of the fundamental tenets of Judaism. Having a specially designated tzedakah box in your home is a great way for you and your children to make a ritual of offering spare change to those less fortunate. Leave the tzedakah box in a common area and when the time comes, choose a cause that you and your family feel good about contributing to.
Kolbo Fine Judaica offers this charming tzedakah box ($145) that reminds of the importance of home and shelter. A simple wood box ($71.95) from Traditions Jewish Gifts also gets the job done.
Seder Plate
The seder plate is the centerpiece of the Passover table. It is filled with five or six items that have come to represent different parts of the Passover story, including haroset (a mixture of fruit, wine, and nuts), a roasted egg, and bitter herbs.
While nobody is actually eating off this plate, you may still want a stylish seder. Modern Tribe comes through once again with a number of aestheticaly pleasing plates, like this pleasant bird-inspired seder plate ($49) and this uniquely shaped plate ($129) from an Israeli designer.
And for all the bookworms out there, you'll be happy to know that Passover is largely about reading from the Haggadah, the book containing the passages and instructions to be used during the seder. What better way to honor this tradition than a book-shaped seder plate ($235) from The Spertus Institute Shop.