Giving birth, regardless of how it happens, is not an easy time. Really, it's one of the most taxing and beautiful and scary things that a mom's body endures. This is why we want to make you laugh and cry and laugh again with these 11 classic, amazing, kind of terrible and definitely hilarious birthing scenes from Hollywood.
Here they are below:
1. Baby Mama (Youtube)
Amy Poehler totally nails it hysterically when she demands drugs and describes labor as "s–tting a knife."
2. Knocked Up (Youtube)
The image of Katherine Heigl with her legs up is something many moms know–and well, you'll never forget it.
3. Nine Months (Youtube)
Julianne Moore does movie magic and shows us how amazing an actress she is during her iconic ranting epidural scene–while Joan Cusack's "you did this to me!!!" outburst is so real. Very accurate.
4. What to Expect When You're Expecting (Youtube)
These births scenes (hi Elizabeth Banks, hi Cameron Diaz) are hilarious, and the male partners' absurd reactions are worth the laugh.
5. Star Wars: Revenge of the Sith (Youtube)
This is such a sad scene, because Padme dies–which is definitely not a hilarious or exciting birth scene by any means, but a reminder that birth is actually pretty scary. Plus, Natalie Portman in Star Wars is not something to miss.
6. The Back-Up Plan  (Youtube)
Melissa McCarthy's water birth is definitely not sugar coated, unlike many movies that depict birth as being over and done in two minutes.
7.  Father of the Bride Part II (Youtube)
OK, yes, this is one of those birth scenes that is completely unreal and totally fairy tale worthy. But how can you not love Martin Short and Steve Martin team up to help deliver babies?
8. Friends (Netflix)
https://youtu.be/oaT9QEdI-Ds
While this isn't an accurate display of birth at all (she gives birth to triplets like it's easy-peasy, NBD), we still love Friends too much not to include it. It definitely makes the "worst" list when it comes to accuracy.
9. Game of Thrones (HBO)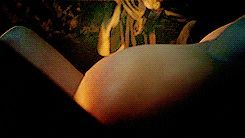 Melisandre's birth in this early episode is definitely not accurate (thankfully, no one gives birth to demon shadow babies), but it's unforgettable.
10. Children of Men (Youtube)
This sci-fi dystopia definitely explores the terror of infertility. And yet, the rarity of this birth in a world where most women aren't able to have children, is also as beautiful as it is heartbreaking.
11. She's Having a Baby (Youtube)
Also, totally unrealistic, but who doesn't want Kate Bush to show up and crash your C-section just to sing?