I must admit to doing something very shameful over the weekend: I discovered I could stream the new season of "The Bachelor" on my Roku, and stream it I did. All six hour-and-a-half-long episodes.
I used to love watching the show with friends, drinking wine and making fun of how preposterous it all was. Then I got tired of the whole "let's pit women against each other for entertainment's sake" thing and moved onto other brilliant, meaningful reality shows ("Dance Moms," anyone?). But I kept hearing intriguing tidbits about one particular contestant on this latest season, and so I succumbed to the curiosity and plunged right in, like a girl falling in love with a complete stranger in two weeks.
That contestant is Corinne.
Corinne Olympios is a 24-year-old Jewish and Greek business owner from Miami, currently running a multi-million dollar company that was started by her family. She's made headlines as the "crazy one," which says a lot considering one of the women actually showed up to the mansion on the very first night dressed in a shark costume that she insisted was a dolphin. So why is Corinne getting a bad rap?
Well, she has a nanny–not for her kids, of which she doesn't have any–but for herself. This nanny does her laundry, makes her food, and presumably handles any other adult tasks that Corinne simply doesn't have the time to learn to do herself. Corinne is also the one who took off her bathing suit top on the very first group date. She's the one who slept through an entire rose ceremony. She's the one who goes out of her way to pick fights with the other girls. She's the one who said, "Make America Corinne Again."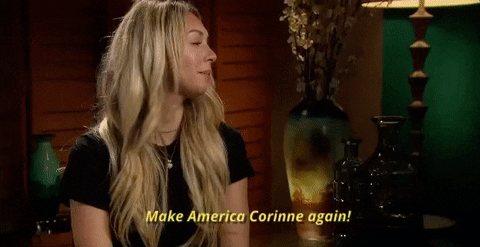 All of which is to say that when I saw a surprisingly sentimental Instagram post that Corinne recently shared, I was caught off guard. On Saturday, Corinne posted an image of herself praying at the Western Wall in Jerusalem, with a caption citing a recent tragedy her grandparents were involved in.
In the caption, Corinne explained that her paternal set of grandparents were in the hospital after suffering a terrible accident and reminds her followers to not let "life's antics get in the way of what is really important because you never know what can happen in the blink of an eye." Could it be that Corinne is not all drama and shenanigans but a living, breathing person with a heart and family and feelings? Is it possible that ABC has only shown us one side of Corinne in order to help their (gasp!) ratings? Will we get to know Corinne on a deeper level as she continues to woo the bachelor and quench America's insatiable thirst for watching seemingly successful ladies fight over a dude named Nick?
Only time will tell!