Allergies can be absolutely terrifying, especially when your kid has allergies. In recent years, it's been proven that giving kids a small amount of peanuts when they are young could actually counteract allergies. One mom event wrote a piece in the New York Times about how giving her kid Bamba, a popular Israeli snack, helps.
As we previously noted, there was some science backing up this claim:
"Pediatric allergy specialist Gideon Lack came across a peculiar find regarding allergies: Israeli Jews were less likely to have peanut allergies than their British peers. So, he did what all good scientists do–he created a study. In this case, small amounts of Bamba were fed to babies at high risk for allergies until they turned 5. He found that it reduced their risk of peanut allergies by 81 percent."
Earlier this year, the Academy of American Pediatrics (AAP) changed its guidelines, stating that babies without eczema or food allergies and who are not at increased risk should be given peanuts when they begin to eat solid foods. For babies who have eczema or an egg allergy, "peanut introduction is recommended as early as 4-6 months of age (with doctor supervision, of course)," according to Babble.
Now, there is another new study that was published in the September issue of Journal of Allergy and Clinical Immunology. It took an even earlier approach, saying that breastfeeding moms should eat peanuts, introducing their babies to the allergens early, thus, building up a tolerance. Babble, which described the study, went on to say:
"In the study, researchers monitored the diets of 545 children over a seven year period, collecting data on maternal and infant consumption of peanuts. At age 7, the kids were tested for peanut allergies and found that children whose moms ate peanuts while breastfeeding had the lowest incidence of peanut allergies. These children also were introduced to peanuts in their own diet before 12 months of age."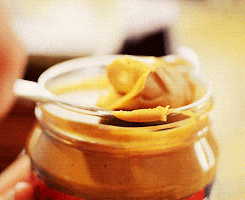 Of course, it's always important to speak with a doctor for any medical advice, but it seems like it may not be a bad idea to eat some peanut butter with apples as a snack every so often–and enjoy what many refer to as "peanut butter jelly time."