Without my encouraging or approving it, my 2.5-year-old daughter, Penrose, has developed a sense of Christmas.
"We're going in our rocket ship to Christmas!" she'll shout from inside a cardboard box. She loves to read "Angelina's Christmas," with its mice dressed as Santa Claus and Sugar Plum Fairies. I have no idea where the book even came from.
Christmas is easy to find. On top of all the usual places—Charlie Brown, The Grinch, Rudolph—there's a whole "Curious George" movie about it, which I put on, foolishly hoping that the fact of his creators' Judaism would mean there would be Jewish characters on screen. There was not a one, in fact, in a show that I usually give a lot of credit to for its inclusiveness. On the island in Maine where we live, the local pizza place is festively decked out with tiny trees and a Santa dangling alarmingly off the top of the stairs. Main Street is zig-zagged with colored lights, and soon we'll gather to sing "holiday" songs, drink hot chocolate, eat cookies, and light the town "holiday tree" (but really).
While I don't begrudge anyone their holiday spirit, and in fact enjoy all the holly-jolly-ness, I'm struggling to normalize Hanukkah for my Jewish kid. Since "Curious George" was so effective at infusing Pen with the Christmas spirit, I thought I'd try to find something for her to watch that celebrated Hanukkah in a similarly catchy way, and came up nearly blank.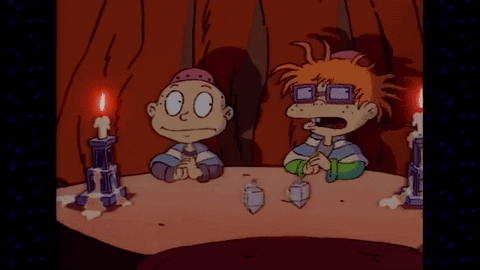 I'm not the first to do this search in vain, and everyone seems to come up with the same results: a "Peg + Cat" episode with Albert Einstein and what seems to be an allegory about a two-state solution, but with birds and squirrels; "Rugrats Hanukkah," which is only on Hulu; "Shalom Sesame," which has clips online but no full episodes; and some nice things from chabad.org. (And of course the Mr. Hanky episode of "South Park," but we're a few years away from that.) None of which are particularly mainstream in the manner of that inquisitive monkey or Charlie Brown and friends.
I know that Hanukkah only gets what commercialized hype it does to smooth the way for left-out-feeling Jewish kids, or at least that's how it was framed for me. Maybe, as my husband and I piece together our family traditions, it's enough to light the menorah, eat some latkes, tell the story of the Maccabees, and let Christmas keep the spotlight. Maybe my energy is better spent boosting Passover and the High Holidays, which have a little less competition.
While I'm figuring it out, though, and with Hanukkah and Christmas occurring simultaneously this year, I'm hoping to augment my own teachings with help from animated characters and catchy tunes. We'll read books, of course, including "The Only One Club," but I'd love to hear from anyone with a great audio visual recommendation. Bonus for including monkeys.
---
Read More:
This is What It's Like to Live with Severe Depression as a Mom
I'm Trying to Love My Pregnant Body, But These Comments Don't Help
Amy Schumer is Going to Star in a Live Action 'Barbie' Film
---