What quantifies a "good" person? Compassion? Honesty? Kindness?
According to former Sabrina the Teenage Witch star Melissa Joan Hart, 42, a good person is someone that believes in Jesus.
And if you happen to, you know, not believe in Jesus? You better look out!
On the latest episode of the "Journeys of Faith with Paula Faris" podcast, Hart shared a story about her son and a Jewish neighbor which sparked backlash from people for being anti-Semitic.
Nervous about his first day at a new school, Hart told her son that, unlike his old, Christian classroom where they knew everyone, he'd be on his own this time to decide who's good and who's bad. "We don't know if these people are good people," she said. "We don't know if they believe in Jesus."
Considering she's famous for her role as a teenage witch, it's slightly strange of Hart to judge a person's character based on their religious belief. Especially since she's walked the plank of scrutiny and faced backlash from fellow Christians.
Once he boarded the bus, Hart's 6-year-old  befriended a neighborhood kid and asked how he gets into heaven if he's Jewish. "He took the Jesus part to heart," Hart said.
The Jewish neighbor's mom and Hart decided they didn't mind their kids talking about religion, though Hart admitted on the podcast that over the years the conversations "have gotten a little more heated."
"Do I regret telling my son that we don't know if people believe in Jesus so we don't know their character?" Hart asked herself. "Did I set my son down the wrong path, or was it the right thing to say?"
Now, talking to your kids about faith and religion is never easy, but the Internet decided it wasn't the right thing to say. Headlines and Twitter users were quick to accuse Hart of casual anti-Semitism, but was it actually anti-Semitic?
The message to her son didn't exclusively target Judaism, it attacked all religions. Essentially, according to the actress, anyone that doesn't accept Jesus Christ as their savior is not a "good" person. That includes Muslims, Hindus, Buddhists, Atheists, and even Agnostics.
There's nothing "anti Semitic" about her position.

CLEARLY she questions anyone who doesn't believe in Jesus Christ, i.e. all non-believers. Some people take their religion a bit too seriously, but this hardly constitutes anti-Semitism.

Not a great way to raise a kid, though!

— Paulie's Robot 3000 (@PaulieRobot3000) January 7, 2019
Yes, technically what Hart said was anti-Semitic. But by asserting that only people who believe in Jesus are good, she rejected everyone outside the Christian faith.
On Monday, Hart commented on an old Instagram post and addressed the controversy. "I've been studying religion for the past 8 years and am learning more everyday…In the podcast I talk about how he focused in on the Jesus part and it opened up discussions with friends and neighbors that might be a [sic] tricky for children to navigate," she wrote. "I never said Christians are superior."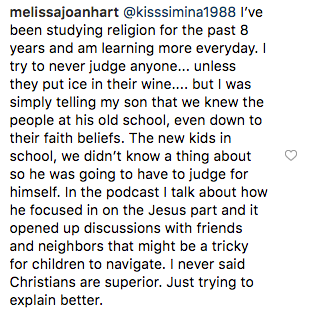 The Presbyterian and mom of three also shared her two golden rules for getting into the gates of heaven. The first: "Treat everyone as you want to be treated and be kind to your neighbor." (Amen to that!) The second: Accept Jesus as your savor. Being that the Jewish kid her son befriended was literally the Harts' neighbor, it would be in her best interest — according to her — to focus a bit more on rule #1.
Oh, and for Hart's son — or anyone who is curious: Here's a handy dandy article to answer all your questions about Judaism and heaven.