The New York Times published a remarkable piece over the weekend — "They Survived the Spanish Flu, the Depression and the Holocaust" — introducing us to Naomi Replansky, 101, and Eva Kollisch, 95. Naomi and Eva have been together since 1986, when they met at a Grace Paley reading — introduced by the iconic Jewish writer herself. Naomi is a poet and labor activist, and Eva is a scholar and writer.
Their story is one of resilience and survival — Naomi is a Jewish American, and Eva was born in Vienna and fled the Holocaust at age 13 — and we're simply in love with them. Learning about cool Jewish women is what we need right now, OK!?
Let's meet this amazing Jewish couple, shall we?
Naomi Replansky
Naomi was born to Russian Jewish immigrants in the Bronx in May 1918. She started writing poems when she was a teenager, and by her mid-teens, Naomi was published. Naomi said being Jewish is very important to her. Why? "Hitler made me a Jew," Naomi explained. "Before, I considered myself an internationalist — and maybe more involved with Black causes than with Jewish. After the Holocaust and the international abandonment of the Jews I was happy for the existence of Israel."
Naomi published her first book of poetry in 1952, Ring Song, which was nominated for a National Book Award. The poems in the collection were written from 1936 to 1952. Here's the titular poem (via Poets.org):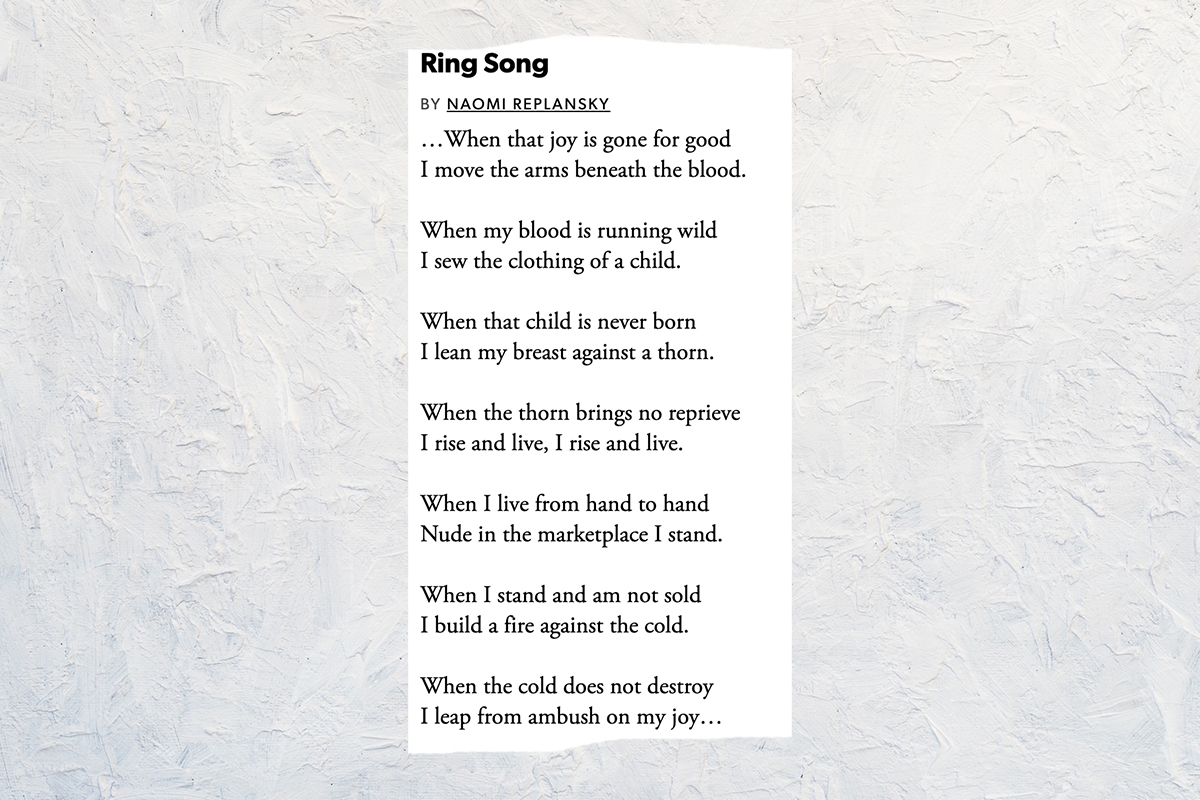 Grace Paley described her poems as "a music for which readers of poetry have been lonesome for years." She has also translated works from Yiddish and German. Naomi's books include Twenty One Poems Old and New (1988), The Dangerous World: New and Selected Poems 1934–1994 (1994)and Collected Poems (2012).
Eva Kollisch
Eva Kollisch was born in a Jewish family outside Vienna in 1926. Her mom, Margaret, was a writer, and her dad, Otto, was an architect. As the Times wrote, she "recalls being beaten by a group of children for being a 'dirty Jew' when she was 6."
In 1939, Eva fled Vienna on the Kinderstransport, a rescue mission of nearly 10,000 children to Britain. In 1940, she and her brothers went to the U.S., where they were reunited with their parents.
She attended Brooklyn College, then Columbia University, where she studied German literature and science. From the Times: "Eventually she became a professor of comparative literature at Sarah Lawrence. She married two men; she had a son with one of them; she was a lover of Susan Sontag's." Gasp!
Another gasp-worthy bio of Eva, from Women in Peace: "American poet and professor of comparative literature. Feminist lesbian peace activist; anti-Stalinist Marxist Trotskyite. Escaped Germany in Childrens' Transport, 1940. Arrested for anti-Vietnam protests. Took part in Seneca Peace demo; Women in Black vigiler." (Alert! We need a movie about her ASAP!)
Eva published two memoirs, Girl in Movement and The Ground Under My Feet, both detailing her experience as being a Jewish refugee and a Holocaust survivor. Grace Paley (again!) describes The Ground Under My Feet as "beautifully written. It has more history in it than most historians give us."
Naomi & Eva Together
Naomi and Eva were introduced by none other than — wait for it — Grace Paley in 1986. As Naomi recalled in 2000, "I was going to a reading of Grace's at Gay Women's Alternative at the Unitarian Church on 76th St. I had gone to a few lectures but didn't go regularly; I felt out of place because I was so much older. But Grace was the magnet. Eva was there, she was a close friend of Grace's from Sarah Lawrence College where they both taught. We began talking, about literature. Then Grace came along and introduced us."
"It just feels right and natural and I love Naomi, and so in a certain sense, it is very simple. But I was quite fortunate, I think, that I wasn't a lesbian, practicing, or even fantasizing too much, at a time when it was so taboo that you had to hide completely, or had to feel shame, or you had to go meet in bars," Eva said in a wide-ranging interview in 2004. "I didn't go through this period of great suffering that so many women did in the '40s and '50s, and by the 1960s, you know, it was a part of my androgyny, really, to have loved some men and to love women."
In 2016, Naomi and Eva won the 2016 Clara Lemlich Social Activist Award. Here they are talking about their lives and their work — trust us when we say it's really worth a watch:
How are they dealing with the current pandemic? With pretty much the same "fearlessness ably nurtured by misfortune" they've displayed throughout their long lives, as the Times' Ginia Bellafante calls it.
"Confinement doesn't bother me," Naomi wrote to the Times. "My shaky frame can handle more confinement." How else they're keeping calm: listening to Marian Anderson on vinyl in their Upper West Side apartment.
May we all live like Naomi and Eva, and may these two remarkable women live til 120 (or longer)!
Header Image: Naomi and Eva at the Poetry Society of America Awards in 2013.