We all love the female-driven series The Marvelous Mrs. Maisel, Amy Sherman-Palladino's show about a Jewish mom who is exploring her passions (notably as a comedian).
But the show — which took home two Golden Globe Awards this past weekend — is also attracting fans for a (perhaps) unexpected reason: the amazing fashions.
The series' central character is 26-year-old Midge Maisel, a stylish 1950s housewife. As we all know, post-War fashion was seriously on-point — and, at the time, it helped establish the image of the "modern" working woman in pursuit of the American dream.
The show uses fashion in a fantastic way. The costumes create an authentic portrayal of the time period, and illustrates Midge's emotional journey as well. As Midge deals with her husband leaving her, being a mom, and trying her hand as a standup comedian in Greenwich Village, her wardrobe changes to suit her needs.
The show's costume designer, Donna Zakowska, told Mashable how important Midge's wardrobe is to the show:
Midge's look for me was an attempt to optimistically capture the spirit of a woman, who in spite of unfortunate events continues to assert her spirit to remain on her feet. Her love of clothes, detail and color would become tools for expressing her strength and identity. [We're] reexamining the strength and complexity of colors particular to the late '50s.
Below are some of Midge's best outfits. And in case you want to snag her style — or add just a touch of retro flair to your wardrobe — we've helpfully pointed you toward some affordable pieces you can buy now. You're welcome.
1. The Iconic Pastel Dream
This outfit is absolutely stunning. Midge makes wearing color look sophisticated — and not like she fell into a vat of cotton candy. This confetti, multicolored wool coat (only $60!) is a great option to emulate the look, along with these pink leather gloves, lined with cashmere, for $55.
2. The Structured Gray Hat
If this show (and, um, Princess-to-be Meghan Markle) proves anything, it's that we need more hats in 2018. That's right — more hats! Here are some adorable, affordable options: a gray bow hat, a pink wool hat, and a mustard-colored fascinator.
3. The Navy Blue Dream Dress (And That Statement Necklace)
Avant-garde fashion is cool and all, but practicality concerns are real. Midge seems to understand this; here she demonstrates how subdued colors with the right neckline — dramatic, but not overly so — can draw attention. Navy v-neck dress, anyone? Also, that statement necklace Jane Lynch wears is amazing (here's a similarly fun option at Lord & Taylor).
4. A Green (With Envy) Coat
Midge's wool coat collection is incredible. (Can we just have them all?) You don't see green coats often — so if you want outerwear that pops, this is kind of perfect. Here's a gorgeous forest green coat, or this jewel-like gem that's available on Etsy.
5. The Sweet Neck Scarf
Another underrated accessory these days is the neck scarf. Uniqlo has a rich assortment of affordable fashion scarves, like this red floral one for $5.
6. Pencil Skirts Galore
Never underestimate the power of a pencil skirt (like this one). They really work with anything.
7. Salmon Can Be Sexy
All the colors! And that includes the underappreciated shade of salmon — which is not to be confused with pink. You, too, can have a salmon-colored sweater (which also happens to be cashmere and $60!) — or try these delightfully retro cropped pants.
8. That Striped Bow
If Midge's fashion sense has taught us anything, it's that sometimes more is more. That striped bow is perfection — and ostentatious in just the right way. But if you prefer a slightly more laid-back option, this white blouse with a black bow is a definite "do."
9. Bright Hues & Polka Dots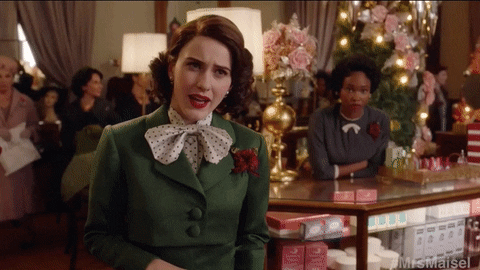 The lesson here? Colors, yes, but also: patterns. Polka dots are fun and can easily give a work outfit a little flair.  Ann Taylor has a lot of options, from coats to tights to dresses to sweaters to scarves (the most Midge-like option of all).
10. The Red Vamp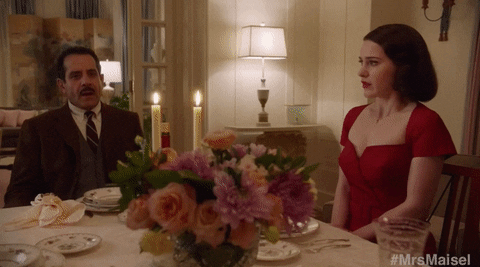 Sometimes you need to make a splash — so do as Midge does and wear a red dress. You don't even have to show a lot of skin: a flouncy, lantern-sleeve dress or a work-friendly retro number both have a subtly sexy appeal.
11. Mad for Plaid 
Plaid doesn't just have to be for schoolgirls. It can be for you — the beautiful, amazing, awesome, super smart woman. This red plaid dress is almost just like the one Midge wears.