As a child, Lara Everly knew that her grandmother, Eva, was a Holocaust survivor — but she didn't quite know much about what that meant. "My grandmother had a couple of stock PG-13 rated stories that I think she felt comfortable sharing, but it wasn't this very open conversation," the Jewish filmmaker and actress tells Kveller over Zoom.
"In the '80s, the cultural mindset was to just whitewash history in school and not upset the children," Everly recalls.
That was, until one day, when Everly was in the 4th grade and she had to dress up like a grandparent for her school — an event that is the inspiration behind her upcoming short film "Heritage Day," starring Jewish actress Rachel Bloom, which is currently raising money for post-production.
"I called my grandparents without my parents realizing it was the first time that my grandmother opened up to me, and I was blown away." Everly's grandmother, who survived Auschwitz and had a number tattooed on her arm, openly talked about her experience surviving the war in a way she never had before.
"I was like, 'this is an incredible part of history. This is what I want to talk about.' I literally tried to dress up like my grandmother for this presentation and was working on this outfit, and my parents wound up cutting me off the path. They were like, 'you cannot do this.' But I didn't understand why. To me, it was sort of my first experience of cultural erasure — I just didn't understand. If this is my family history, why can't I talk about it?"
The story remained with Everly and became one she waited years to retell — a tale of what happens "when a child personally connects with a dark part of their own family history."
Then the pandemic came, and with it, a sense of cultural reckoning and the rise of Black Lives Matter — and more people who were coming out and agreeing how important it was to retell the darkest part of our histories so that they do not repeat themselves. Everly felt it was the perfect time to finally make "Heritage Day."
It's a film gestated and created during the pandemic, helmed by a group of creative women — the film's director of photography was 8 months pregnant during the shoot.
If this story feels to you like it would lend itself to a dark, moody exploration of intergenerational trauma, you might be right, but that is not the movie Everly set up to make. Everly's specialty is "marrying a topic that is handled with kid gloves and drama and infusing a sense of fresh humor to it so we can not be so afraid of talking about it or seeing in a new light." She has made funny shorts about gun safety and reproductive rights for publications like Refinery29 and Scary Mommy. Her film "Free to Laugh" is about a group of formerly incarcerated women learning stand-up comedy.
Certainly, the film's star, Rachel Bloom, has similar sensibilities — she did bring us what is perhaps the best humorous Holocaust song, "Remember That We Suffered" — and explores the intersection between comedy and mental illness in her cult hit "Crazy Ex-Girlfriend."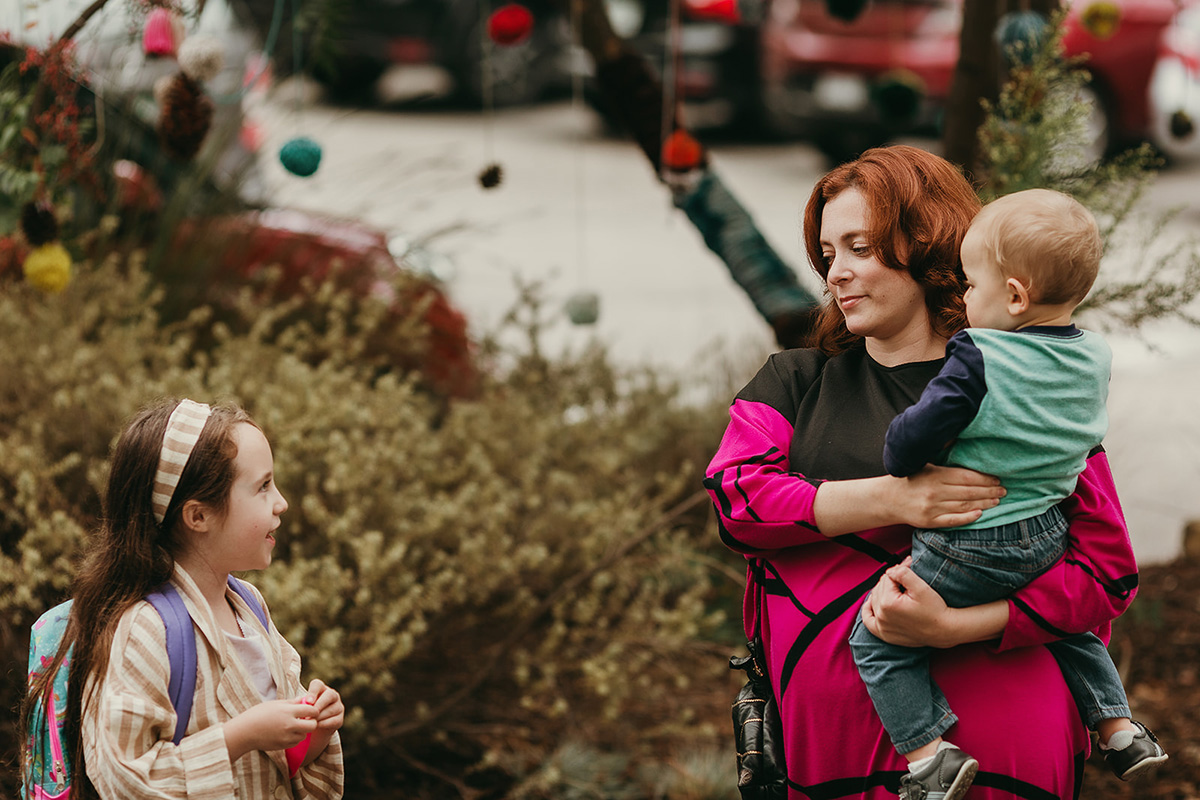 The movie stars Vivien Lyra Blair as 8-year-old Evie, a co-producer of the short — who, like Everly, calls her Holocaust survivor grandmother for her school's heritage day.
In the film, Rachel Bloom plays Evie's mom who is caught in intergenerational strife. She's estranged from her Holocaust survivor mother, "so everything that her daughter is doing by connecting to her grandmother is very triggering… she's bringing her back to this stuff that she's pushed away, with her mom," Everly explains. "And so she's torn between her own feelings as a daughter and as a mother."
For Evie, the door opened by her grandmother's story is impossible to close, and her preoccupation with her family's story of loss and survival becomes an obsession.
Unlike Everly, Evie does wind up dressing up like her grandmother for heritage day, wearing a prisoner's outfit with a felt Jewish star. She becomes obsessed with reenacting scenes from the Holocaust, processing her family's troubled past through pretend play: "I want to sleep in the attic like Anne Frank but we don't have an attic so I'm going to sleep in the garage instead," Evie tells her parents.
"I think in the 80s, everything was much more cookie-cutter — you had to fit in," Everly says. "So there's a lot of awkward comedic tension in the generational strife." Bloom's character wants so badly for her daughter to be a normal child — to act like a kid, and not to delve into these topics — that she feels like make her an outsider.
Everly says that Bloom was drawn to this role both because her husband, Dan Gregor, comes from a family of survivors and because as a new-ish Jewish mom (Bloom's daughter will be turning two this April), she could bring her own lived experience to the film.
For Everly, it was important "for the lead to cast an authentically Jewish mom because I think there's this — and Sarah Silverman is talked about this a lot — bad habit in the entertainment industry of casting not Jewish actors to play the Jewish experience."
Everly brought this same mentality to casting other roles, including that of actress Sierra Kitao, who plays the daughter of Japanese Americans incarcerated in Manzanar — she felt it was important to cast an actress who, like her character, had both Chinese and Japanese heritage.
The film ended up being a way for its star to get some surprising Holocaust education herself — she interviewed a Holocaust survivor as preparation for the role: "She reached out to this woman named Erica, who happened to be the exact age that my grandmother was, and they were both at Auschwitz, aged 13 to 17. For all I know, Erica and Eva crossed paths."
At the heart of "Heritage Day" are so many questions that are incredibly pertinent to Jewish parents: When do we talk about our kids about dark topics like antisemitism and the Holocaust? How do we share our dark histories with our children?
Like Bloom's character in the film, Everly, too, is mother to two young children, ages six and four. Her youngest son, Ever, is named after Eva. She herself is still not sure how to broach these topics with her kids.
"I'm posing questions on 'Heritage Day,' that I myself am grappling with," she says.