Ruth Bader Ginsburg is basically everyone's favorite lady. She's a revolutionary–an 83-year-old U.S. Supreme Court justice who fights for equal rights for all–and she's not afraid to call herself a feminist. When it comes to raising a feminist daughter, she has a few words of advice.
Ginsburg offered her tips in The New York Times this week in advance of her new book, "My Own Words". Here's a roundup of Ginsburg's pearls of wisdom:
1. Get your child to love reading and think for themselves. She cites her own Jewish mother as the reason why she loves reading–which is a wonderful way to becomes educated and expand your mind. She said of her mother:
"First, a mother who, by her example, made reading a delight and counseled me constantly to "be independent," able to fend for myself, whatever fortune might have in store for me."
2. Learn to love words–and writing. She credits her teachers for this (and as a former English teacher, I can't praise this enough!):
"Teachers who influenced or encouraged me in my growing-up years. At Cornell University, my professor of European literature, Vladimir Nabokov, changed the way I read and the way I write. Words could paint pictures, I learned from him. Choosing the right word, and the right word order, he illustrated, could make an enormous difference in conveying an image or an idea."
3. Learn how to tune-out. Seriously. She said her mother-in-law taught her this trick:
"Another often-asked question when I speak in public: "Do you have some good advice you might share with us?" Yes, I do. It comes from my savvy mother-in-law, advice she gave me on my wedding day. "In every good marriage," she counseled, "it helps sometimes to be a little deaf." I have followed that advice assiduously, and not only at home through 56 years of a marital partnership nonpareil. I have employed it as well in every workplace, including the Supreme Court. When a thoughtless or unkind word is spoken, best tune out. Reacting in anger or annoyance will not advance one's ability to persuade."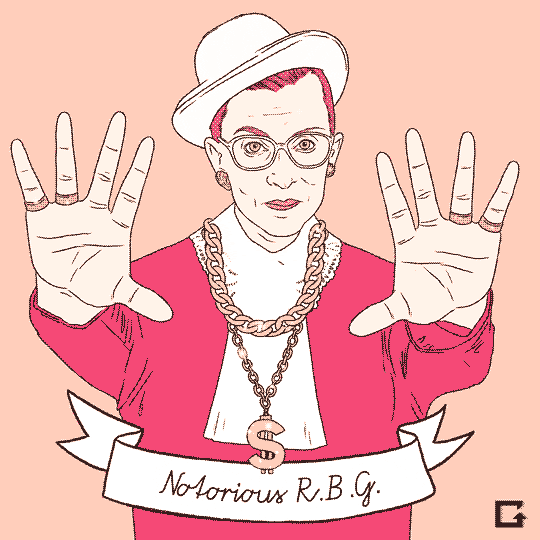 4. Having the confidence to do what you want–like balance work and motherhood. Ginsburg learned this trick from her father-in-law:
"Advice from my father-in-law has also served me well. He gave it during my gap years, 1954 to '56, when my husband, Marty, was fulfilling his obligation to the Army as an artillery officer at Fort Sill, Okla. By the end of 1954, my pregnancy was confirmed. We looked forward to becoming three in July 1955, but I worried about starting law school the next year with an infant to care for. Father's advice: "Ruth, if you don't want to start law school, you have a good reason to resist the undertaking. No one will think the less of you if you make that choice. But if you really want to study law, you will stop worrying and find a way to manage child and school." And so Marty and I did, by engaging a nanny on school days from 8 a.m. until 4 p.m."
Love Mama Ginsburg.
---
Read More:
From Embryo Adoption To Surrogacy, What Really Makes A Child Jewish?
How Can I Raise My Kid Jewish When I'm Not Religious At All?
Uterus Transplants May Change the Lives of Women Who Struggle with Infertility
---