I send emails to my friends all the time. We all do. It's fun and enlightening–clearly, a great way to keep in touch with someone. However, the whole world doesn't necessarily need to read them. But apparently, acclaimed writer Jonathan Safran Foer thought it would be a good idea to do a profile of his very close friend Natalie Portman using their own personal emails. And it gets kind of gross.
So, what's the deal? On the eves of the publication of Foer's first book in 10 years and Portman's directorial debut for the film "A Tale of Love and Darkness," T Magazine published their decade-long epistolary friendship between two people who think they're very intellectual–which it seems they really wanted the world to know about.
Trust me, I like a good talk about art for art's sake, but come on. Some of it is just insufferable. As much as I love Portman as an actress, it's hard to read this:
"We saw James Blake sing Saturday night — extreme levels of wonder…
An ex-boyfriend of mine used to call me "Moscow," because he said I was always looking out the window sadly, like "Moscow," like some Russian novel or Chekhov play. Clearly there were grounds for this ex getting fired, but he did have a point — I have that longing, yearning, it's-better-over-there tendency."
And, then of course, there's Foer:
"I keep thinking about what you had to say, a few letters back, about freedom. It's strange to have an art that's largely an instinct. People would argue that there's plenty of technique to learn, but we all know actors we love who've never studied, and actors who drive us nuts with too much technique. Acting is not like music or dance or drawing, where there is clear technique that you need to work obsessively to master, and then your individuality makes you more than just a computer who's learned a skill. You're basically trying to be un-self-conscious and use your imagination and lose yourself. Of course there are techniques to help you do these things, but oftentimes thinking about things gets in the way. So searching for freedom in that can be self-defeating. But it's a challenge I love and am thrilled by when I have a rare moment of overcoming it…"
It doesn't help that there were already rumors about the fact that Portman and Foer were perhaps more than friends (which began around the time Portman signed on to produce a film based on Foer's book "Eating Animals").
There was another rumor that Foer left his wife Nicole Krauss, also a writer, after becoming infatuated with Portman. Clearly, if that is true, the feeling wasn't mutual, as Portman didn't leave her French ballet husband Benjamin Millepied. Regardless, it's hard not to read the profile with that rumor in mind, even for the most unbiased person, especially when she often mentions Ben and her mother-in-law.  
What feels also strange to me is the fact that the profile is paired with scantily clad photos of Portman wearing expensive clothes (as the prices are included. She's wearing a Vionnet sweater for only $1,050…). Which just makes me wonder, why? Why can't we just focus on what she says (as insufferable as it may be) rather than what she's wearing, considering that doesn't seem to be the point of the interview. And if we're being equal, where's my dude-oir photo of Foer in the Kate Winslet pose from "Titanic," AKA: paint me like one of your French girls pose?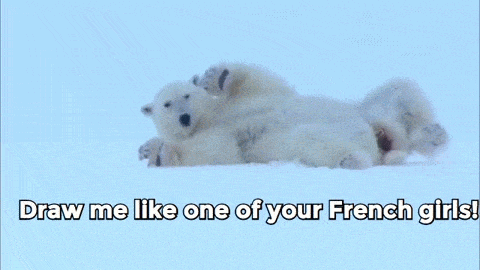 All I can say is: oy.
---
Read More:
Sheryl Sandberg Discusses Women's Silence in the Workplace
Electroconvulsive Therapy Saved My Life & Helped Me Be Myself Again
How to Help a Parent Whose Child is Suffering From Mental Illness
---