After months of civil unrest in which Israelis (and some Americans, too) protested in the streets and online against the new Israeli extreme right wing government's proposed judicial overhaul, many feel like the worst has finally come. This Monday, a law that restricts Israel's supreme court's ability to strike down laws, dubbed the " reasonableness bill," was passed at the Knesset.
In this moment which has been called by some as one of the bleakest chapters in Israeli history, Israelis and Jewish celebrities are taking to the streets and social media to share their feelings about the state of Israeli democracy. Here is what some of them had to say this week:
Alex Edelman
The comedian, who was part of the team behind the excellent "Saturday Night Seder," and whose show "Just For Us" premiered on Broadway this summer, marched, along with hundreds of American Jews and Israeli expats, across the Brooklyn Bridge. He shared a news clip about the new Israeli legislation on his Instagram stories, writing, "If you don't know what's happening, Israel is in an extremely crucial moment. Worth reading about and getting involved."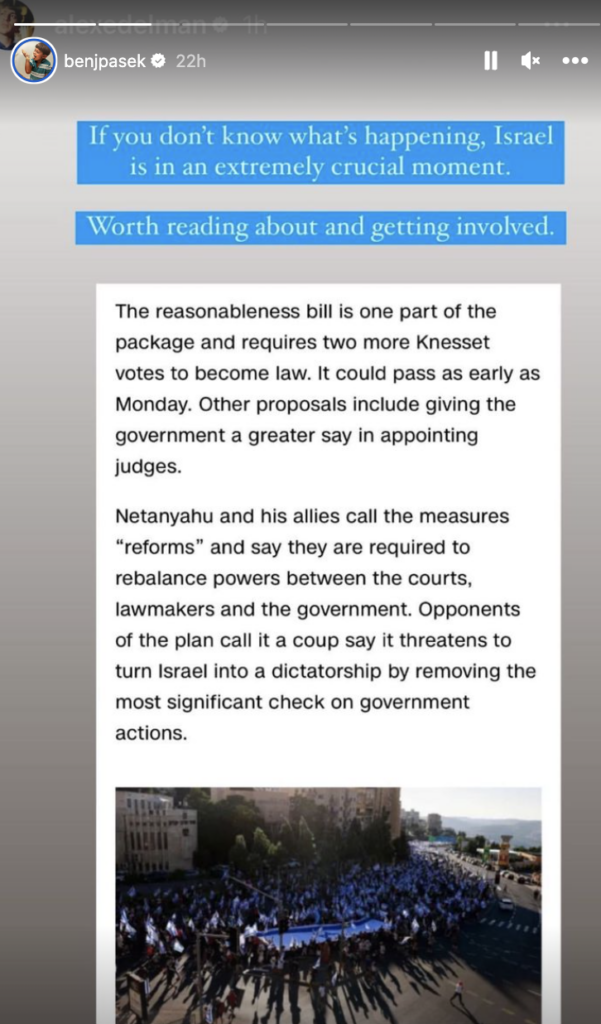 Benj Pasek
Edelman's collaborator on "Saturday Night Seder" and the lyricist behind "Dear Evan Hansen," "La La Land" and "The Greatest Showman" also marched across the bridge, wearing a shirt that says "mazel tough," with an Israeli flag wrapped around his shoulders.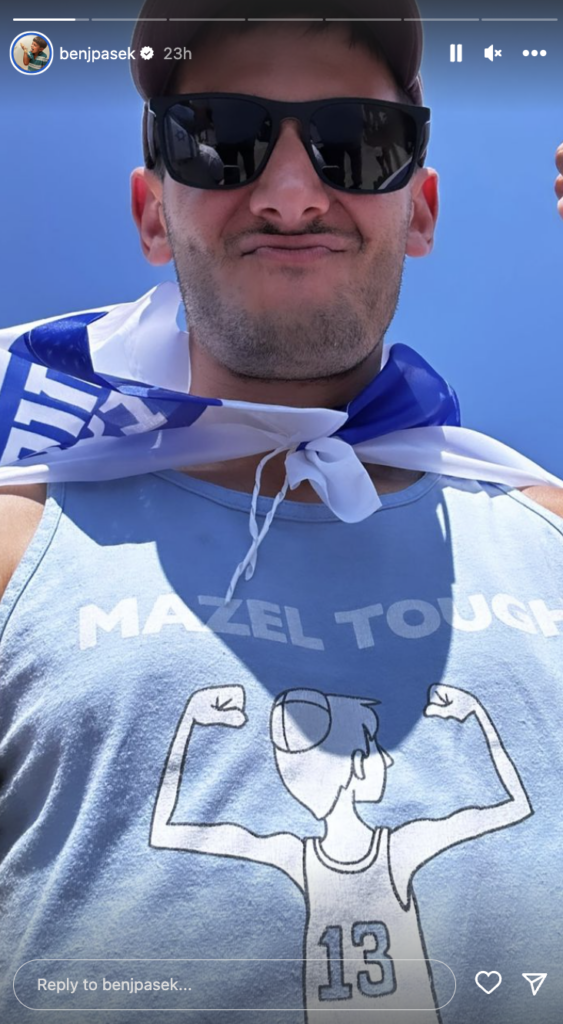 Amit Rahav
The "Transatlantic" and "Unorthodox" star marched in Jerusalem and shared a picture to his story with the caption, "We won't give up on democracy, sanity and humanity."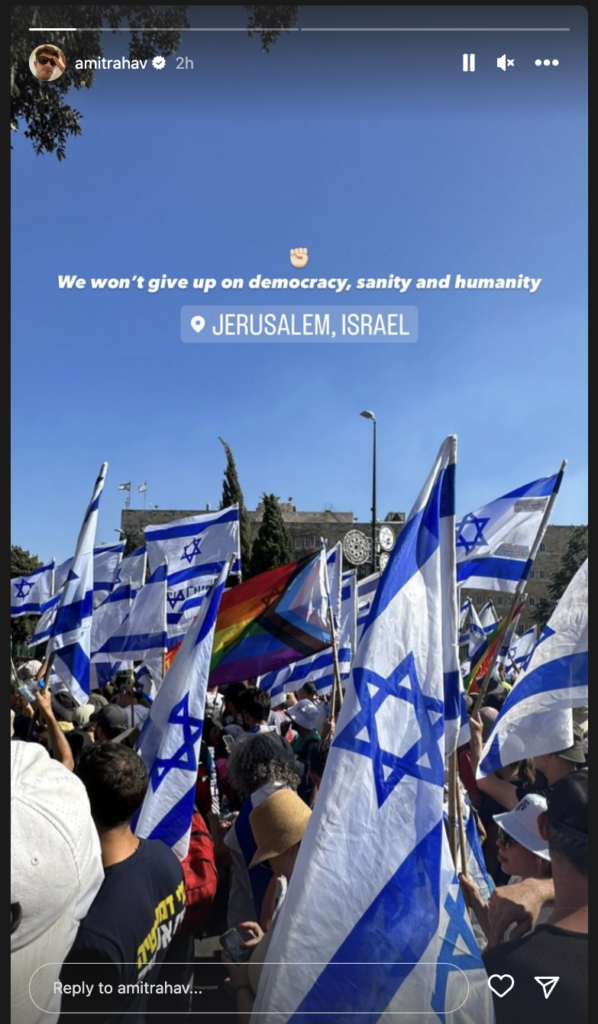 Alona Tal
The Israeli star, who you may know from shows like "Veronica Mars" and "Supernatural," shared her thoughts about the Israeli government and judicial reform on her Instagram, and didn't mince any words.
"Feels like the beginning of the end," she wrote in Hebrew, "the end of my beloved democratic country. It's been kidnapped by extremists. It's a day of mourning, the destruction of the temple," she added, alluding to the upcoming Jewish fast, Tisha B'Av, which denotes the destruction of the Second Temple in Jerusalem. She also had some strong words to say about Prime Minister Benjamin Netanyahu.
"Fauda" showrunner and star Lior Raz also took to the streets to protest. "Tough," he captioned one image that he shared in his stories.
Zohar Strauss
"Shtisel" star Zohar Strauss (Lippe) shared images from the protest in Tel Aviv, writing, "We will never stop."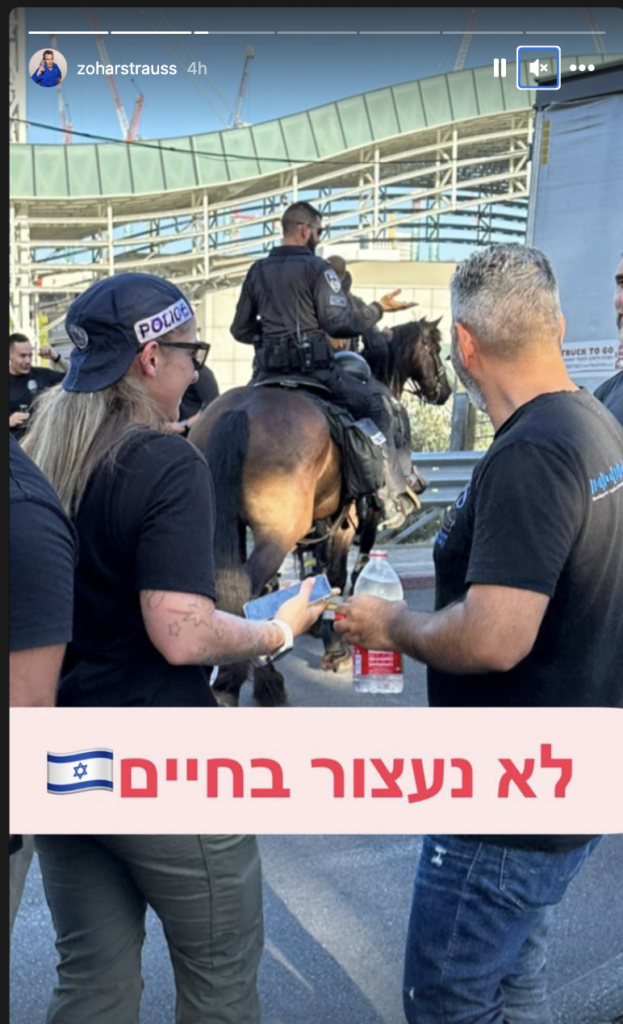 Hadas Yaron
Hadas Yaron, who plays Libby in "Shtisel" and is about to be reunited with Michael Aloni in the upcoming "We Were the Lucky Ones," seemed genuinely devastated in a video she shared from the protests in Jerusalem.
"In Jerusalem," she wrote in her stories, adding a broken heart emoji, "against the scariest, most violent, most divisive and worst government we've ever known."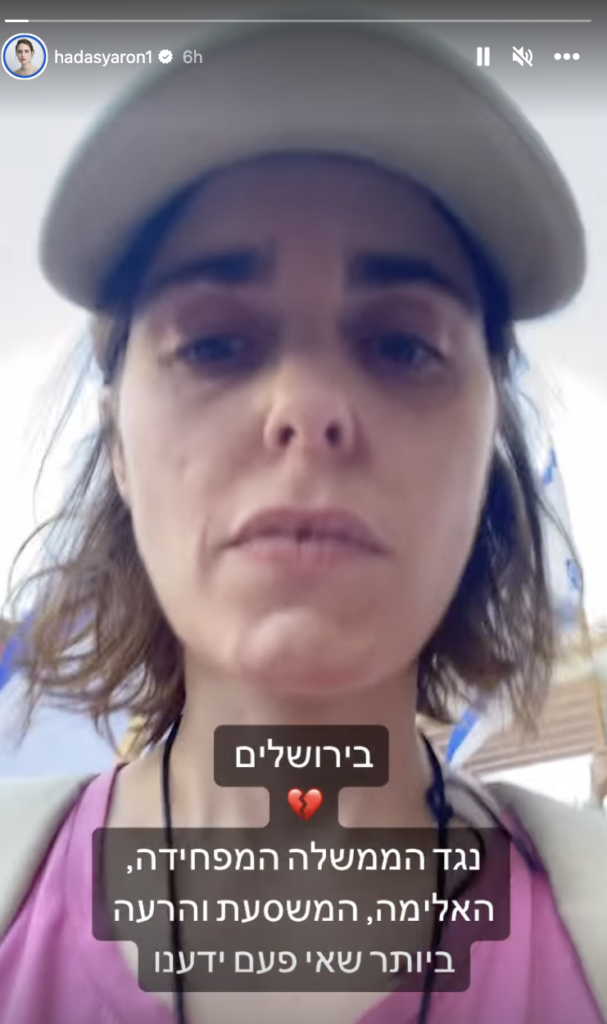 You can read more about the developing situation in Israel on our partner site, JTA.