Next time you need to explain someone what the Yiddish word kvell means, we'd like to suggest a photo of proud Jewish mama Sharon Feldstein as Exhibit A.  Just scroll down, and you'll see Sharon in the background of a screenshot, taking videos and photos of her youngest daughter, actress Beanie Feldstein, on the Oscars red carpet on Sunday.
Sharon — who was interviewed on Kveller's podcast, Call Your Mother — was caught by E!'s camera taking iPhone photos and videos of the Booksmart star while she was being interviewed by Ryan Seacrest. Just look at the pride on her face!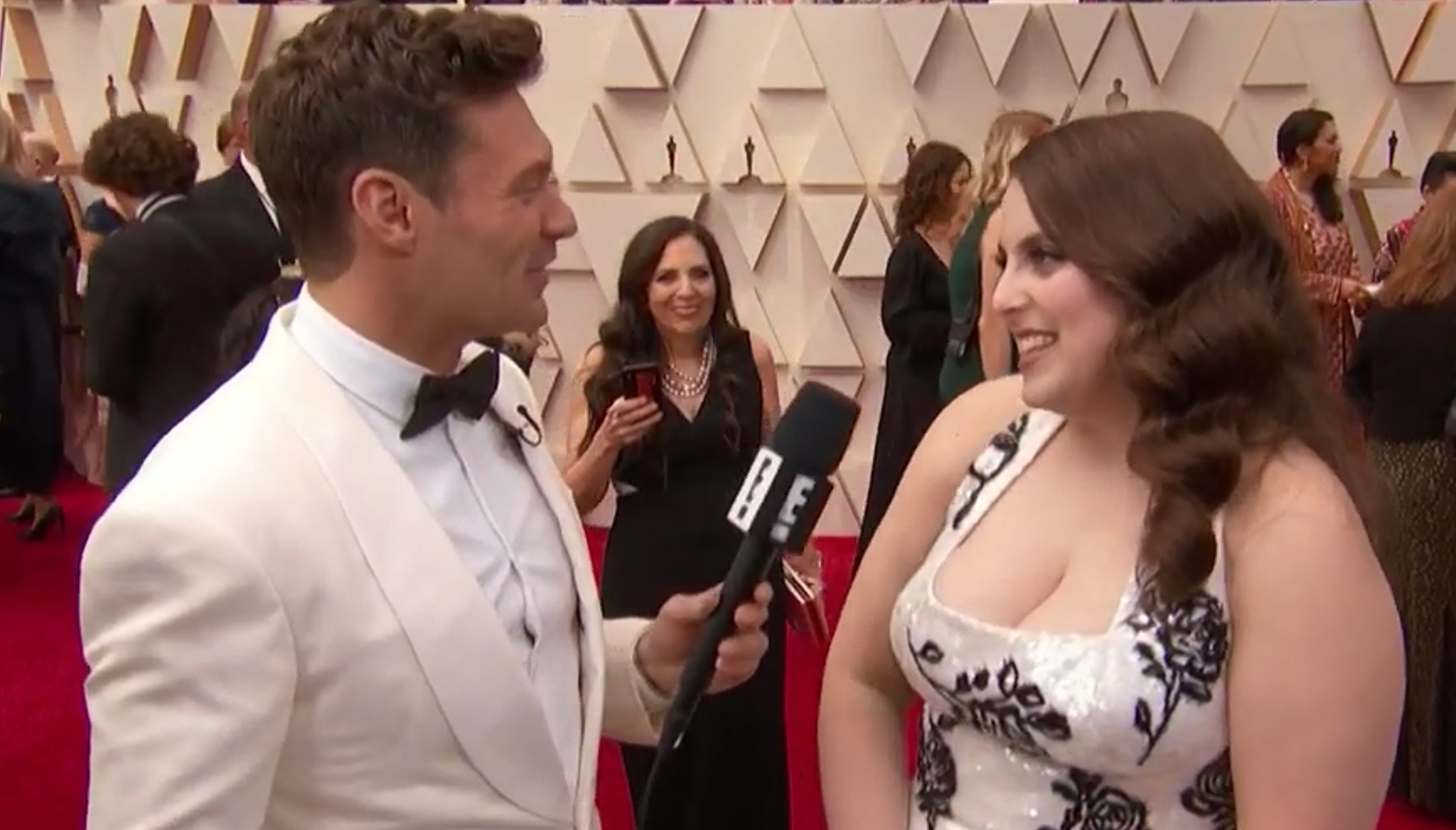 Honestly, we would all be taking endless photos of our children on the red carpet (or really, at any event, no matter the color of the carpet). Sharon, a stylist, was truly the cutest on the red carpet. She photobombed Billie Eilish while the teenage musical idol was getting out of her car; she all but adopted Beanie's Booksmart co-star Kaitlyn Dever; and while Beanie was interviewed by Entertainment Weekly's editor-in-chief JD Heyman, she went on to put her arm around him as if he were her BFF. It was really adorable.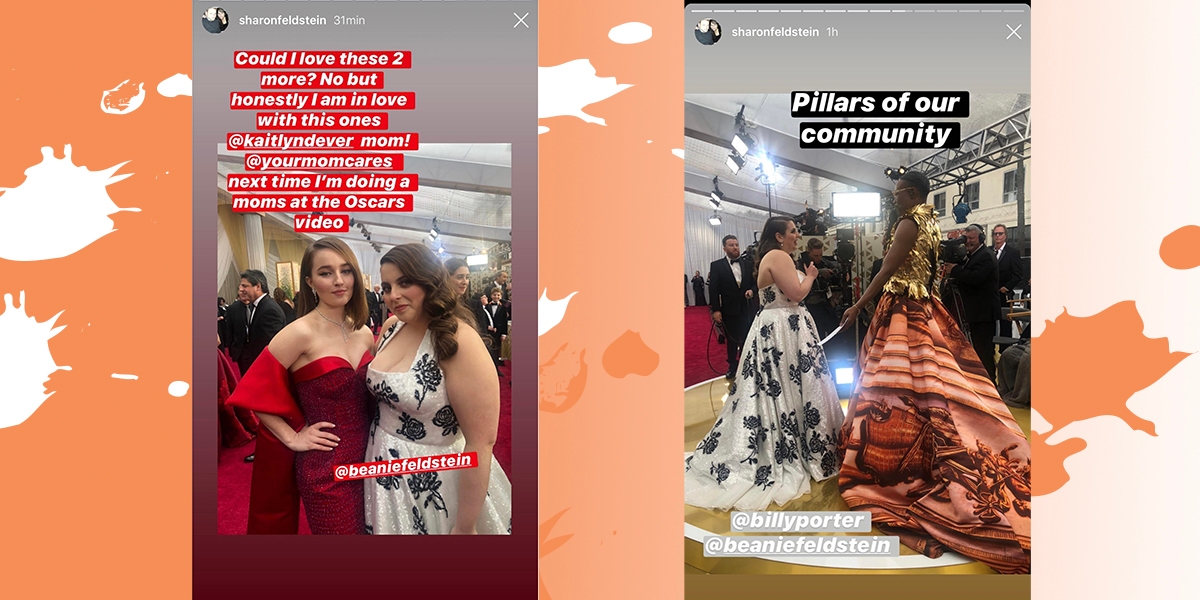 Of course, Sharon is not new to life in the limelight. After all, her middle son is famous actor Jonah Hill (her eldest son, Jordan Feldstein, a Maroon 5 producer, died in 2017 from a pulmonary embolism. Beanie wrote a moving essay about dealing with grief following his death). Her husband was also the tour accountant for Guns N' Roses!
Sharon spent the day kvelling about her Oscars appearance, joking about her Target sweater that she wore while getting ready. One photo she posted in her Instagram stories is of Beanie and Billy Porter, calling the two "pillars of our community." Honestly? This checks out!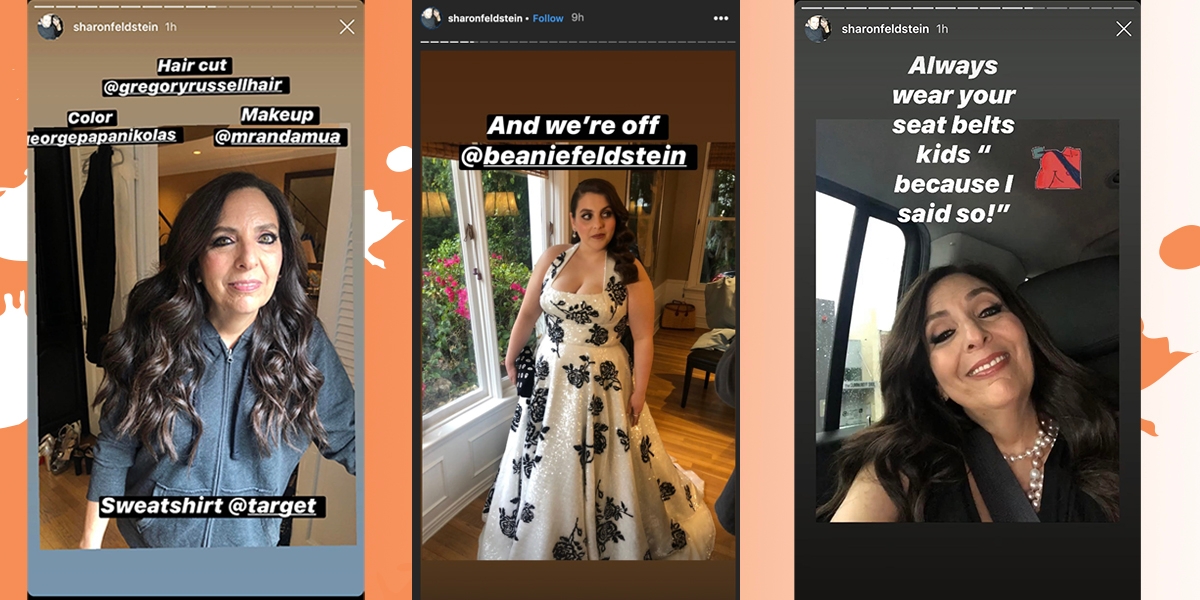 She also posted a loving story about Beanie on Monday, AKA the day after the Oscars: "@voguemagazine best-dressed list @nytimes queen of comedy," she wrote, "@beaniefeldstein I just call you my beanz." Sharon also added that she "couldn't be more proud."
In the Feldstein home, the kvelling goes both ways: Beanie is a huge fan of her mom and her effortless, vibrant style. (We're fans too!). "I'm so lucky to have her as my mom — she's always my numero uno… I grew up around a lot of style and have always marveled at hers," she said at an event recently.
Sharon has been Beanie's arm candy (arm mandelbrot? arm rugelach?) this awards season. The mother-daughter duo also attended the Golden Globes together and spent the show talking to Lauren Graham AKA Lorelai Gilmore. Beanie wrote that "that's all that matters to the Jewish Rory & Lorelai."
We love this mother and daughter duo, and their kvelling makes us kvell, too. Go Sharon and Beanie!
Sharon Feldstein filming Beanie as she is interviewed on TV pic.twitter.com/LFN6uR9mt3

— Alma (@hey_alma) February 10, 2020
Photo by Frazer Harrison/Getty Images