According to Irish writer Colum McCann, his newest novel, Apeirogon, is the scariest thing he's ever written. Set in Israel and Palestine, the novel tells the true story of two fathers who are united by grief: Israeli Rami Elhanan, whose 13-year-old daughter, Smadar, was killed in a suicide bombing in 1997, and Palestinian Bassam Aramin, whose 10-year-old daughter, Abir, was killed by an Israeli soldier in 2007.
McCann fictionalizes the fathers' lives, but the core of the novel is true. It was sparked by a meeting McCann had with Elhanan and Aramin during a 2015 trip to Israel and Palestine with his nonprofit, Narrative 4. (He cofounded the organization with Lisa Consiglio; the focus is on "radical empathy" and having young people share stories as a way to affect social change.)
"We went everywhere," McCann says about his trip during a phone interview with Kveller. "We went into houses, we did Shabbat, we went to Yad Vashem, we traveled around the West Bank. We had spectacular hospitality in all directions."
About 10 days into the trip, he says, "I was thinking everyone else had a moment [where they broke down]. And so I was priding myself that, Oh, I lived through Northern Ireland, I'm not going to break, this is poignant and difficult but I'm not going to break."
And then, on the penultimate evening, McCann and his group went to Beit Jala, where he met Elhanan and Aramin. "These two ordinary men were sitting in this ordinary room. I sat down, and they began to speak, and it still brings tears to my eyes," he recalls. "I probably shouldn't say it, but I did: I broke down in tears. And they gave me a napkin. I still have the green napkin that they gave me."
The dads (now grandfathers!) first met in 2005, through an organization called Combatants for Peace, an organization dedicated to sharing personal stories from both sides of the Israeli-Palestinian conflict. Both had experienced unfathomable loss: the senseless death of their daughters. "I didn't realize at the time that they told the stories over and over," McCann says. "It felt to me like I was the first person ever to hear this particular story. And I was changed. I was changed, but I didn't think I was going to be able to write about it. But then I went back again. And then I went back again. And again."
McCann was immediately drawn to the fathers' incredible story, but when it came to writing it, McCann worried about being an "outsider," he says. He was scared of being naive, he explains, and of "going in and trying to capture the elemental heart" of the story, of "what it was that they were saying, and maybe getting it wrong."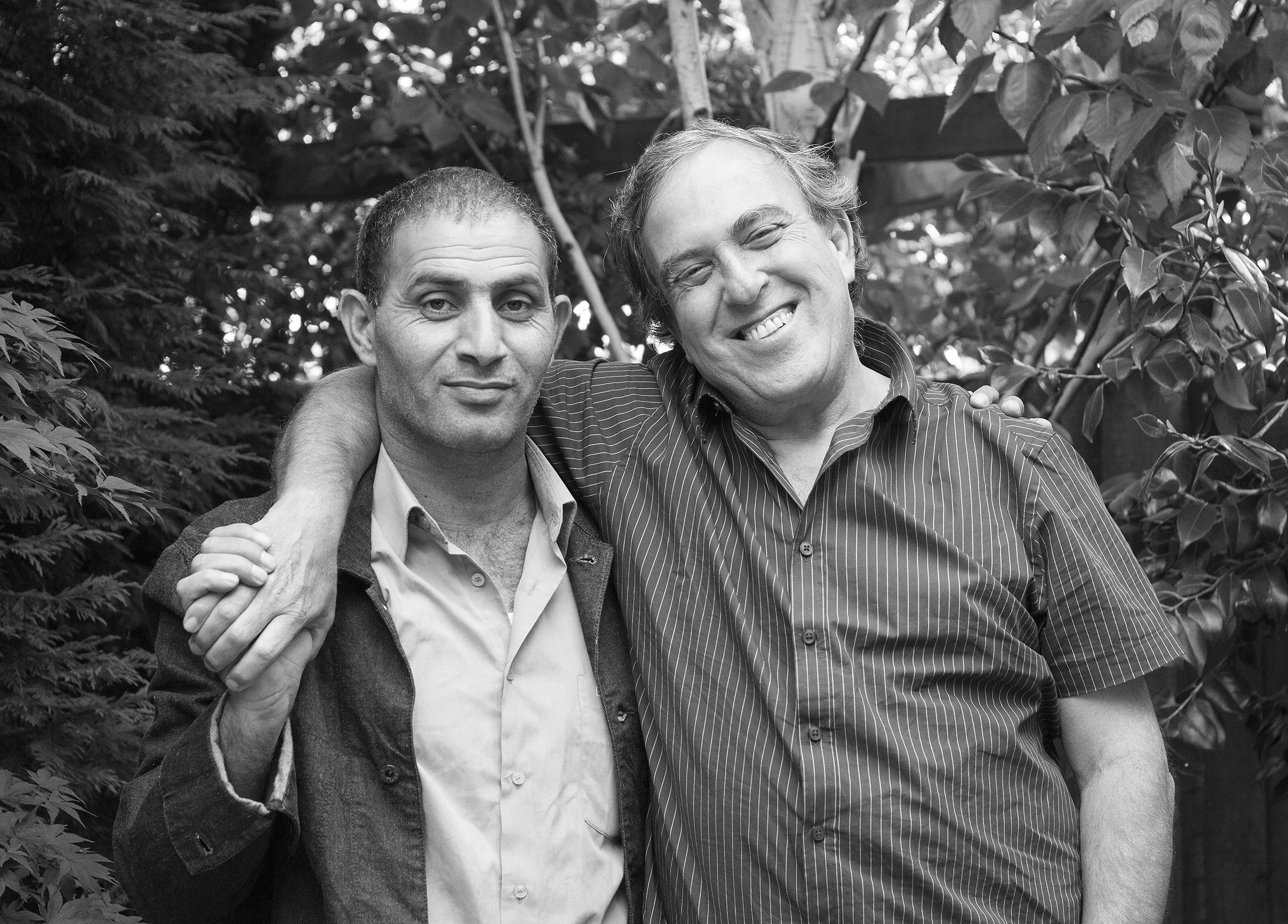 Bassam Aramin (left) and Rami Elhanan (right) in London, June 2013 (Image by Peter Singer / The Sun Magazine)
McCann asked Aramin and Elhanan if he could tell their story, and they immediately agreed. (They had been involved in other books and films.) Still, McCann was surprised; he thought it was going to be a challenge to convince them. "I said to them, 'Listen guys, I don't think you know what I'm saying. I want to write a novel about you guys. It's not a book about you guys. It's a novel, I'm gonna imagine what a lot of your life is like, I'm going to try and get into your head.'" he says.  "And they were like, 'Go ahead!'"
"They were so generous, and so kind, right from the get go," McCann says. "I gave them some of my books in Hebrew, the translations, so they knew that I wasn't gonna write a thriller or a comedy."
Plus, after he finished writing, McCann gave them a draft to read. He did the "opposite," he says, of what a journalist would do: He imagined their stories, then interviewed them over and over again, and then showed them what he had written before it was published, in an "attempt to get it as correct as I possibly could." (He did the same thing when writing TransAtlantic, a novel about Senator George Mitchell, who helped broker peace in Northern Ireland in the Good Friday Agreement.)
"I wanted to be true to the texture of Rami and Bassam's lives — and that's what they said when they read [Apeirogon], which was very difficult read for them, you know, for them to read about their daughters in that way. And they were sort of astounded, and said to me, 'Well, how did you know that? And how did you do that?' Sometimes I said, 'Well, I don't know. I was just lucky, I guess.'"
The story is centered on Aramin and Elhanan, but McCann brings his own history to the novel, too. He is also a father to Isabella, 23, John Michel, 20, and Christian, 16. Losing a child is the "terror of every parent," he says, "so for me to embark on this, and to write about it, was very, very tough."
"If I wrote an autobiography, I would end up telling lie after lie after lie after lie after lie," he says. "It would be almost impossible for me to tell the truth about myself. But by writing about others, I tried to approach a truth about myself. This book is probably as much about my own relationship to the world as it is about them."
McCann, 54, grew up in Dublin, before moving to the United States in his 30s. His previous novels include Let the Great World Spin (2009), for which he won the National Book Award, and TransAtlantic, which was long-listed for the Man Booker prize. Yet writing sixth novel made McCann worry about "all the things that I don't necessarily worry about if [I'm] writing about New York or Ireland, which is my territory."
He continues: "Not to be too pretentious about it, but I mean, we're all in the territory of the of the heart. And this was the thing that got me about Rami and Bassam: Their story was universal. It could take place in the Bronx. It could take place in Kentucky, Mexico, Colombia, South Africa. It was a universal story."
Bassam Aramin & Rami Elhanan of @thePCFF – the heart of the conflict. If they can, anyone can. pic.twitter.com/hVdGTrx8oY

— Parents Circle (@ThePCFF) October 12, 2015
The heart of Apierogon is two long chapters of the fathers telling their own stories. The entire book, however, is structured as 1,001 chapters, though some of these chapters are just fragments — a photograph or a piece of history. Others chapters are graphic and violent. It's like nothing I've ever read before.
McCann believes this book's unique structure is made possible by our relationship to technology. "In certain ways, this novel comments on the way we operate on the on the internet," he says. "Because I do believe that this sort of novel wouldn't have been possible 25 years ago, because we just didn't have the bandwidth to make the shotgun jumps between between topics."
But no matter how far out the topics are in the novel, it all comes back to these two fathers and their daughters. "The elemental thing was for me to write about the two men and these two girls and this friendship, and have the world constantly return to them and say, This is an important story. We're all involved. We're all complicit."
Aramin and Elhanan are people that McCann wants every single person to know — and not just know of them, but actually know them their stories. (He may get what he wished for: Steven Spielberg just signed on to adapt the novel into a film.)
"Right now, we're in bad times in the United States," he says. "We're supposedly red and we're supposedly blue. But I think we're much more like Rami and Bassam then we're willing to let on. In fact, we're much more purple, and we're closer to one another than we're willing to let on. What we have to do — what we must do — is learn to listen to one another."
"We're not going to change people's opinions with facts and figures," McCann concludes. "But we can change people with stories."
Apierogon is released February 25, 2020. You can get it here. Image of Colum McCann in header by Elizabeth Eagle; Jerusalem skyline by Alexander Spatari/Getty Images.