Rosh Hashanah is swiftly approaching — this year, it begins on the evening of Sunday, Sept. 29. And what better way is there to usher in the Jewish New Year than buying a boatload of sweet gifts? 
Across the globe, Jews will celebrate the year 5780 with sliced apples, jars of honey, and pomegranates galore. To make this Rosh Hashanah as sweet and festive as possible, we at Kveller searched far and wide to compile the ultimate High Holidays gift guide. 
Need a new calendar? We got you. Is your challah knife so 5779? Never fear! Our comprehensive list and includes everything you need for a banging new year. Snag a gift for your Rosh Hashanah dinner host, or treat yourself to a few new goodies.
And remember: If you overspend, you can atone for your empty bank account on Yom Kippur. 
Happy shopping!
1. Wine bottle labels 
Jazz up your Rosh Hashanah dinner wine with these four festive bottle labels. Bonus: Not sure what family dinners are like at your house, but these puppies are waterproof! 
$8.99 
2. Embroidered bib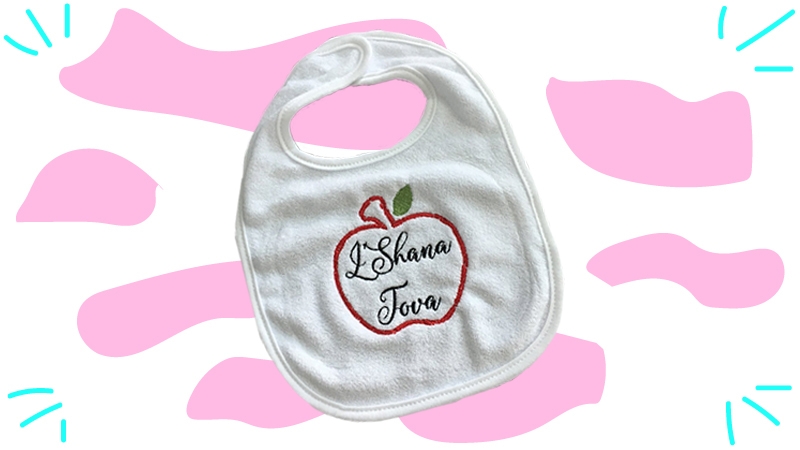 Do you have a bib-aged child in the family? Or maybe you're tired of seeing Uncle Joe stain his shirt? Choose from one of three adorable embroidered bibs — or purchase all three. 
$9
3. Unisex T-shirt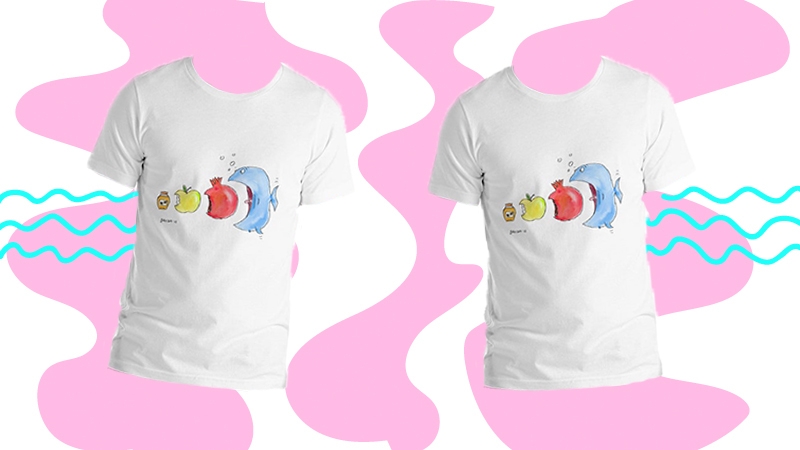 How cute is this t-shirt?? Take your pick out of the nine different colors, but if you can't choose, no one's stopping you from grabbing one of each! 
$19
3. Honey shirt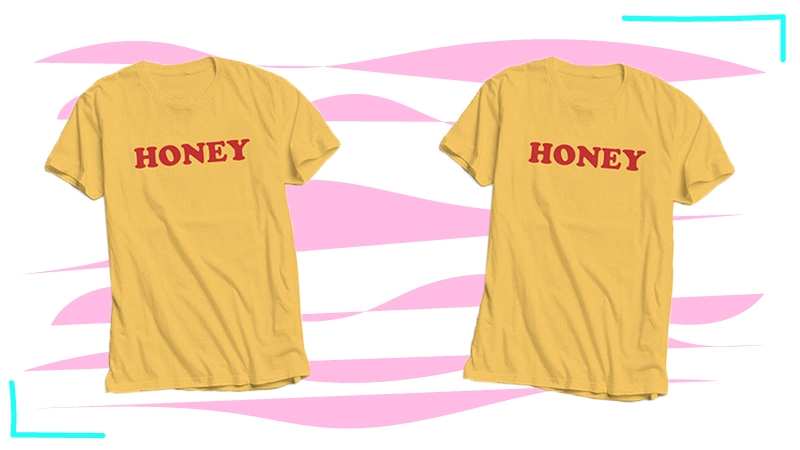 Nothing screams Rosh Hashanah more than honey. The best part of this vintage-y shirt is that it's subtle enough that you can wear it all year long! 
$16.95
4. Pomegranate scrunchie
The votes are in: scrunchies are back. (Just ask Ruth Bader Ginsburg!). Tie up your hair with 613 seeds as a reminder of all the mitzvot you want to perform in the new year. Or, you know, just wear it because it's trendy and cute. 
$12.00

5. Shofar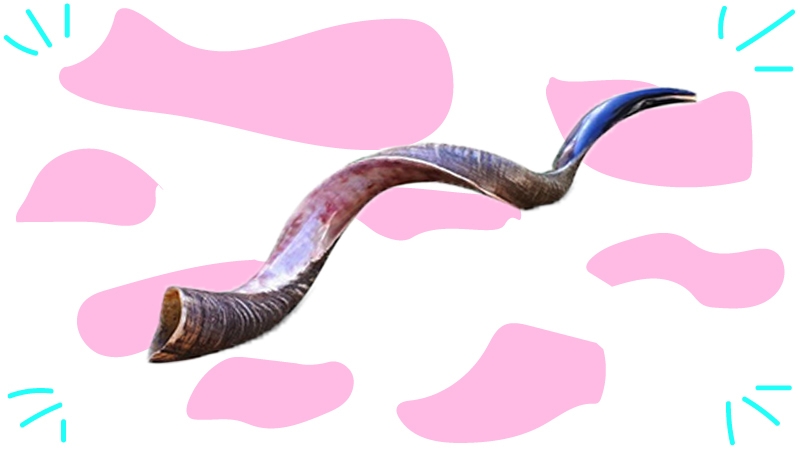 This is one of the coolest, psychedelic shofars we've seen — courtesy of a kudu, an African antelope — and it's made in Israel!!
$115
6. Honey pot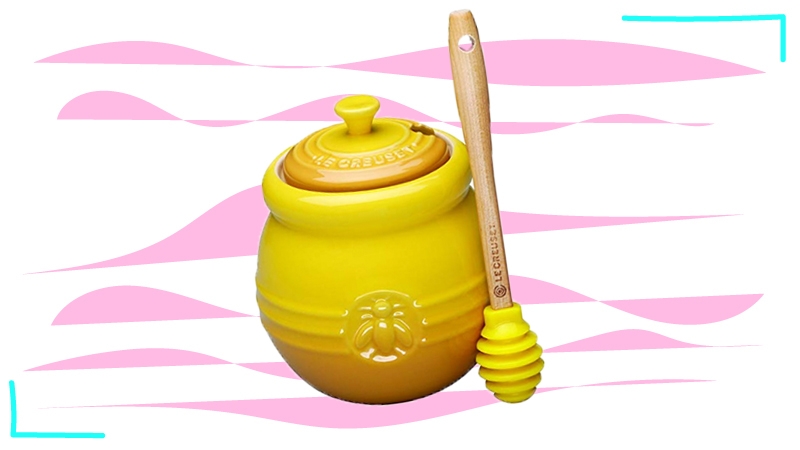 A Rosh Hashanah dinner table isn't complete without a jar of honey, and this one is from Le Creuset is cute, to boot — not to mention dishwasher and microwave safe!
$44.95
7. Challah bread knife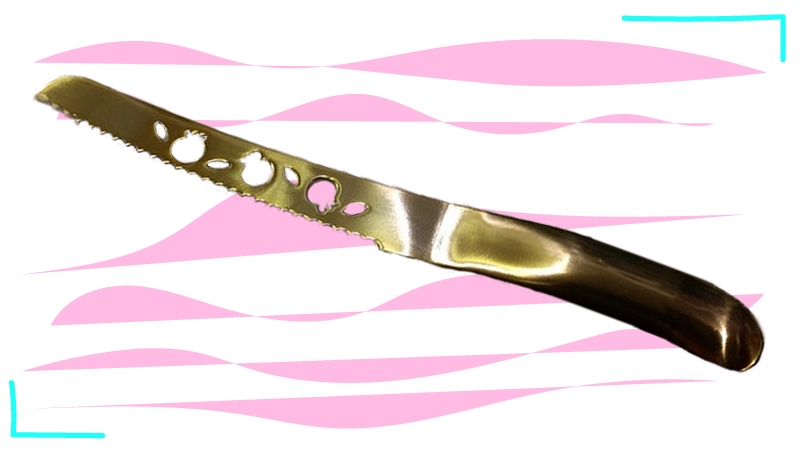 Chuck your blunt knife and snag one of these pomegranate themed challah knives. Your Rosh Hashanah round loaf of deliciousness will thank you!  
$29.00 
8. Embroidered pomegranate napkins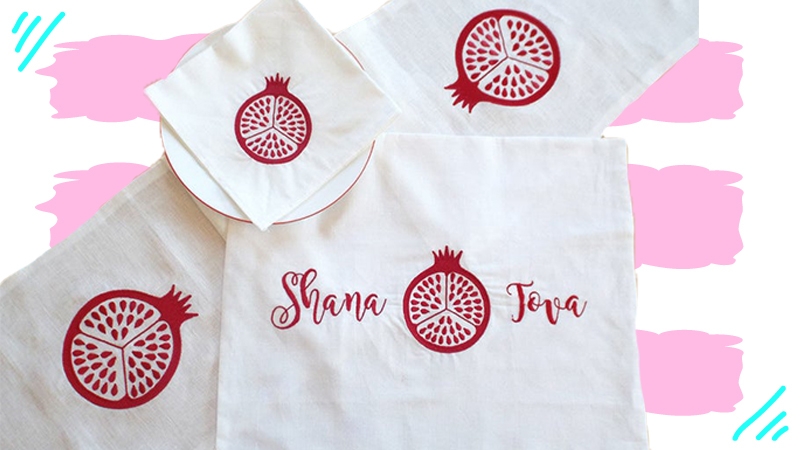 As the wise rabbis once said: You can never have enough pomegranate embroidered napkins. If you're hosting the big dinner this year, you must have these on your table. 
$69.00 
9. Apple plate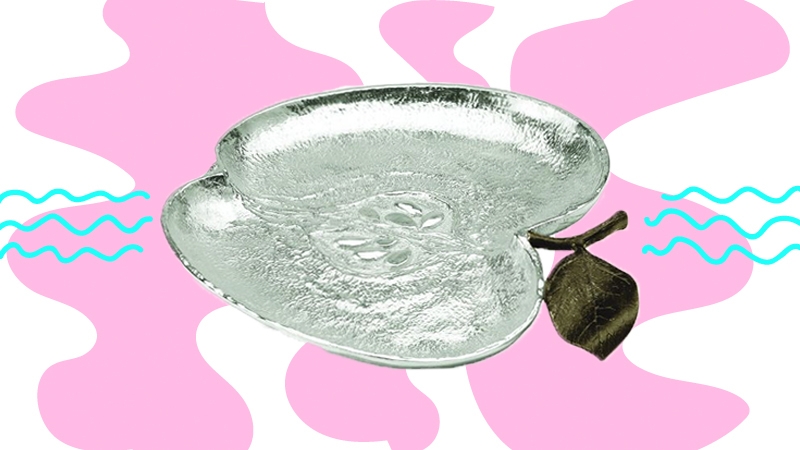 On Rosh Hashanah, everything should be served on a silver platter — especially your apples. 
$100.00 
10. Gold pomegranate necklace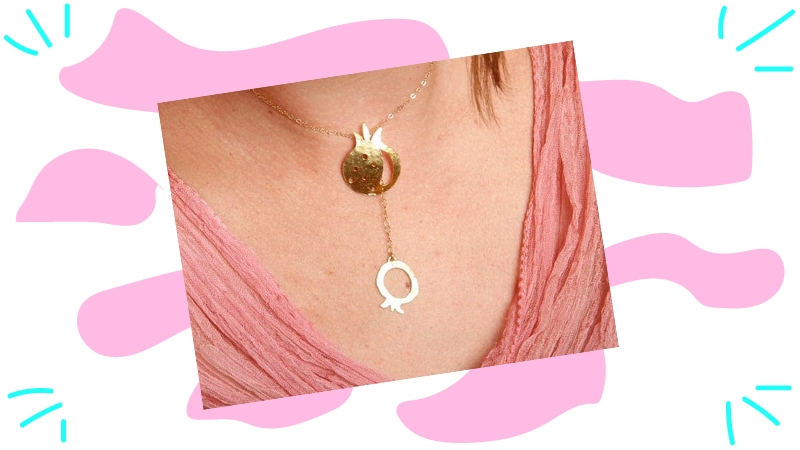 This hammered brass, 14K matte gold-plated pomegranate necklace will surely make you the belle of the Rosh Hashanah ball (if there is such a thing).
$39.00 
11. Bee studs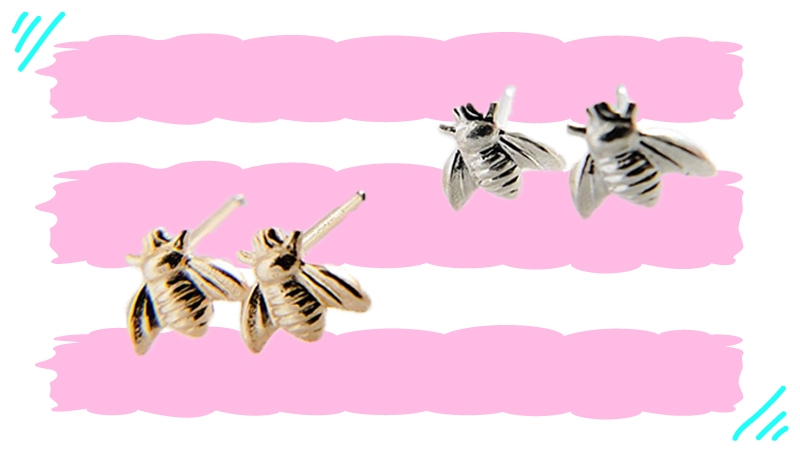 We love these teeny tiny honeybee studs! Dainty and festive, they're perfect as a gift (to yourself). 
$15.50 
12. Marzipan lollipops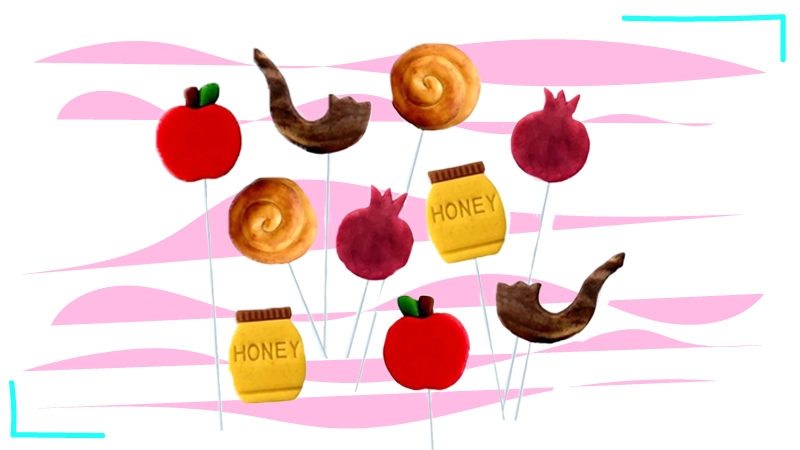 Have you ever seen a nicer set of lollipops? I certainly have not. This set of 10 pops, made of marzipan, makes for a beautiful centerpiece, or you can give one to all the children in attendance. The gift set is gluten-free and vegan, but they do contain almonds and sugar. 
$38.00 
13. Nice Jewish Guys calendar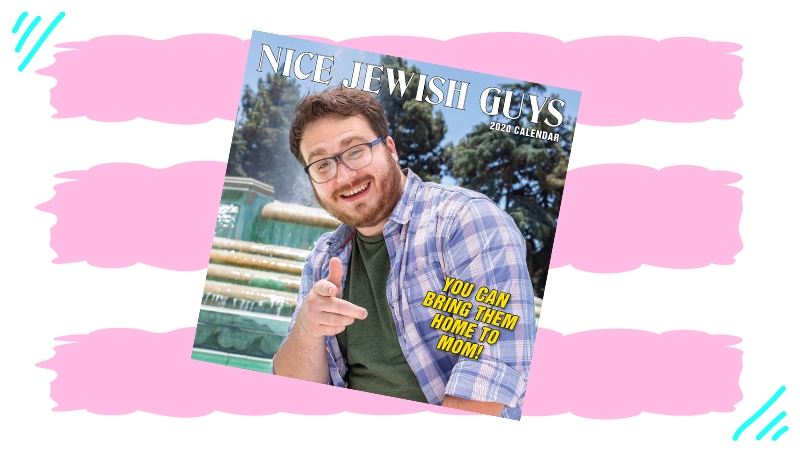 The 2020 — AKA 5780 — Nice Jewish Guys calendar is here! Ditch your old calendar and order one of these cheeky pinups. Give it as a gag gift, or, you know, keep it for yourself. 
$14.99 
14. Pomegranate tote bag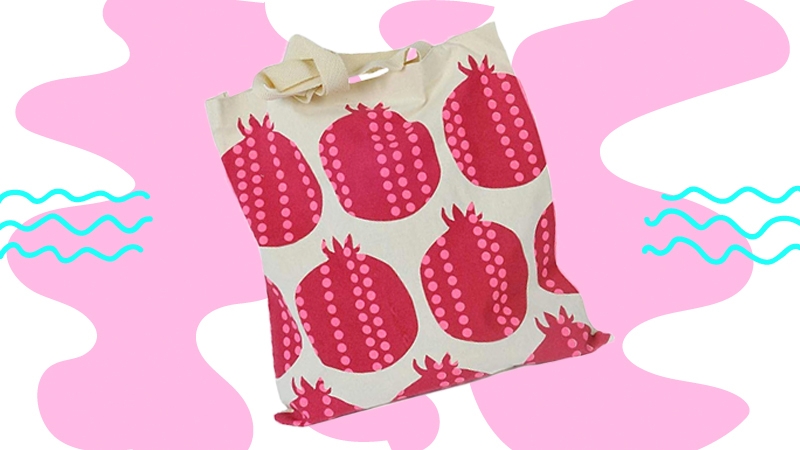 You can never have enough tote bags, and this pomegranate printed one is specifically calling your name. 
$22.90 
15. Apple shaped handbag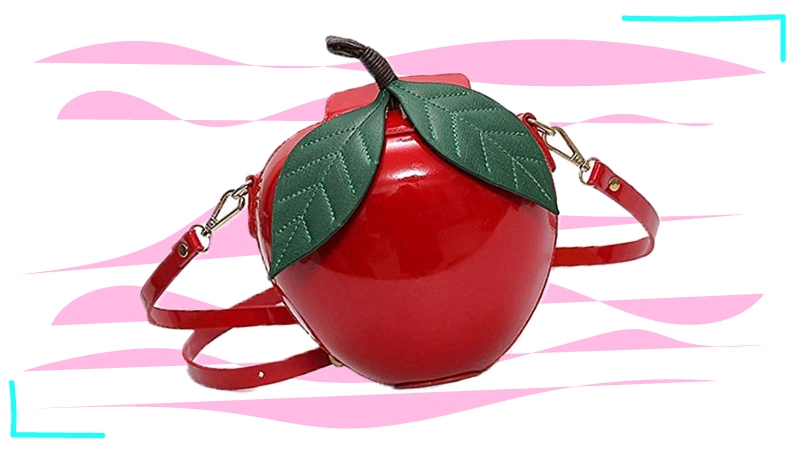 Then again, if apples are more your style, opt for this adorable faux leather purse. It's festive, fun, and the perfect size for a night on the town. 
$13.95
16. Pomegranate Kiddish cup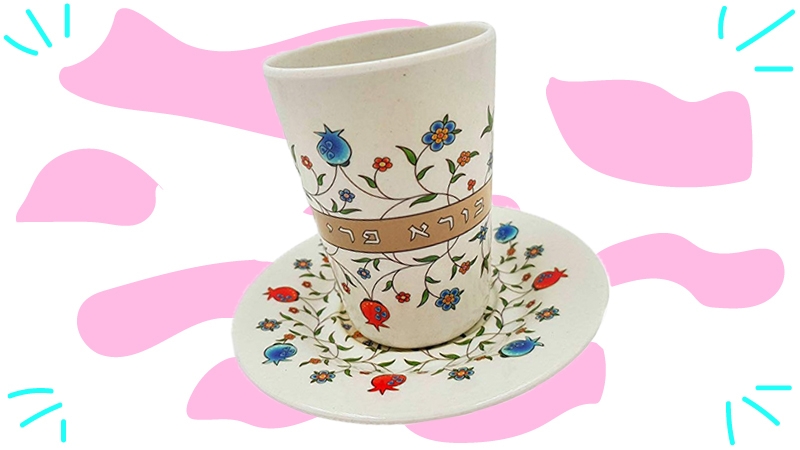 Can you believe this beautiful kiddish cup and saucer set is made of organic bamboo? Eco-friendly and gorgeous, it's perfect for Rosh Hashanah and all future Shabbat dinners. 
$14.90
Shana tova u'metukah!