To me, the most exciting thing about Hanukkah — which is coming up on November 28 — is getting to wear my Hanukkah sweaters every day.
I love, love, love Hanukkah sweaters. I grew up in Israel, so they just don't have the tacky Christmas party connotation for me. In fact, I wear some of my more fashionable Hanukkah sweaters all year round. Especially during quarantine, I've found comfort in my cozy, old Hanukkah sweaters — which nobody can judge me for wearing months in advance, because no one can see me anyway. Mwahaha.
Unfortunately, my favorite Hanukkah sweater company, Gelt Fiend, stopped making their gorgeous knit sweaters (seriously, they were inspiring works of art — one sweater even had actually gold gelt on it!). Let's be frank for a second, a lot of Hanukkah sweaters? They're bad. I mean, really, really bad. From using non-Hanukkah-related Jewish puns like "meowzel tov" to some slightly antisemitic stereotypes ("gelt digger?!"), these terrible sweaters are just super fetishizing and inappropriate. It's almost like… there's a non-Jewish person making all of these sweaters? Hmmm…
But, after wading through all the bad options, I've managed to pull together the creme de la creme of Hanukkah sweaters — or at least, a few fun, topical ones that you and your family might get a kick out of. So get ready for maximum Hanukkah coziness:
Baby and Kids Sweaters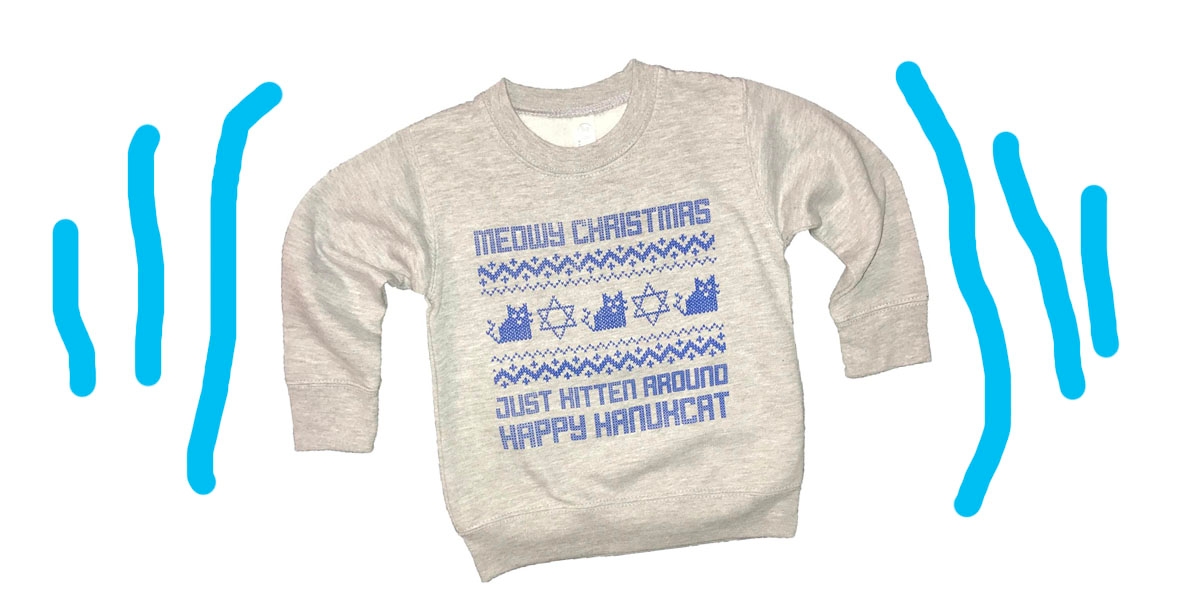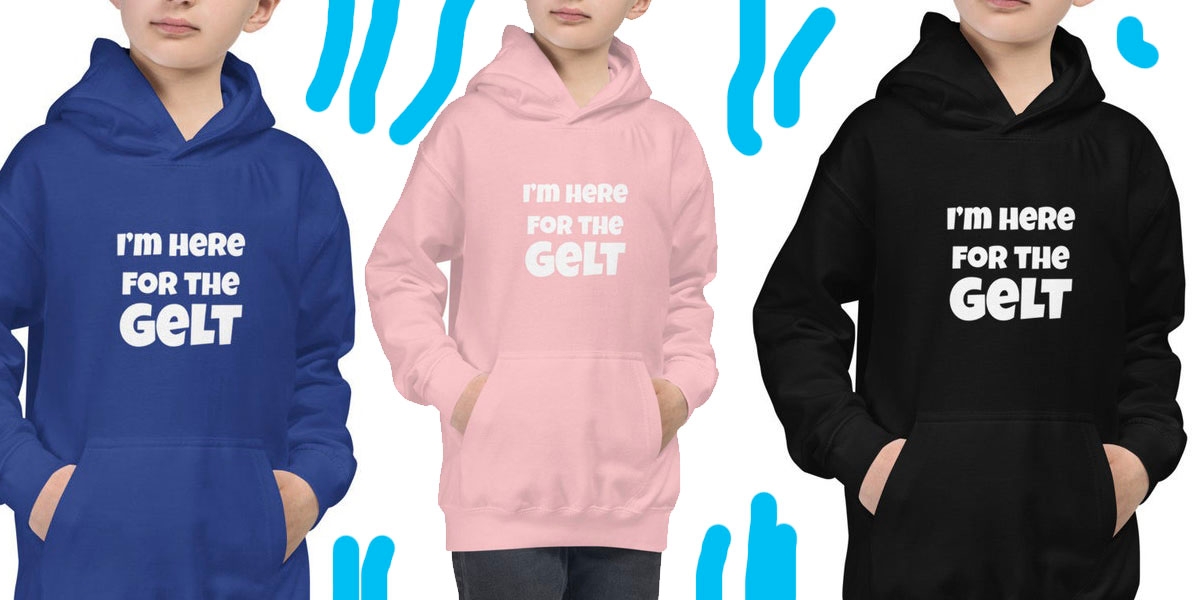 Hanukkah kid's hoodie, I'm Here for the Gelt (Etsy)
I'm not a fan of "gelt digger" sweaters, but I like a child that announces what they're at the party for, and if they're all about those chocolate coins, so be it. This hoodie will definitely get a chuckle at the family Zoom holiday party.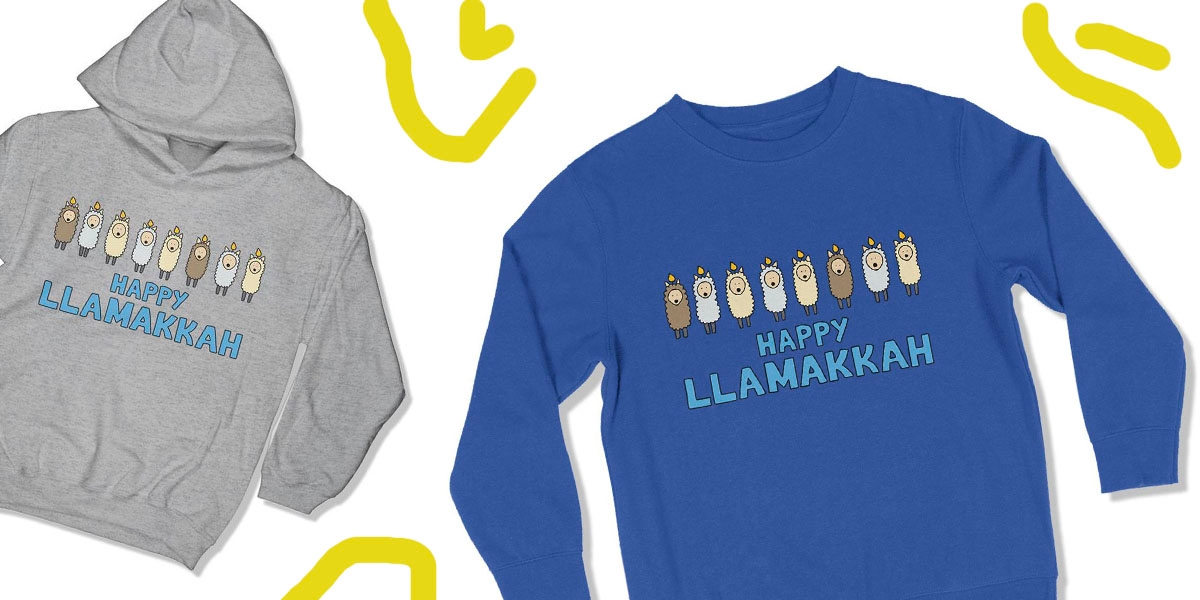 Happy Llamakkah Toddler / Kids Hanukkah Sweatshirt / Hoodie or Crewneck (Etsy)
This Happy Llamakah sweater is a bit on the pricey side, but I love the eight cartoon candllamas (that's candle llamas, yes) on it.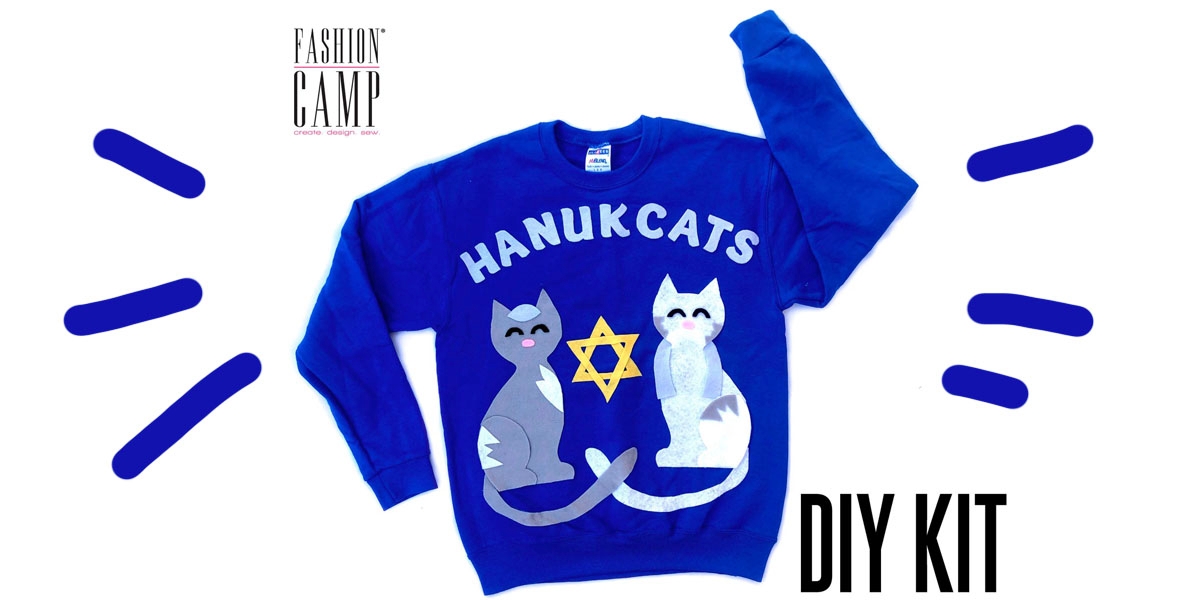 Hanukcats & Llamakkah DIY Hanukkah sweater kits (Etsy)
What's better than a new Hanukkah sweater? Turning an old plain sweater into a Hanukkah one, of course! These two kits either allow you to make adorable cat or llama-themed Hanukkah sweaters and honestly, they're just so friggin' cute. This is the perfect Hanukkah for a crafting project, and we can't think of a better one than this!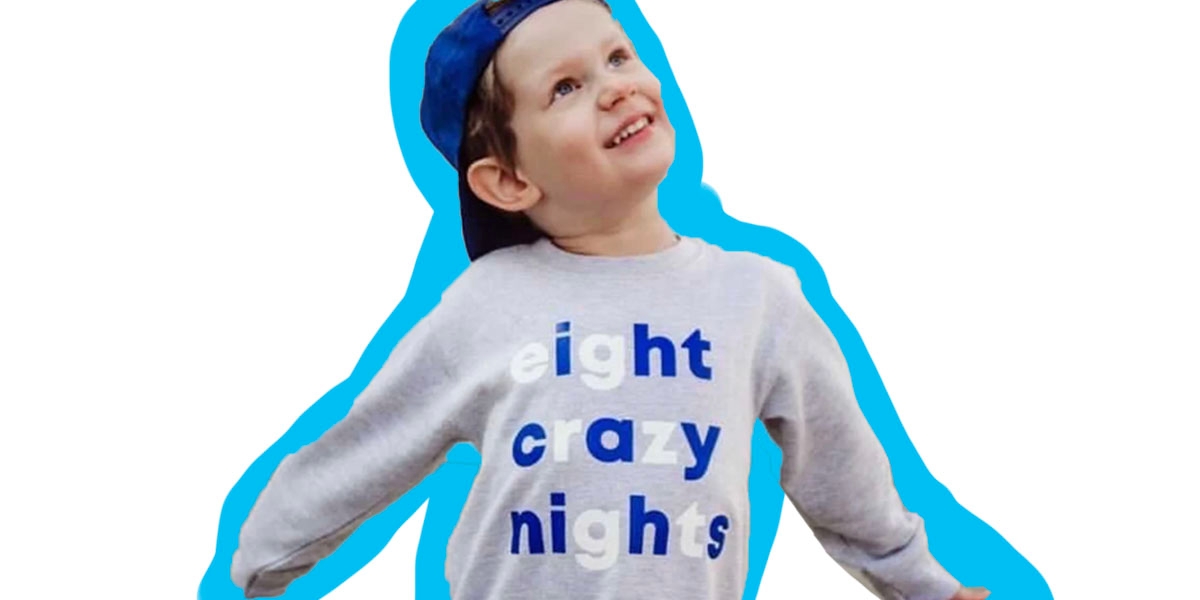 Eight Crazy Nights Sweater (Etsy)
This sweatshirt features a quote from Adam Sandler's iconic "Hanukkah Song," ("instead of one day of presents, we have eight crazy nights") which is also the name of his somewhat ill-advised 2002 Hanukkah film. It's a simple and lovely little sweater fit for any kid-friendly holiday party.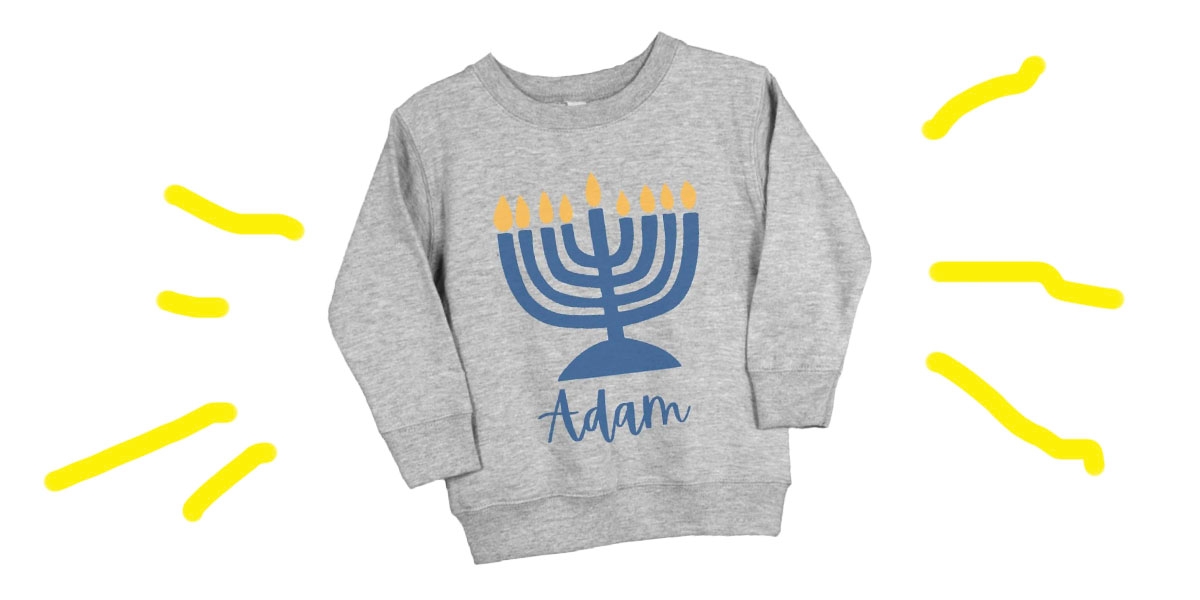 Personalized Hanukkah Menorah Sweater (Etsy)
There's nothing super special about this sweater, which features a simple menorah graphic, but I do love that there is an option to personalize it with your kid's name. But as a kid, there's just something nice about having a unique sweater, just for you.
Grown-Up Sweaters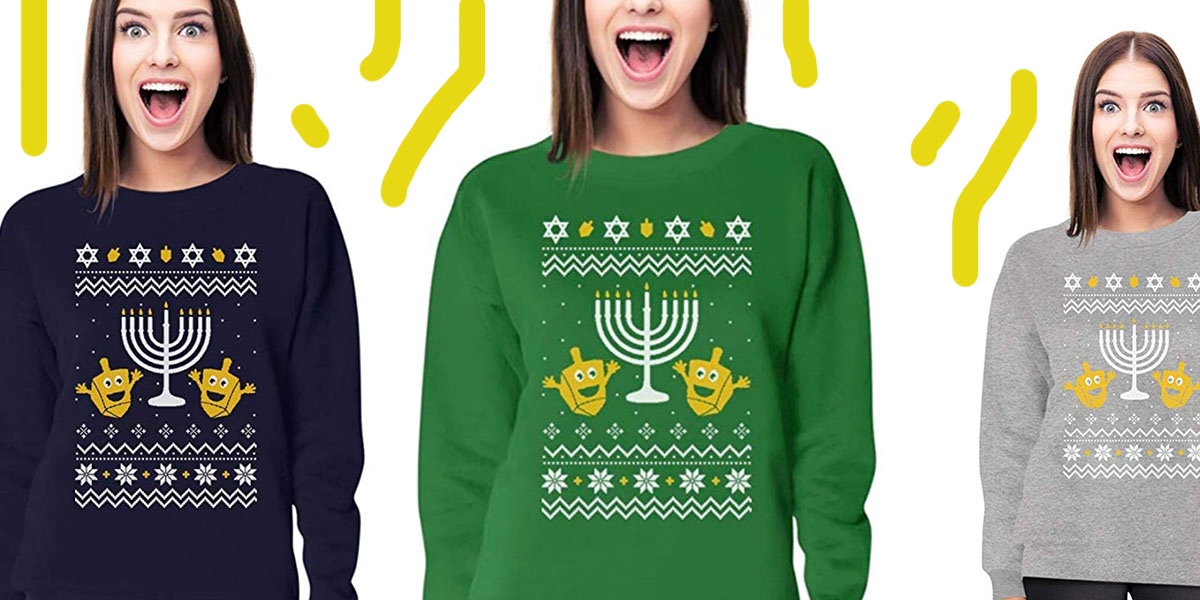 Surprised dreidels! Menorahs! A cheap Hanukkah sweatshirt that isn't trying to do anything new, but is fully functional and kinda cute. I'll take it.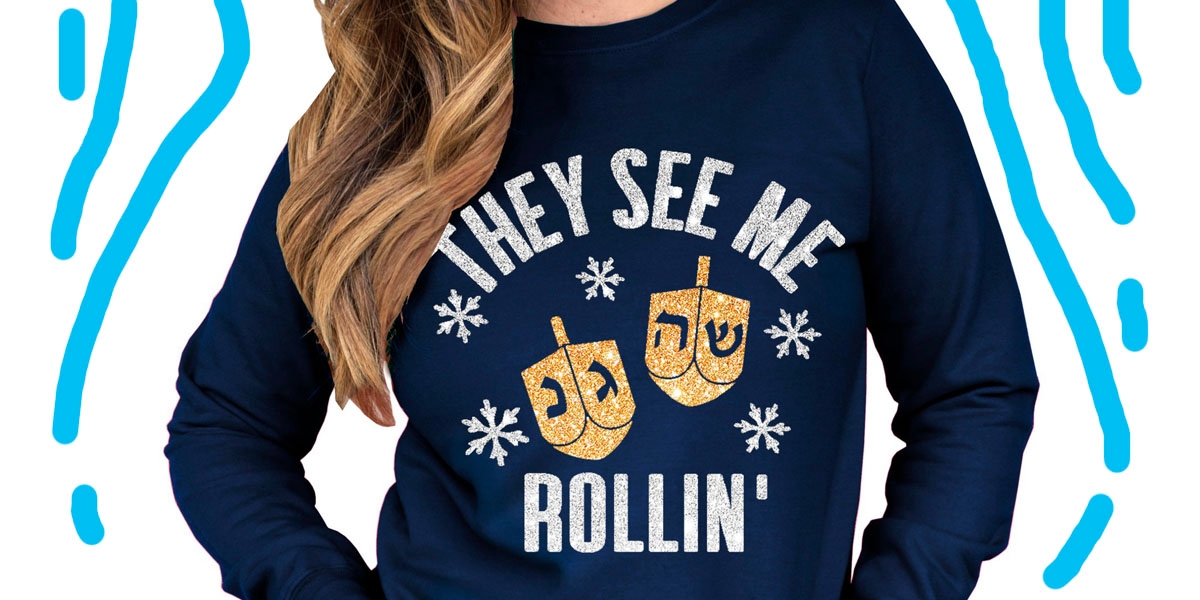 They SEE ME ROLLIN Hanukkah Sweatshirt (Etsy)
Hip hop and R&B puns have become a quintessential part of the Hanukkah sweater. "They see me rollin'" just works well, both as a reference to the Chamillionaire and Krayzie Bone song, and your excellent sweater and dreidel game!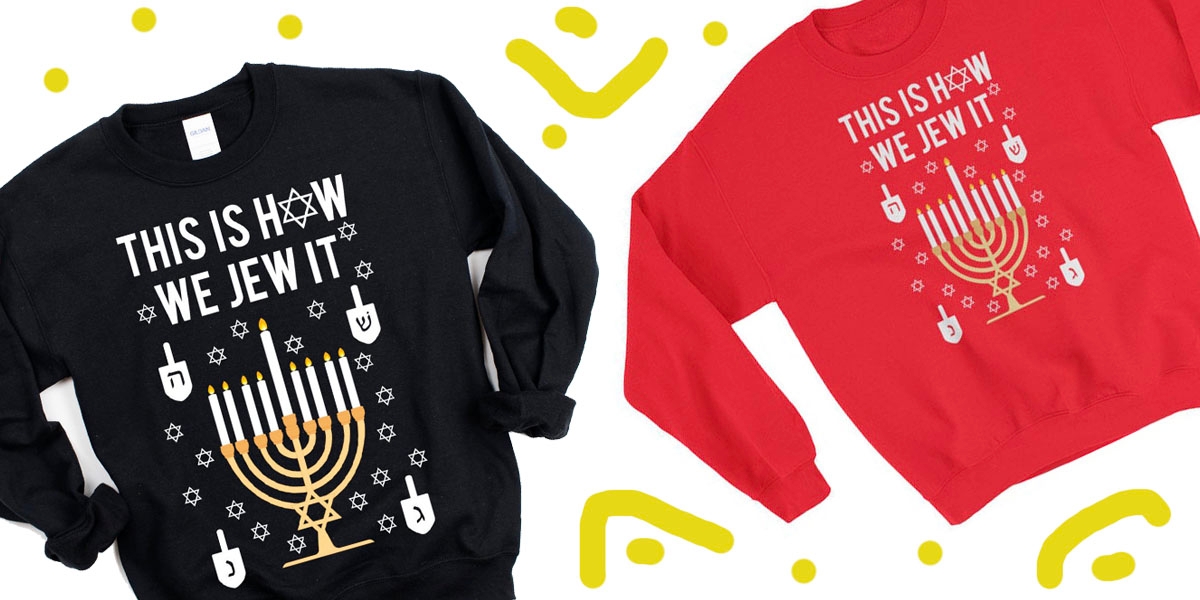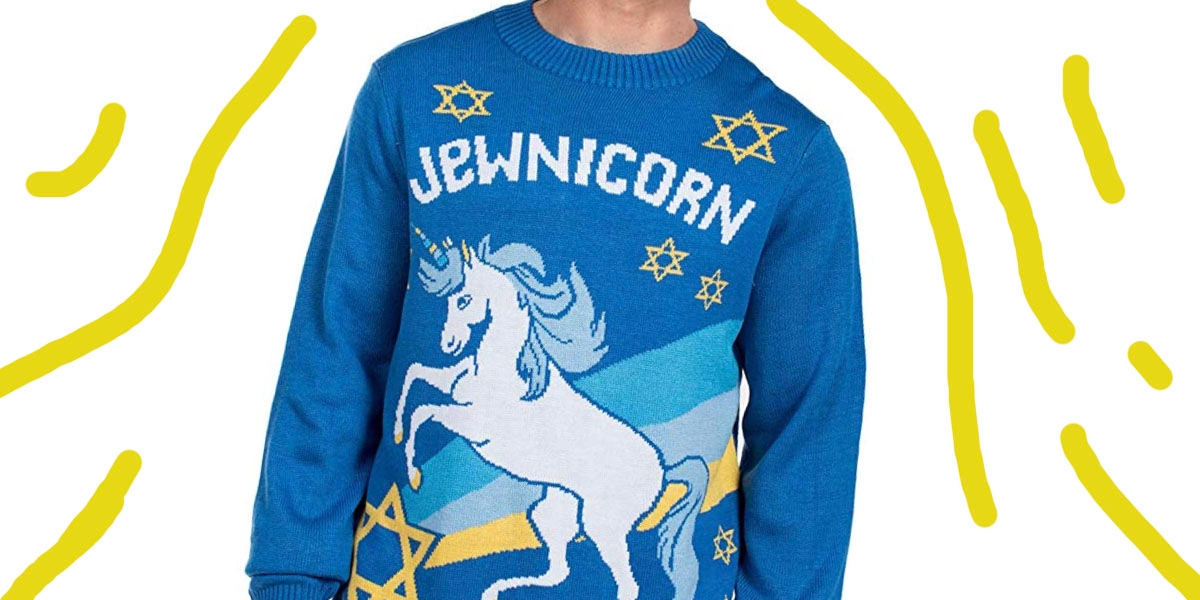 Men's Funny Jewnicorn Hanukkah Sweater (Amazon)
I'm not sure what to make of the Jewnicorn pun. It's not at all Hanukkah-related, but if you're the rare Jew at the Zoom Christmas party, this may be the perfect sweater for you!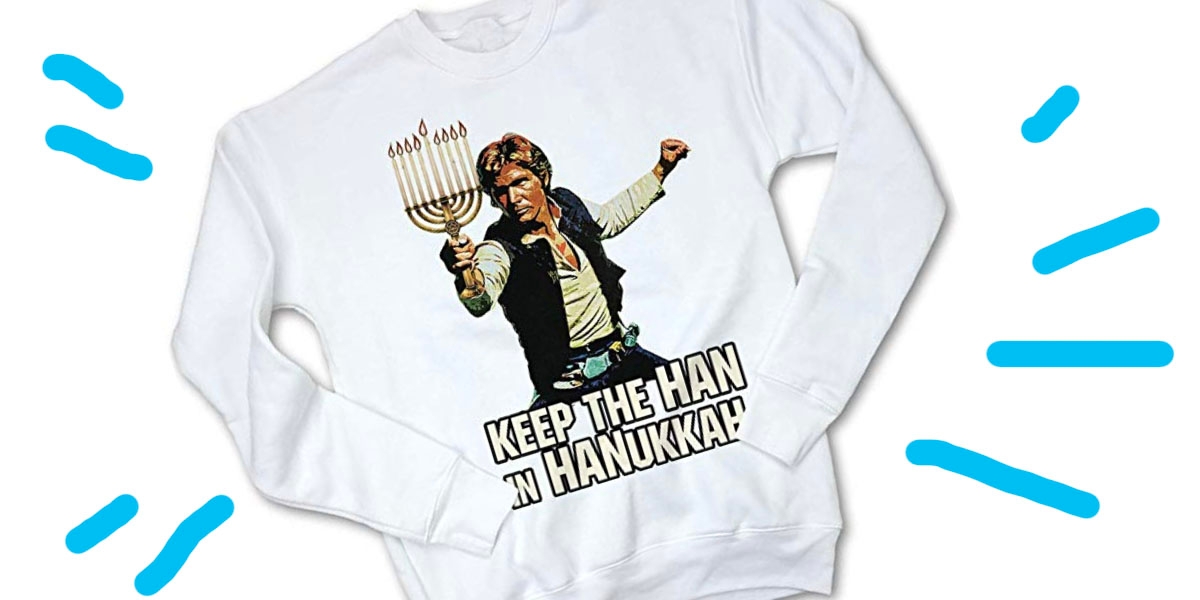 A Han Solo pun. This is the ideal Hanukkah sweater for the Star Wars lover in your family.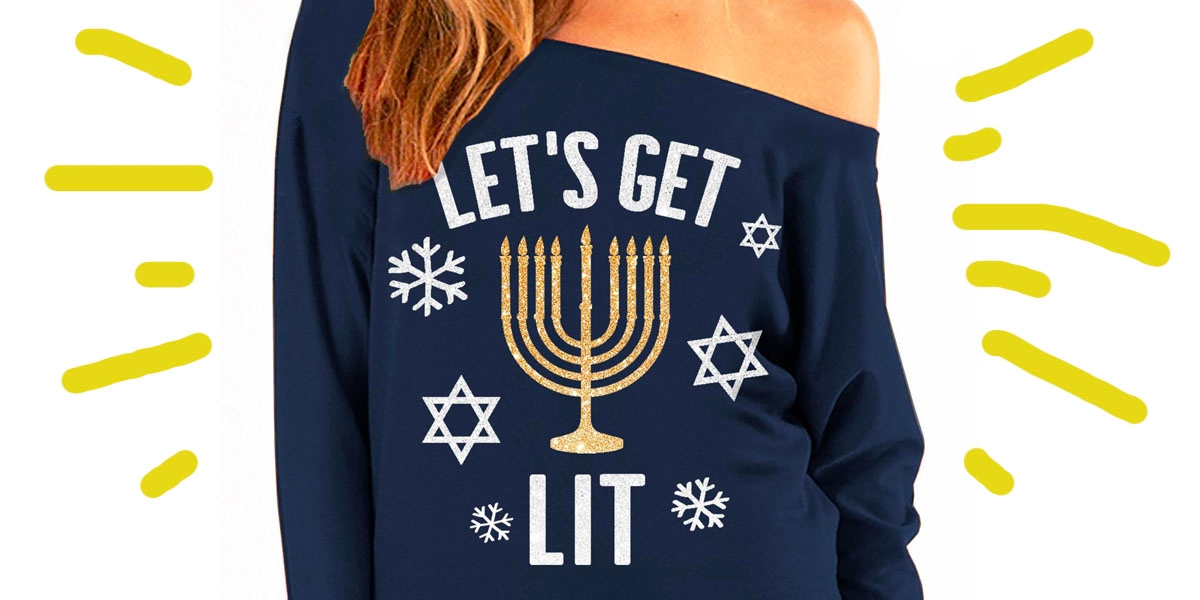 LET'S GET LIT Hanukkah Slouchy Sweatshirt (Etsy) 
A cute, slouchy, kinda sexy Hanukkah sweater with a fun pun. Even if you have nowhere to go, wearing a sexy Hanukkah sweater may make you feel a little bit more stylish and human this holiday season.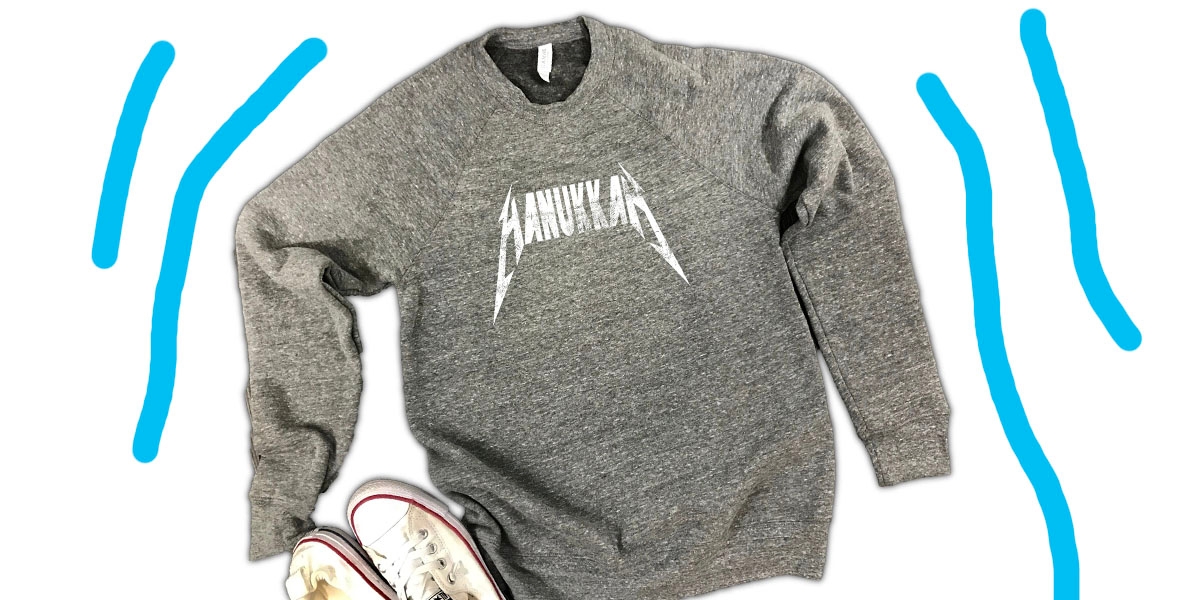 Hanukkah Unisex Triblend Fleece Sweatshirt (Etsy)
It says Hanukkah in a very Metallica font. It's grey. It's lined with fleece. It's the Hanukkah sweater you want to be wearing when you're heating up latkes from last night's Hanukkah dinner, rocking out to your favorite metal band.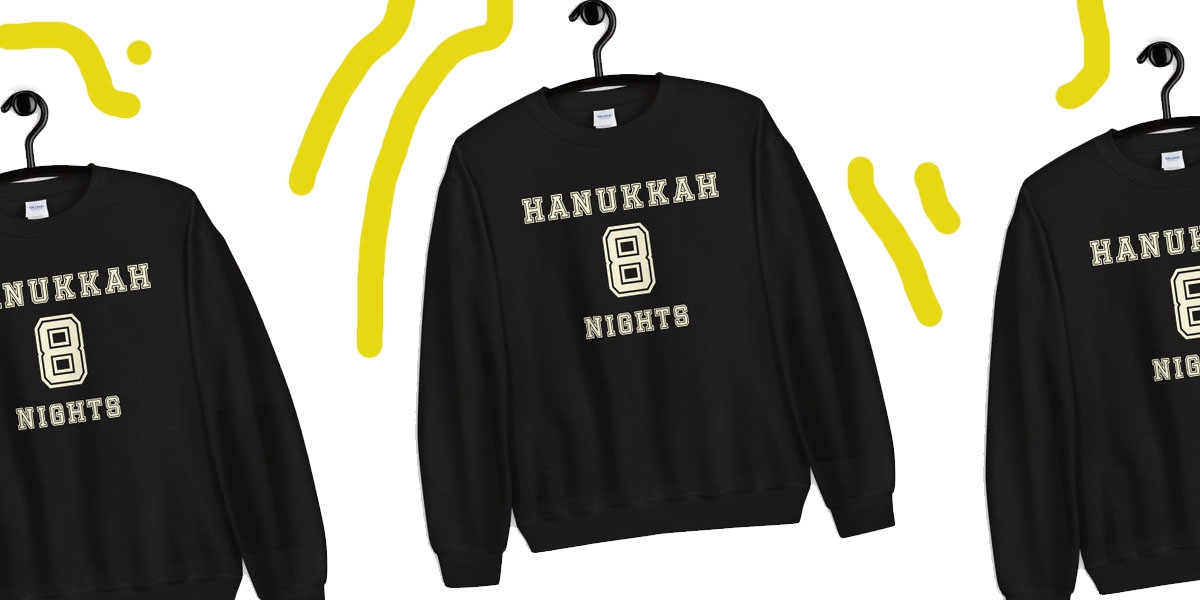 I like how this sweater looks like a sports team sweatshirt. I, too, am team "Hanukkah 8 nights."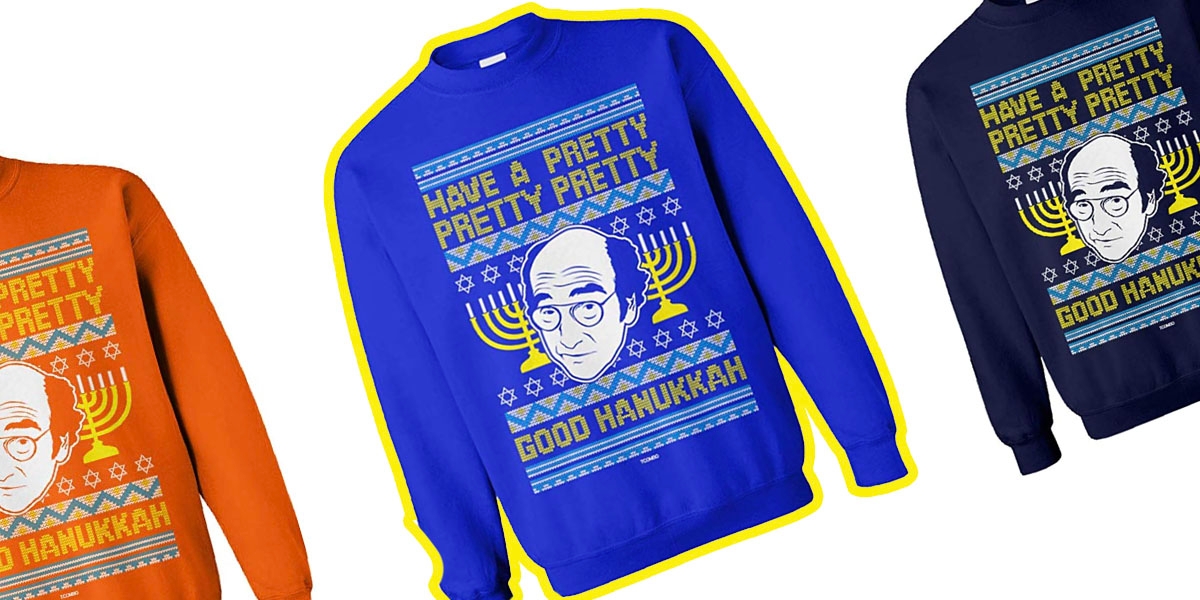 Have A Pretty Pretty Pretty Good Hanukkah Unisex Sweatshirt (Amazon)
It's Larry David. On a Hanukkah sweatshirt. It's pretty, pretty, pretty awesome.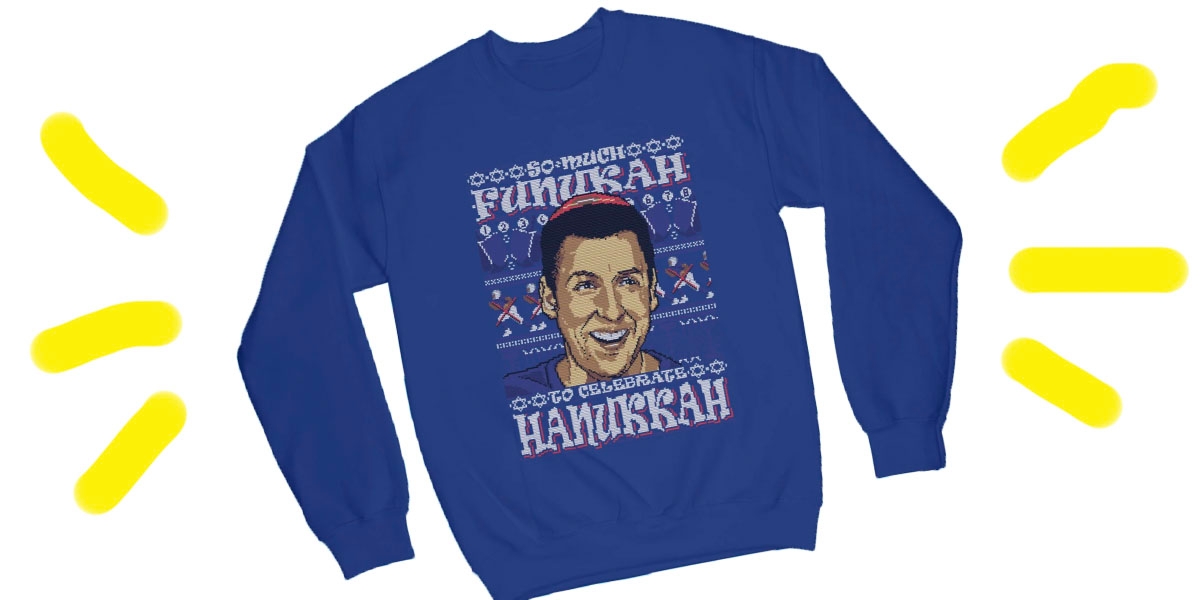 Is this sweater of Adam Sandler wearing a yarmulke a little and quoting a lyric from his iconic Hanukkah song creepy? Yes, yes it is. Do I still kind of want it? Yes, yes I do.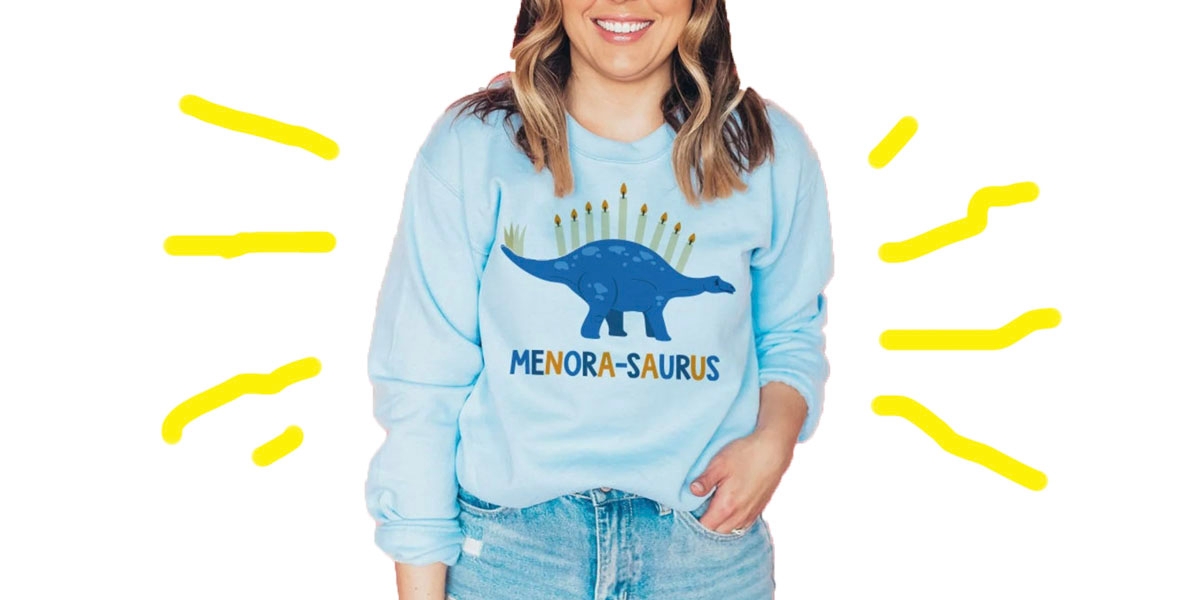 Here at Kveller, we love dinosaur menorahs of all types and sizes, and so of course we need to add a sweater with one to our list!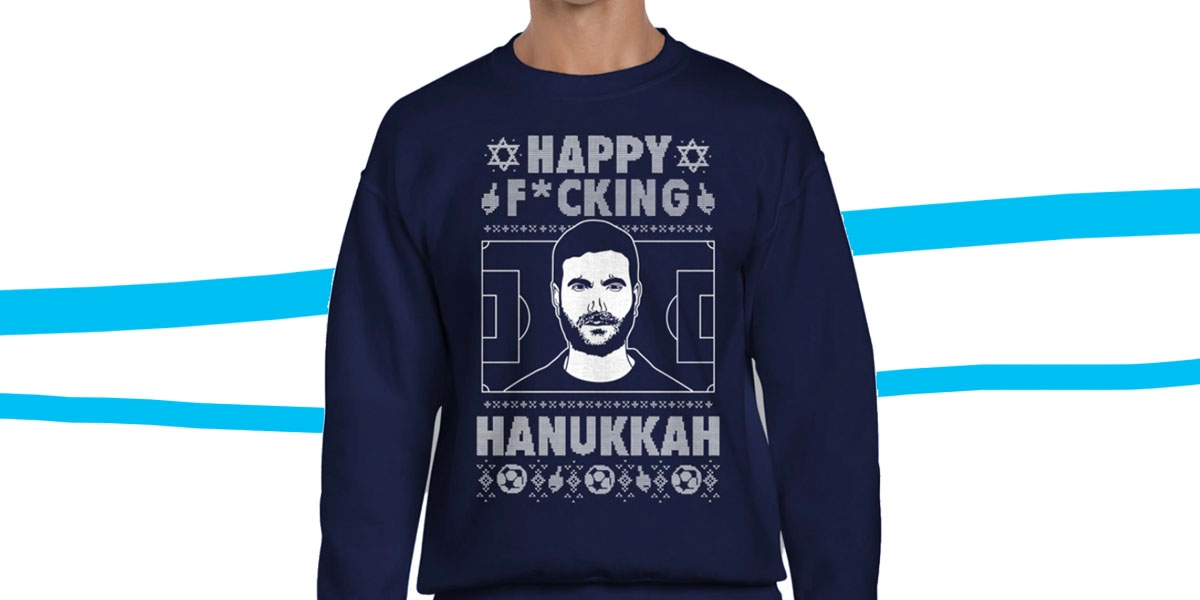 Roy! Kent! If you love Hanukkah and "Ted Lasso" — and Jewish actor Brett Goldstein, who not only plays Roy in the show but is a writer on the show — you need this sweater. Get it now before it's here, it's there, it's every-fucking-where!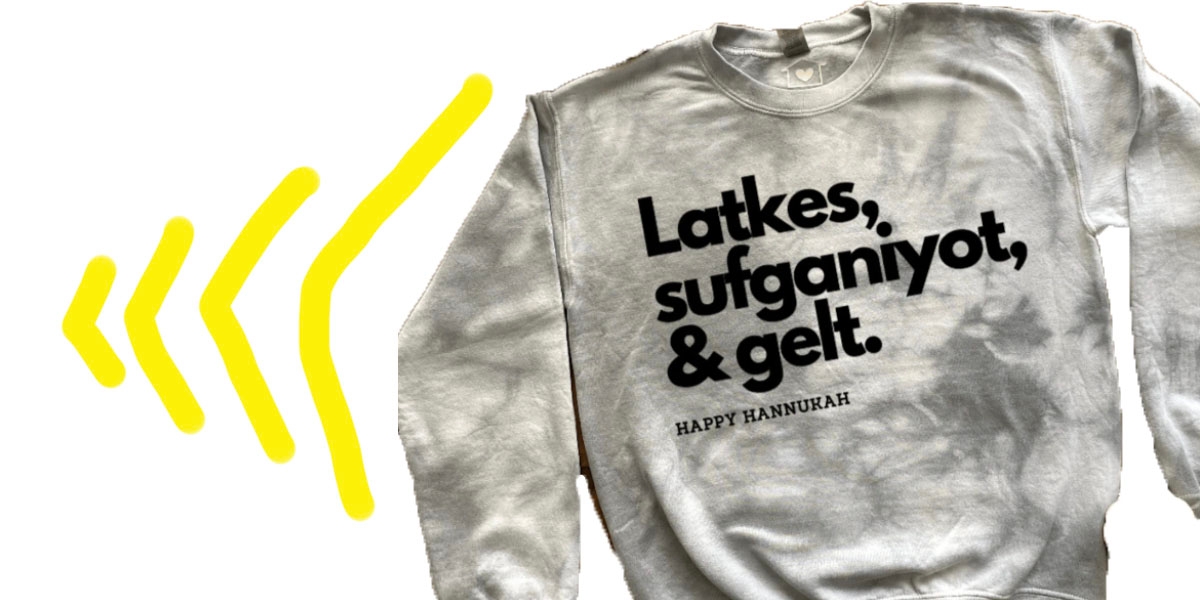 It's the year of the tie-dye and we are contractually obligated to add a tie-dye sweater to this list. This one says "latkes, sufganiyot & gelt. Happy Hanukkah." I see no lies here.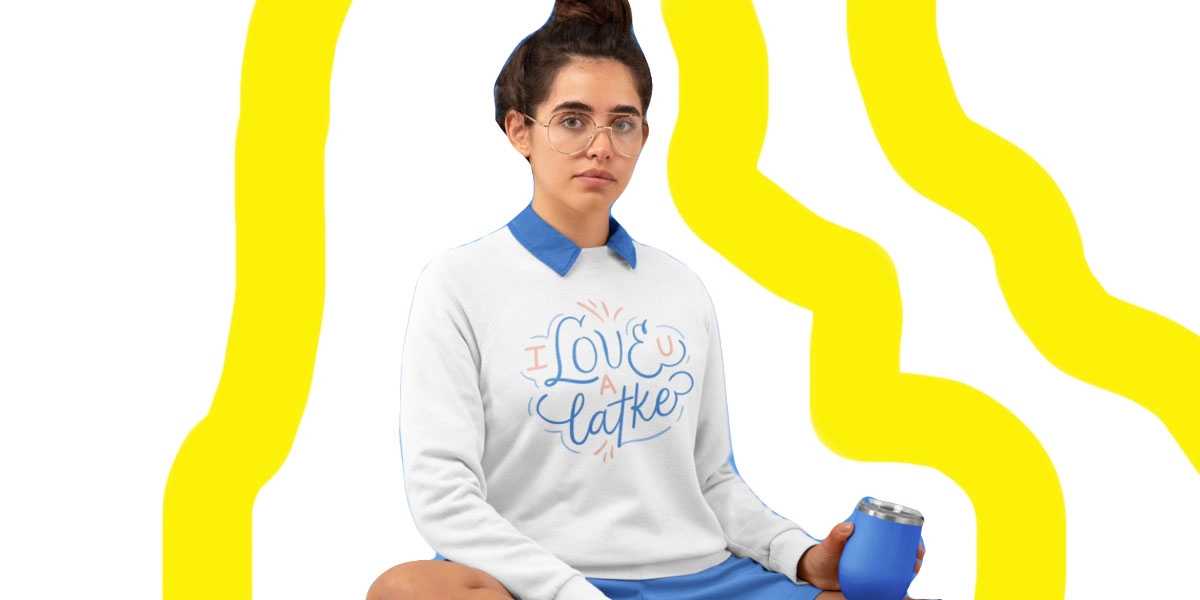 If you, like me, love latkes, and wish to announce it to the world, this sweater is for you. This sweater does technically say "love you a latke," a Hanukkah pun that is solid if not a little overused, but when you first glance at it the words "love" and "latke" are the most prominent, and they are two words that obviously belong together.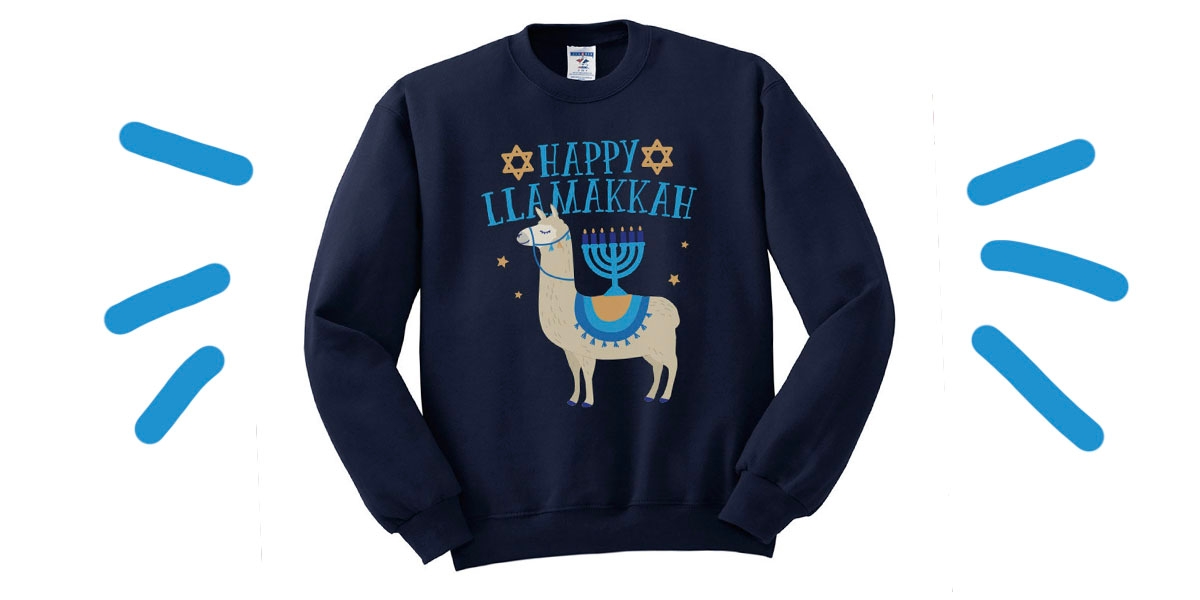 Happy Llamakkah crewneck sweater (Etsy)
I really love the vibe of the llamakkah on this sweater, it's so sweet and so serene. It just feels like it a really good headspace — and we all need more of that right now. I aspire to be in the mood this llama is in forever.
Bonus Dog sweater: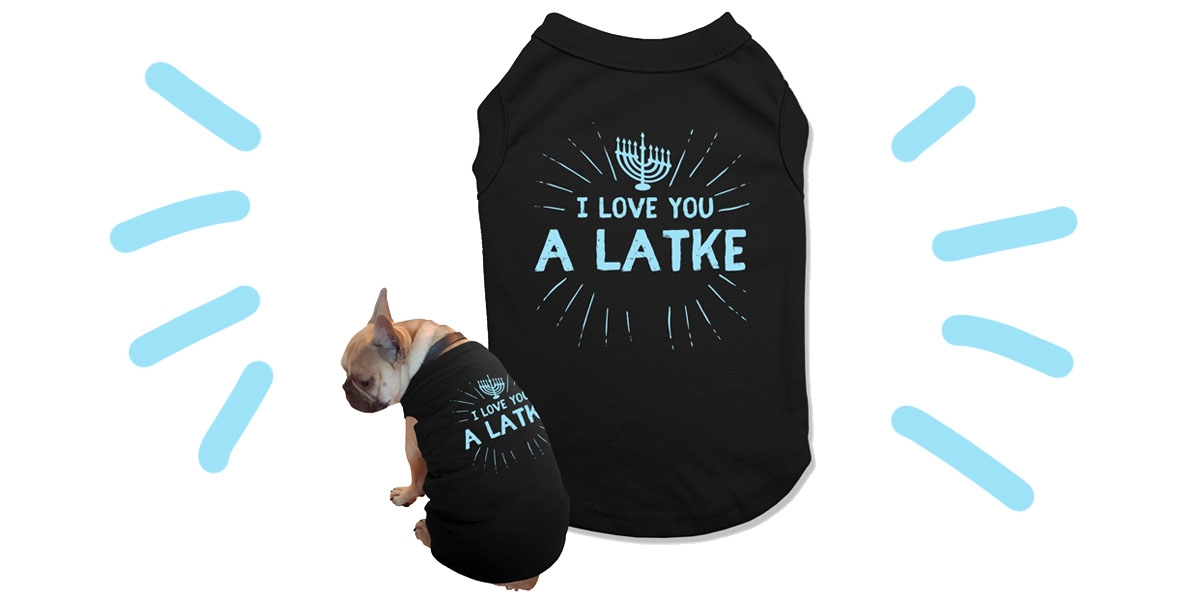 I love you a latke dog sweater (Etsy)
If you, like most dog owners, love your dog (a latke), this dog sweater is for you.  Your dog has been keeping you company and providing emotional support during the pandemic — doesn't it deserve a Hanukkah gift, too?