Guess what? Though it may feel as if 2020 is dragging on forever, it's not too early to start thinking about Hanukkah! This year, Hanukkah starts on the evening of December 10 — and, since we're all staying cozy at home these days, it's the perfect opportunity to treat yourself and your family to some fun holiday pajamas.
I've always argued that Hanukkah gear should be just as good and as fun as Christmas gear. I am a huge fan of Hanukkah sweaters — and an even bigger fan of Hanukkah PJs! After all, for a typically home-based holiday that's all about a jug of oil lasting eight nights, you certainly need some comfy, night-appropriate attire.
Unfortunately, finding a great pair of Hanukkah pajamas isn't as easy as you'd think. Also, they all look very much alike  — they're mostly blue (I guess that's the color of the Jewish people?!), they mostly have menorahs and Stars of David on them (you don't need stars of David on Hanukkah pajamas! After all, there are no crosses on Christmas pajamas!). Where are the latkes?! Where is the gelt?!
I guess what I'm saying is: I'm happy there are Hanukkah pajamas out there, I just want more.
Nonetheless, we've scoured the corners of the internet, and, in the name of journalism, we've put together a pretty comprehensive list of all the ones available, including our favorites: matching Hanukkah pajamas for the whole family!
So put on your pajamakkahs —  it's almost time for Hanukkah.
Hanukkah pajamas for babies and kids: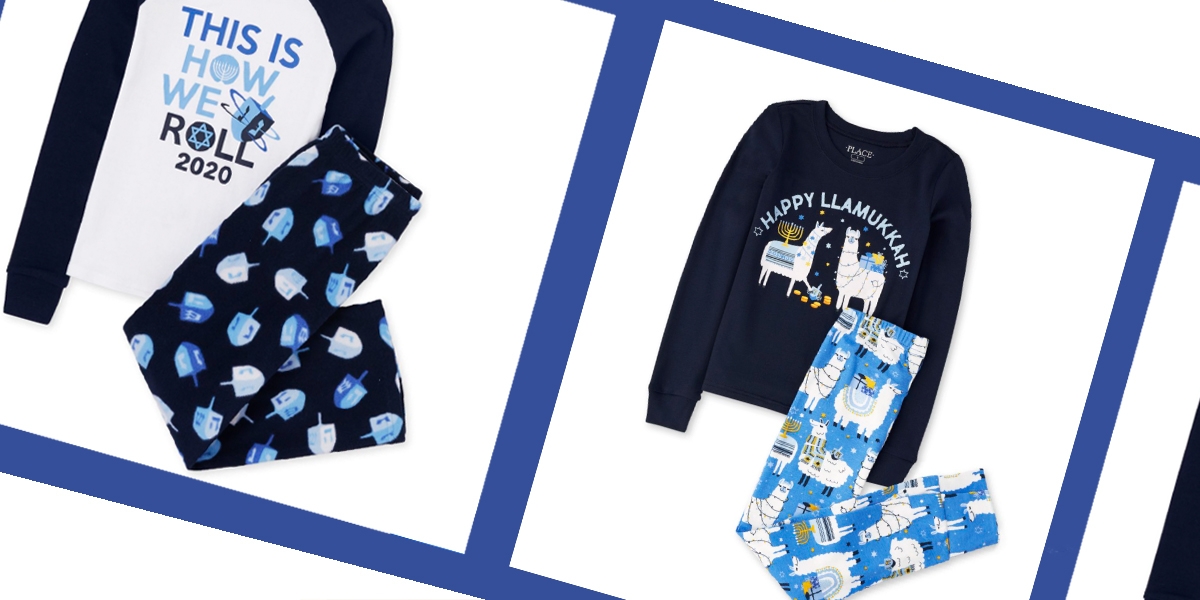 Children's Place Happy Llamukkah  & This is How We Roll 2020 PJs
These Children's Place PJs are affordable (score!), cute, and cozy, and come in a variety of kids' sizes. I'm particularly fond of the Happy Llamukkah one — llamas are very good. The Llamukkah pun — which combines the word Hanukkah with the South American mammal — has become a modern staple when it comes to Hanukkah gear, from cards to sweaters. No one really knows where it originated, but as a lover of both llamas and Hanukkahs, I am here for it!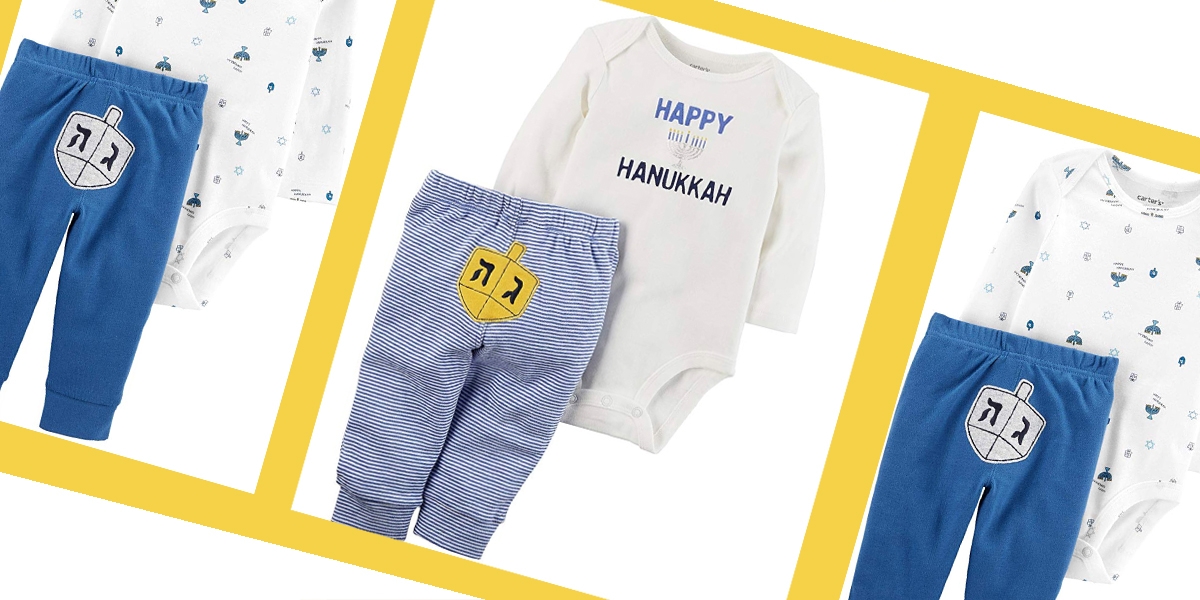 Carter's Baby Pajamas (Amazon)
Carters have two types of Hanukkah pajamas available on Amazon for babies up to 24 months. They're really adorable and simple. And, importantly, they both have dreidels on their butts. Perfect for baby's first Hanukkah!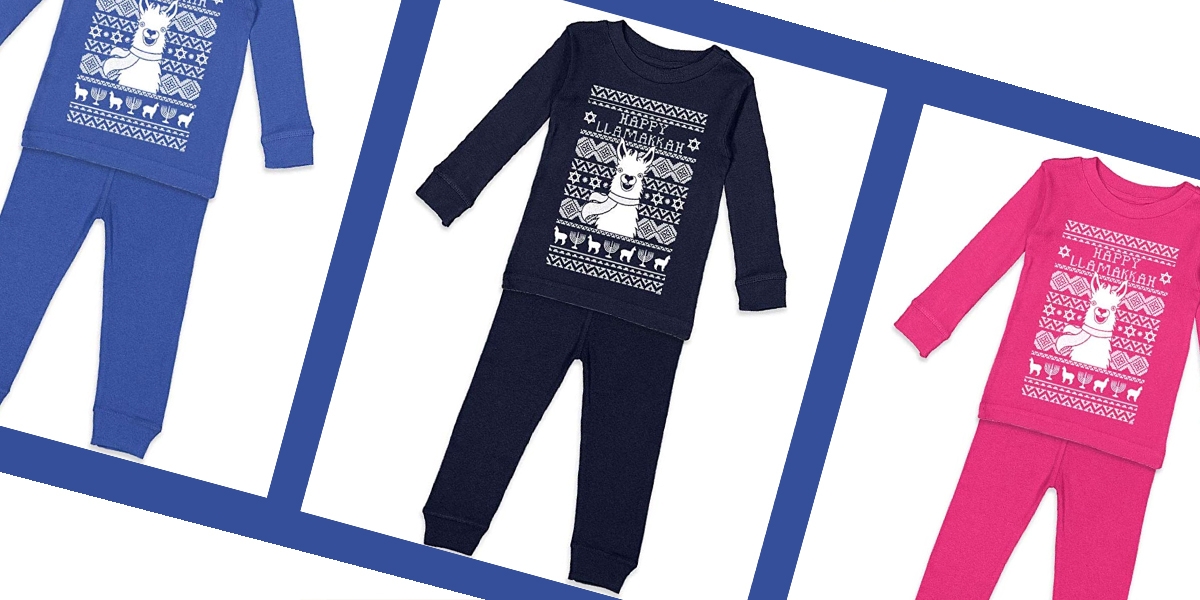 This PJ set here has an ugly sweater-inspired llamakkah print on it, and it comes in both baby and kids sizes. As I've established, I love this silly almost-pun. And the adorably goofy expression on the llama on this specific set is a major plus.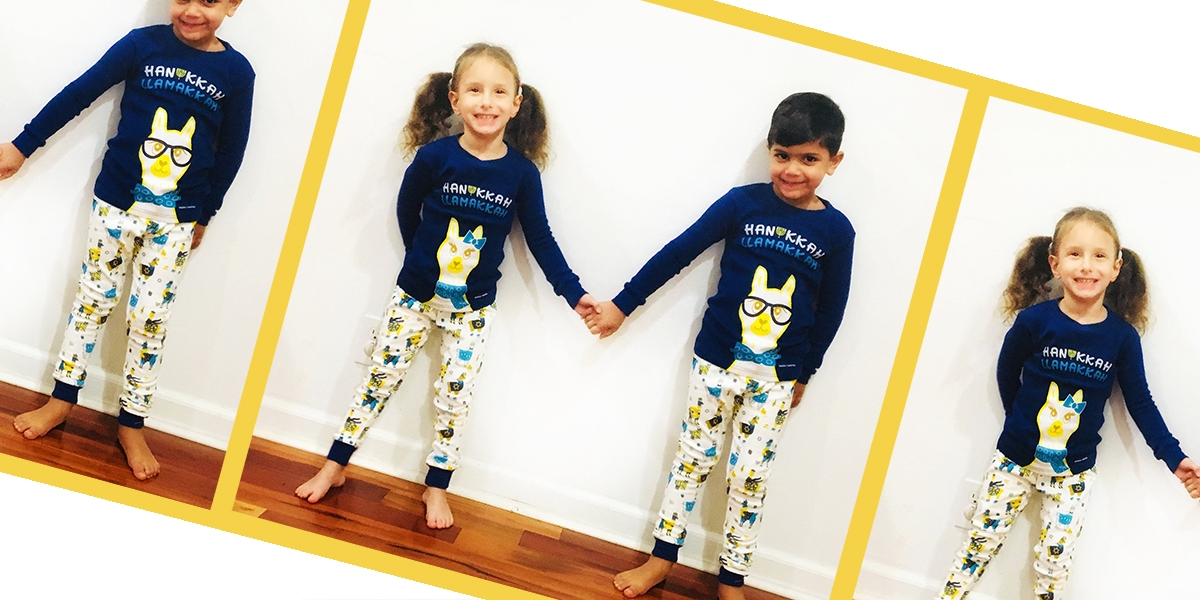 Llamakkah Pajamas from ChosenThreadsApparel (Etsy) 
More llamas! Hurrah! These pajamas are a bit more intricate, with a llama print on the bottoms and an adorable llama on the top. You can get a boy or a girls version — the boy (?!) llama has glasses and a bow and the girl (?!) llama has a bow in her ear and a scarf. I do believe neither are a scientifically accurate portrayal of male and female llama, but they are pretty darn cute!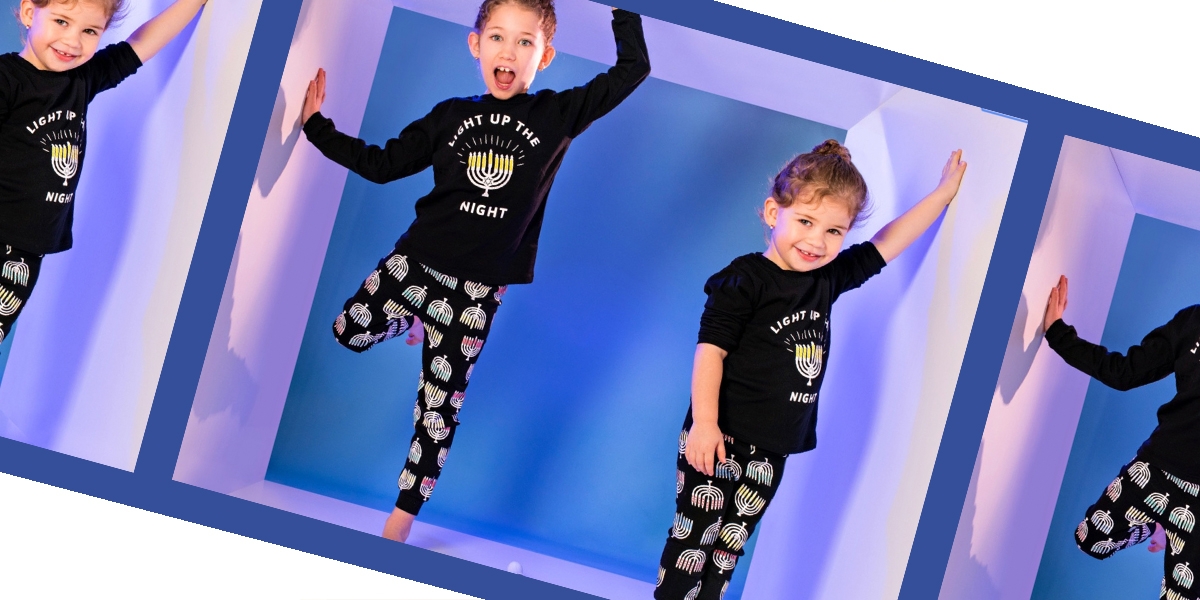 Light Up the Night Pajamas (Etsy)
These kids' pajamas are so
cute
! They're not blue (bonus points!), they have colorful menorahs, and they say "light up the night!" Topical and cheerful!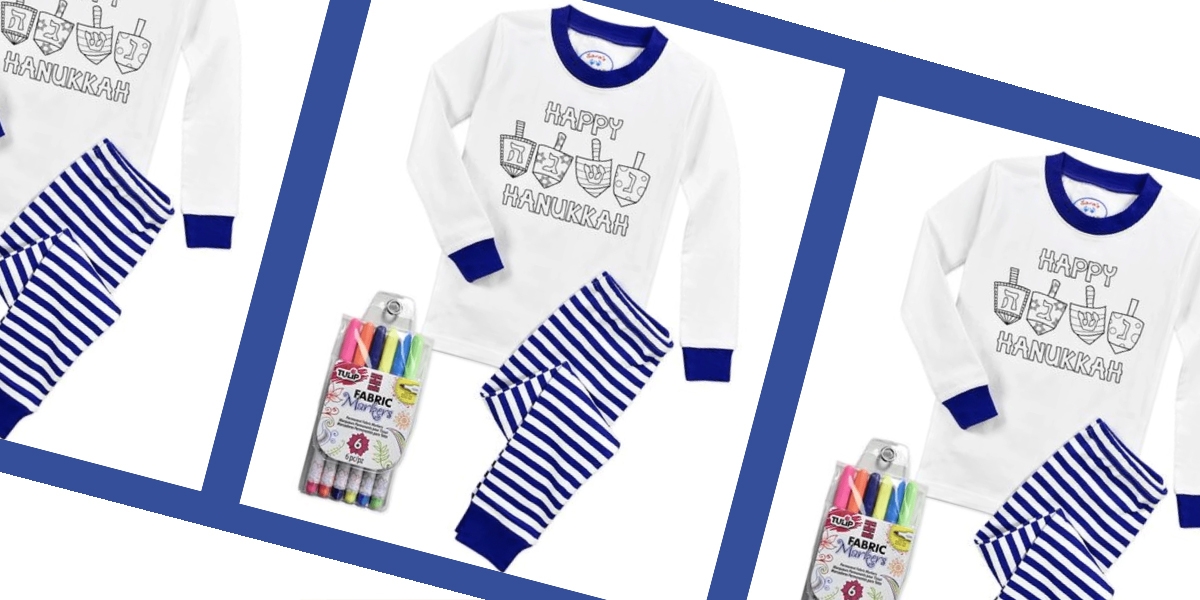 ColorMe Pajamas from ModernTribe
It's a pajama and an art project — in other words, an ideal Hanukkah present! These pajamas come with a set of fabric markers you can use to color the dreidels on the shirt (or wherever else your budding artist decides to draw, I guess?). They come in sizes 3 to 12.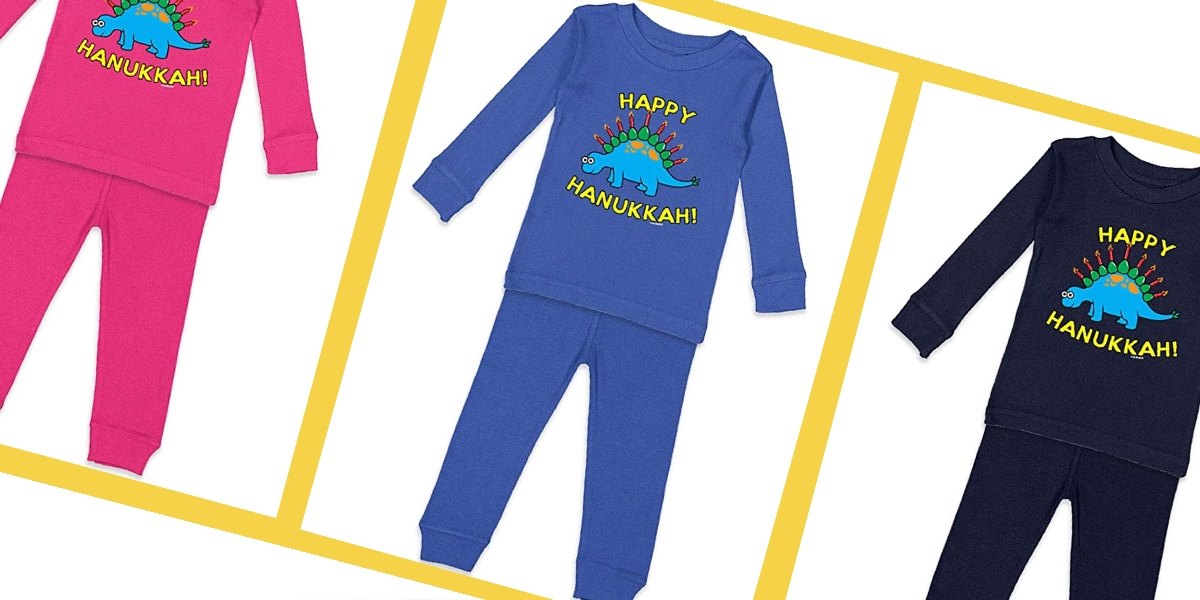 These colorful kids pajamas pays tribute to one of the best sub-genres of Hanukkah merchandise out there:
the dinosaur menorah
.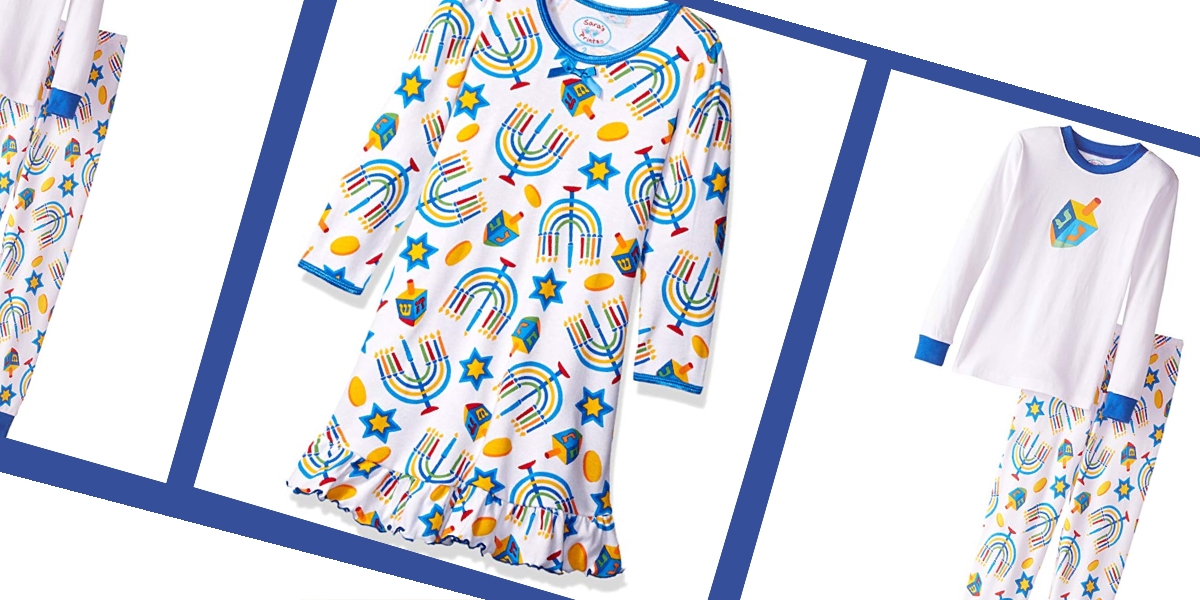 Hanukkah pajamas for grown-ups: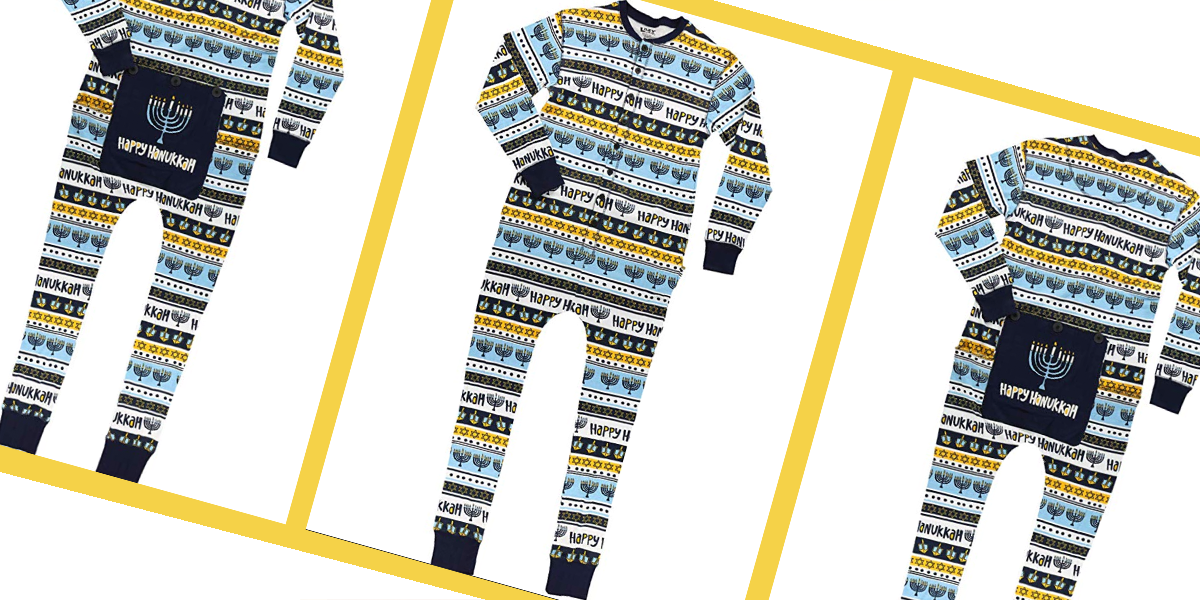 Adult Flapjack Onesie by LazyOne (Amazon)
Sometimes, you just want to feel like a baby again — that's what adult onesies are for. This ridiculous onesie also has a flapjack. We just had to include it on this list.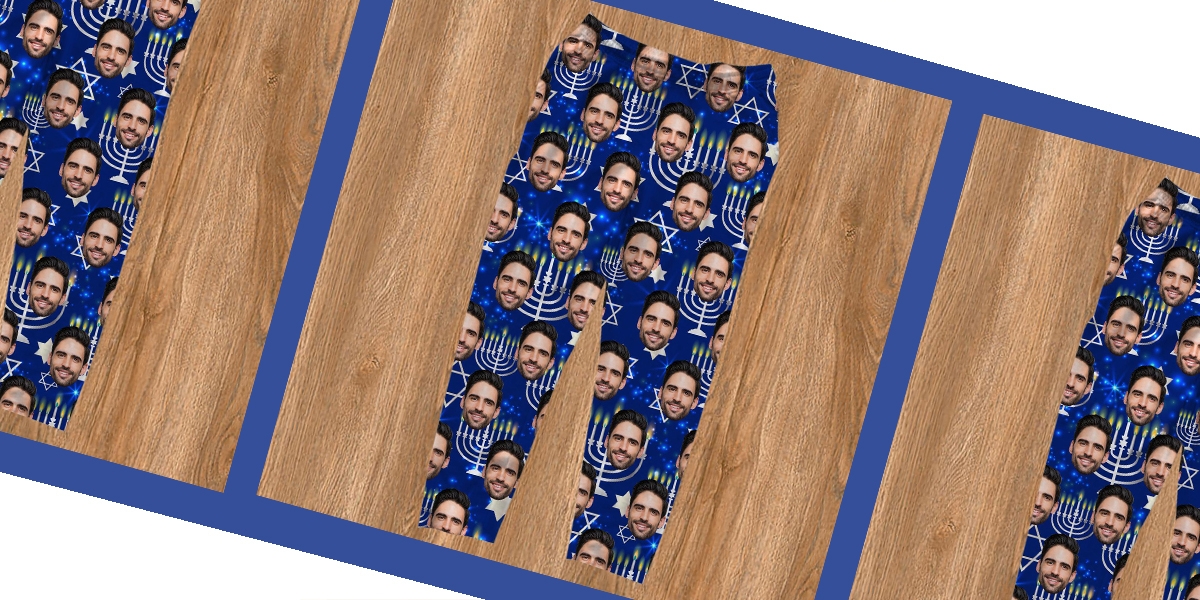 Custom Hanukkah Pajamas (Etsy)
Yes, of course, you could put your own face on these Hanukkah pajamas, we support a little bit of vanity during this pandemic season. But you could also put other people's faces on it. My colleague Molly Tolsky suggests Jake Gyllenhaal (or your grandmother/parents, if you're missing them this year). You could also use some Jewish idols — like RBG (may her memory be for a blessing) or Gal Gadot as Wonder Woman.
Matching Family Hanukkah pajamas: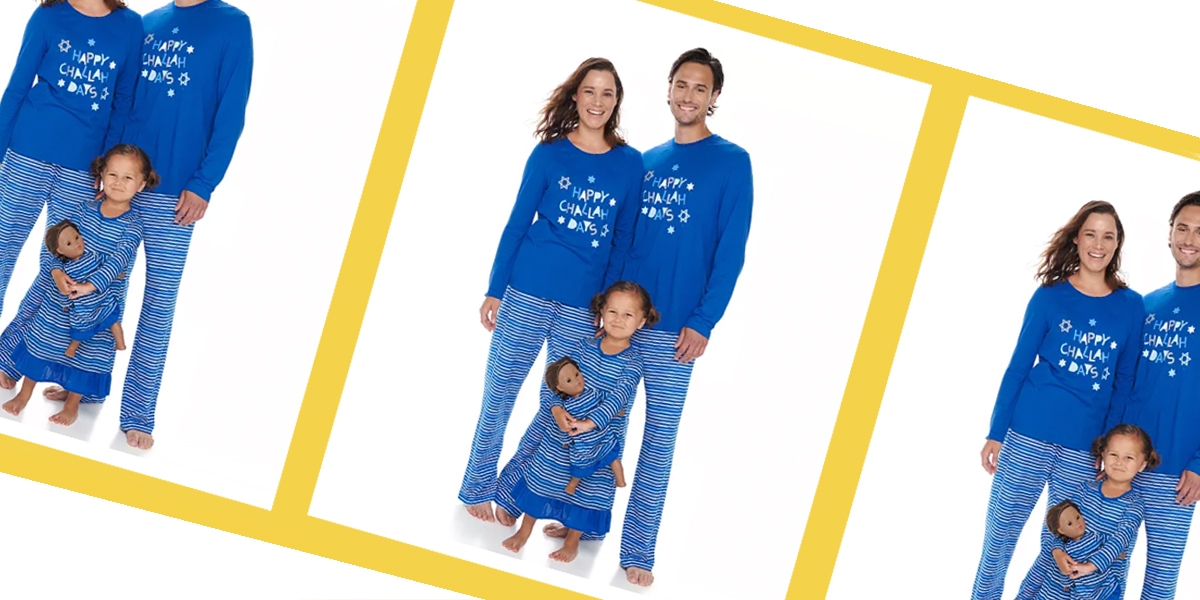 Kohl's Happy Challahdays family PJs
I've gotta be frank: I hate the challah-days pun. You do not eat challah on Hanukkah. Well, OK, you do eat it on Shabbat, but it's not a particularly Hanukkah-centric food. Though I guess the not-so-great Hanukkah pun is a good broad Jewish holiday pun, which means you can wear this pajama throughout the year's many Jewish festivals! (Though not on Passover, of course.) Since we're already in our pajamas most of the time these days, we might as well wear festive ones!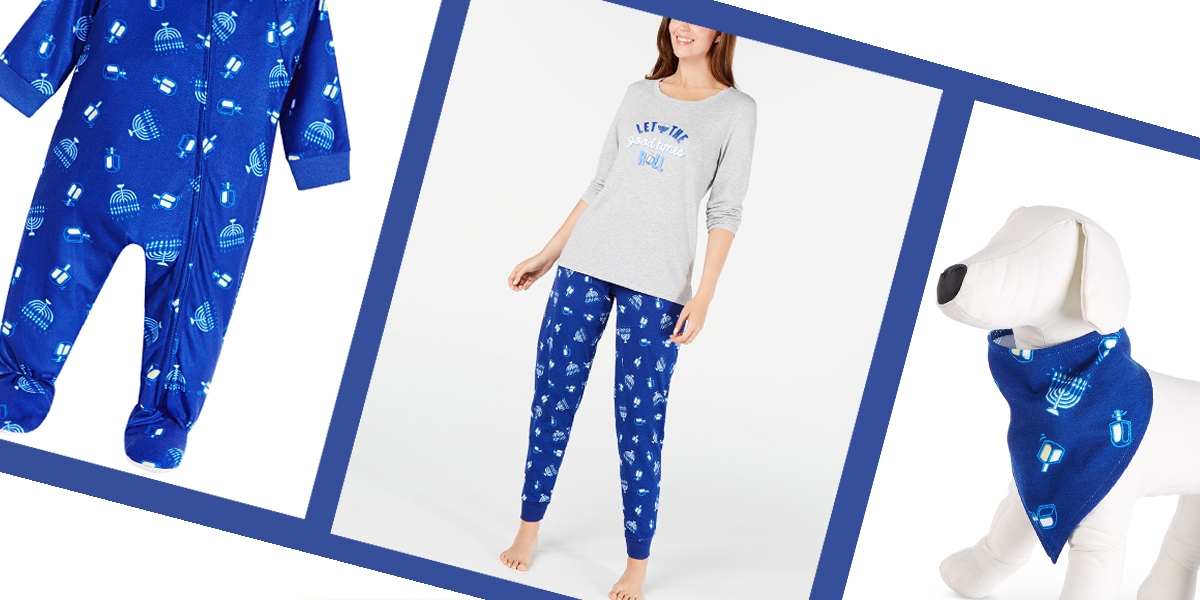 These adorable pjs have dreidels and menorahs on the pants, and a shirt that says "Let the good times roll." (Get it?! Like a dreidel? Spinning is the same as rolling, right? Right?) There's even a cute Hanukkah bandana for the four-legged "child" in your life.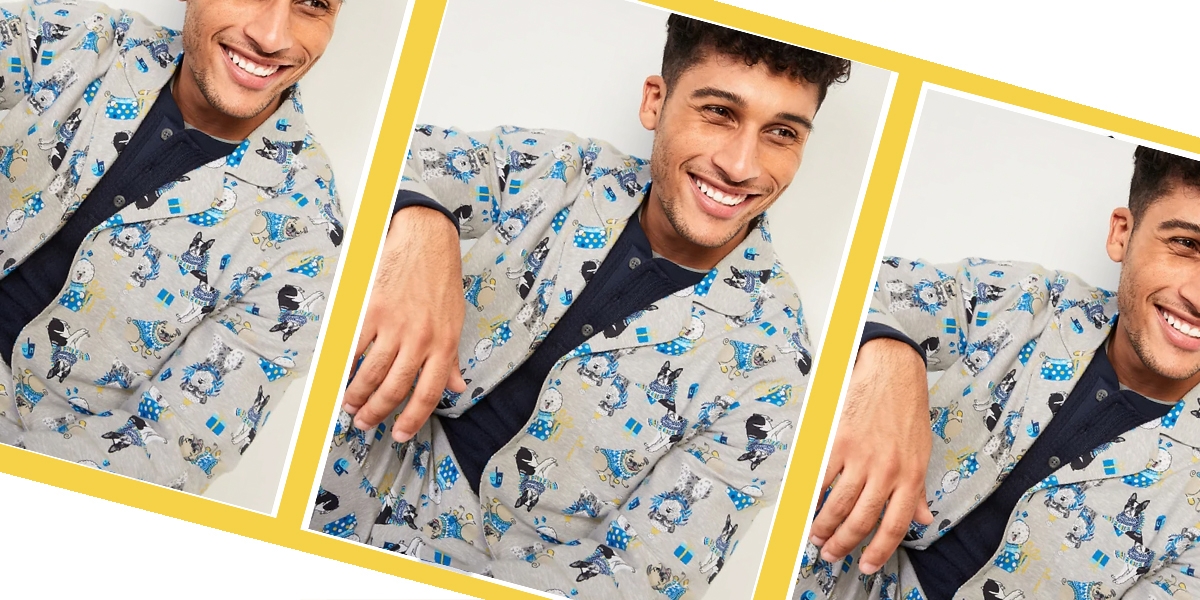 Old Navy Dreidel Doggies PJs for adults and for kids
Dogs and dreidels go together like latkes and applesauce. True, dogs don't have opposable thumbs and can't actually play a game of dreidel, but they're both adorable and make Hanukkah more joyful.
Hanukkah Flannel PJs from Target
Oooh, flannel. That's right — the comfiest material on a cold Hanukkah night, with a lovely, understated menorah print. Since we really do need to be comfy right now, I whole-heartedly approve of Target's choice to produce these soft blue flannel dream PJs.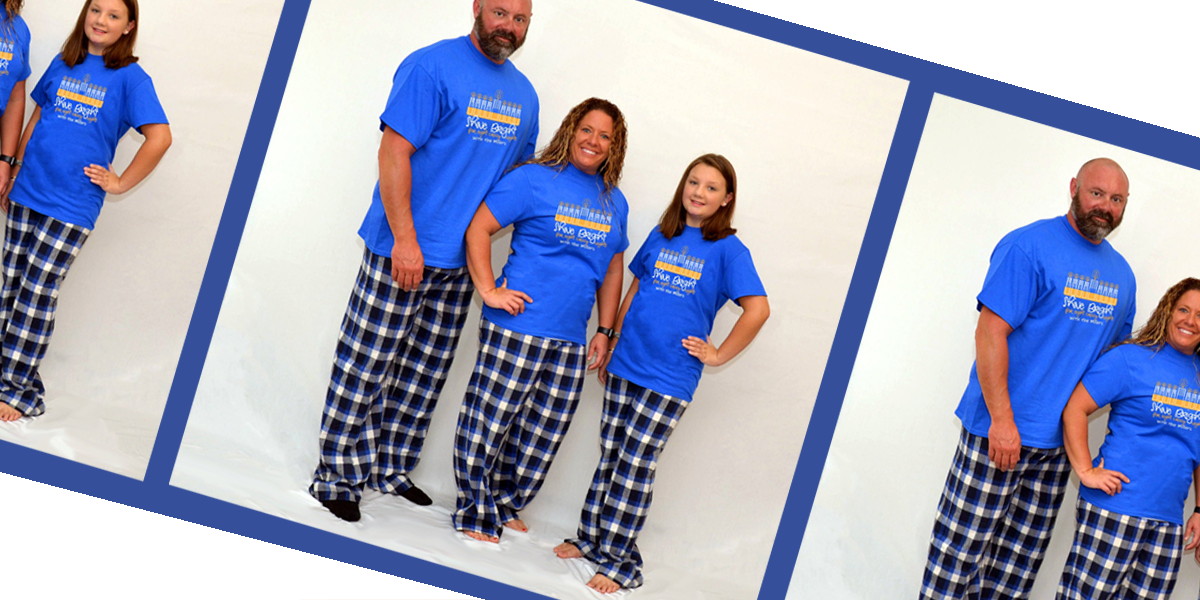 Matching Hanukkah Pajama from Pressed4Fun (Etsy)
Yes, $40 for a set of pajamas is a bit steep, but you can customize each set with the inscription "Shine Bright for Eight Crazy Nights with [insert your family name here]." These cozy pajamas come with both short sleeves (we've got you, hot sleepers!) and long sleeves, though the long sleeves will set you back an extra $5.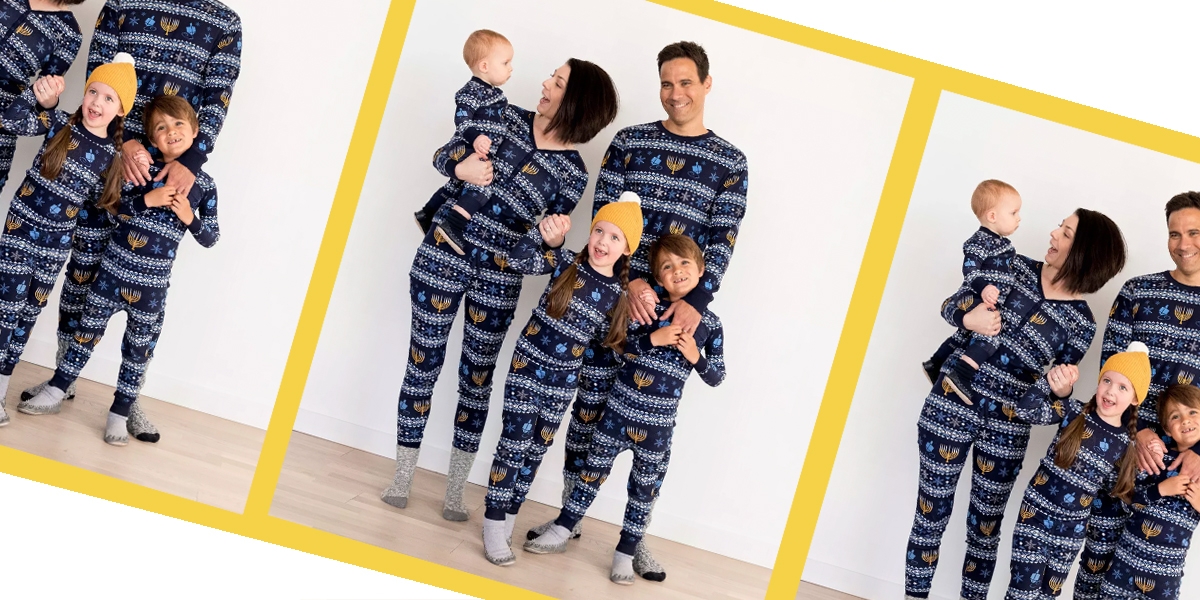 Hanna Andersson Eight Nights Matching Pajamas
They're warm. They're blue. They have snowflakes, menorahs, and dreidels — with no silly slogans or Hanukkah puns in sight. Hannah Andersson's matching family holiday pajamas provide all the classics, and sometimes that's all you want.