Jane the Virgin star Yael Grobglas just welcomed her first daughter. The Israeli actress, 35, posted to Instagram to share the news, writing, "Ok… I hope I do this right. Happy to announce the landing of our human-bean Arielle! Mother and daughter are doing well. Father's weight is 165."
What an amazing way to announce a birth: scant details, aside from her baby's first name and — hilariously — her partner's weight. Since 2006, Grobglas has been with her Israeli high school sweetheart, Artem Kroupenev. Here they are in December:
Arielle, as you may know, is a very Jewish baby name: It's a Hebrew name that means "Lion of God." It makes sense her daughter has a Hebrew name; Grobglas was born in Paris and moved to Ra'anana, Israel when she was 3 years old.
Her first major role was on an Israeli TV show; she broke out in the U.S. on Jane the Virgin, playing Petra (and then Anezka, Petra's twin). She was a stand-out on the show, which wrapped in June 2019.
She announced her pregnancy in September 2019, with a pretty great swipe:
But back to the birth announcement.
Grobglas went on to say she won't be sharing any images of her daughter "until she can make her own decision." Why? "It's not her fault her mom was on TV and she deserves to make that choice for herself."
A bunch of very famous people commented on the post: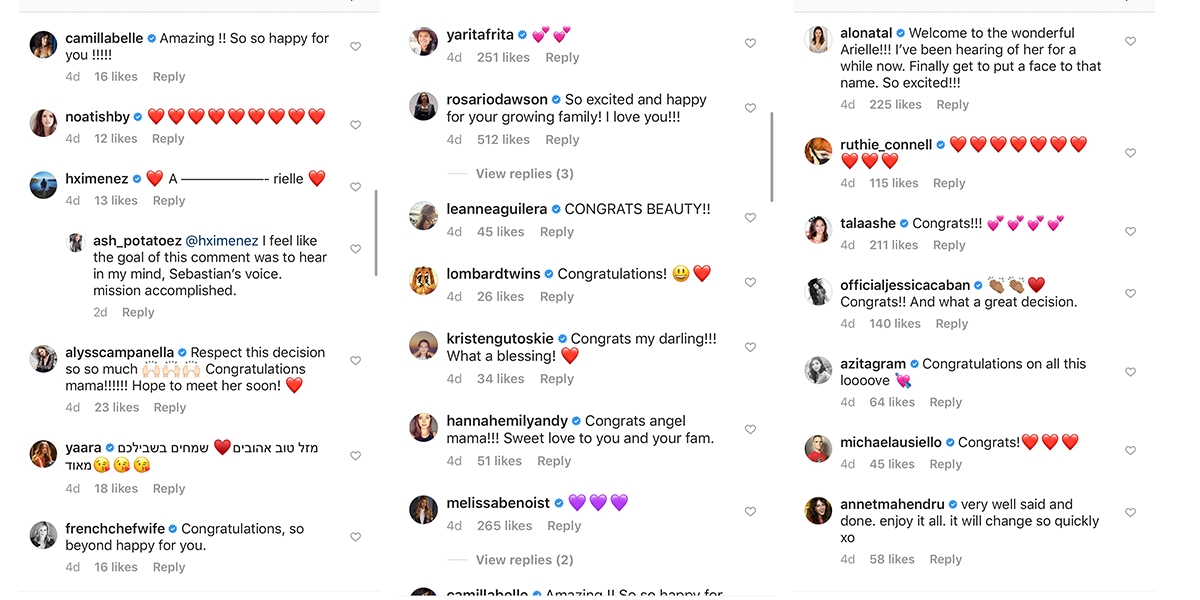 Some highlights? Actress Rosario Dawson, who played Petra's love interest JR on Jane, wrote, "So excited and happy for your growing family! I love you!!" Israeli actress Noa Tishbi commented with a bunch of red hearts. And Alona Tal, another Israeli actress, wrote, "Welcome to the wonderful Arielle!!! I've been hearing for her for a while now. Finally get to put a face to that name. So excited!!" (Can we please join the friend group of cool Israeli actress moms?! TIA.)
Grobglas ends the note by writing, "Thank you my lovelies for understanding and helping protect this little creature. I love you all. Wish us luck. And sleep. And luck."
You can read it in full here:
Mazel tov, Yael, and good luck!!
Photo of Yael Grobglas in header by JB Lacroix/Getty Images