Remember A.J. Langer? She played Rayanne, the wild, rebellious best friend of Angela of the '90s hit "My So-Called Life." Langer's actual life is anything but wild; she's now a countess. And a countess on the school PTA, nonetheless, illustrating that she still has a rebellious streak.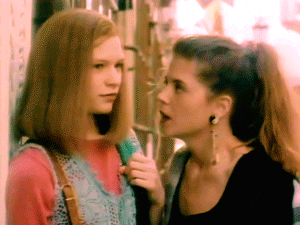 In 2005, Langer, who is Jewish, married Charles Courtenay in California (they danced the hora at their wedding). Courtenay is the 19th Earl of Devon, and the couple is currently raising their children Joscelyn, 10, and Jack, 8, in his ancestral home of Powderham Castle in the English countryside. Sounds very "Downton Abbey," doesn't it? Not a portrait of Hollywood, exactly (although still a portrait of luxury, of course).
The 43-year-old grew up and lived most of her life in Los Angeles, so moving to the English countryside was definitely a huge transition for her. In 2015, when Courtenay's father, the Earl of Devon, died, the title was passed on to both of them, making her the Countess of Devon by marriage. His death prompted the family to officially move from California to his family's estate.
In a recent interview with People, she explained how strange it was for her:
It was, "Welcome to the patriarchy," which I had never experienced. People only asking me questions about the kids and the house, me talking to a bank manager and him responding to my husband. We did walk into a culture that had been very "Downton Abbey."
Despite this, Langer is involved in her kids' PTA — and is also teaching them to surf. Beyond that, while she is no longer in the acting world; rather she is in charge of the castle's businesses, which, as People puts it, ranges "from yoga and dance sessions in the wood-paneled dining hall to concerts." She's also expanding the wedding business in the castle, as she puts it, because the more I find in this house — it's all just love stories. It is like living in a dream sequence that's here all the time."
The castle has been in the Courtenay family for about 600 years; the property spans 3,500 acres and features a view of the River Exe in southwest England.
Strange to think Langer's fictional character, Rayanne, fronted the band called Frozen Embryos and almost had a fatal overdose at her own party.
So, what's the love story behind the count and countess? One can only assume it must be the thing dreams of made of. And well, of course, that was confirmed by Langer, who said she and her husband met at a bar in Las Vegas after leaving Los Angeles, explaining:
We just caught eyes and smiled and it was so cliché. But clichés happen, as I've learned. And then he moseyed over and ordered me this gross drink.
Apparently, he was also wearing a kilt. Courtenay added:
We instantly got on like a house on fire. We went out to a nightclub — I wasn't allowed in because I was wearing a skirt! So we spent a bit of time walking around the streets and got to know each other really, really well.
The funny part? Neither of them knew who each other was. After letter-writing and a date in New York, Langer was invited to a wedding with Courtenay in Scotland, also heading to his home — although he failed to tell her the truth about his heritage, so she showed up wearing "my brother's old cut-off jeans and a surfing beanie and a tank top."
What a story.