Who doesn't love Ruth Bader Ginsburg? At 83, Ginsburg is one of the pioneer feminist politicians who actually fights for human rights–and in this age of Trump, she's more important than ever. This past Tuesday, Trump nominated Neil Gorsuch for the late Supreme Court Justice Antonin Scalia's seat. This caused many people who align with Ginsburg's politics to worry for her health–so that she can stick around for as long as possible.
As of now, Ginsburg is the oldest justice (she was appointed 23 years ago)–and one of only four liberal justices–which causes many to ask, what if she retires? What if she becomes sick and gets replaced?
All sorts of people are voicing concern, like Kim Landsbergen, a forest ecologist in Ohio, who suggested in the Washington Post that our favorite justice eat more kale:
"Can she eat more kale? Eat more kale, that's all I can say. We love you. Eat more kale."
Then, John Hagner, a consultant for Democratic campaigns who lives in Washington, explained that he's more concerned about her getting cancer screenings:
"At that point, what I'm mostly concerned about is the cancer. Is she getting her checkups? Do her doctors realize how important it is for her to get her checkups? Do they? The woman is 98 pounds."
Ginsburg has already survived colon and pancreatic cancer (and she was back at work only two weeks after surgery, apparently)–proving to everyone that she's a lot stronger than she may look. Everyone's concern is rather sweet and thoughtful, but it does indicate a deeper fear and anxiety: America may soon not be the America we all remember growing up in and fighting for. And her eventual retirement or leave scares people, because who she will be replaced by will be representative of the "New America."
Michael J. McClure, an associate professor of art history at the University of Wisconsin, summed up the current situation well–not without some humor:
"I was just talking to a friend about this. Like, what could we do? What could we do to help Ruth Bader Ginsburg? Could we protect her with packing peanuts? Then it turned into, 'I need to become a vampire. Like in 'Twilight.' I need to become a vampire so I can make her a vampire with eternal life.' If I'm damned to eternal life myself, so be it. It's a sacrifice worth making."
In a livestreamed Q&A at Virginia Military Institute, Ginsburg reassured everyone that she regularly does push-ups and has a personal trainer (we previously reported that she claimed to do 20 push-ups a day…which is way more than me). Oh Ruth, we love you, please never leave us.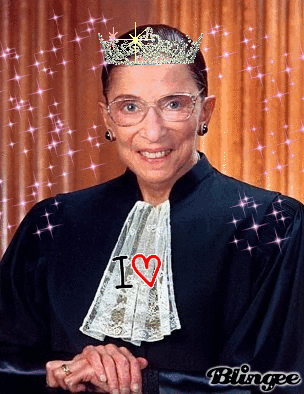 ---
Read More:
My Orthodoxy Doesn't Look Like That Orthodoxy
7 Female Celebrities You Probably Didn't Know Are Jewish
4 Shabbat Meals Perfect for Picky Eaters
---