Ruth Bader Ginsburg seriously does not stop — or miss a beat. She's 84, a Supreme Court Justice, a writer, and the subject of a documentary. This means, naturally, that she's giving a lot of talks and interviews.
It seems RBG is having her moment (and arguably has been having a moment for a long time now — and rightly so). As for her Notorious R.B.G. moniker, which is a reference to the rapper Notorious B.I.G., she has coyly said, "We were both born and bred in Brooklyn, New York."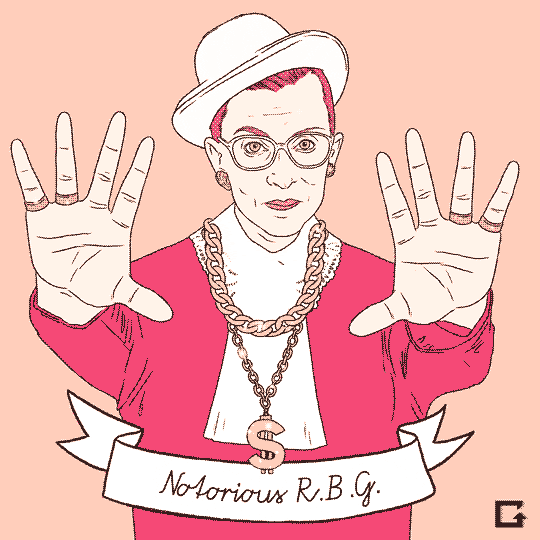 Starting with her January appearance at the Sundance Film Festival for the premiere of the documentary "RBG," to chats at laws schools and synagogues, Ginsburg is set to make at least nine — nine!! — public appearances over the span of three weeks, according to the New York Times.
Ginsburg's appearances, said the Times, "follow a pattern: a thunderous standing ovation from an adoring crowd, followed by gentle questioning from a sympathetic interviewer."
(At Temple Beth-El in Providence, for example, Ginsburg attracted an audience of more than 1,000 people.)
She has three appearances in New York City this week, concluding with Columbia University on Sunday. Next she's off to Philadelphia, where she'll do the National Constitution Center and the University of Pennsylvania on Monday.
While speaking at NYU earlier this week, law professor Kenji Yoshino asked Ginsburg how things were for women lawyers when she graduated from Columbia Law School in 1959. "There were no women partners," she said. "There were no women associates. I don't know how many times I was told we had a woman once and she was dreadful."
And yet, here she is, having persisted — over and over and over again. How? It may all go back to something she once said, a phrase that reminds us all to keep things in perspective:
You can't have it all at once. Over my lifespan, I think I have had it all.
RBG may be closing in on 85 — her birthday is next month — and yet, she's wise beyond her years.