Are you as excited as I am about this? Because you should be. Ruth Bader Ginsburg (or should I say, Ruth 'Badass Bader' Ginsburg) is publishing a new book titled "My Own Words" in January 2017. What a perfect way to start a new year.
Sarah Weinman, the news editor at Publisher's Lunch, tweeted about the big news–and, of course, Ginsburg's publisher Simon & Schuster made an announcement where they noted that this is her first book since becoming a justice in 1993. That's a long time.
According to the press release, the long-awaited book will be "a selection of writings and speeches by Justice Ginsburg on wide-ranging topics, including gender equality, the workways of the Supreme Court, on being Jewish, on law and lawyers in opera, and on the value of looking beyond U.S. shores when interpreting the U.S. Constitution." Um, awesome. What's even more interesting is the fact that the book will be collaborative:
"The writings will be selected by Justice Ginsburg and her authorized biographers Mary Hartnett (Adjunct Professor, Georgetown Law) and Wendy W. Williams (Professor Emerita, Georgetown Law). Justice Ginsburg will write an introduction to the book, and Hartnett and Williams will write introductions to each of the chapters, giving brief biographical context and including limited quotes from a few of the hundreds of interviews they have conducted for their forthcoming biography of Justice Ginsburg, which Simon & Schuster will publish at a date to be determined."
Naturally, I can't wait to read the book. In the meantime, she'll continue fighting for the rights of women everywhere–and continue to be the classiest badass around while doing so.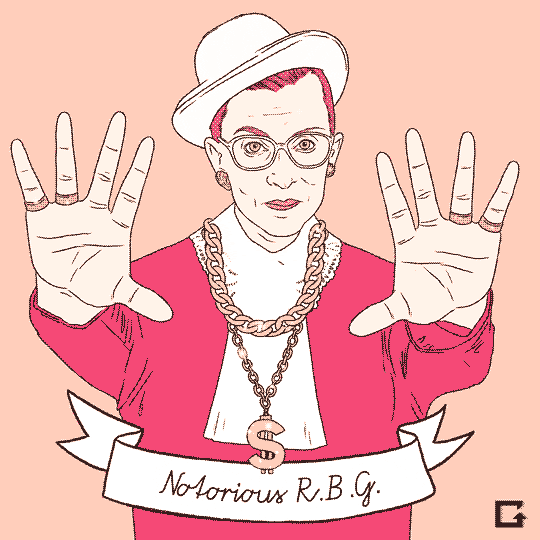 ---
Read More: 
How I Made My Grandmother Proud by Cooking a Bad Brisket
Meet the Orthodox Jewish Fashionista Who's Giving Modesty a New Name
QUIZ: What Kind of Hamantaschen Are You?
---