This year, we've brought you all the best Passover clothing on the internet and the best seder plates to adorn your Passover table. Now it's time to adorn yourselves — with some Jewish jewelry!
Whether you want to wear it to your seder or gift it to a loved one, here's some of our favorite Passover-themed jewelry available for purchase.
Necklaces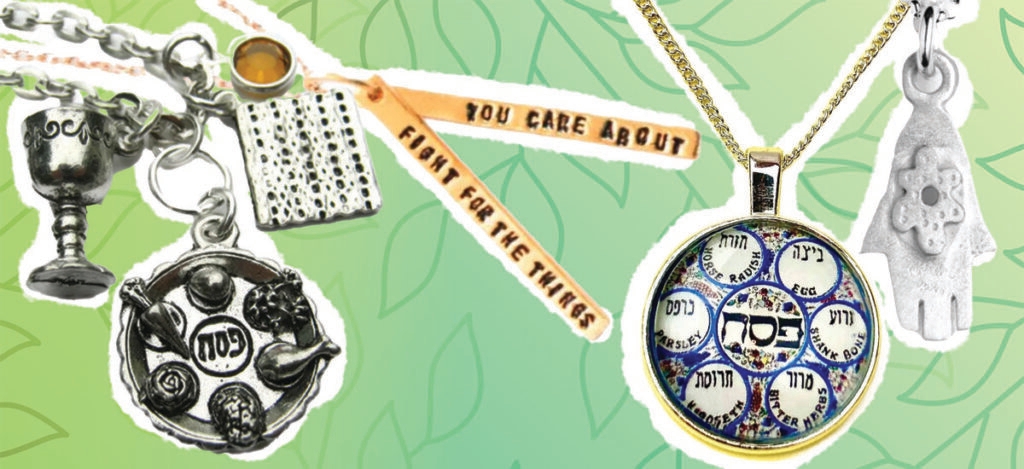 A lovely Armenian style seder plate on a necklace.
Personalized seder necklace in silver
This silver necklace, which has a little cup for Elijah, a seder plate and a piece of matzah, comes personalized with your own birthstone. What a sweet little extra touch.
Listen, we don't think women should carry all the mental and physical load of hosting the Passover seder, but if you're a woman and are hosting a seder this year, you are absolutely a woman of valor and deserve this necklace.
This necklace features a quote for the late great Supreme Court justice Ruth Bader Ginsburg which urges its wearer to "fight for the things you care about." If you're all about the Passover message of fighting for freedom and justice for all, you might need this necklace.
Flower hamsa necklace and flower Magen David from Emily Rosenfeld
Passover is the first major Jewish spring holiday, so it's a perfect time for floral Judaica. These silver necklaces from Emily Rosenfeld are so classy and timeless.
Are you a gefilte fish fan or hater? I am definitely the former — I dream of my grandmother's gefilte fish on every Jewish holiday. If you are too, you might this necklace to show off your love for the controversial Ashkenazi food.
Earrings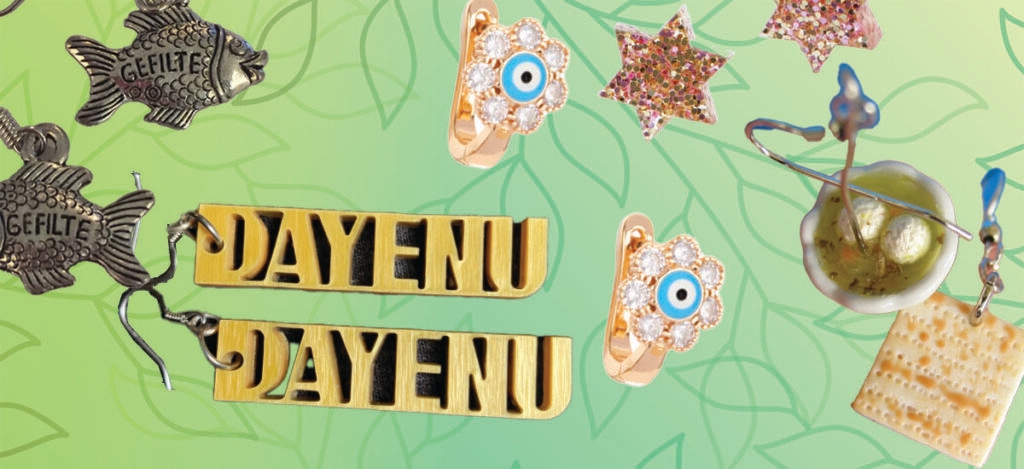 Matzah and matzah ball soup polymer clay earrings and matzah and seder plate polymer earrings
How cute are these earrings? Just look at that tiny clay matzah ball! How adorable is that tiny lettuce? These just make my heart happy.
Get in the "dayneu" spirit with these gorgeous lasercut earrings.
They're tiny silver fish that say gefilte on them. I'm obsessed.
Sterling silver seder plate earrings
Some symbolic foods for your sensitive ears!
Malak earrings from Susan Alexandra
These adorable anti-evil eye earrings are named after the Hebrew word for angel — and they kind of look like an adorable evil eye flower. Perfect for spring.
The champagne colored studs will work well with your matzah print outfit.
Netta earrings from Ariel Tidhar
Gorgeous and big floral earrings to celebrate Passover and spring — and keep the evil eye away.
The iconic Passover candy — on your ears.
Gefilte fish on a plate earrings 
These earrings have two little gefilte fish patties on them with a side of purple horseradish. You know this creator knows their gefilte fish.
For those of you who don't have piercings but still want to get that unleavened bread on your ears.
Bracelets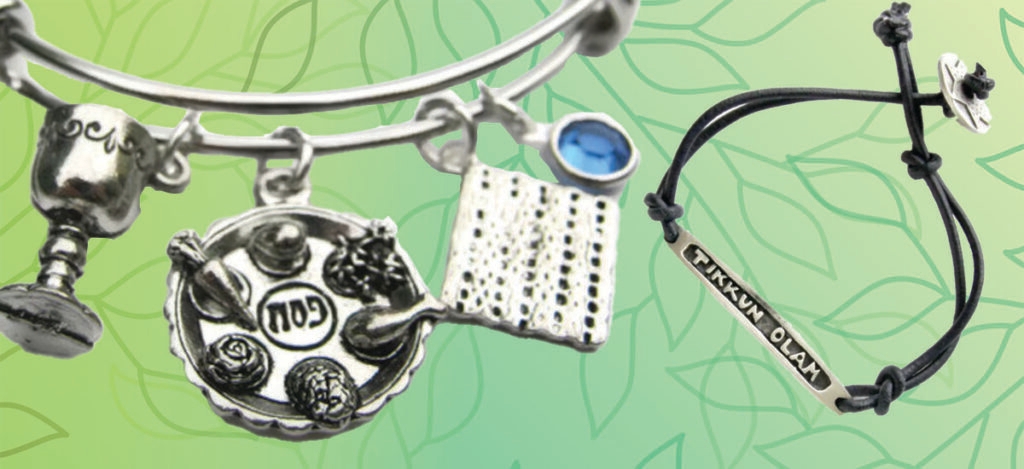 Expandable personalized bracelet with a seder plate, kiddush cup and matzah
An expandable bracelet to match that personalized necklace!
Chai bracelet from Susan Alexandra
"Chai" in Hebrew is life, and hey, this night is all about our survival! This bracelet is just so beautiful.
The Jewish principle of fixing the world is an important part of the seder.
Justice justice you shall pursue bracelet
Another bracelet to remind us of what the seder is all about.
Rings

Not only is this the cutest, tiniest seder plate, but it also has an orange on it and olives to symbolize much needed peace.
Eye can protect myself ring from Susan Alexandra
A flower evil eye ring for spring.
I'm all for getting that gefilte fish in your hands in any way you can.
Cufflinks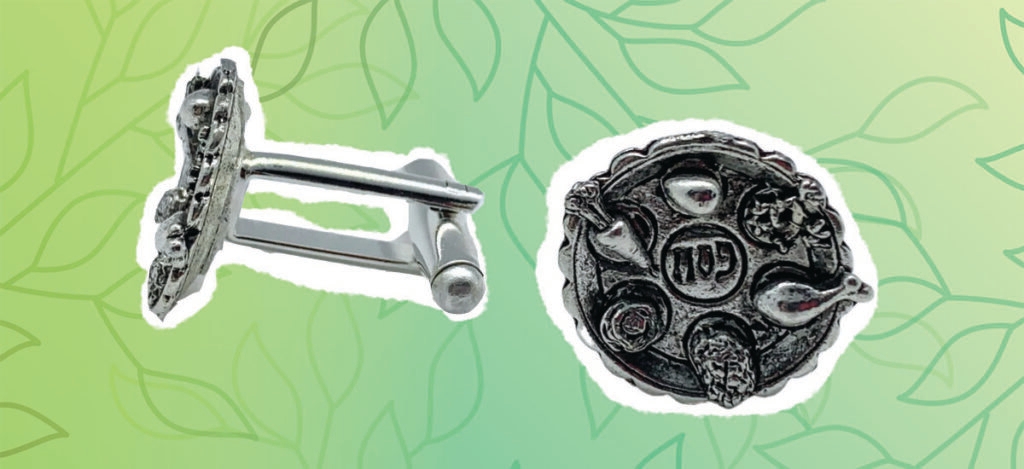 If you're dapper enough to wear cufflinks, you need these.