Passover is nearing, which means it's time for us all to start thinking about our seder tables.
Arguably the most important part of your Passover tables is the seder plate — the plate of symbolic foods that helps us retell the story of the exodus from Egypt. That's why we've collected some of the finest plates on the internet for your Passover needs (or just for some fun Judaica e-window shopping).
Now seder plates are usually an investment — an item of Judaica that you're supposed to keep and maybe display proudly (on your walls???). But there are also some fine budget options that we've collected for those not ready to spend a few Benjamins on a plate.
And if you need to decide what haggadah to use for your seder this year, may we suggest the Kveller Haggadah?
Minimalist Seder Plates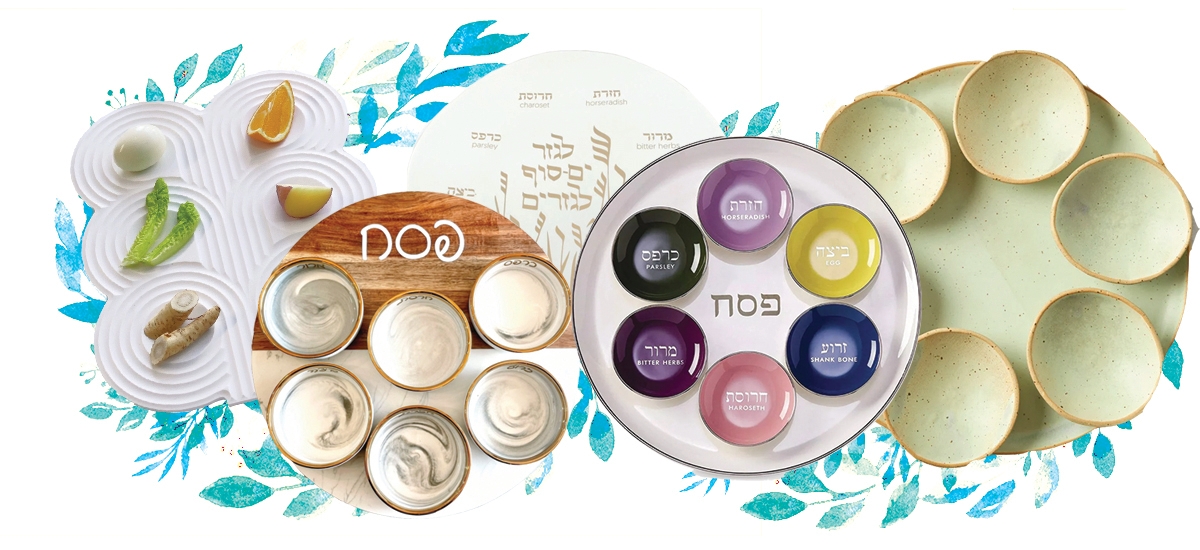 The plates with simple designs will go with any decor.
This colorful, clean design comes from Kate Spade and adds a little touch of color to your table while still feeling understated.
The seder plate by Rachel Pots ($325)
My kids are too young for me to invest in such a well-made and pleasing ceramic plate like this one, but it is truly stunning, with a peaceful turquoise and sandy glaze and classy Hebrew lettering.
Another gorgeous ceramic option that comes in a very clean design and a unique color.
Zion pomegrenate seder plate ($79.99)
This seder plate is made out of silver, with the Hebrew word for Passover at its center and gorgeous pomegranate bowls for each of the symbolic foods. It's also a more affordable option.
White corian seder plate ($390.00)
While pricey, this has to be one of the most beautiful seder plates I've ever seen — and it works with any kind of tablescape.
Michael Aram palm ($310) & pomegrenate plate ($175) 
This stainless steel seder plate has such a cool designs — evoking plants and fruits.
Barbara Shaw floating passover plate ($180.00)
I'm definitely coveting colorful laser cut plexiglass plate. It's held up by colorful disks that make the plate appear to be floating — which adds some color and whimsy to your passover table without taking too much attention.
Modern wood and marble seder plate ($165)
I love the mix of materials and the lovely Hebrew hand-wrinting font on this plate.
Seder plate by Mi Polin ($168.00)
This seder plate features a beautiful illustration of the reeds of the red sea.
Curved seder plate from Blackthorne Forge ($350.00)
This plate's design works seamlessly with the long seder table — it's both stylish and useful.
Maximalist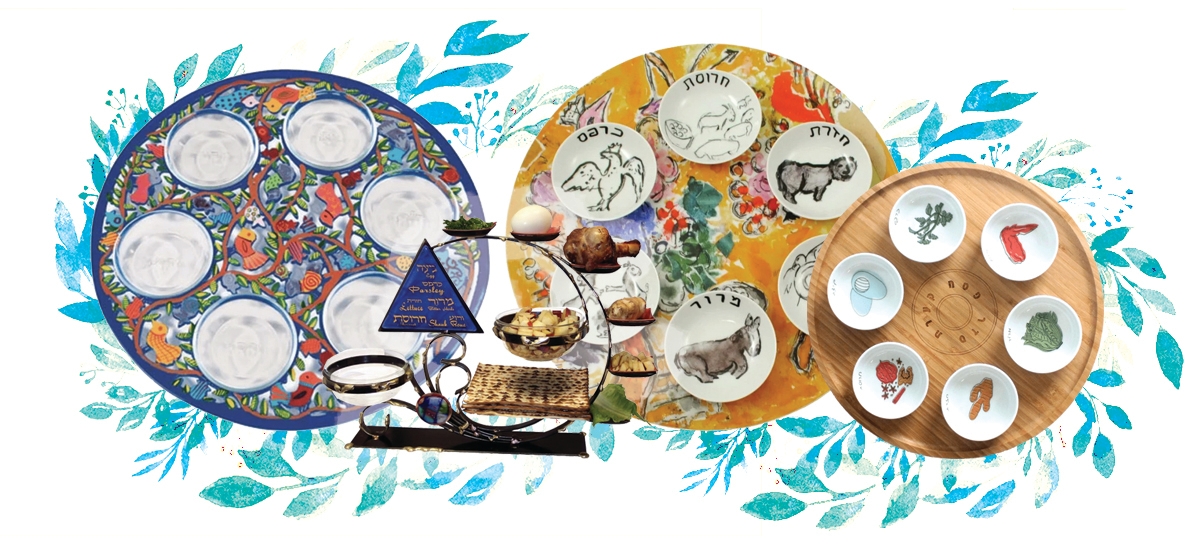 More is more, in our opinion.
Bamboo porcelain illustrated plate from Mickala design ($169.00)
This  bamboo plate features a great illustration for each of the foods on the seder plate.
Bird seder plate by Yair Emanuel ($130)
I absolutely still maintain that "put a bird on it" is an important design principle and this colorful aluminum plate proves that it's true.
Gary Rosenthal floating seder plate ($399.95)
If you're looking for a seder plate that's like no other this one is truly a stand-out plate — literally and figuratively.
Pomegrenate lasercut plate ($115.00)
"Put a pomegrenate on it" is definitely its own category of judaica and I love it.
Barbara Shaw illustrated passover plate ($99)
The passover-themed illustrations on this plate are just so adorable!
Vintage seder plate by Naaman porcelain ($265.00)
I just love all the color and personality on this vintage plate.
Chaggall seder plate by Bernardauh ($1485.00)
Both the style, and the price of this plate is maximalist — but as a lover of Chaggall, I couldn't not include it.
Budget picks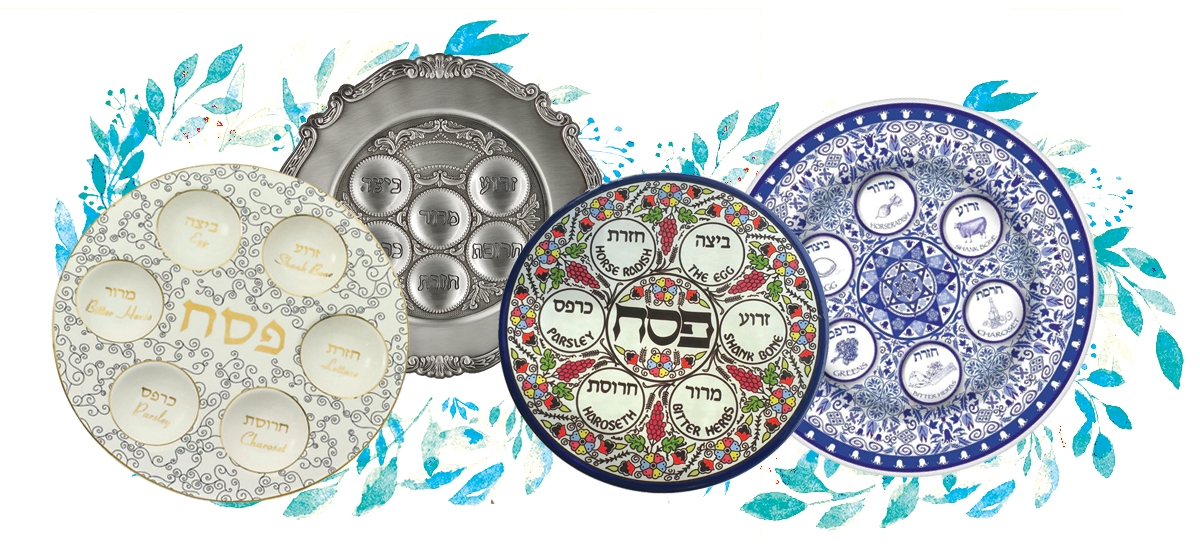 These plates are all $60 or less!
Melamine seder plates ($12.00) & Dreidel Company melamine seder plate ($9.99) & Ner Mitzvah melamine plate ($14.99)
The price on these melamine plates can't be beat! I especially love the Ner Mitzvah one that's perfect if you're going for a table filled with springtime colors.
Personalized seder plate ($52.00)
These plates are meant to be individualized — for your kids, family, friends. They make for a great Passover gift.
Ner Mitzvah silver plate and cup ($49.99)
This set is classic and affordable.
Dreidel Company pewter seder plate ($17.99) 
Cheaper than the silver option, and also just a simple, classic option.
Passover plate center piece by Eley Ori ($40.50)
Put some glass bowls on top of this beautiful illustrated fabric center piece and you've got and arresting, and relatively budget friendly seder plate.
Rite Lite ceramic seder plate ($39.99)
This ceramic seder plate has a very simple, clean design, with blue and gold.
Aviv Judaica blue porcelain plate ($60.00)
An affordable blue porcelain seder plate that's still so lovely.
Armenian style seder plate / Option 2 / Option 3 (various prices)
These beautiful patterned Armenian-style designs are just so timeless and gorgeous.
Have your kids paint their own seder plate! It's affordable, yes, but also having your kids' art as part of the seder table is priceless.