Traveling with kids on an airplane always seems to stir controversy into the proverbial pot. While I get it–no one wants to hear a baby crying on your six hour flight–this is just the nature of schlepping your mini-humans around. Parents can't help it. Are they never supposed to travel with their kids? Are kids just not allowed to leave their designated zones?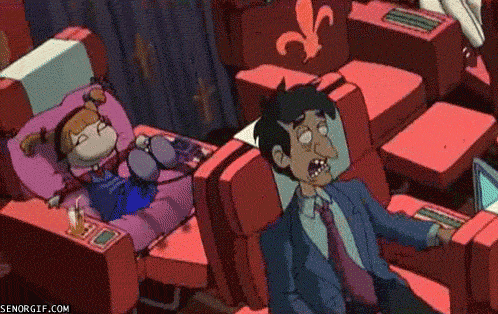 Well, now apparently, some airlines are changing the game and implementing child-free zones. Indian budget carrier IndiGo recently announced it will offer "Quiet Zones" on its planes where children under the age of 12 are forbidden. In a statement, they announced the change:
"These zones have been created for business travelers who prefer to use the quiet time to do their work."
@iamvir1 Rows 1-4 and 11-14 will serve as "Quiet Zones". These seats will primarily only be assigned to passengers above 12 years of age.>>

— IndiGo (@IndiGo6E) October 5, 2016
Children are also not allowed to sit in seats with additional leg room. IndiGo isn't the first airline to do this. Malaysia Airlines, AirAsia X, and Singapore's Scoot airline all introduced kid-free zones on their flights in the past few years. As of now, though, no U.S. carriers have attempted this change. Airfarewatchdog.com's George Hobica told TODAY why this is:
"It'd be a logistical nightmare for airlines to sell child-free zones, and I think this is more of a gimmick than anything.
Of course people would love to avoid screaming, crying kids on flights, but it just isn't practical from an operations perspective. And just like when airlines had smoking sections, if you're only a row or two away from the kids-free zone, you'll still be bothered by a child with strong lungs because like smoke, sound carries.
The best solution is for parents to bring a supply of foam ear plugs for seat mates and for seat mates to bring noise-canceling earphones with the Led Zeppelin at max volume." 
Of course, these "child-free" changes aren't a hit with everyone. For instance, one customer told the Hindustan Times said that it's not kosher, stating:
"The policy is discriminatory. It means that you cannot ask for more leg space while traveling with your children."
Some, of course, tweeted in support:
Totally agree with #childfreeflights I would gladly pay extra for a seperate section on the plane

— Alaisdair (@alaisdair) October 4, 2016
In the end, let's just be kind to each other–because no one loves flying.
---
Read More:
Bracing Myself Against My Son's Severe Mental Illness
Mayim Bialik: Why I Support This Mental Health Organization & You Should Too
Why This Rabbi Uses Martial Arts to Help Kids with Cancer
---