The skies were dark and the rain was already falling, but Dillon Eisman was undaunted as he stood on the corner with his rack of clothes.
A young woman, wearing nothing but a tank top dress, came up to him. When he offered her one of his handmade jackets, she burst into tears. As Dillon recalls, "She said it had been six months since she had a jacket. It was really heartbreaking. And yet really wonderful. Something so simple as a jacket."
Thanks to Dillon's organization, Sew Swag, Inc., something as simple as a jacket has been changing people's lives and livelihoods for the past four years. He starts by soliciting and collecting clothing donations, and then upcycles the clothes into new fashions to distribute to the homeless.
Dillon has already been spotlighted on NBC's #Pride30 List for LGBT Innovators, Changemakers, and Rising Stars and is also the founding President of the Gay-Straight Alliance at his high school.
Dillon is a recipient of the 2018 Diller Teen Tikkun Olam Awards for his generous and creative work.
Tell me about growing up in Malibu.
I had a very nontraditional childhood. When I was younger I was an avid figure skater. I felt really inspired after the 2008 Winter Olympics and started taking lessons at the local ice rink… then I started competing and it became a full-time thing.
Who would you say has had the greatest positive influence on your life?
In general, it would have to be my mom, obviously. In terms of skating, I would say the figure skater Johnny Weir. And for fashion design, my biggest inspiration is Alexander Mcqueen.
What's the greatest lesson you've learned in running SewSwag?
Learning to not give in, and to not be afraid to stand up for what you believe in or what's right. And more specifically for my company — learning to overcome rejection. I called dozens and dozens of companies, other nonprofits to help partner with me and grow my mission. I was shocked at how rude and discouraging people were. Do not let anyone become the obstacle… just try.
Can you tell me about that first moment when you toured the LGBT Center for Homeless Youth and decided to start SewSwag?
I was 14 at the time, and just the thought of other kids my own age not having a home or clothes was really shocking. It really moved me to turn my interest in fashion to a solution. I started teaching myself sewing. And I took some old clothes and I just tried to make them more fun and bring the life back to them. And then the confidence I saw when I brought them into a shelter, it was really inspiring and it made me think this can be more than a one-time project. That there was something I can do to help a lot of other people.
How did you start gathering all these clothes?
The very first time was my mom's stuff, then after that, I started bagging stuff at Goodwill. Currently, I have corporate sponsorship which is really exciting. So I have a house filled with clothes now. It's kind of crazy how it went from me working with my mom's old clothes to Abercrombie & Fitch sending me all this stuff.
Do you have any favorite designs that you've created?
One of the first pieces I ever did, it was a DIY circle skirt. I took one of my mom's flannel shirts, and I turned it into a circle skirt. And I remember at the time I didn't have a dress form or anything so I used a huge centerpiece bowl to trace around and then I put it on a pot, to measure like a waistband because it looked like the circumference of a waist. And the whole thing came together! I was really happy.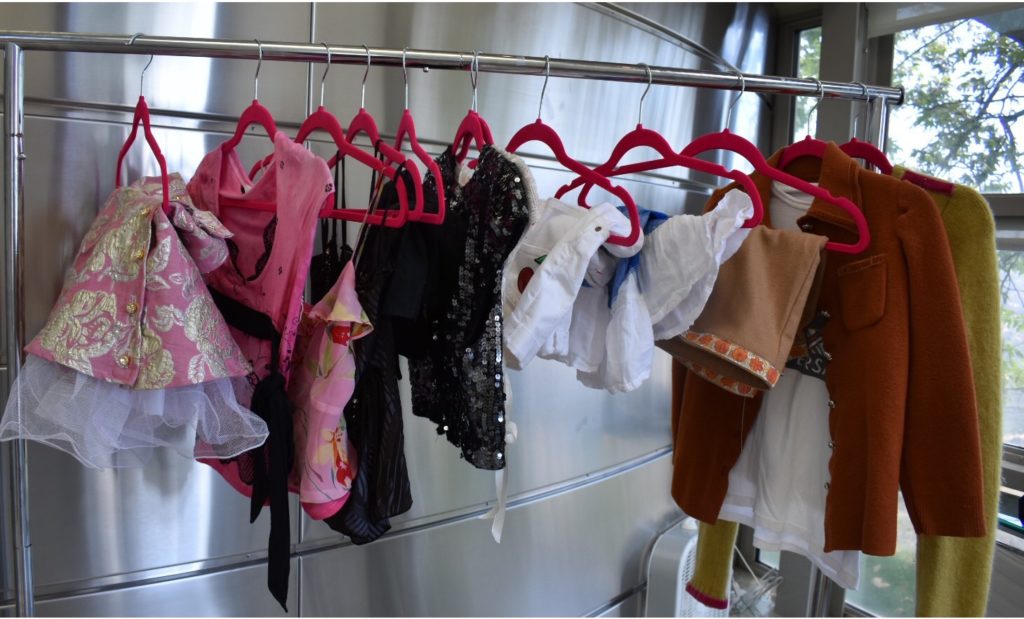 What's the hardest part about running SewSwag?
Definitely doing everything myself. It's really hard to manage the workload, especially during school. I had to teach myself sewing, and then I did all the web design, and the legal work, I had to incorporate my company, trademark my logo, and get all the 501(c)(3) non-profit certification. Plus all the outreach stuff I had to do myself.
What's the most rewarding part?
Yeah, well there's two parts to it: upcycle and uplift. So, the first thing that makes me really happy is being able to restore the clothing. That's the upcycle — taking something that nobody wanted to wear, and restore the life back into it, make it trendy and fashionable again. And of course being able to uplift — to give this clothing to people who really need it. And seeing that the homeless population deserves to care about what they're wearing. Knowing that it doesn't have to be a crazy big thing. There are little things that can make people feel confident and happy.
What's next for you?
I'm in my freshman year at Washington University at St. Louis. I'm going to study business, but there's a unique minor called The Business of Social Impact, which is all about social entrepreneurship and how the nonprofit world meets for-profit business. I'm excited about that because it's what I'm trying to do. My endeavor is to bridge the gap between non-profit organizations and for-profit businesses. There is also an intercollegiate ice skating team. So I'm going to try to get back into it and that's really exciting.
What's next for the organization?
Opening and launching in the St. Louis, Missouri area. I have some other projects and ideas, too, like a social enterprise type workshop where homeless and at-risk youth will be able to learn fashion-related skills like sewing and design. So that they can learn about upcycling and become part of that process. Whether they want to wear it themselves or upcycle clothing to sell it from a third party platform and generate income. That's the biggest idea right now.