This week, Jewish actress Debra Messing, of "Will & Grace" and "13: The Musical" fame, took to the streets of New York City to draw attention to the plight of the roughly 200 people taken hostage by Hamas during October 7's deadly attack in Israel.
"Looking at their faces," Messing wrote on Instagram of the babies to people in their 80s, "it became so real. People walking by would stop and spend some time with them. My heart hurts for the families of these innocents — Muslim, Christian, Jewish  — all. The most important thing is the rescue of these hostages."
She added that she is grateful that President Biden's visit to Israel this Wednesday "has ensured that humanitarian aid will get to every person living [in] Gaza by negotiating free passage from Egypt."
"The Oct 7th terror attack was the most barbaric, blood thirsty massacre of Jews since the Holocaust. I pray that [Hamas] are defeated," she added. "The entire globe will be safer."
"Please pray for the hostages safe return and the defeat of Hamas. Pray for the physical safety of all the innocent Palestinians and Israelis who are suffering," she wrote.
"Pray for peace," she ended her post.
Messing also shared a video of her hanging the posters this Wednesday, along with actress and pro-Israel activist Noa Tishby, Israeli pop star Noa Kirel, influencer Eliad Cohen and Amanda Hirsch, known for her podcast and Instagram account "Not Skinny But Not Fat," who can be seen crying in the video as Tishby comforts her.
"This is Ariel. He's 4 year old, he's the same age as my little cousin, and I can't believe he's in Gaza now,"Kirel tells the camera in the video. "Bring them home."
Messing is then seen holding up a poster of Diza Heyman, from Kibbutz Nir Oz. "She's 84 year old. She's a British national she was taken hostage from a kibbutz in Israel," Messing tells the camera. Diza's daughter, Neta, is an activist for Women Wage Peace, and has begged the Israeli government for a ceasefire. In a radio interview, she said she's seen a video of her mother being put on a vehicle with Hamas operatives. Vivian Silver, a Canadian national and an active member of Women Wage Peace, was also taken hostage from her home in Kibbutz Be'eri.
One of the artists who designed the posters, Nitzam Mintz, also joined Messing. When she and her partner, street artist Dede Bandaid, discovered the news of the attack and the kidnappings, they were in New York for an artist residency, and desperately wanted to do something to feel less helpless in the face of the horrifying events unfolding back home. They joined hands with designer Tal Huber to make printable versions of these many, many hostage posters, getting permission from the families to use their images. Gal Gadot helped the posters go viral by sharing them with her massive Instagram following.
In her Instagram post this week, Messing also added "a personal request that young, passionate, far left students leave the posters up," she begged. "There are videos of these posters being ripped down. That does nothing but hurt the families who want us all to remember their loved ones, as they await news."
In fact, comedian Libby Walker shared a photo the following day of the posters that had been ripped off where Messing and the rest had filmed that very video.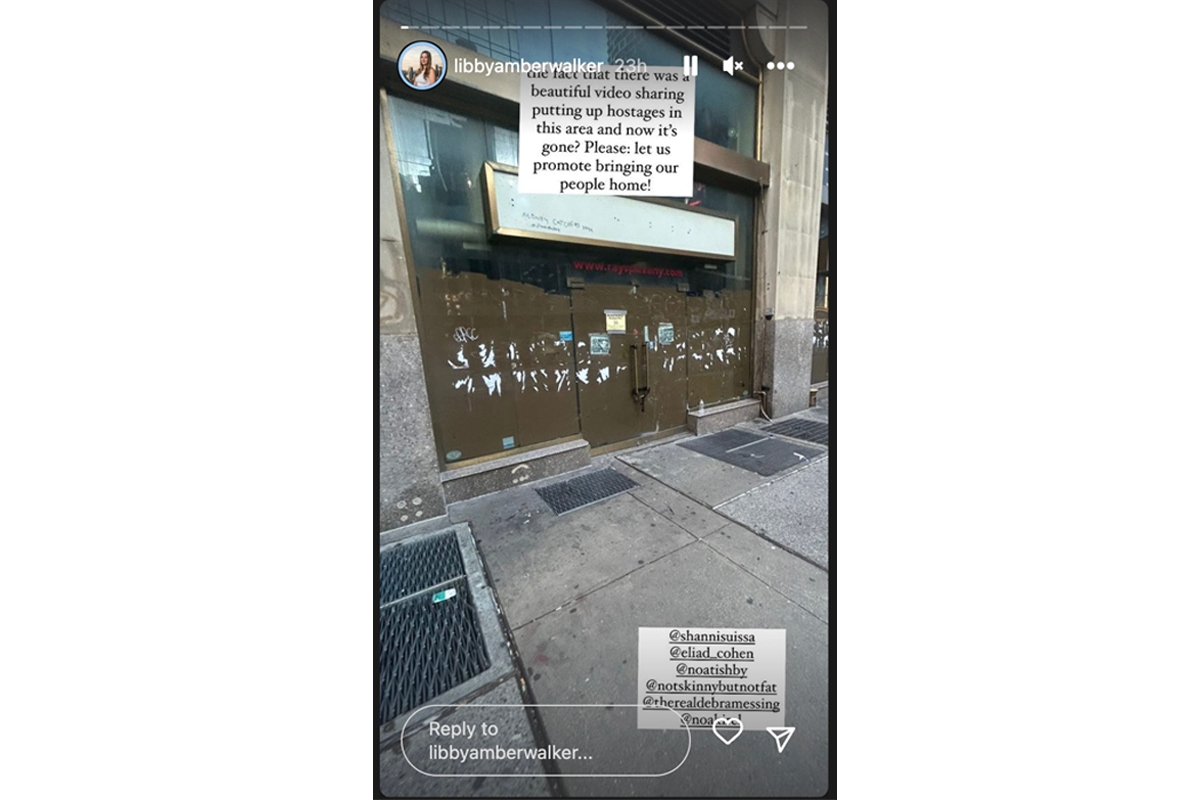 This week, JTA reporter Luke Tress followed artist Ronit Levin Delgado as she hung posters in Manhattan and discovered that some of them had to be taken down due to city ordinances, while others were being torn down by pro-Palestinian activists. This Wednesday, a dentist in Florida was fired from his job after he was recognized in a video in which he tore down photos of the hostages.
Tragically, one of the women whose kidnapped poster Messing can be seen hanging up in the photo, Carmela Dan, has since been found to have been murdered by Hamas, along with her 12-year-old granddaughter, Noya. Noya was sleeping over at her savta's during the attack. A photo of her dressed up like a Harry Potter character, holding up her well-loved copy of "Harry Potter and the Half-Blood Prince," translated to Hebrew, has been shared.
"Carmela was in some ways like every 'savta,'" her cousin told Times of Israel, "She cooked and spoiled and they were a very close family, they all lived in the same kibbutz." It is not yet clear where their bodies were found.
"We don't know what happened. Maybe [Carmela] couldn't walk with her anymore so they killed her," Hadas Calderon, Carmela's former daughter-in-law, told JTA this week. "Which makes us so worried for the others."
Noya's cousins and Hadas' two children, 16-year-old Sahar and 12-year-old son Erez, who were staying with their father at Nir Oz that night, are still missing and believed to be kidnapped.
"I can hear every night my son screaming to me: Mom, save me," Calderon said through tears.
As more of these horrifying stories are shared, it is all the more appreciated that celebrities like Messing are using their platforms to raise awareness.