Amazon's The Marvelous Mrs. Maisel just might be the best thing to happen to American Jews since sliced challah. 
Created by Amy Sherman-Palladino, the late-1950s period drama is infused with comedy, the Catskills, and knishes — the ultimate Jewish alliteration. Heading into its third season — which premieres December 6!  — who would've thought a show about a New York City Jewish housewife-turned-comedian would resonate with the masses? 
Writer Noah Gardenswartz sure didn't. 
When the Maisel executive story editor first read the pilot, Gardenswartz, 35, was certain it would have a small cult following of middle-aged Jewish women. However, according to Nielsen, the oh-so-Jewish series is a bonafide hit: The Season 2 premiere averaged 3.3 million viewers in its first week. (By way of comparison, HBO's second season of Westworld drew 1.5 million viewers. That's pretty darn impressive!)
"The fact that [Maisel] transcended religions, races, and ages, and became a kind of a cultural hit, was a very pleasant surprise to me," Gardenswartz tells me in a phone interview. "Seeing how [Maisel] has resonated across so many divides has been fantastic."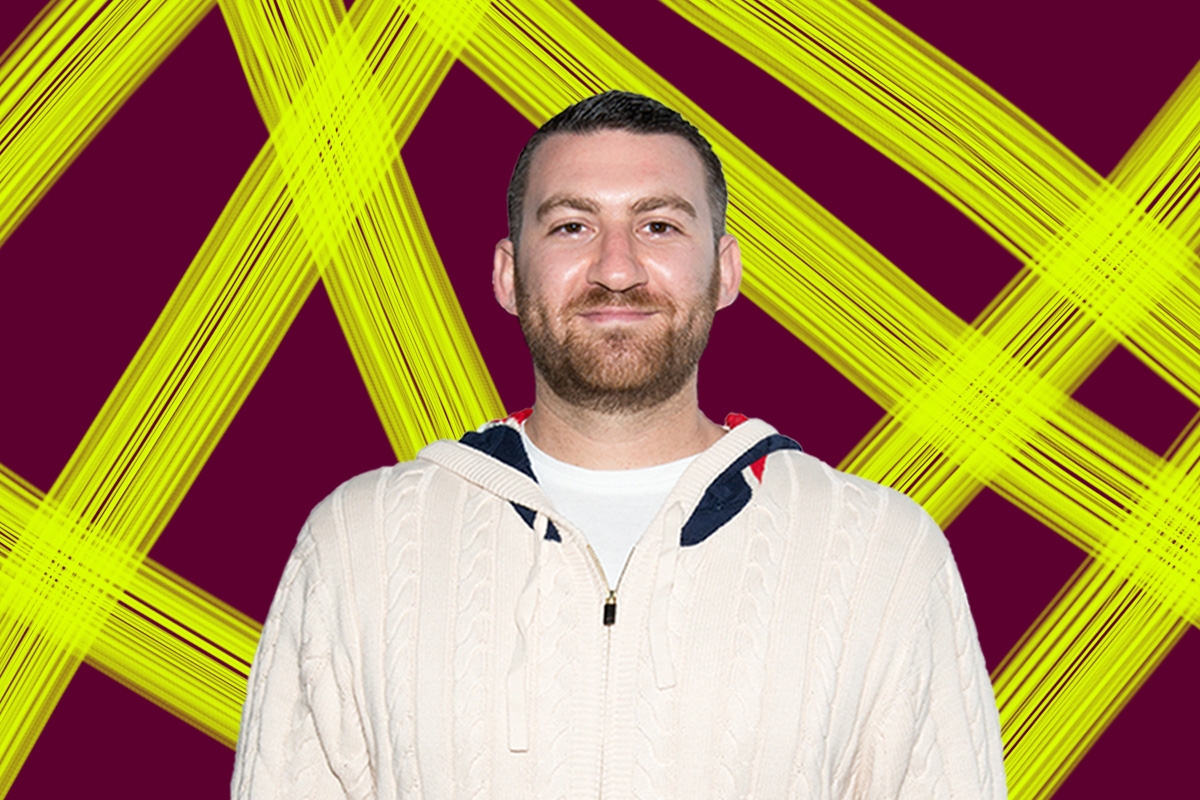 It's great and all that non-Jews can join the cult of Maisel, right? And yet, it's clear this uniquely Jewish show was made, well, for the Jews. Sure, sitcoms like Broad City and Seinfeld scattered breadcrumbs for Jewish audiences, with their depictions of sitting shiva and a bris, but Maisel's spot-on portrayal of Judaism and its traditions transcends all of them. 
So, given the intense spotlight shining on the show, there must be some serious pressure in the Maisel writer's room to keep the Jewish storylines factual and authentic. And that's where the funnyman come in. Gardenswartz was initially brought in to advise on the standup comedy aspects of the show — a seasoned comic, he has his own Comedy Central special and recently came out with his second comedy album, "White Men Can't Joke." However, having grown up in an observant Jewish household in Denver, Gardenswartz draws upon his own experiences to ensure the series' portrayal of Judaism and its culture is accurate. 
I chatted with Gardenswartz about what writing for Maisel and fact-checking the Jewish storyline has been like, why non-Jews love the show, and his very important message for Jewish parents. 
You were approached to join Maisel as an advisor for the standup storylines. What was your reaction when you were offered the gig? 
I was thrilled. Obviously, first and foremost, anytime comedians who are interested in writing, like, actually have a chance at a writing job, it's a good opportunity. I was sent the pilot script to familiarize myself with the world before the interview, and it was one of those shows where I read the pilot — and, honestly, I've never resonated so deeply with a script, just in terms of it being stand-up and Jewish. Those two things I really like, and the script just really spoke my language. 
So you were hired to advise on comedy, but you've become somewhat of an advisor on the Jewish aspects of Maisel. 
In general, when you're writing staff, you want to contribute however you can. What the Palladinos are really good at is making sure that the world we're writing about is authentic to whatever the subject is. They wanted to have a family that was clearly Jewish —  not just characters who happen to be Jewish, but that Judaism is actually involved in their lives. Just like the standup, they wanted to make sure that they got the elements of Judaism right. 
I grew up in an observant Jewish household, and so I know more than anyone else on the staff. And so it just kind of happened, by default, that as we were writing Jewish scenes, they would come to me because I was kind of the Jewish authority in the room. For season three, they brought in another writer, Daniel Goldfarb, who, much like me, grew up in a very observant household. And the two of us kind of just continue to be the loudest voices in the room with respect to Jewish scenes and Jewish ideas.
It's all a collaborative process. So it's not like they say, "We need a Jewish scene," and then Daniel and I go off and come back with an idea — we all talk about what we want to happen. But when it comes to executing the actual nuts and bolts of the scene, we're the ones who let them know what prayers might be said, or what cultural instances might happen. 
So you think this very uniquely Jewish show resonates with non-Jews? 
I think the proof is in the pudding in how successful the show has been on a national level. It's not just a hit amongst the Jewish community. I'm sure there are people who like the show and are missing out on certain jokes; there are elements of Jewish culture that make it into the show that only the Jews notice. But the show really does have something for everyone. 
At the end of the day, I think it's much more a women's empowerment show than a Jewish show. Women of all races and religions can certainly relate to a strong female lead who's fighting for, you know, a lot of what she wants. Just in terms of nostalgia, older generations — regardless of race or religion — really enjoy seeing the style and the clothing and the world of 1950's New York. 
What's your favorite Jewish scene so far? 
I would say the Yom Kippur scene [in season two]. I loved it, partly because we actually shot in a synagogue and had [the actors] do the actual prayers, and it was fun watching the Jews react as the fast is about to end, and seeing how quickly everyone runs out of the synagogue. Those are the kind of inside jokes that I said non-Jews might not understand or get why it's funny. 
It's cool that this wide audience of non-Jews is seeing Judaism portrayed in such an accurate way. 
Yeah, it's great — but that's part of the responsibility. On one hand, when we do Jewish scenes, I feel a lot of responsibility and I'm worried about what the Jews are going to think. Because, as you and I both know, Jewish people will not hold back when they have an opinion on how Judaism is being portrayed. I know whether they like it or hate it, I'm going to hear about it one way or another. But I have to hold my breath and wait for the Jewish reaction and a non-Jewish reaction to make sure that we did it right.
How are you doing so far? Have you gotten any negative feedback? 
The feedback has been overwhelmingly positive, which lets me know that we're doing a good job on the show, because Jews are so sensitive about the way Judaism is portrayed in media. But, as we all know, there's no way you're going to please everyone. There are certainly Jews who do not love the way that we do certain things on the show, but I think they're in the minority.
What can you tell me about Judaism in season three? 
I can't give you any spoilers but I can you that Judaism is still very present in season three. It's still a part of the world, and Jews can still tune in and feel good about knowing they will see themselves represented on screen. 
Now that you're newly married and expecting a son (mazel tov!), what does your Jewish identity look like for you and your family? 
Judaism and my Jewish identity is so deeply entrenched in who I am. At this point, the two have kind of become inseparable. Judaism is so many things: a religion, culture, ethnicity, and all that. Over my lifetime, Judaism have been very present and it's kind of changed based on how I use that Judaism. Growing up, it was very much a religious practice. And when I came into my own as an adult, I wasn't practicing religion so much as just really being involved with the culture and being a very proud Jew. And now, like you said, I'm married and expecting a child and preparing to really set an example for that child. So a large part of my life now is both the Jewish religion and the Jewish culture because I want my son to grow up in the kind of household I grew up in. 
Is there anything that I didn't ask you that you would want to tell this audience of Jewish parents?
Keep doing what you're doing. I was always grateful for my Jewish upbringing but, I think, as a lot of Jewish kids experience, you hit that turning point of a little bit of resentfulness. You know, especially if you grow up in the secular world, you feel a little bit different, and sometimes you feel like Judaism is being pushed on you. 
All the things that I resented about my upbringing at the time became part of what led me to being successful in this job, on this show, and in life in general. And so, I would say to Jewish parents that you're probably doing the right thing, even if your kid isn't thrilled about it in the moment.