As a child growing up in the 1960s, Susan Shapiro was the only girl in a clan of four children. As such, she was expected to take on the role of Mommy's helper; her three younger brothers, meanwhile, could dream of becoming doctors.
Living in a male-dominated world, playing with Barbies was her form of escapism. "I would spread all my Barbies on a carpet, recreating the world, of course, with Barbie as the star and in control," Shapiro says.
As it happens, Shapiro's mode of play is exactly the reason Barbie was made. So while, yes, her appearance is that of a literally unattainable blonde (brunette, and redhead) bombshell, Barbie was designed with girls in mind. Specifically, she was created to inspire little girls to grow up to be whatever they wanted: an astronaut, a firefighter, a doctor.
In Shapiro's latest book, Barbie: 60 Years of Inspiration, the New School professor unravels the dissonance between Barbie's sexualized appearance and the feminist pioneer she actually was. Despite being criticized for her hourglass frame and voluptuous chest, over the past six decades, Barbie has evolved and become, as the New York Times bestselling author puts it, "woke."
While acknowledging that some "little externals" may have led many feminists to assume that Barbie wasn't a good role model for girls, "They were missing the whole picture of Barbie, that she was really an independent, working woman who controlled the show at a time when women didn't do that," Shapiro says.
Make that most women. The inventor of Barbie was, in fact, an independent, working woman named Ruth Handler. Born in 1916 to Jewish-Polish immigrant parents, Handler was the force behind the toy manufacturing company Mattel, and, subsequently, the most popular and controversial fashion doll ever produced.
With the creation of Barbie, Handler filled a gap in the toy market that had previously gone unnoticed. While watching her daughter, Barbara, playing with paper dolls — who represented adult women, whom she could dress in a variety of ways — she realized that little girls didn't only want to play with baby dolls, which conditioned them for motherhood. Rejecting the housewife role that society demanded, Handler saw girls wanted to dream up self-determining, autonomous lives, where they could be anything and anyone. And thus, Barbie, free to be who she wanted, was born in 1959.
Kveller caught up with Shapiro to discuss all things Barbie.
How did Ruth's upbringing, as a child of Jewish-Polish immigrants, inspire Barbie? 
Ruth had a very interesting childhood because she was raised by her older sister. Her parents had 10 children, and at one point, when Ruth's mom was in the hospital, her older sister Sarah took care of her and she wound up staying with her. She had a very unusual childhood for a girl her age, in that she worked all the time. So her working older sister, who had no biological children, was her role model. 
And what's really interesting is that after dropping out of college, Ruth wound up getting a job in California at Paramount Pictures. Her family allowed her to live in LA for a few years in an apartment with a girlfriend, and she had her own car. At 19 years old, who does that? You know, in the '50s, that was really unheard of. I think what was going on is the most exciting thing in Ruth's life was that she's living in her own apartment, she's living with a girlfriend, there's no man controlling anything, but later on she did propose to her high school boyfriend, Eliot Handler. She's working at Paramount and totally loving it. She loved dressing up, and all the glamour and glitz. So when she created Barbie and Barbie's world, it was the exciting world that she loved that she shared with me, and with young girls across the country. 
Ruth never wanted Barbie to be married, right? 
Right. Ken was only the boyfriend. 
Barbie was modeled after Ruth, and was given the name of Ruth's daughter, Barbara. So, technically speaking, Barbie herself is Jewish?
Right, and Ken was also named after her son. But there isn't a Catholic Barbie, and there aren't any religious clothes or anything like that for any of the Barbies. I think Ruth just assumed that Barbie reflects her, in a certain way. But then they started expanding with different colored hair, and they had black Barbies, and Barbies reflecting everything going on in the culture. Matell was trying to be inclusive early on, and now they do it way more with Barbies from every country. They're intentionally trying to let little girls see themselves reflected.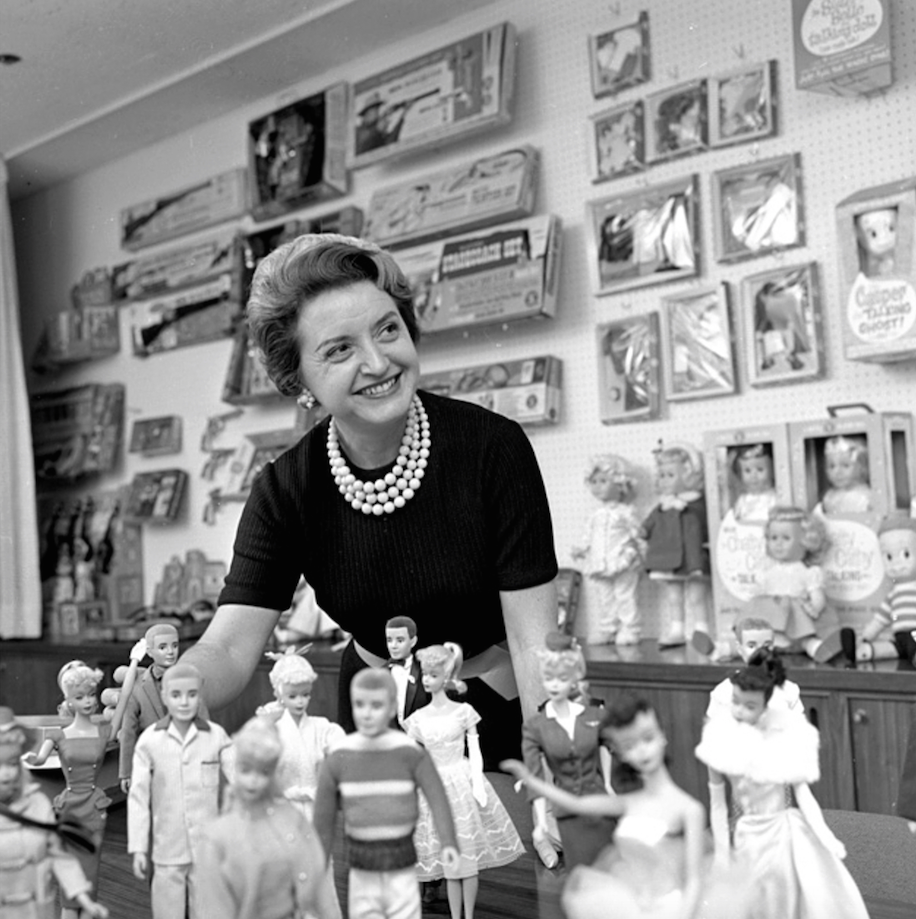 Barbie was supposed to be all-American, and I think Ruth really considered herself to be very assimilated in America. But she did face anti-Semitism at Paramount Pictures, and her family fled Europe because of anti-Semitism. So she made black Barbie early on as a statement against racism, because having been a victim of discrimination herself, she wanted to fight against it. 
What's your response to people who think Barbie was bad for feminism? 
I think that the women's movement got hung up on a few little externals that made them feel like Barbie wasn't good for women at the time. But I think they were missing the whole picture of Barbie, and that she was an independent working woman who controlled the show at a time when women didn't do that. Just because a female wants to be pretty, wear nice clothes, and wants to be thin doesn't mean they're not a feminist — it doesn't take away from all the other great stuff. We now understand that the measurements and images of Barbie as a skinny white blonde wasn't good for the culture, but Barbie was evolving for years.
I understand where the feminists were coming from, and I'm a raging feminist myself. But I always say I'm a raging feminist who loves men and marriage, as was Ruth. There's a lot of different sectors of feminism, and if you think about it, part of the reason why Gloria Steinem became the image of our movement is because people wanted a gorgeous, skinny, beautiful woman to head the movement. Because their fear was that if they loved men, or wanted to wear a bikini or a miniskirt, they couldn't be a feminist. 
So, Ruth was kind of the ultimate feminist. 
Yeah, in a lot of ways I think she was the ultimate feminist! And I think people kind of miss that because the women's movement got caught up in her appearance. But you have to remember, she reflected the time. 
Everything you read about Ruth is very impressive. At one point there were a lot of business problems at Mattel while Ruth got breast cancer, and she was thrown out. Instead of giving up her work, her response was to create prosthetic breasts for a new company called Nearly Me. She knew about plastics from her time with Barbie and so she used her designers to create new bras. It was a very big success. 
What do you want mothers to know about Barbie? 
I want them to know that Barbie is a feminist, and she's good for girls. Not only are they not dangerous, they're the opposite. If you want to give your daughter the message that she could be anything, give her a firefighter Barbie, get her a coding Barbie, or a brain surgeon Barbie. I think it's a really great way to let a little girl know that she can be anything. 
Header image courtesy of Susan Shapiro