Editor's note: This piece was originally published in 2020. It was updated and republished on Nov. 3, 2021, in advance of this year's holiday, which begins on Nov. 28.
Hanukkah starts on the evening of November 28 this year. With this whole pandemic thing lingering, we could all use some holiday cheer in our houses.
It's always a good idea to go all out with Hanukkah cheer — especially during these, yes, still somewhat uncertain times!  I haven't always been a fan of Hanukkah decorations — I grew up without them, in Israel, where the holiday was special but never had to compete with Christmas. But I love the idea of making your house into a Hanukkah wonderland and taking the holiday to the next level.
Luckily, there seem to be more attractive Hanukkah decorations available than ever before. (Although making your own decorations, or getting your kids to make them, is always an ideal option — gotta keep those little hands busy!)
We've selected a wide variety of our favorite stylish, campy, and just plain ridiculous Hanukkah decorations. You can buy one, or many, to help brighten your home for the holiday, or simply use them as inspiration for your own DIY decorations.
Whichever way you go, we hope you and your family have a safe and happy Hanukkah.
The bears and the bigs: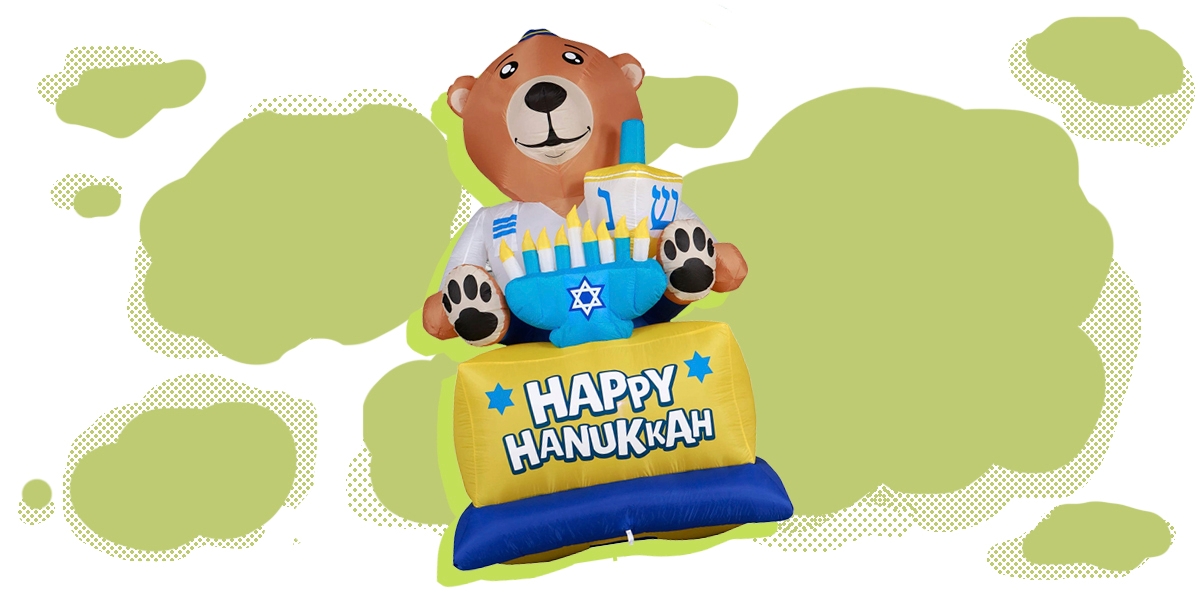 Hanukkah bear, $104.99 (Amazon)
Hanukkah bears exist, and it seems that they are very good bears. This 8-foot inflatable Jewish bear wears a tallit, a kippah and has a menorah and a dreidel. Truly, the most decked out Hanukkah bear you'll ever find. At over $100, it's perhaps a bit much, but if you want to go all out this year and can afford it, we are here to support your decision to put this in your yard. You neighbors will never forget it.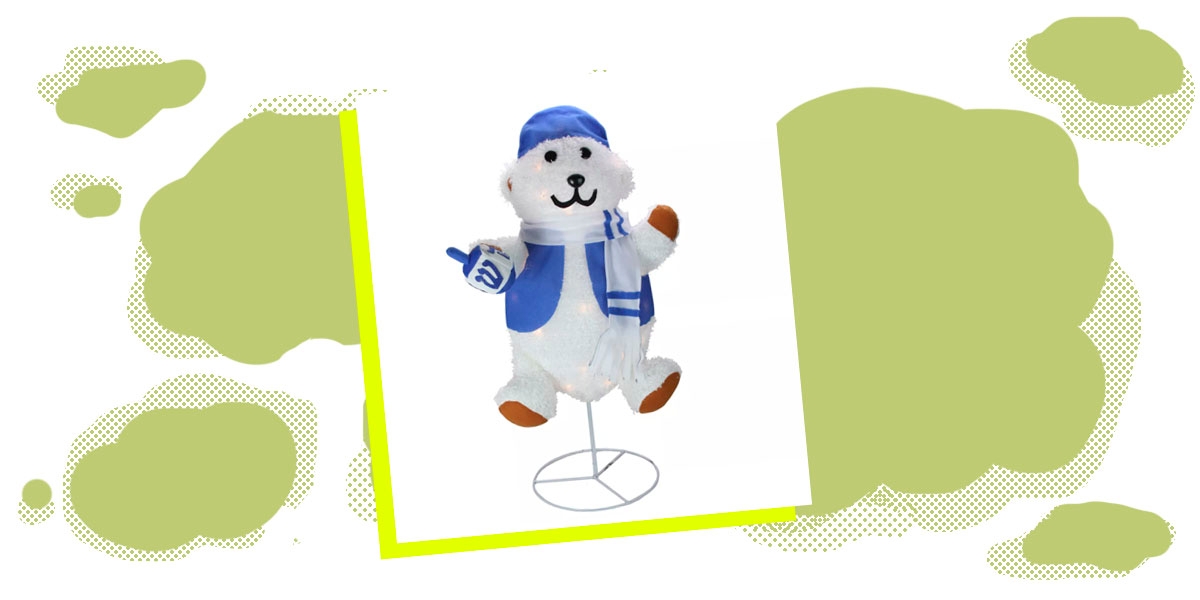 A slightly more affordable 27-inch dreidel bear, and still a very good one.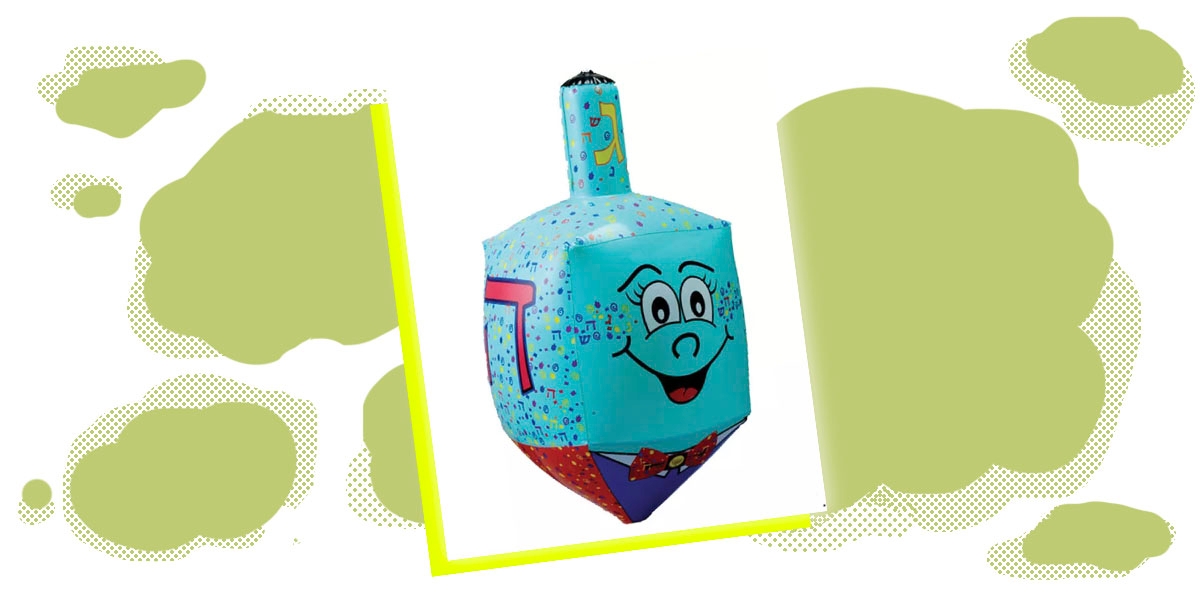 Inflatable jumbo dreidel, $8.79 (Zion Judaica) 
This 2-foot dreidel is just so silly, but it really makes me smile. I love its little red bowtie!
Light it up!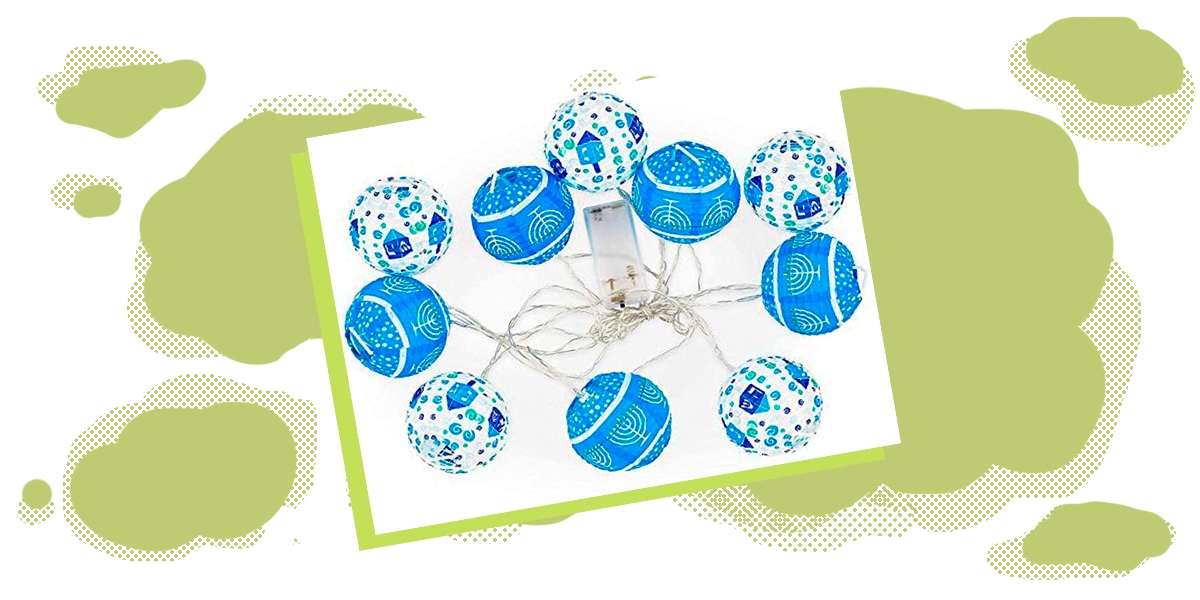 Hanukkah mini lights, $18.95 (Amazon)
These tiny Hanukkah lights are so quaint and cute. They're really fun to hang together as a family — tough you do have to be a little delicate with the paper lanterns.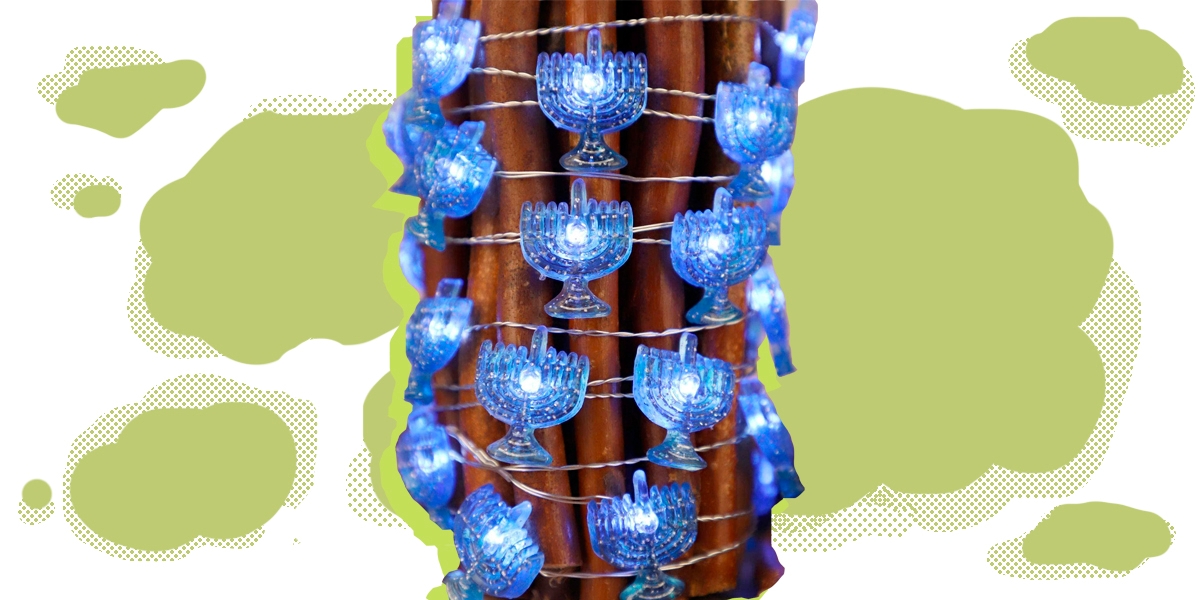 Hanukkah LED lights, $15.99 (Amazon)
Just a string of blue menorahs that light up — you really can't get more classic and perfect than that. These work well to light up your backyard for a small outdoor gathering, or to add some glinting blue lights and give your home that extra holiday oomph.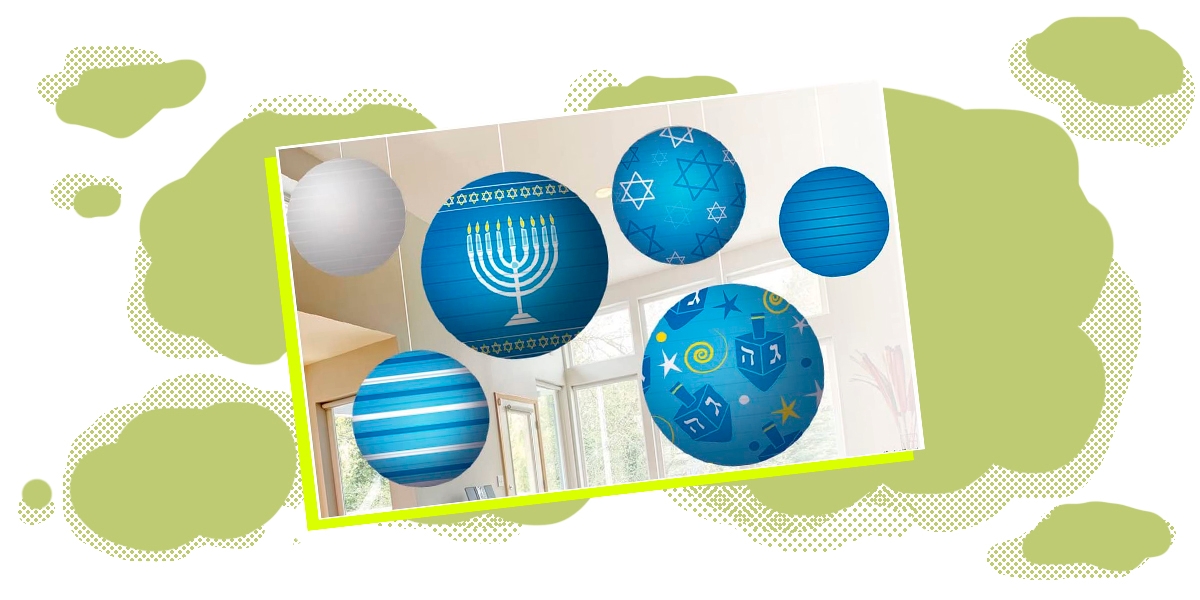 Hanukkah lanterns, set of 6, $12.99 (Amazon)
These paper lanterns do not come with lights included, though you definitely can add some lights to them. But they also look good just hanging from the ceiling!

Hanukkah paper lanters, $13.99 (Amazon)
Another cute set of Hanukkah lanterns. Get both and make your living room into a little Hanukkah wonderland!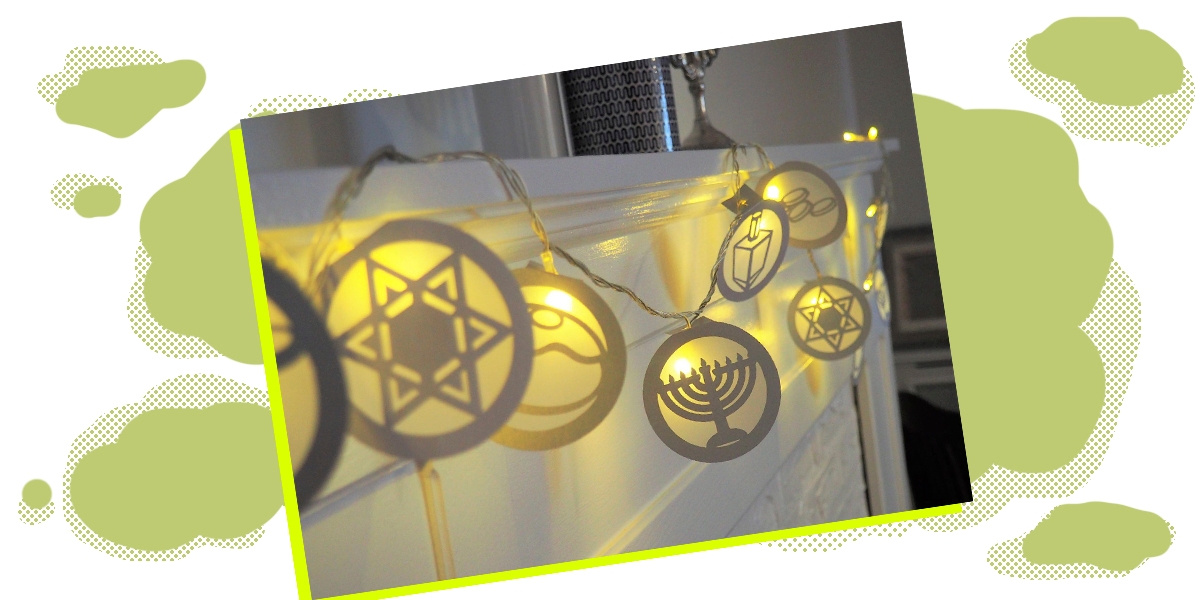 Hanukkah lights garland, $22.00 (Etsy)
Take die-cut paper and some lights, and combine them together into a beautiful glowing garland? It's simply everything I could've asked for! I'm obsessed with this elegant, beautiful banner that will add a serene feel to your Hanukkah celebrations as you turn off the lights and light up your menorahs.
Mantlepieces: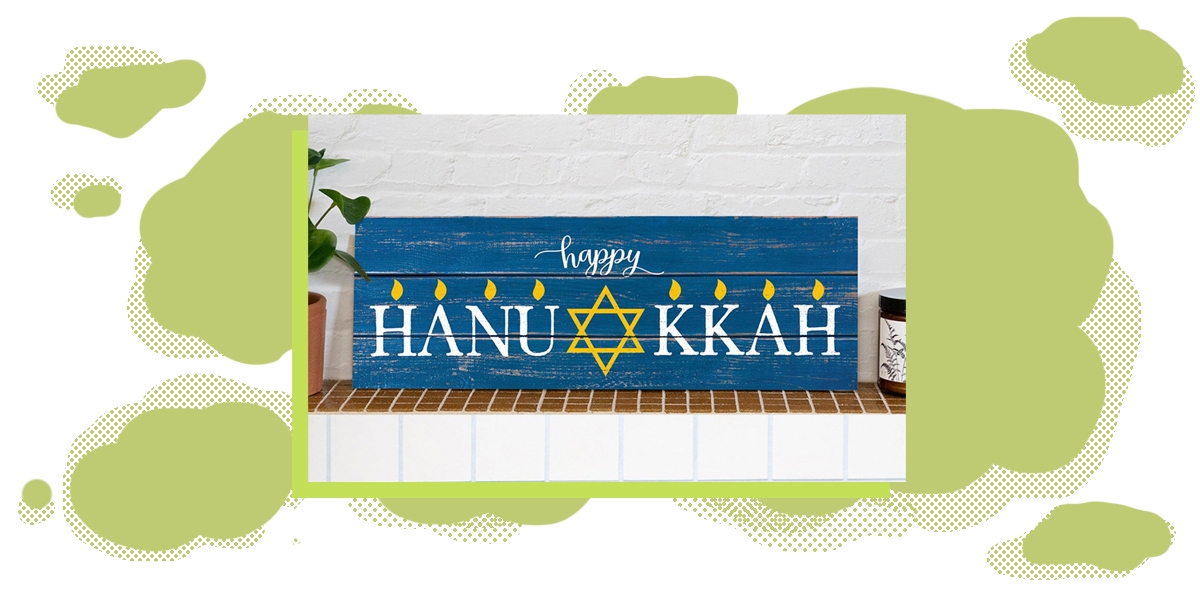 Hanukkah wooden sign, $30.50 (Etsy)
This "Happy Hanukkah" sign is rustic, pretty, and festive! Also, we must give props for spelling Hanukkah exactly how it should be spelled.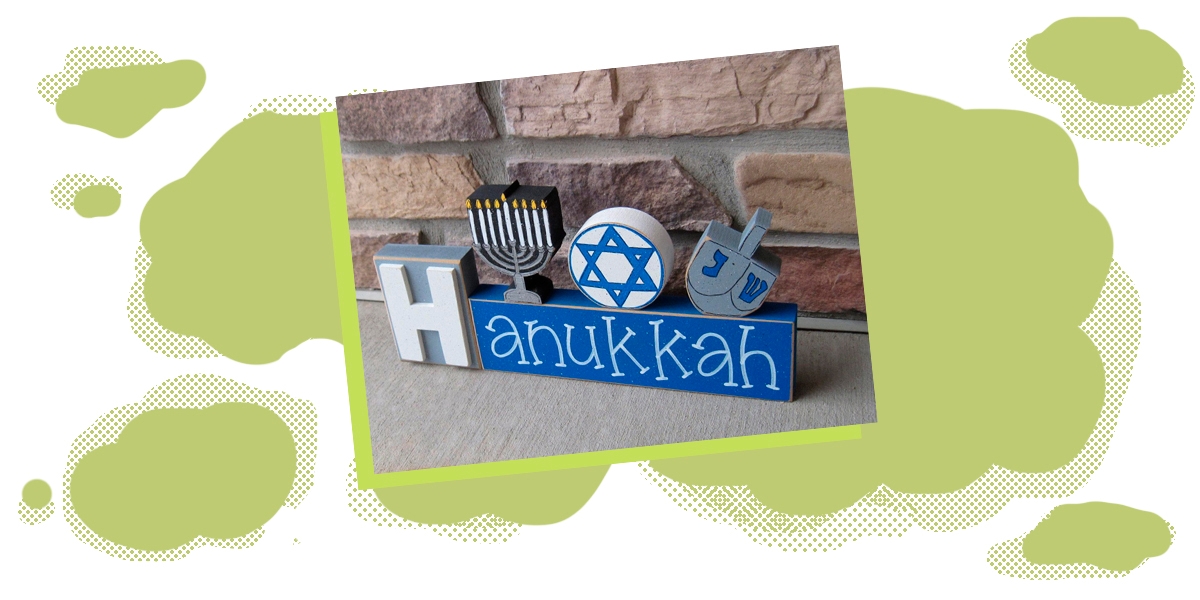 Hanukkah blocks, $44.95 (Etsy)
This Hanukkah mantlepiece is so cute, with a menorah, Magen David and dreidel. It has a lovely handmade feel to it, and these sturdy wooden accent pieces just last forever!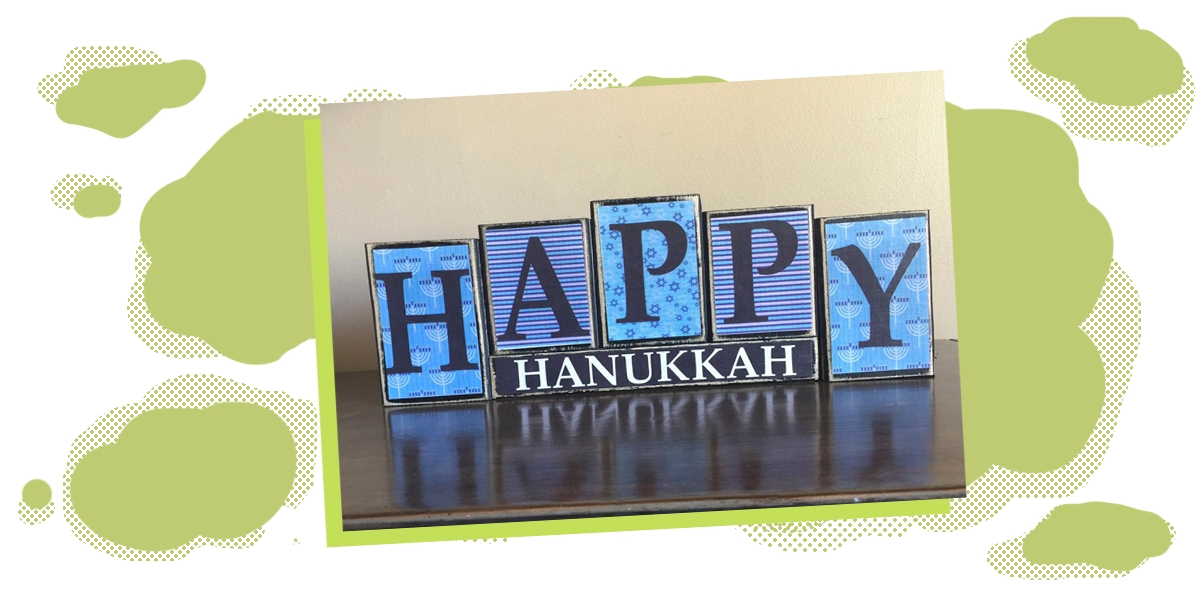 Happy Hanukkah blocks, $38.00 (Etsy)
This joyful wall decoration has adorable patterns on it. Another investment for all your future Hanukkah decorating needs.
I saw a sign!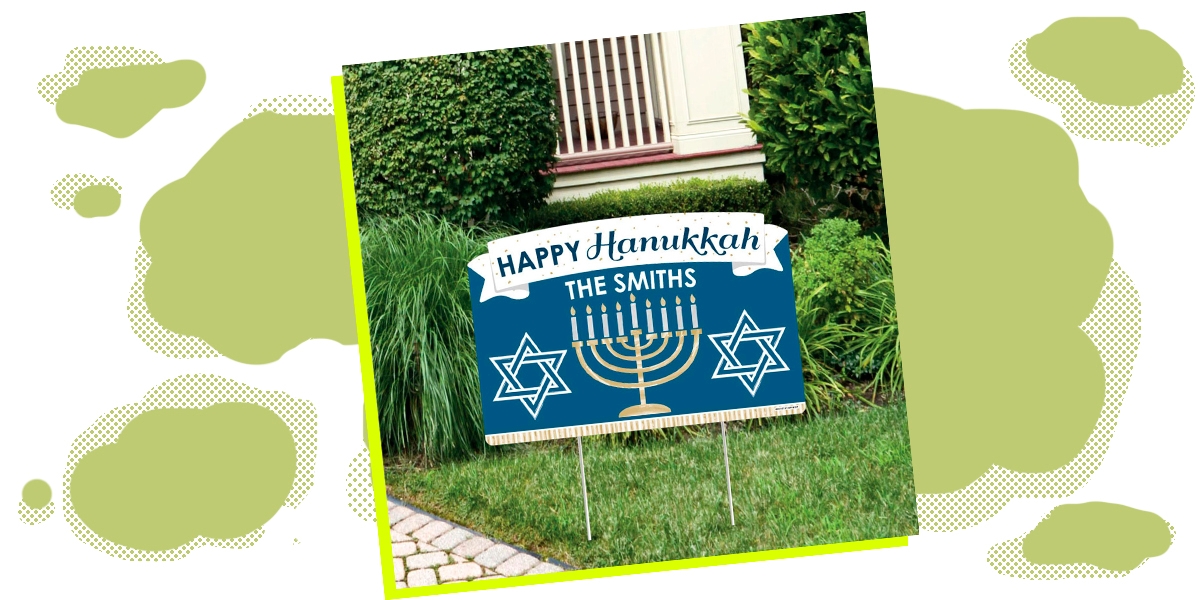 Personalized happy Hanukkah outdoor sign, $24.99 (Etsy)
A more affordable and personalized outdoor sign that will give your outdoor space that holiday feeling — and to wish your neighbors and passersby a happy Hanukkah!
Banners and garlands: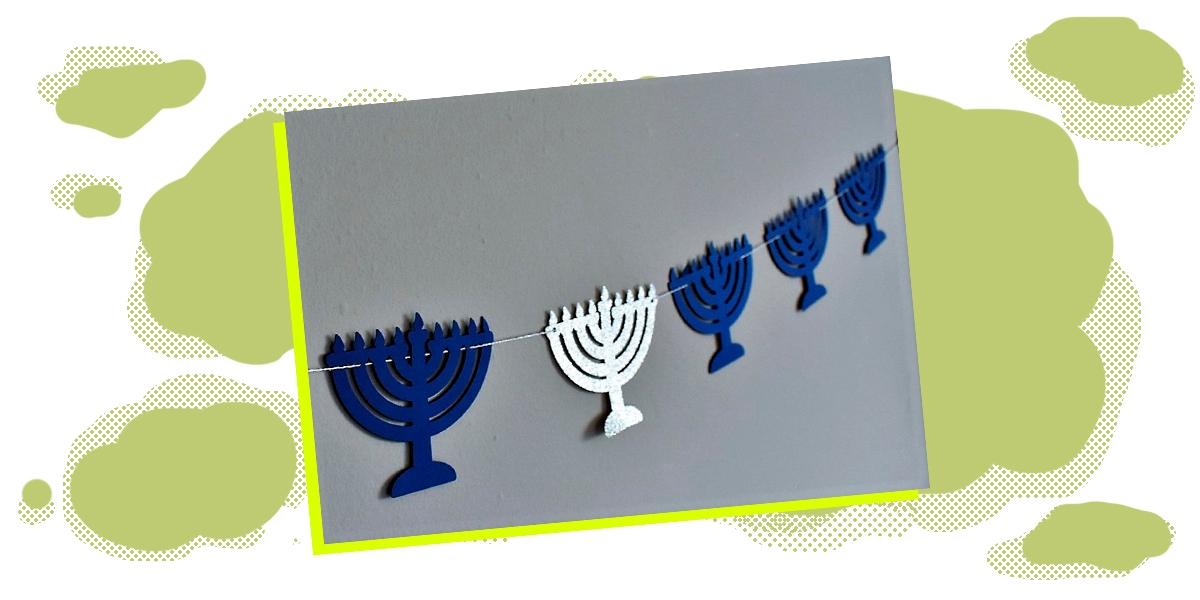 Menorah garland, $19.00 (Etsy)
This simple menorah garland comes in blue and silver or gold and light blue. It's elegant and pretty, and really the perfect classic holiday decoration.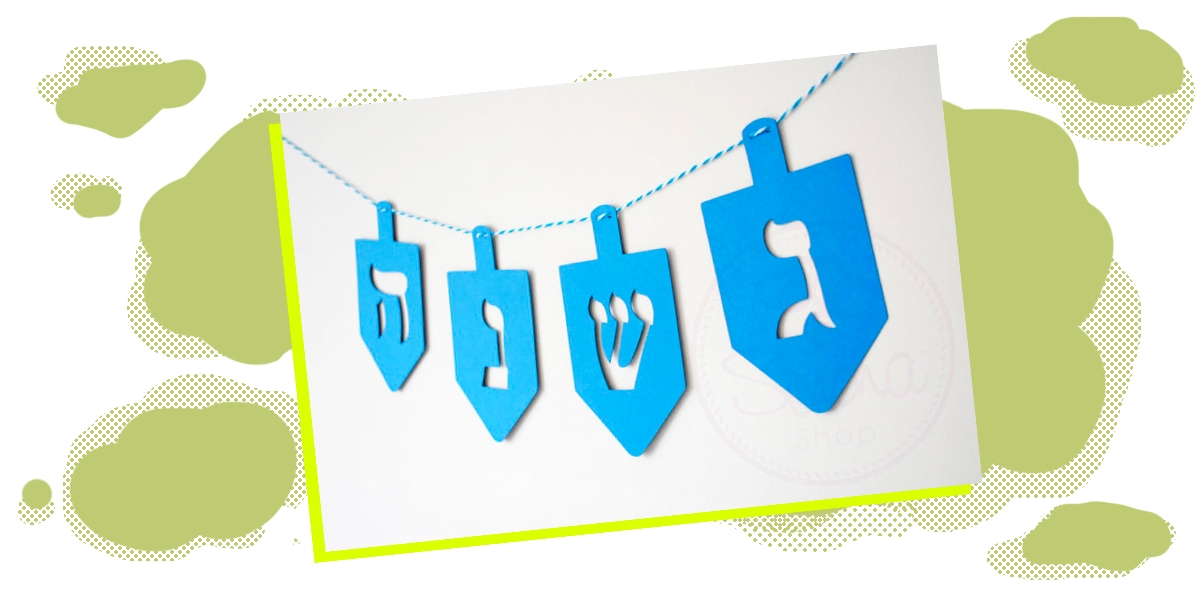 Dreidel bunting, blue, white, or gold, $10.37 (Etsy)
The same gist as the above bunting, here with dreidels! Each of the four letters from the dreidel is displayed on this bunting, though not really in the right order. But that's fine — it gives you a good chance to quiz your kids on how well they recognize the letters!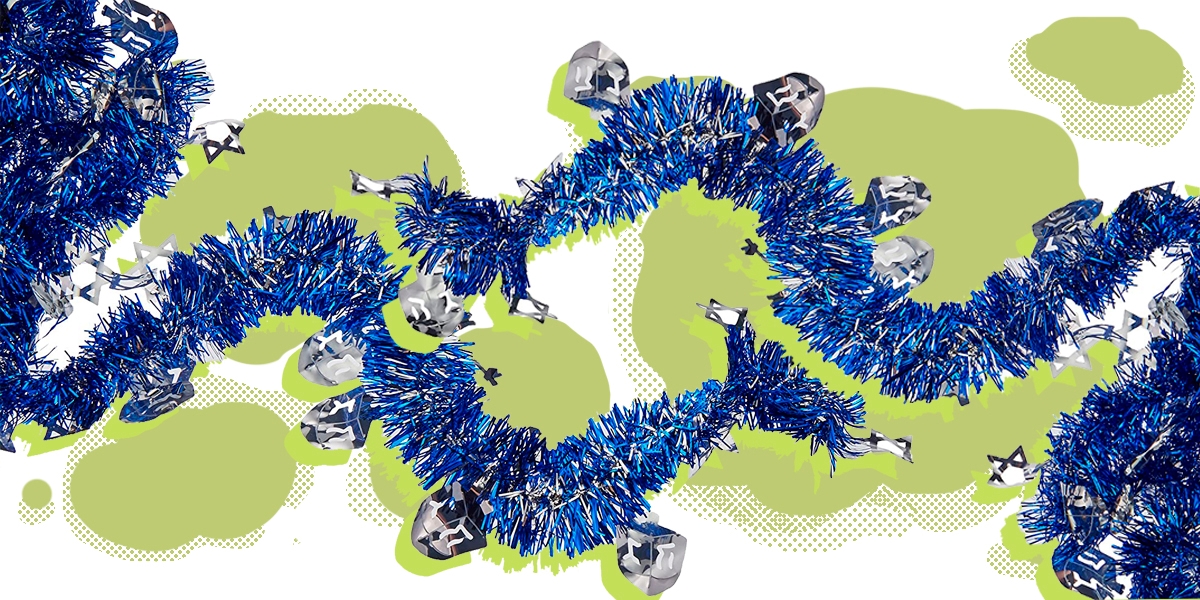 Hanukkah tinfoil garland, $7.86 (Amazon)
If you're looking for something with a little more sparkle to it, this seems ideal — blue and silver definitely make the house feel festive!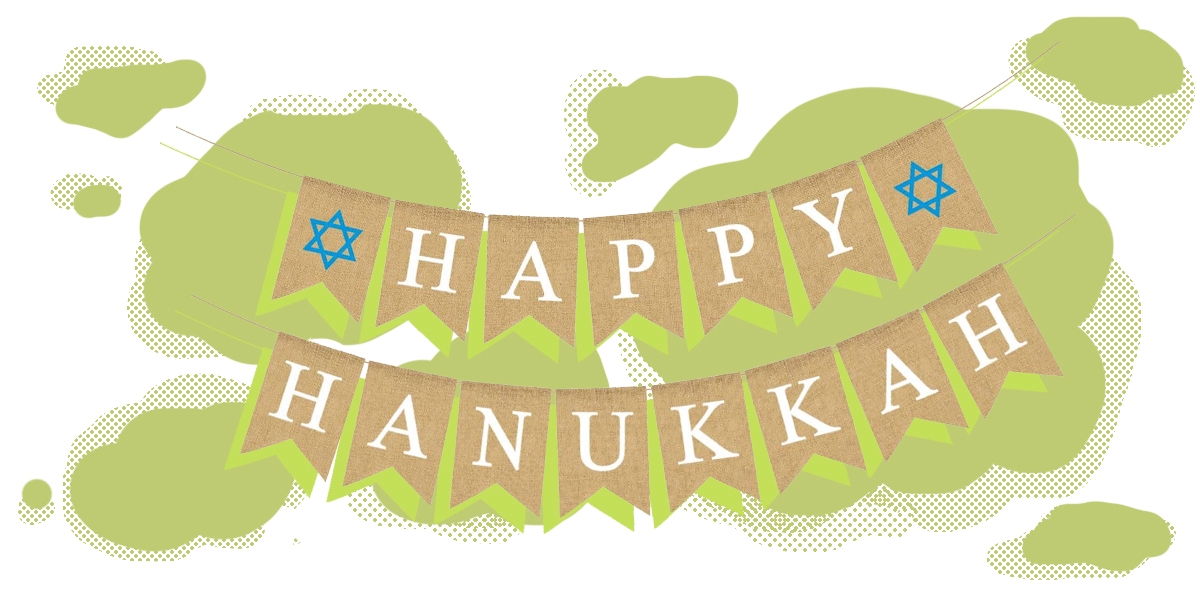 Hanukkah burlap banner, $12.99 (Amazon)
A pretty and straightforward burlap banner to give you a bit of that classic barnyard Hanukkah feel. We love it.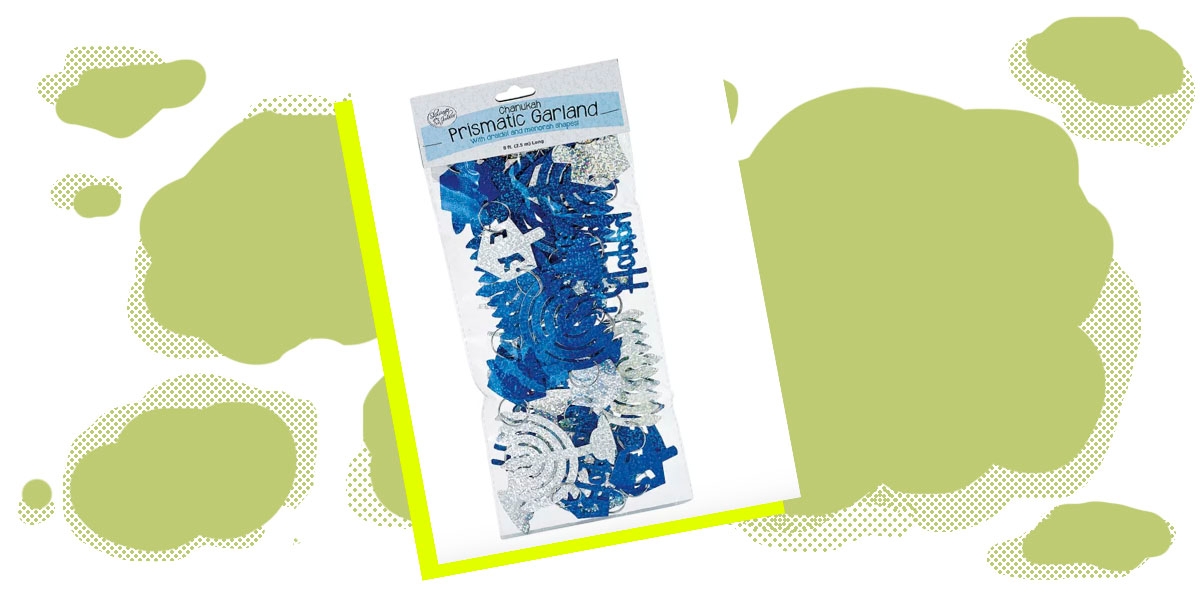 Prismatic garland, $8.99 (Target)
I have a weakness for shiny Hanukkah decor, and this prismatic banner from Target provides just that. This is the holiday of light, after all, so why not add some sparkle into your house?!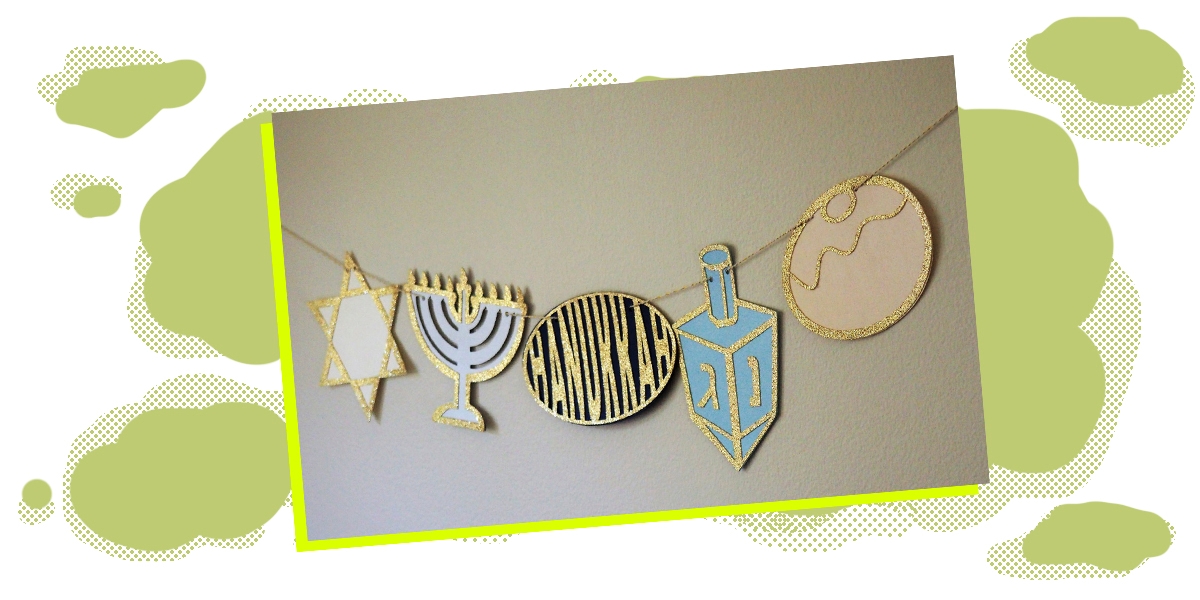 Glitter Hanukkah garland, $22.00 (Etsy)
Speaking of bling, this garland doesn't only have glitter, it has a glittery sufganiyah! As a lover of the fried doughy treat, I wholeheartedly approve of this. It has also inspired me to make my own glittery banners — looking forward to having glitter and glue on my hands every day until Hanukkah.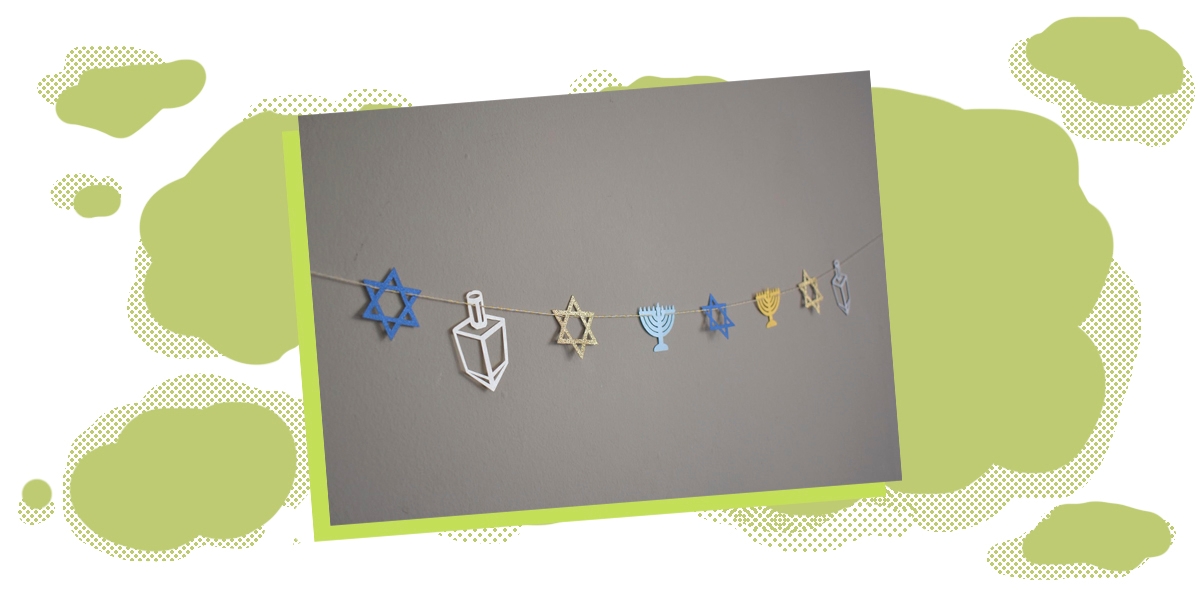 Hanukkah banner, $11.00 (Etsy)
Dreidels, menorahs and Stars of David — this colorful, elegant banner is truly perfect.
Window pieces: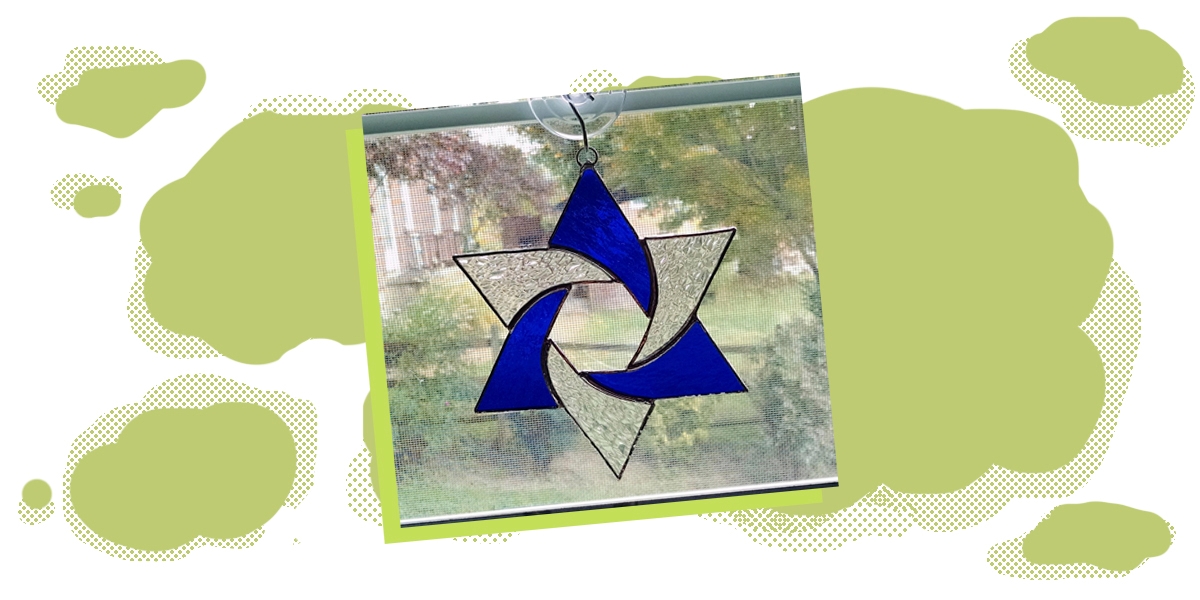 Star of David sun-catcher, $35.00 (Etsy)
We said this was the holiday of lights, so why not use whatever natural light you have available to enhance the Jewish holiday atmosphere? This beautifully-made sun-catcher is both perfect for Hanukkah and appropriate for year-round use.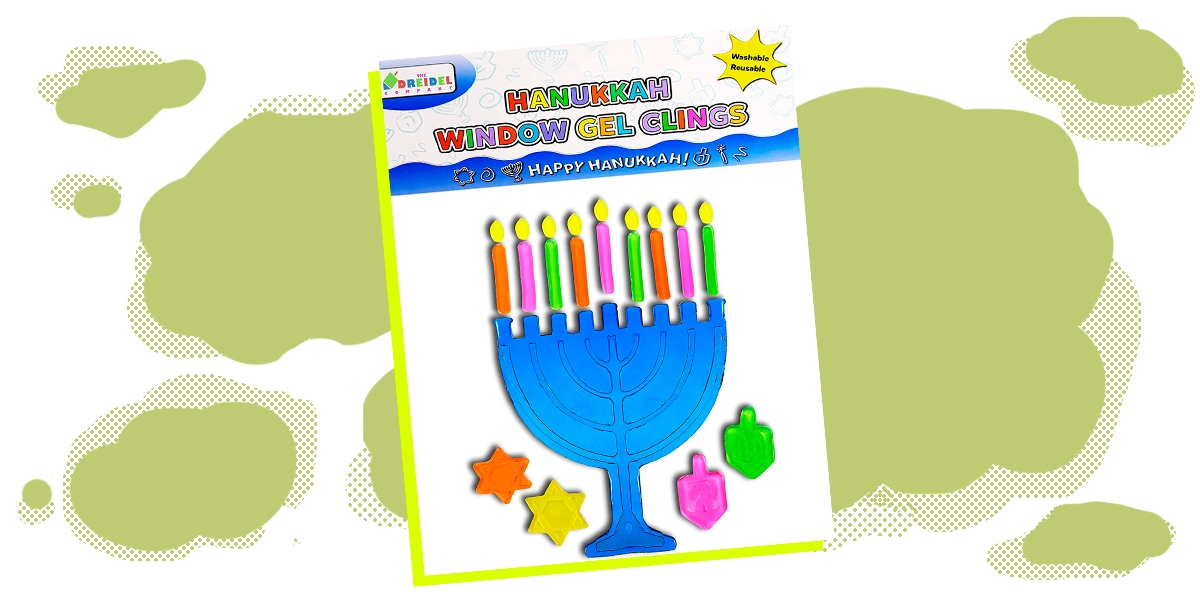 Happy Hanukkah window cling, $8.95 (Amazon)
Some more window decals for your kids' grubby hands! And this one comes with shiny neon colors. We approve!
Happy Hanukkah, everyone, and happy decorating!