I am an adult woman who loves cute, cuddly things, especially when they're Jewish — and I have no shame. In fact, I'm here to support my fellow adults who buy cute things for their kids that they secretly covet themselves by sharing news of a Hanukkah miracle: This year, the marketplace is full of adorable new Hanukkah plushies (or lovies, or stuffed animals, or whatever you want to call them).
If you're looking for some extra cuddles this winter, here are some cute, fluffy Hanukkah toys and accessories that will help make the Festival of Lights more heartwarming than ever.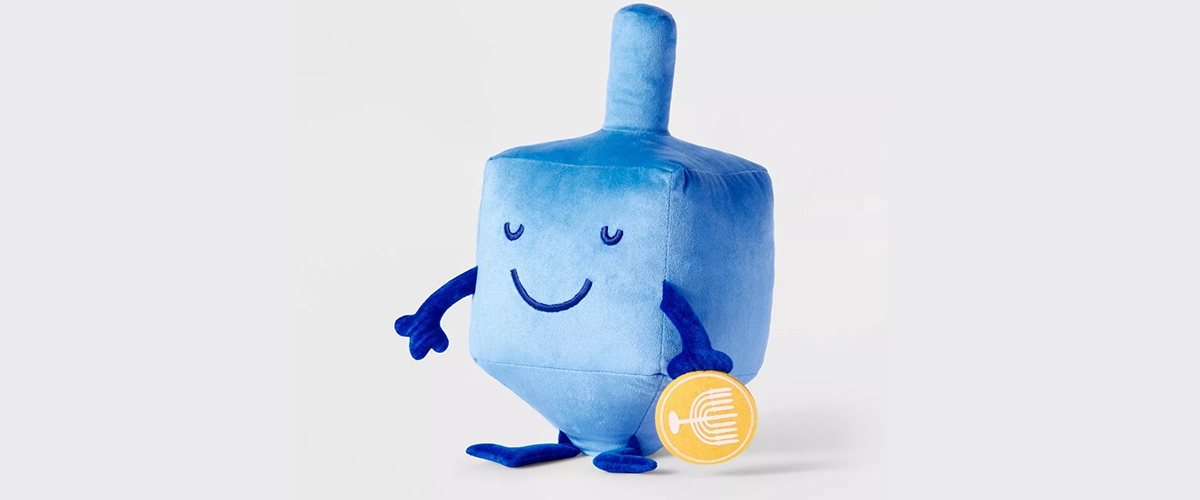 Dreidel decorative pillow from Target
I have to start with the items that inspired this list — Target's new comprehensive Hanukkah plush collection. The dreidel, which holds a cute felt gelt coin, is simply adorable and is currently sitting besides me on my couch. He's really a good guy.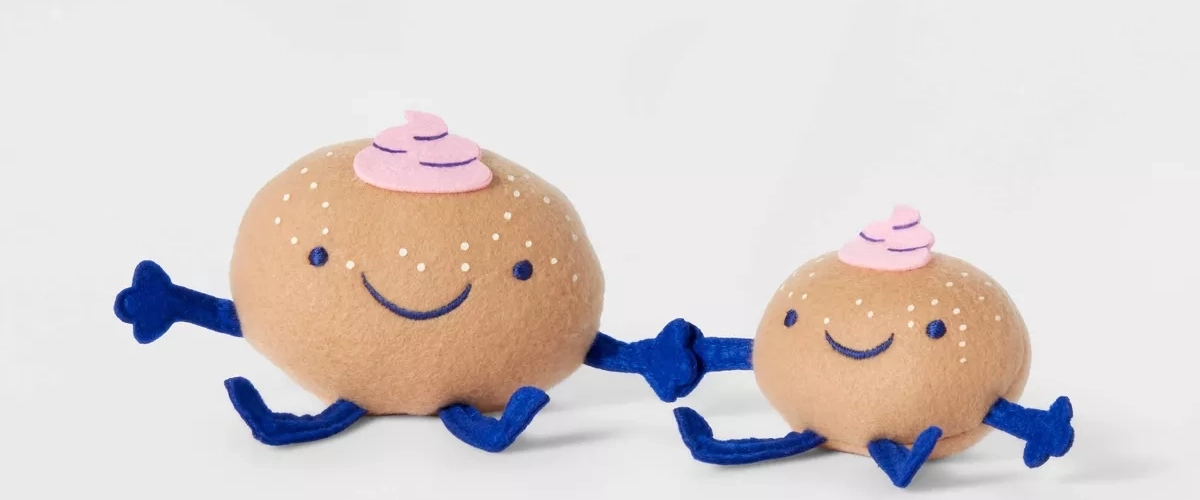 Sufganiyot Hanukkah figurine from Target
These two weighted sufganiyot (aka jelly donut) figurines are perfect mantle pieces (again, I say this because they are currently sitting on my mantle). Are they best friends? Parent and child? Whatever their relation is, they're perfectly content together, and will happily watch you from their perch as you munch on their sufganiyot brethren this holiday season.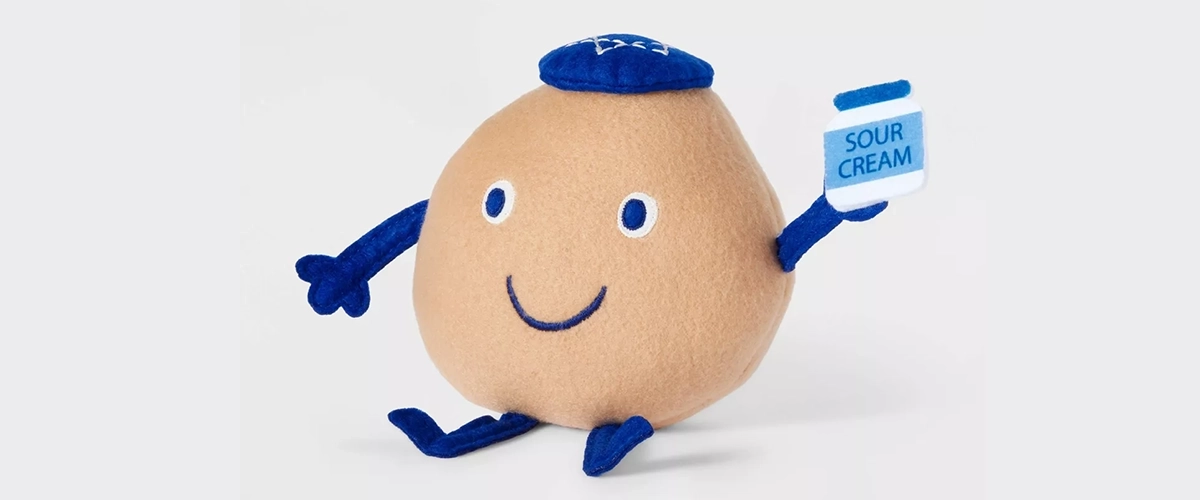 Latke Hanukkah figurine from Target
OK, I debated adding this cutie, because I'll say this: It doesn't look too much like a latke — its surface is way too smooth and chonky. Yet it does hold a jar of felt sour cream and wears a very cute blue kippah, so I give this one 5/5 pieces of gelt for Hanukkah cuteness, 2.5/5 for accuracy.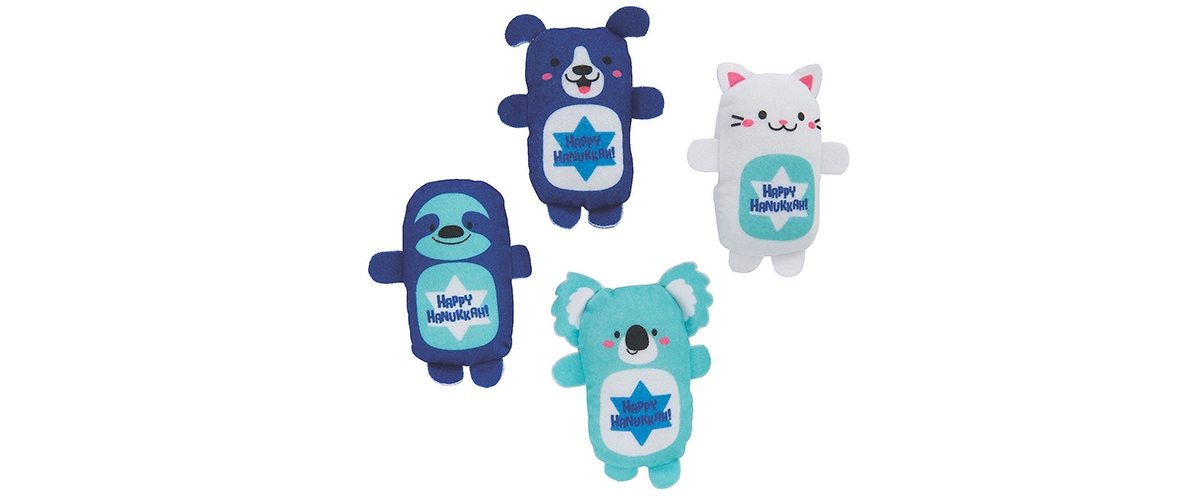 Bulk 50-piece Hanukkah stuffed animal assortment from Oriental Trading 
If you're holding a big Hanukkah party this year for kiddos (or fellow adults who are lovers of cuteness), consider this bulk plush purchase form Oriental Trading. At less than a dollar a piece, this set of Happy Hanukkah sloths, koalas, cats and dogs is such a bargain. They're not very soft, or very big, but the adorable factor is definitely there.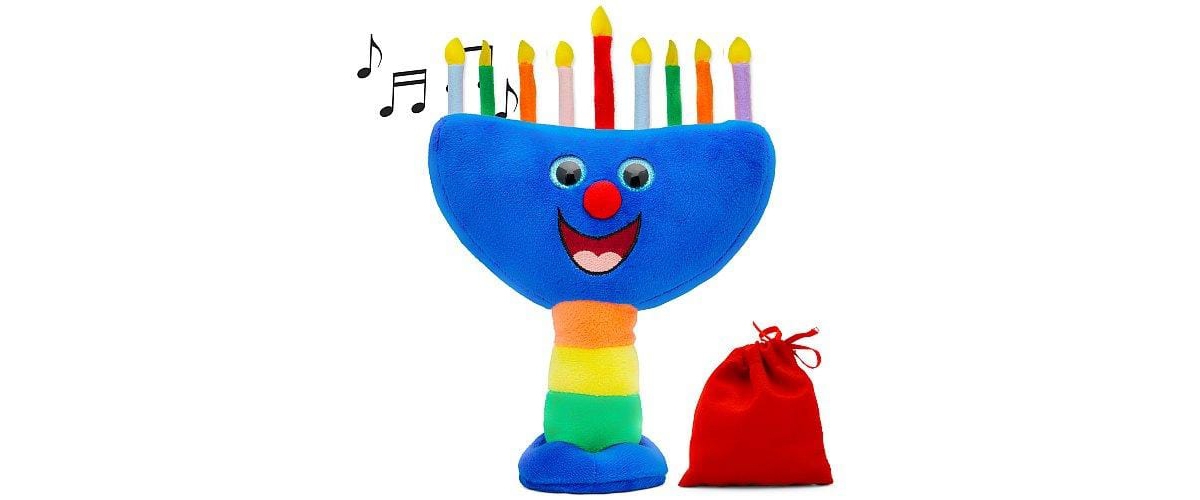 Plush musical menorah from Aviv Judaica on Modern Tribe
This menorah might stare at you creepily with its wide eyes, but it will also play music for you! Its slightly too wide open eyes and smile has its own definition of cuteness, but the doll plays six minutes worth of Hanukkah music, too. And your kids can use it to "light" candles along with you by adding another felt candle for each night of Hanukkah. Rite Lite also makes a musical dreidel plushie.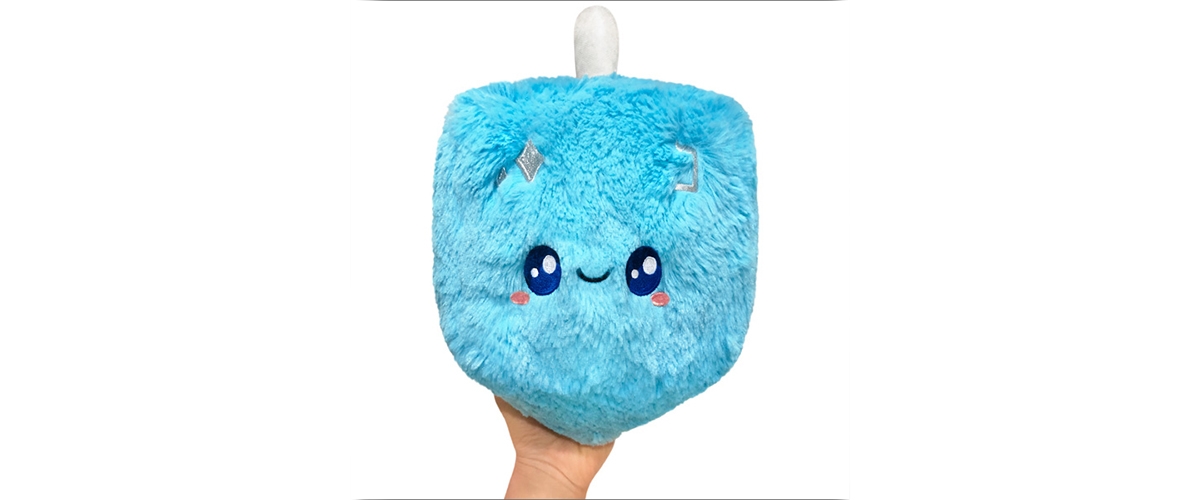 Mini Dreidel and Micro Dreidel from Squishable
This dreidel plushie will win you over with its accurate silver Hebrew letters, sweet shining blue eyes, pink-dabbed cheeks and a winning smile. We have been fans of this dreidel since 2021 — and the folks at Squishable are certainly pros when it comes to making delightfully cute things.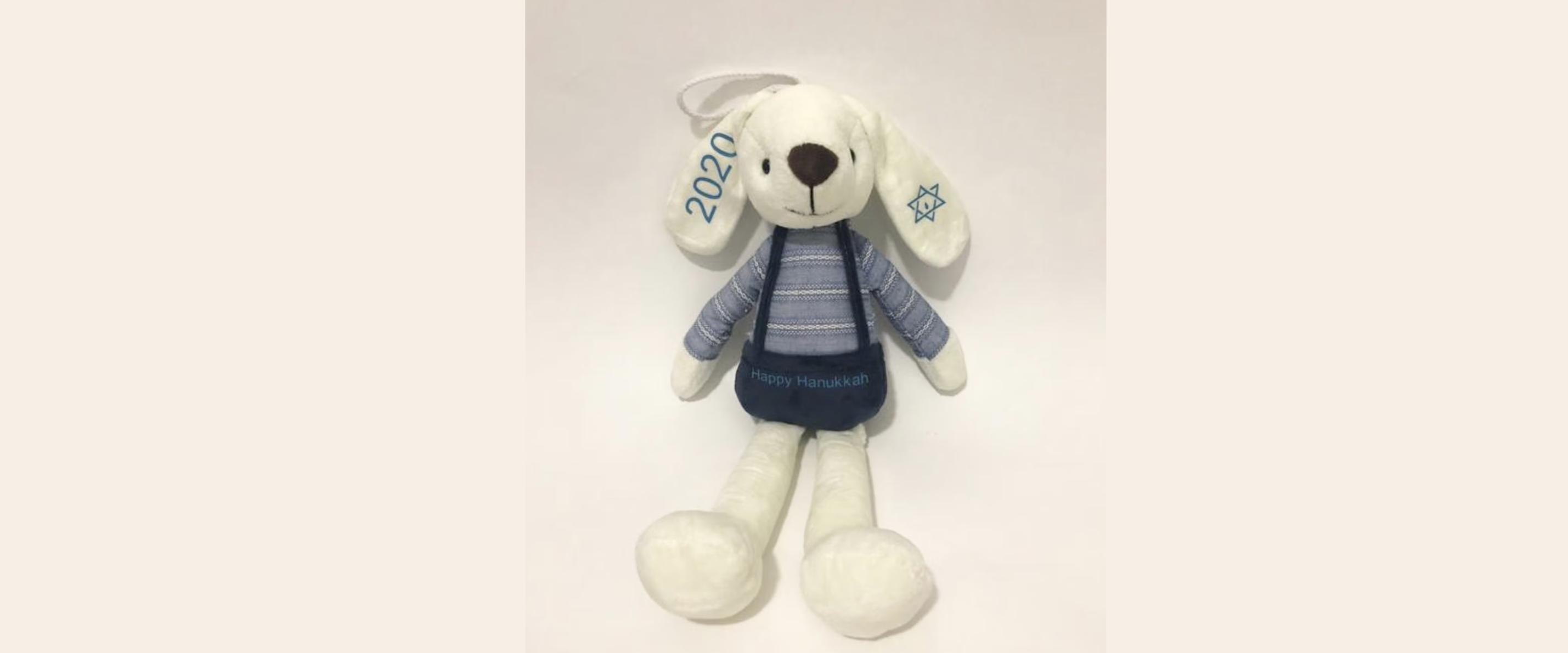 Happy Hanukkah Bunny from CustomMadeDezigns on Etsy
This nostalgic looking bunny from Etsy can be customized with the initials of a loved one. It wears cute little blue overalls and has a Jewish star on its ear.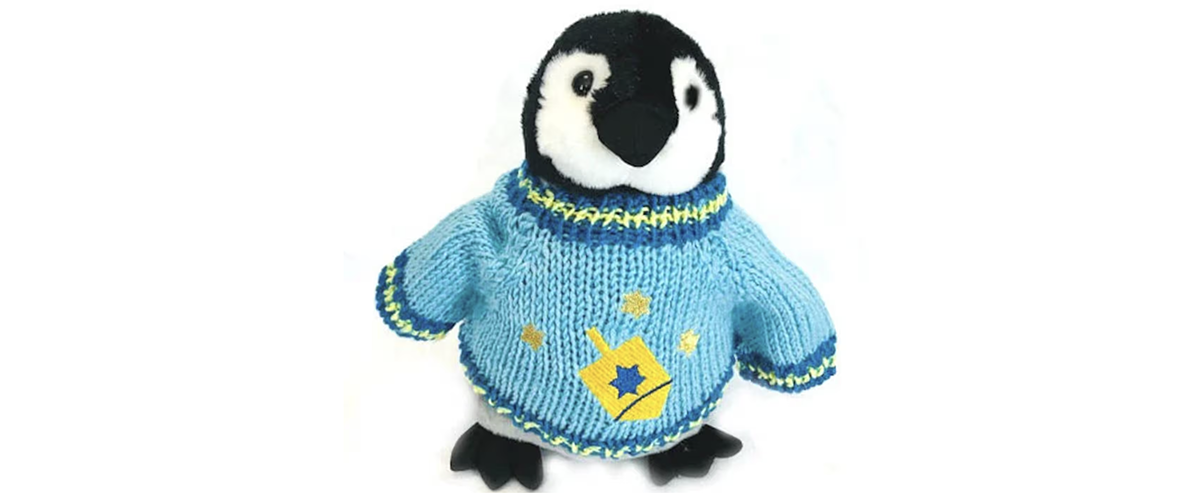 Hanukkah Penguin from PenguinGiftShop on Etsy
I love Hanukkah, I love knit sweaters and I love penguin. One reviewer who got the item as a gift said that it made the receiver's face light up "as bright as the menorah," and added that it was "the best gift of the season," noting that the penguin is soft and its sweater was "clearly made with love."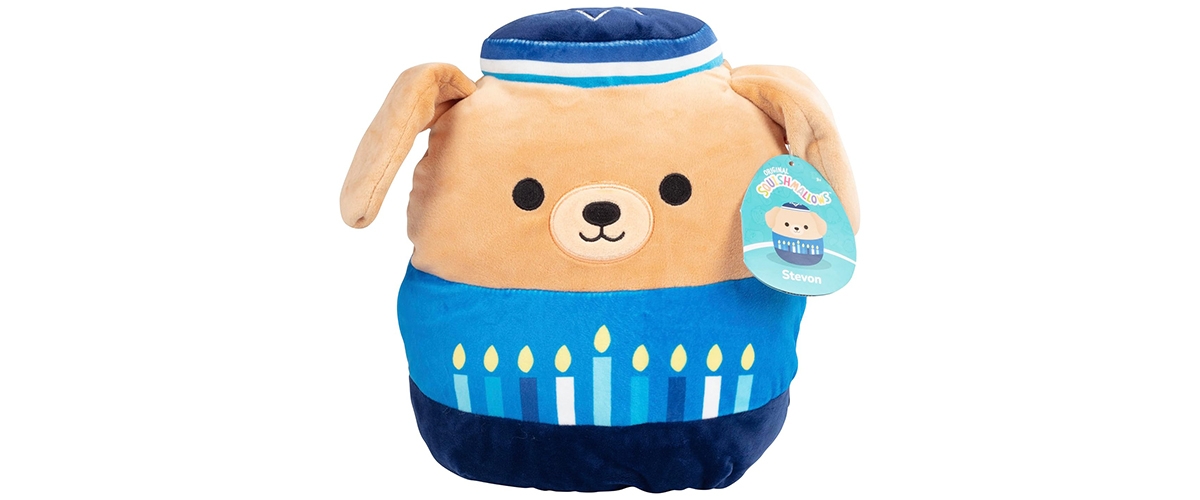 Stevon the Hanukkah Dog Squishmallow  and Kofi the Bear Hanukkah Squishmallow
My kids are too young for the Squishmallow craze, but if yours aren't, there are currently two Squishmallow Hanukkah options available online: Stevon the Labrador and Kofi the Bear. They each have a kippah and a menorah on them, and true to the brand, they both seem incredibly squishy.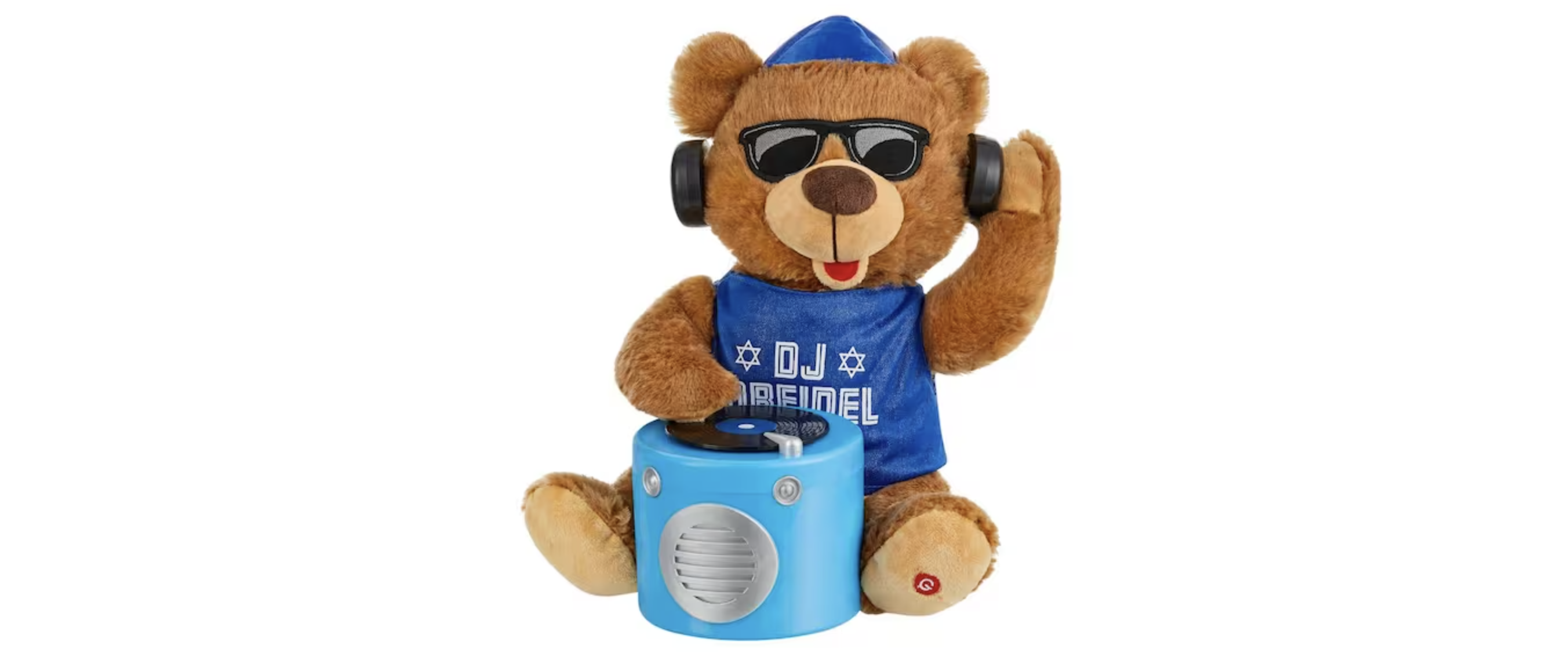 This plush is not made for cuddles, it's made for PARTIES! This new party animal will keep your Hanukkah candle lightnings musical and ridiculous this year (DJ Shmuley, watch out!).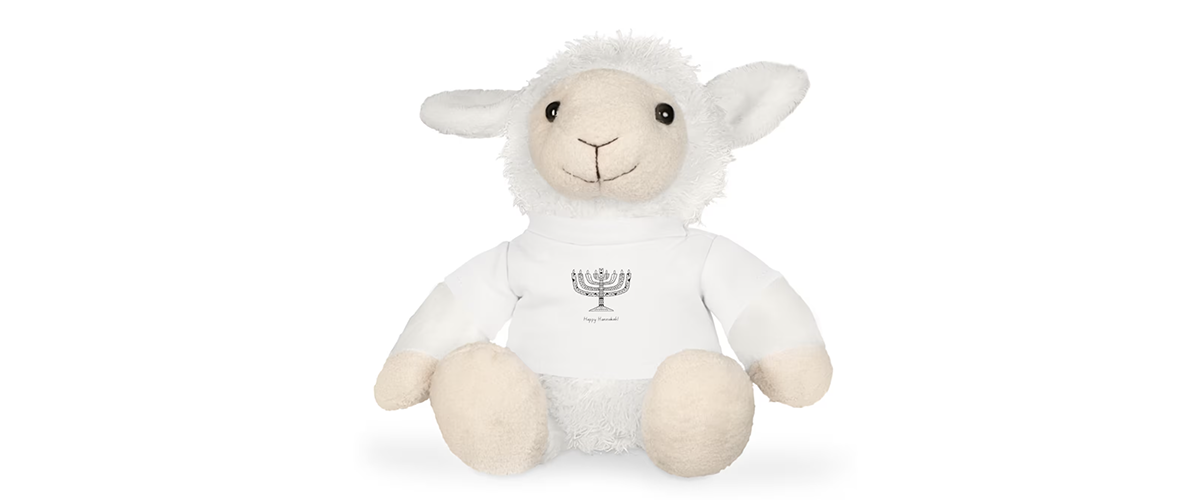 Happy Hanukkah plush sheep/bear/elephant/bunny from Nonajaypop on Etsy
Here's a simple plushie with a lovely Happy Hanukah shirt. I'm particularly partial to the elephant one, but each animal is a great option.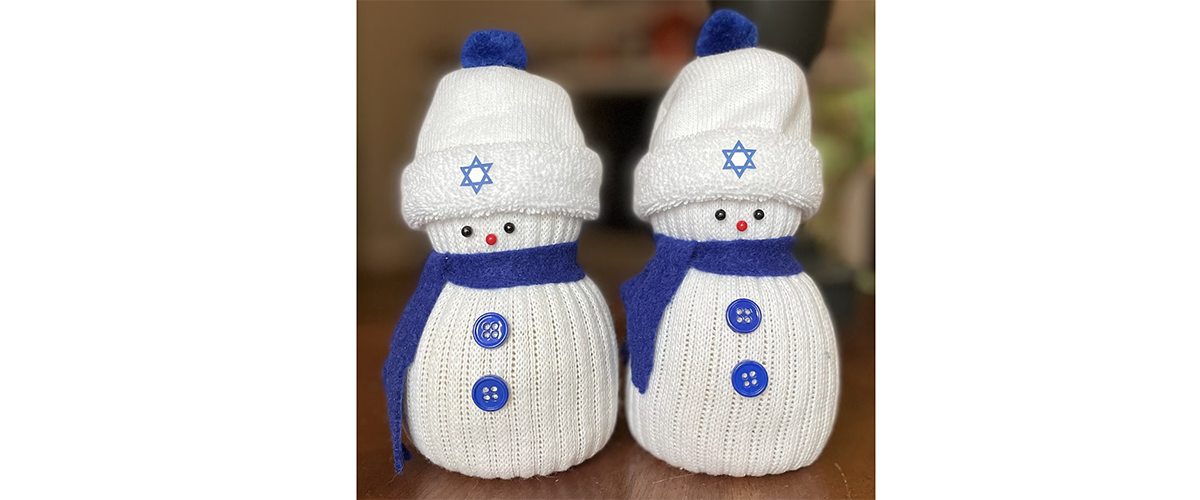 Hanukkah snowmen from LindaJeanCraftShop on Etsy
These delicate little snowmen, made out of white socks, may not be a particularly cuddle-able option, but they're just so darling with their knit blue scarves. A perfect little decoration for a mantle or shelf.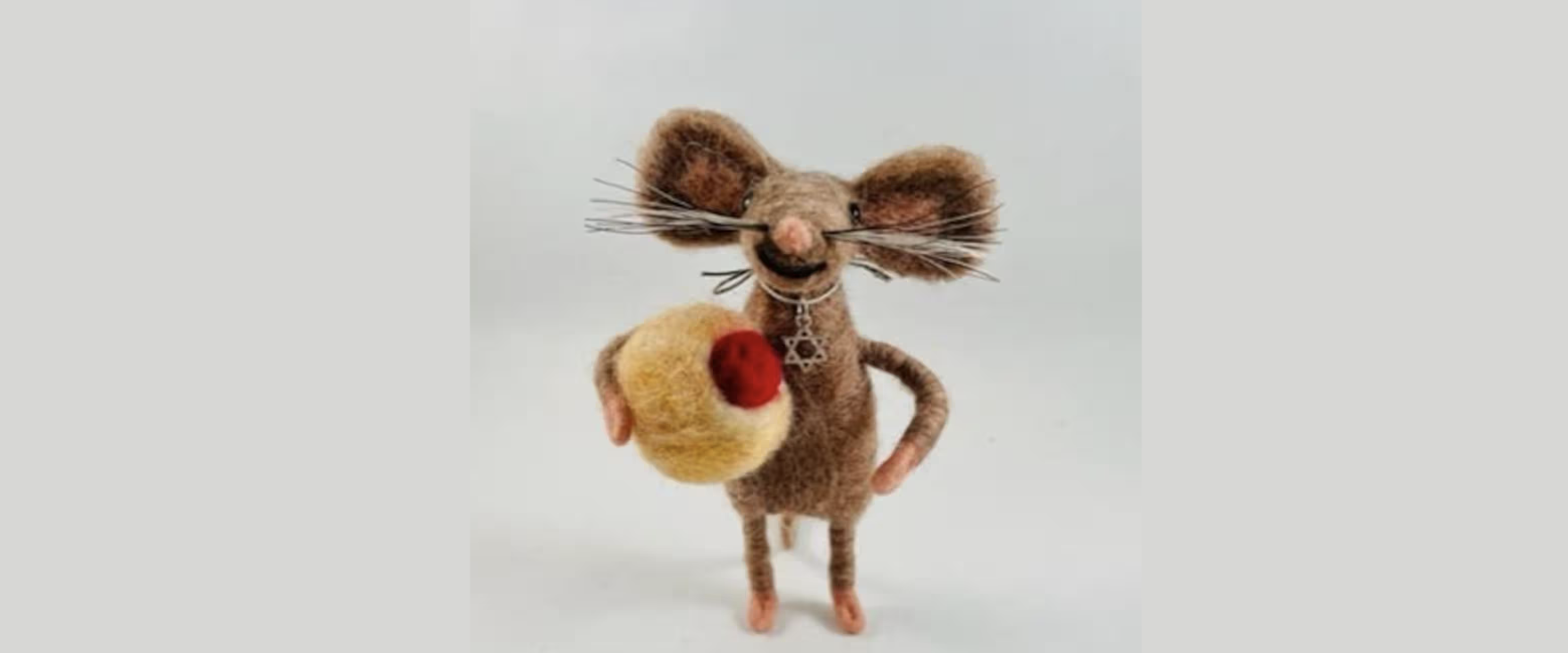 Sufganiyah mouse from Cactusologie on Etsy
I feel like I must finish this list with this lovely felt mouse creation from the Arizona-based artist behind Cactusologie. While they can't be cuddled, their cuteness is always off the charts, to be appreciated and admired way beyond the eight nights of Hanukkah. Peruse her shop for other delightful Hanukkah and Jewish options, many of which hold other traditional Jewish noshes like latkes and gefilte fish.