Eugene Levy is seriously reemerging in the pop culture sphere, thanks to his role as beleaguered patriarch on the cult hit series, Schitt's Creek. For those of you who haven't watched it — and if you're not, what are you waiting for?! — is the tale of a wealthy family who loses everything, and moves into a motel in a small town called, yes, Schitt's Creek.
Eugene co-created the show with his equally talented son, Dan Levy. It also features his daughter, Sarah.
We're totally in love with Eugene — that thick salt-and-pepper hair! Those suits! Those eyebrows! — so we decided to make him our favorite Jewish celebrity parent of the week.
1. He and his wife, Deborah, chose to raise their kids away from Hollywood; they raised their interfaith family in Toronto instead. (Levy himself was born and raised in a Jewish family in Hamilton, Ontario.)
2. His career began on the sketch series Second City Television (a show that ran between 1976 and 1984); he was a member of the original cast, alongside Catherine O'Hara.
3. And yes, let's talk about Catherine and Eugene's 40-year friendship: It's amazing. As Catherine said of working with him, "You're lucky to work with friends, and I think it's nice to see friends together. I like knowing when people know each other and have a history; that comes across on screen. I think it's fun for people to see. It is for me."
4. OK, one more Eugene x Catherine thing. Best In Show!!!
(Just watch the clip. Did you watch the clip? Ok, you can move on now.)
5. Eugene Levy's big break in the U.S. came with American Pie in 1999. He would go on to reprise his role as dad Noah Levenstein seven times.
6. And now, Eugene is big in the U.S. again thanks to his son, Dan. Dan explained on why he brought his dad in for Schitt's Creek: "Schitt's Creek is certainly a cross section of things that he finds funny and things that I find funny. We both share a desire to tell stories about characters who are rooted in reality. What I've learned from my dad is that you don't have comedy unless you have characters who are real. They can be as big and broad as possible, but the story has to be based on something with heart. That's what has worked for him, and keeping that in mind season after season has been really beneficial in the writers' room."
Cue the awwwws. Also, here's a lovely interview with the pair:
7. For Father's Day, he received the most awesome present ever: a dozen sesame seed bagels. 
So Beyonce bought Jay-Z a private jet for father's day. I bought my dad a dozen sesame seed bagels. Basically the same thing.

— dan levy (@danjlevy) June 21, 2012
(Seeing as Team Kveller basically subsists off sesame bagels, we approve!)
8.  No introduction needed for this next one — please join us in kvelling over his wife's tweet about marrying a Jewish man:
The best thing I ever did for my Protestant family was marry a Jewish man. We learned that a combined world is an enriched world.

— deb d (@tingtime) October 30, 2018
Eugene incorporated his interfaith life into his fictional family on Schitt's Creek with a touching holiday episode.
9. In 2017, he celebrated his 40th wedding anniversary. (Tell us your secretes, Eugene and Deb!!)
10. He's won a ton of awards, including a Grammy, Canadian comedy awards, and a Queen Elizabeth II Diamond Jubilee Medal. Yes, really.
11. Last reason, maybe the best reason? Those freakin' eyebrows.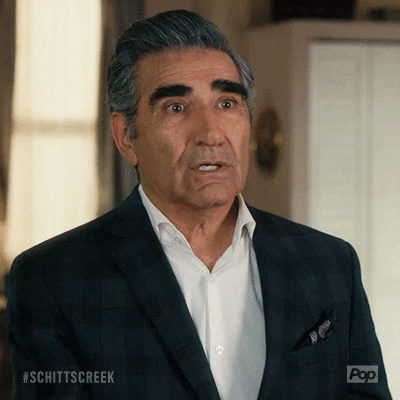 Our Favorite is Kveller's ongoing series honoring our "most favorite" famous Jewish moms and dads on the planet. And, like any good parent — you know the trope, "I love you and your siblings equally!!" — we simply can't choose just one.