Elizabeth Taylor was, in every way, an icon. The prolific actress, who died in 2011 at age 79, starred in countless films and quite a few TV shows, won two Oscar and was knighted both in France and her native England. She is, to some, the perfect embodiment of Hollywood beauty. I mean, is there a higher compliment than looking like Elizabeth Taylor? I think not.
What people sometimes forget is that Taylor was Jewish. This wasn't just a small thing in her life — Taylor led an active Jewish life, donated to Jewish causes and even helped helm movies about Jewish issues. She was buried as a Jew, in a Jewish ceremony. And while, yes, she was famously married eight times, she didn't convert to Judaism for no man! "I feel as if I have been a Jew all my life," the doting mother of four said after her conversion.
Born in 1932, Taylor was raised Christian Scientist in London. In 1939, her American family left Europe for America in the wake of World War II and finally settled in Los Angeles. Taylor, a child star, made her acting debut in 1942 in the film "There's One Born Every Minute." Taylor was known for her many iconic roles, including in "Cleopatra," "Cat on a Hot Tin Roof," "The Taming of the Shrew," "Suddenly Last Summer," "Who's Afraid of Virginia Woolf?" and "Butterfield 8," to name but a few. Funnily enough, she made most of her fortune from selling branded perfume, being only the second celebrity to do so, after Sophia Loren.
Taylor was also deeply involved in charity work, both for Jewish causes and as an early AIDS activist. Basically, Taylor was a Jewish legend, in every way. Here are 18 Jewish facts to remember her by:
1. Long before her conversion, Taylor said she always felt an affinity for the Jewish people. Her godfather, Victor Cazalet, and her mother were active supporters of Zionism during her childhood.
2. Taylor's third husband, Mike Todd, was Jewish. The two wanted to be married by a rabbi, but one couldn't find one in Acupolco, where they married — a mere two days after Taylor's divorce from her second husband, Michael Sterling, who was also the father of her two eldest sons.
Taylor and Todd had a loving and tumultuous relationship. As many said, Todd, a impresario, Hollywood producer and the son of an Orthodox rabbi, was the first of Taylor's husbands not to be intimidated by her success. In fact, he thrived on her chutzpah and independence. He lavished the actress with expensive gifts, made her laugh and cooked for her. The two welcomed a daughter together, Liza, in 1957.
Unfortunately, as Taylor was filming "Cat on a Hot Tin Roof," Todd's private jet, Liz, crashed over New Mexico, and he died.
3. After Todd's death in 1958, Taylor found the comfort she needed at the LA synagogue Temple Israel. "She found solace in the words of Rabbi Nussbaum and from Temple Israel," curator Joanna Robotham said. "It grounded her. It helped her find happiness again." She converted to Judaism in 1959.
"Judaism had absolutely nothing to do with my past marriage to Mike [Todd] or my upcoming marriage to Eddie Fisher, both of whom were Jewish. It was something I had wanted to do for a long time," she said.
4. Taylor's Hebrew name was Elisheba Rachel.
5. Eddie Fisher and Taylor were married in a Jewish ceremony at Temple Beth Sholom in Las Vegas on May 12, 1959. The affair between the two famously broke off Fisher's marriage with actress Debbie Reynolds.
The marriage, unfortunately, didn't last. Taylor fell in love and had an affair with "Cleopatra" costar Richard Burton, and the two wound up leaving their respective partners and getting married. In interviews, Taylor has stated that she married Fisher due to her grief.
6. Back in 1960, Taylor and Fisher attended a dinner to help finance the Jennie Grossinger Medical Center in Tel Aviv at Hotel Astor. Here she is chatting with Jennie while Fisher kisses Jennie's cheek: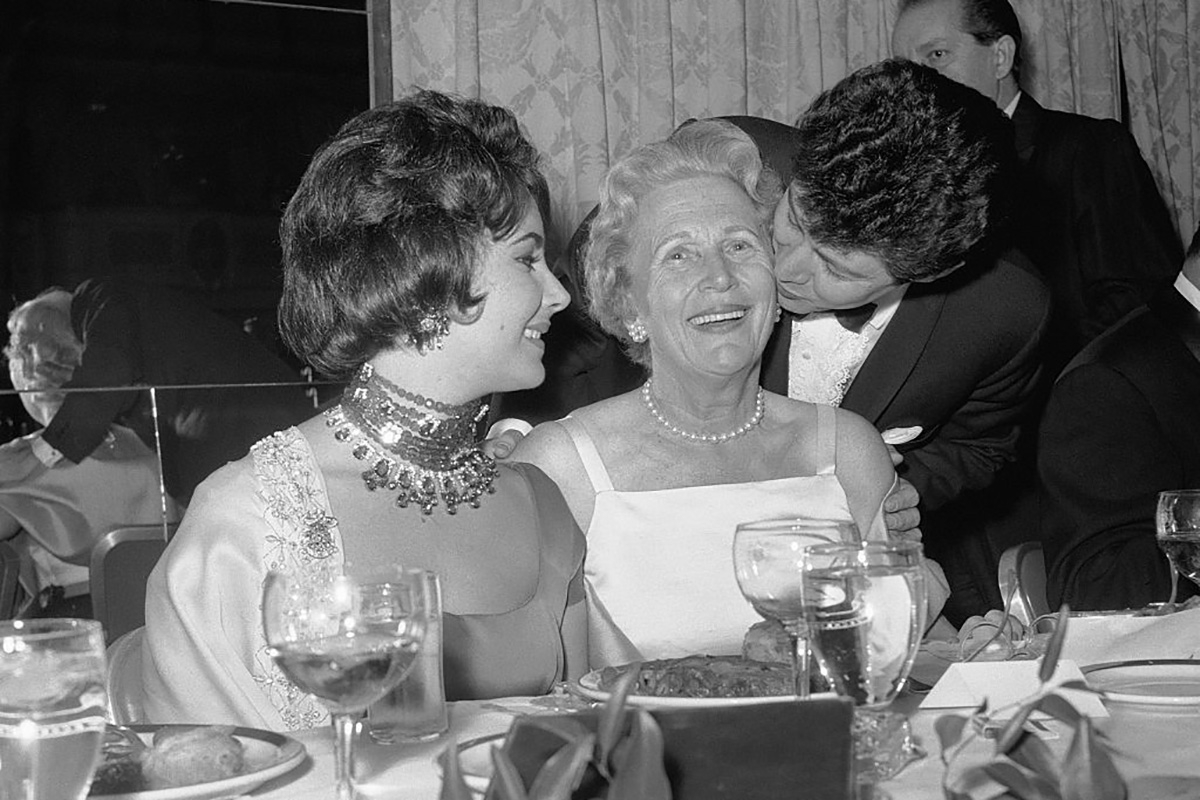 For those of you not in the know, Grossinger was the co-owner of Grossinger's Catskill Resort Hotel, on which the movie "Dirty Dancing" is based.
7. In 1961, Taylor and Eddie Fisher sang together in Hebrew in Moscow at a concert for U.S. service members, while visiting the Russian city for a film festival.
8. Before Gal Gadot, Taylor was the first Jewish actress to face backlash after being cast as Cleopatra back in 1963.
Taylor was put on an Arab blacklist, officially banning all of her films in Arab countries, after it was discovered that she supported Israel and spent $100,000 on Zionist bonds. She was removed from the blacklist, however, after Egyptian officials watched "Cleopatra" in a private screening and decided it would be good PR for Egypt. They weren't wrong. Cleopatra is still one of Taylor's most iconic roles, and the movie won four Oscars. It also mentioned Egypt 122 times.
9. In the summer of 1976, Taylor offered herself as a hostage to replace the 248 Air France hijack victims held in Entebbe airport in Uganda by the Popular Front for the Liberation of Palestine, before Israel managed to release them on July 4, as part of Operation Entebbe. This was revealed at a JNF gala in honor of Taylor and her then-husband, Senator John W. Warner.
10. Two years later, Taylor had a small role in "Victory at Entebbe," a made-for-TV movie about the kidnapping. She played Edith Vilnofsky, opposite Kirk Douglas who played Hershel Vilnofsky. In the film, Richard Dreyfuss played Col. Yoni Netanyahu and a young Anthony Hopkins played Yitzhak Rabin.
11. Along with Orson Welles, Taylor narrated the 1982 Holocaust documentary "Genocide."
12. Taylor visited Israel on multiple occasions.
In 1957, she visited Israel with Richard Burton. It is said that she wanted to marry the actor there, but no rabbi agreed to because he wasn't Jewish. The two stayed at the King David Hotel along with Henry Kissinger. Burton also performed a reading from the Bible at a local theater. Here's a glamorous picture of Taylor at the Western Wall on that visit:
In 1976, she visited the country with her husband, politician John Warner.
Back in 1982, Taylor went on a 10-day mission to the Mideast to promote peace. "I want to bring a sense of sincere friendship between myself and the people of America to Israel," Taylor said at a local press conference. "I want to try to create peace between Israel and Jordan." She professed her love for the Jewish state and her hopes to bring back tourism to the area. She met with Menachem Begin, visited Ariel Sharon at his home and visited sick soldiers and children at local hospitals.
Taylor also cancelled a 1967 visit to Moscow because of the Soviet anti-Israel stand. In 1975, she signed a letter condemning a U.N. anti-Zionist resolution.
13. Taylor gave a lot to Jewish causes. Back in 1959, she bought $100,000 in Israel bonds, and in 1967 she helped raise $840,000 for Israel. She participated in fundraisers for the Jewish National Fund alongside Sammy Davis Jr. and was an ardent and vocal supporter of the Simon Wiesenthal Center, which helps preserve the memory of the Holocaust.
Here is a photo of Taylor with Wiesenthal himself:
14. Back in 1985, Taylor cofounded the National AIDS Research Foundation with Jewish doctor and immunologist Dr. Michael Gottlieb, who famously identified AIDS in 1981. She went on to establish the Elizabeth Taylor AIDS Foundation in 1991.
15. After her death from congenital heart failure in 2011, Taylor was buried at the Forest Lawn cemetery in an intimate Jewish funeral ceremony attended by 40 people. As Taylor requested, the ceremony started 15 minutes late because Taylor wanted to be fashionably late, one last time. It was presided by Rabbi Jerry Cutler, who founded the Creative Arts Temple in West LA. Taylor was buried a day after her death in a simple wooden casket, as per Jewish tradition.
16. Taylor was known for her lavish jewelry, but she also had a Judaica collection. Two of her menorahs were auctioned off in 2020. One of them was apparently a gift from Israel from her head of security.
17. A rare two-minute recording of her conversion played at a Jewish Museum exhibit "Becoming Jewish" back in 2015. The exhibit was dedicated to the Jewishness of Taylor and Marilyn Monroe — who was also Jewish. While the press often pitted the two very different actresses against each other, there was no rivalry between Monroe and Taylor. In fact, when Monroe ran into hard times after being fired from "Something's Gotta Give," Taylor gave her some advice.
According to Monroe's biographer, Charles Casillo, Taylor told the troubled actress: "No matter what they write about me, Marilyn, I never deny it. I never confirm it. I just keep smiling and walking forward. You do the same."
18. Jewish actress Rachel Weisz was cast to play her in the film "A Special Relationship," which would chronicle her relationship with activist Robert Wall. We don't know if this movie is going to happen or not, but the casting is definitely spot-on!