When we made the gut-wrenching decision to put our beloved family dog, Rocco, to sleep in February, I was certain it would be a very long time before we could entertain the idea of another dog in the house. We got Rocco when he was a fluffy, bright-eyed, energetic 8-week old pup — just one month before I found out I was pregnant with our daughter, our eldest.
For just shy of 10 years, there wasn't a moment in our lives that our gentle giant wasn't a part of. He was with us for every birthday and every holiday; he was always the first to greet guests with his loud bark and massive paws. He was there when the kids learned to walk, talk, and ride their bikes. He laid next to them when they were sick and he let them ride him like a pony. And he was with us last summer when we moved to Texas from Michigan. Rocco was our boy, and our love for him was endless.
By January, however, it was clear something was up with him — he had lost a lot of weight, and his energy was flagging. Eventually, after multiple vet visits, X-rays, and blood draws, we learned that Rocco had bone cancer, which had spread to his heart and lungs. Surgery was deemed too risky given his age. And so, it was only a matter of time before his body gave out.
What followed was an agonizing three weeks before we said our final goodbye. In the aftermath, for several weeks, our kids (ages 6 and 9) went through the many stages of grief: sadness at such a profound loss; anger at us for "doing this to him;" acceptance that he wasn't coming back. 
But then, they started asking for another dog. I was still heartbroken, however, and I didn't feel ready yet. Plus we had a big trip to Italy planned for June. We told them we needed to wait until after the trip — that way, we could focus on a puppy. 
Then, of course, the COVID-19 pandemic hit. Social distancing and shelter-in-place orders meant we were indefinitely home from work, school, friends, sports, activities — basically everything. Our Italy trip was likely to be postponed as the news out of Europe grew grimmer by the day.
In late March, six weeks to the day after saying goodbye to Rocco, a friend sent me a link to an animal rescue page with a litter of 10-week old Aussiedor pups. I could not stop thinking about the chocolate pup in particular, and thought: Maybe this is the ideal time to adopt. After all, we'd be guaranteed to be home for the foreseeable future, and our family vacation was now officially postponed until July 2021.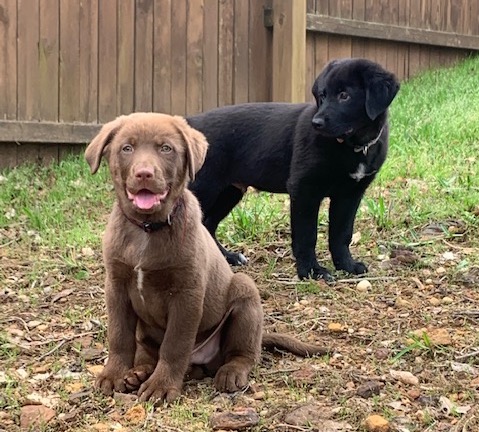 The next day, we went to meet the foster mom. I fully expected we'd leave with the pup once we met him, but then we met his brother  — a black pup from the same litter who looked like our Rocco as a puppy, down to the white stripe on his belly. She explained how in sync they are and asked if we'd consider two. My husband and I exchanged silent glances, but I know what we were each thinking: "No way! We came to look at one, not two!"
But over the next hour, we got to know them a little better and, well, it didn't take much to convince us to give it a shot. They were clearly a duo and belonged in the same family. 
And that is how we came to adopt two puppies in the middle of the COVID-19 pandemic.
I really feel this experience has been a blessing in disguise for our kids, and it's offered them many teachable moments. If you've been considering adopting a puppy (or older dog!) — trust me when I say, now is really the time. Here's why.
1. 2020 is pretty much canceled.
With life as we know it on pause indefinitely, there's no better time to foster or adopt a dog. After all, there's no rushing to school or work in the morning. Someone — nay, everyone — is generally home during the day, seven days a week. And there are no evening activities, let alone weekend getaways, for the foreseeable future. This means plenty of time to bond with, love on, and housebreak your pup before a "new normal" begins. (2021, perhaps?)
2. It's a mitzvah.
If adopting one puppy is a mitzvah; adopting two must be considered a double mitzvah, right?! No matter how many you choose, adopting these babies means they won't go to a shelter where they could be mistreated, or worse. #AdoptDontShop.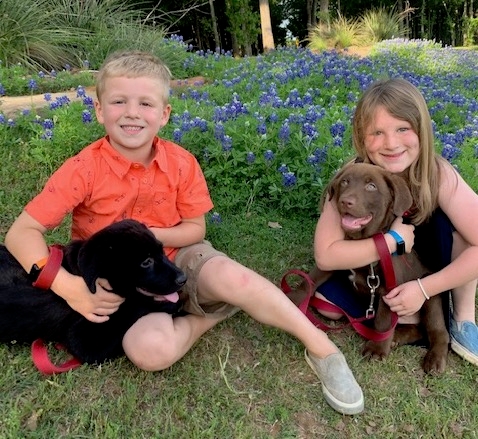 3. It teaches tikkun olam.
We can heal the world in our own way — small things add up to big things, especially during turbulent times. These pups bring so much joy into our lives, and that's something that is much needed right now as the awful headlines continue in the U.S. and around the world. When I posted on Facebook that I wouldn't inundate everyone with puppy pictures, countless friends asked me to PLEASE inundate them; they needed to see something uplifting during these dark times. Puppy pics (or baby pics!) can help heal the collective hurt of the world right now. I firmly believe this.
4. Responsibility, responsibility, responsibility.
Raising two pups is a big job for little people —  but they insisted they could handle it, and they haven't proved us wrong (yet). My husband and I are both working from home these days. It's a real challenge, especially combined with homeschooling, but since our kids have more free time than ever, they've become the ones primarily responsible for feeding the pups, ensuring they have water, taking them out to play, cleaning up their messes, cuddling them, and leading them on our walks. They're reading books and watching videos about training a puppy, so this is taking this distance learning thing to a whole new level!
5. It's a family project where we can all participate.
During a time when people have to share lifecycle milestones virtually, it's nice to be able to still do something big together, as a family. Even though the kids have a major role, we've raised puppies before and can help them teach the pups to "sit," "give paw,"  and more — so we're all playing a part in their upbringing. When the kids look back on the pandemic of 2020, I hope this is what they remember.
Of course, puppies aren't for everyone and arguably, they complicate things … adding new stress during an already stressful time. But they are also completely worth it. In these uncertain and downright scary times, sometimes just having a fluffy puppy in your lap is all you need to feel like everything is going to be OK after all. 
Header image by Anastasiia Neibauer/Getty Images