Mindy Kaling has been looking pretty incredible lately, eh?
Turns out she has a new, secret style weapon in her arsenal: Jessica Mulroney, the Canadian Jewish mom who is Meghan Markle's BFF. As you likely know, we've extensively covered her here at Kveller.
Kaling, the beloved actress and comedian, is currently on a press tour for her new film, Late Night. And Mulroney, a stylist, is helping to dress her.
In an Instagram post, Kaling writes, "Heading to a [Late Night] Q&A in @landscapeclothing care of the magical Jessica Mulroney, who wrote me and said she could 'picture me in a suit'. I did not believe her but here I am, obsessed. I paired it with some @ysl sandals and a @ben_amun statement necklace I dug up. Am I only wearing suits now? Am I a power mom? Do I sell real estate in Laguna?"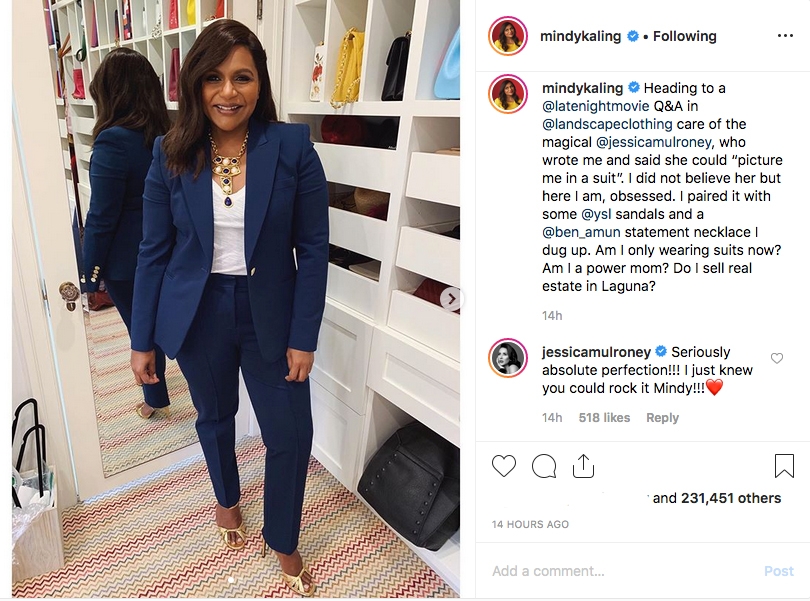 Obviously, Mulroney commented on the post: "Seriously absolute perfection!!! I just knew you could rock it Mindy!!!❤" And she shared a snap of Mindy on her own Instagram story, writing, "A little Canadian style on the Gorgeous Mindy! I just knew this would be perfect for her!"
Mulroney has a history of spotlighting Canadian designers (like when this Canuck brand thanked her for dressing Meghan Markle in one of their dresses) — so it's no surprise she turned to one to dress Kaling. She also loves a power suit.
While this may be their first collab, Kaling and Mulroney have history. How do we know this? From Instagram, obviously. The actress (or whoever runs her social media channels) often likes and comments on Mulroney's posts, starting way back in October 2018. We obviously have the receipts: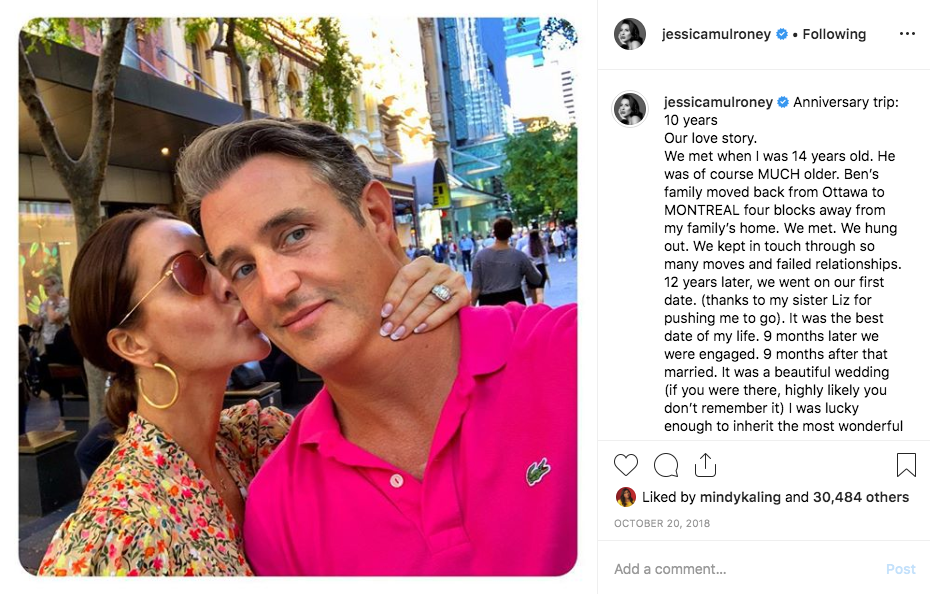 See that "Liked by mindykaling"? There's many, many more: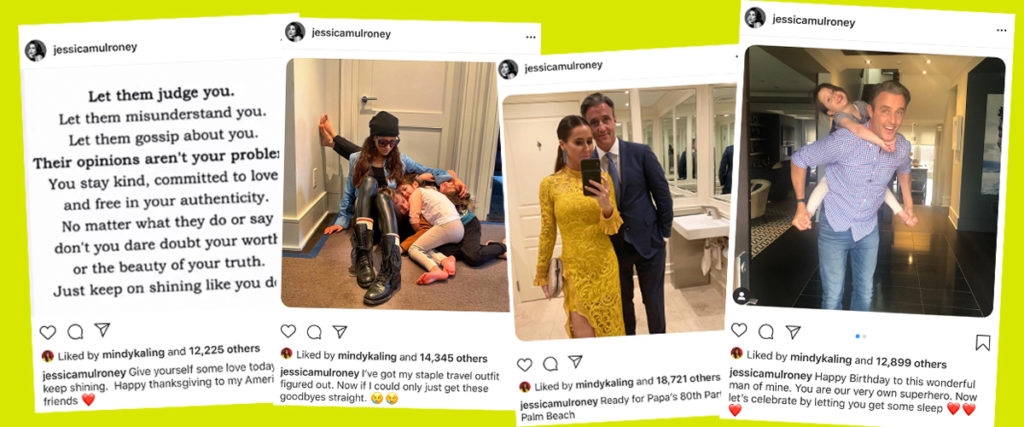 And sometimes, Kaling even comments (bless the Instagram algorithm for always showing her comments as we scroll). "This is a Diane Keaton movie poster," Kaling wrote on a photo of Mulroney's daughter, Ivy. "Could they be any more iconic?" she writes on a snap of her twins at the royal wedding (remember their starring role!?). And on a message about Mulroney struggling to balance work and being a mom, Kaling writes, "So happy you shared this! You're incredible 💕"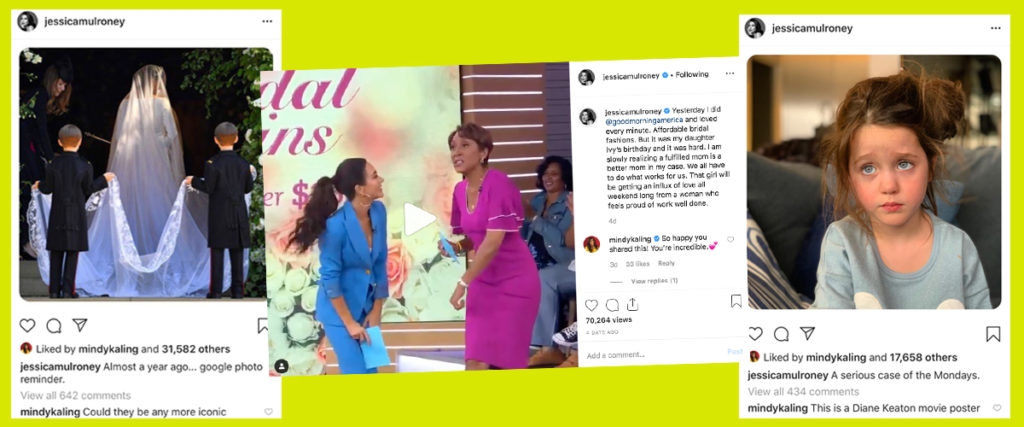 And, obvs, Mulroney comments on Kaling's posts. "What is happening with all this glorious fashion! 🔥," she posted on a picture of her at the premiere of Late Night. "Im here for this amazingness," she wrote on another. And so on.
Clearly, these two have a relationship. Wonder where it all began? We have one possible answer: In July 2018, Mindy Kaling tweeted about how Meghan Markle looks great in boat necks:
One of Meghan Markle's low-key superpowers is looking good in boat necks

— Mindy Kaling (@mindykaling) July 11, 2018
As we reported at the time, Mulroney was responsible for all the span of fabulous looks in July 2018 where Markle wore — you guessed it! — boatnecks! (Harper's Bazaar reported, "The Boatneck Neckline Is Officially Meghan Markle's Signature.") Here's a great example:
Could it be that boatnecks brought the two together? Is this what led Kaling to reach out to Mulroney? Or maybe Mulroney saw the tweet and thought to herself, Yes, Mindy Kaling likes my style!!
Another possible way they connected: Kaling moved to London in late 2018 to work on a TV adaptation of Four Weddings and a Funeral, for which she is the writer and producer. In an interview she gave to E! News, she said, "I'm moving to London, I'm gonna be completely friendless," she joked. "Meghan Markle maybe wants to be in my life?"
While we have no idea if Markle and Kaling ever connected (we're gonna guess probs not, but who knows?!), but it's possible that the duchess set them up. Regardless of however Mindy Kaling and Jessica Mulroney became linked together, we are so glad they did.
Images in header via Dominic Lipinski/WPA Pool/Getty Images, Sonia Recchia/Getty Images for Hudson's Bay, and @MindyKaling on Instagram.