OK, OK. We'll get this out of the way, right off the bat: Seth Meyers is not Jewish. But you know what? He's Jewish enough — according to his in laws, at least!
In his truly delightful new Netflix comedy special, Lobby Baby — so named so because his second son was born in his building's lobby! — the Late Night host kicks things off by addressing his Judaism or, more accurately, his lack of thereof.
The 45-year-old dad tells the audience that one of the top misconceptions about him is that he is Jewish. Why do people think that? Because, as he says, "my name, my face, and everything about me."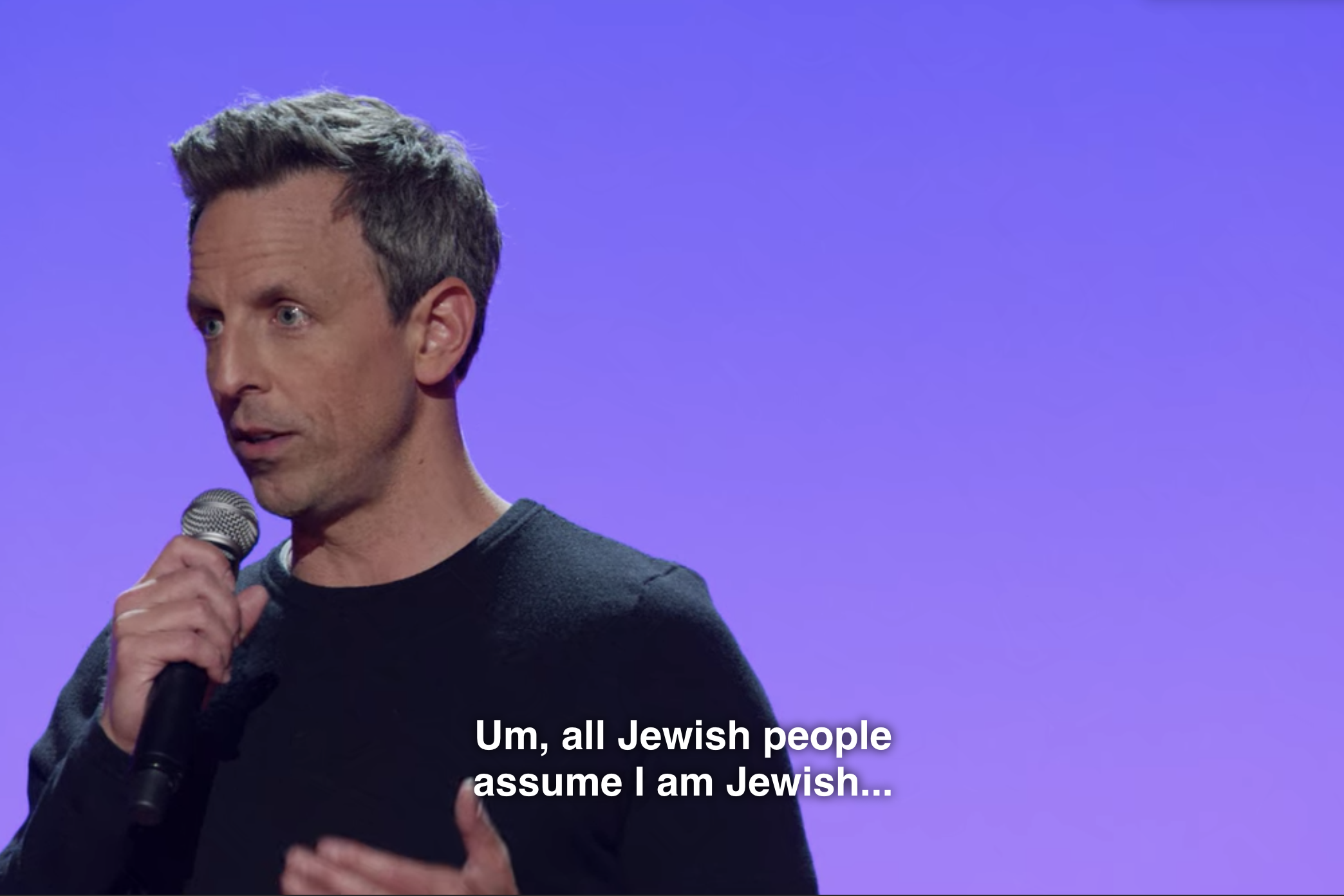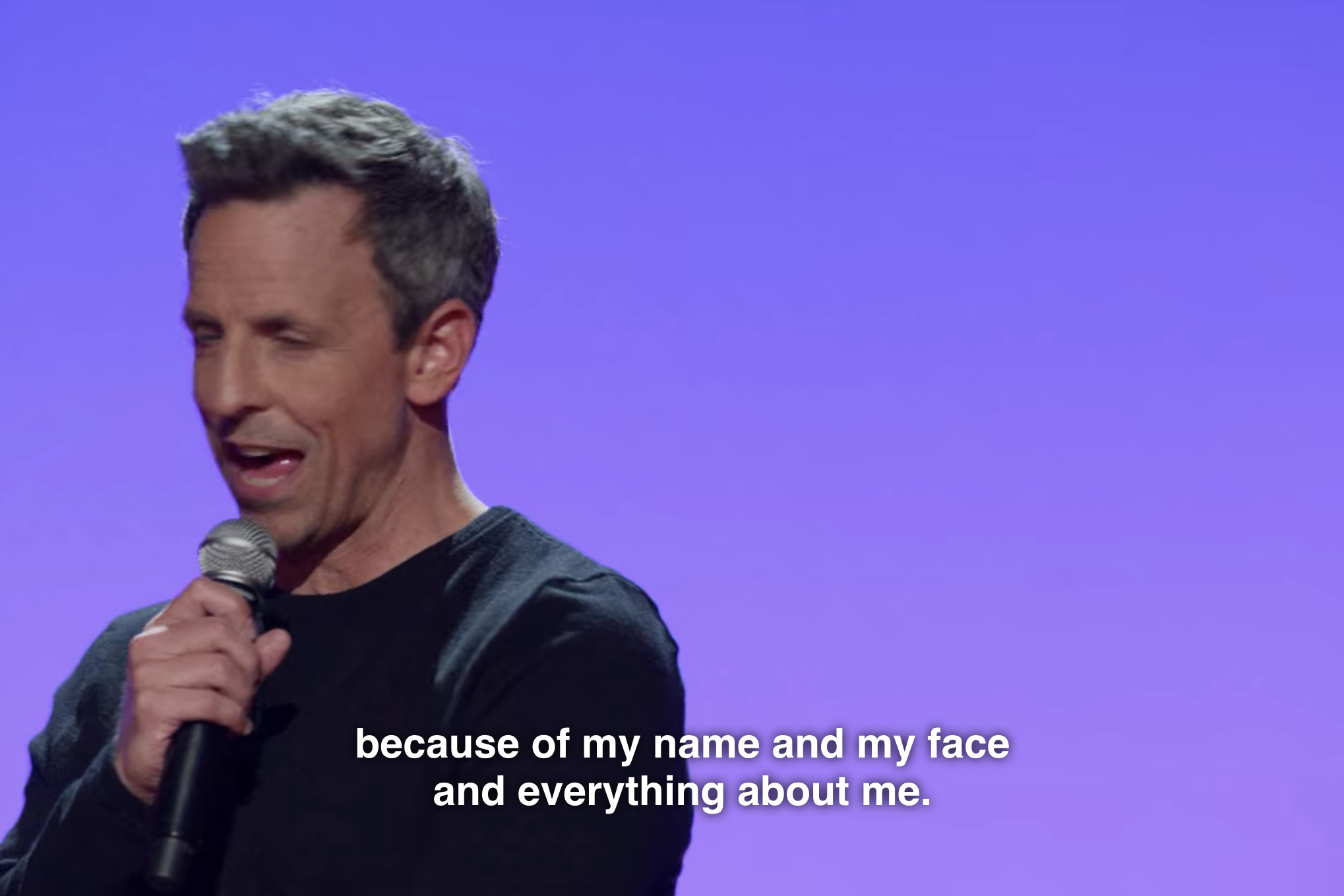 But Meyers, in case you didn't yet know, is not a member of the tribe. Yes, he does have a Jewish grandfather, but his mom, as he says, "could not be less Jewish."
In the special, he follows up this admission with a truly bad Jewish mom joke: "For example, the other day she said, 'As long as my kids are happy, I am happy.'" (Riiight, Seth, because everyone knows that Jewish moms ™ are overbearing and don't care for their kids' happiness. Sure.)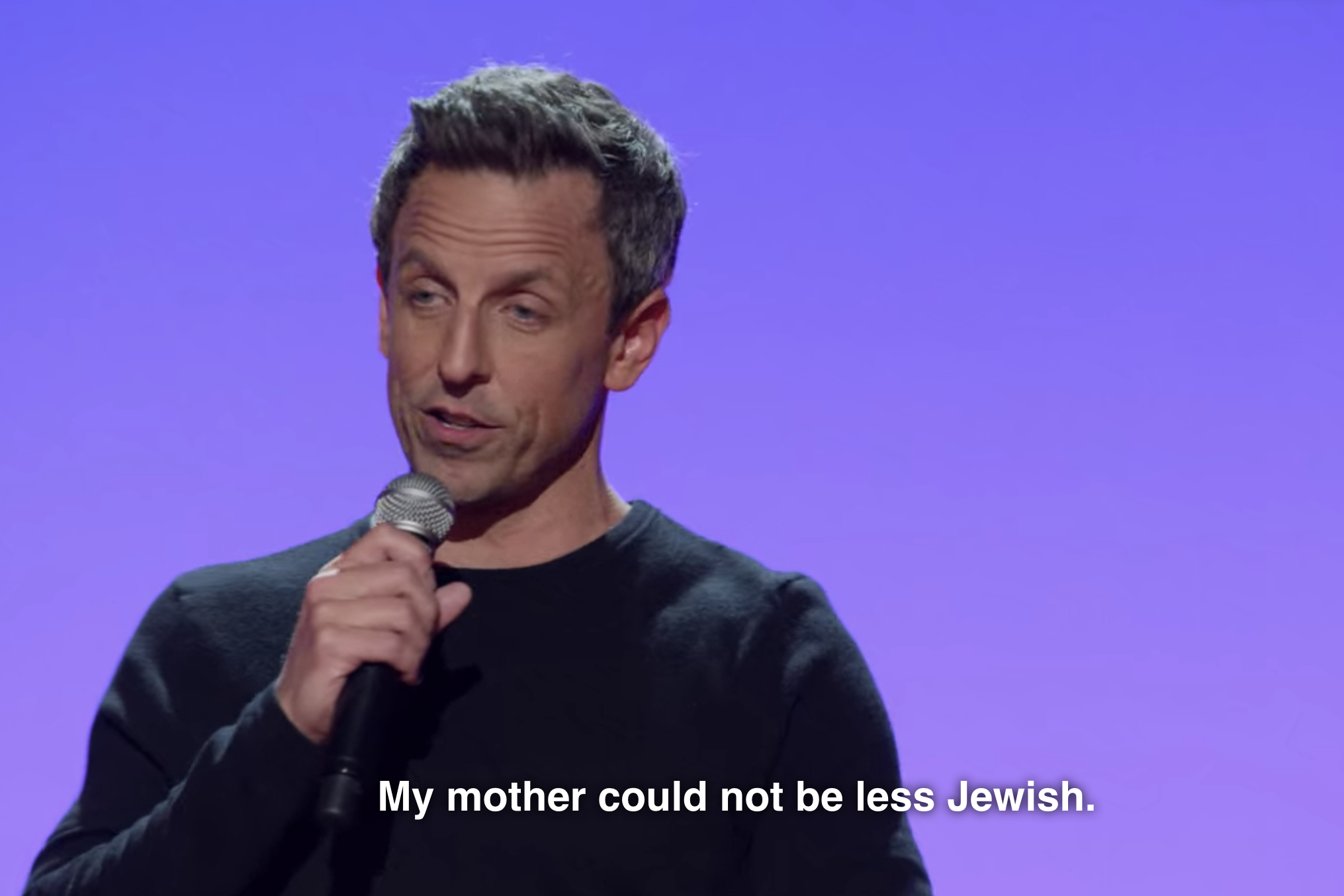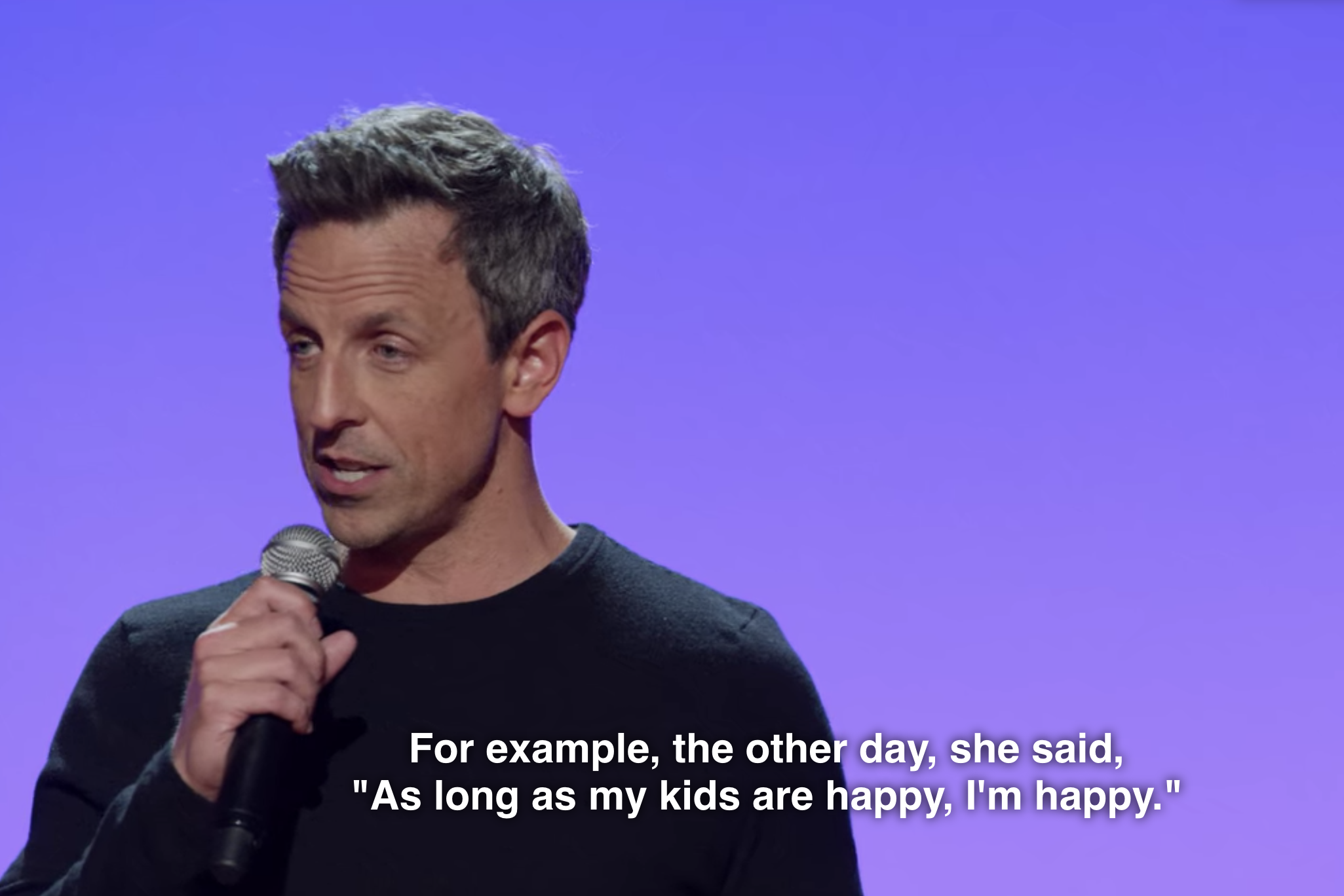 But Meyers redeems himself by lovingly discussing the actual Jewish mom in his life: his wife, Alexei Ashe Meyers. (In fact, their second son — the one who was born in the lobby! — is named after her grandparents, who were Holocaust survivors.) He tells the audience how her parents "were so excited that their daughter had met a nice Jewish boy," and were very disappointed when Meyers broke it to them that he actually wasn't.
It was "very unfair to them," Meyers quips, "because to be named Seth Meyers and not be Jewish is false advertisement."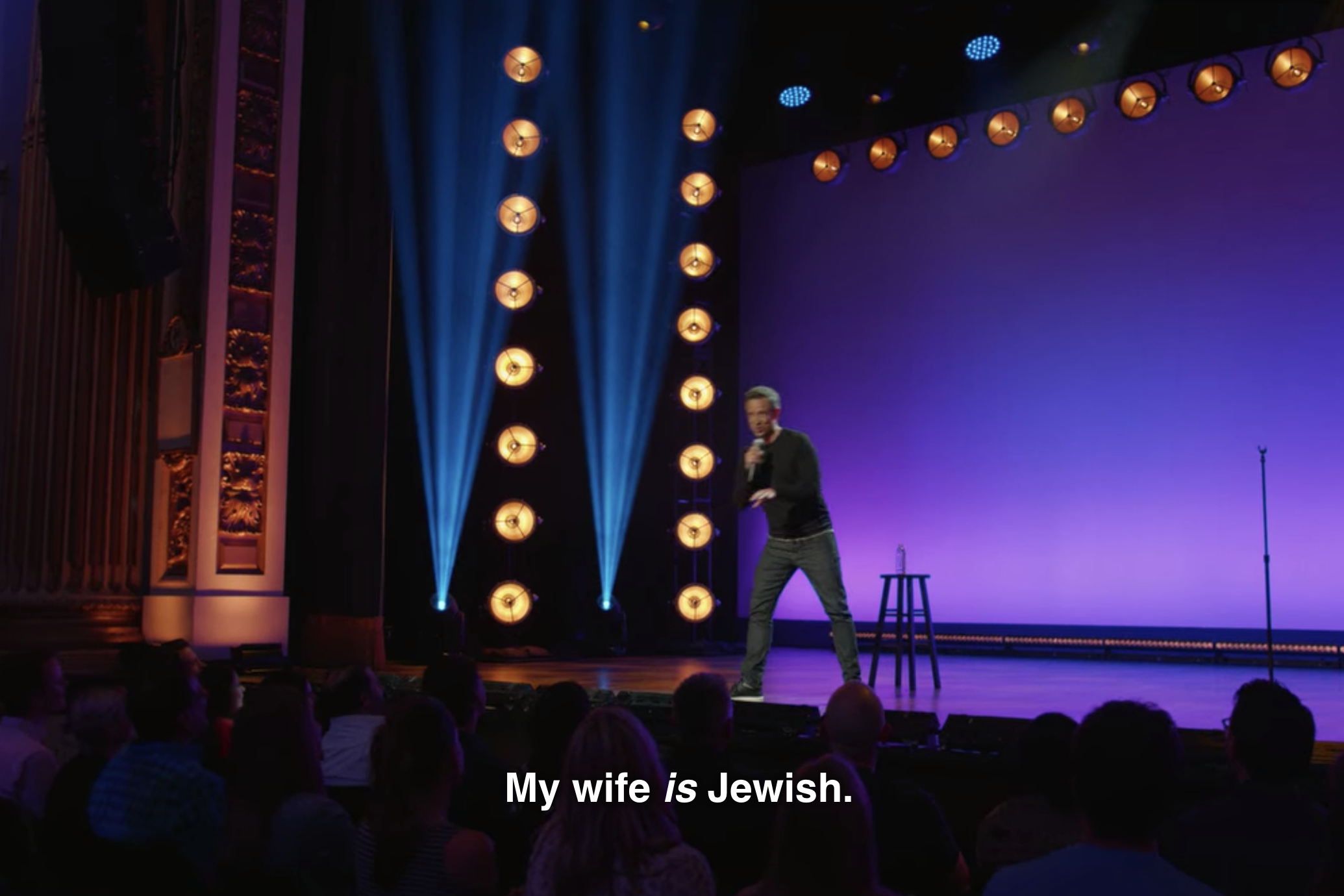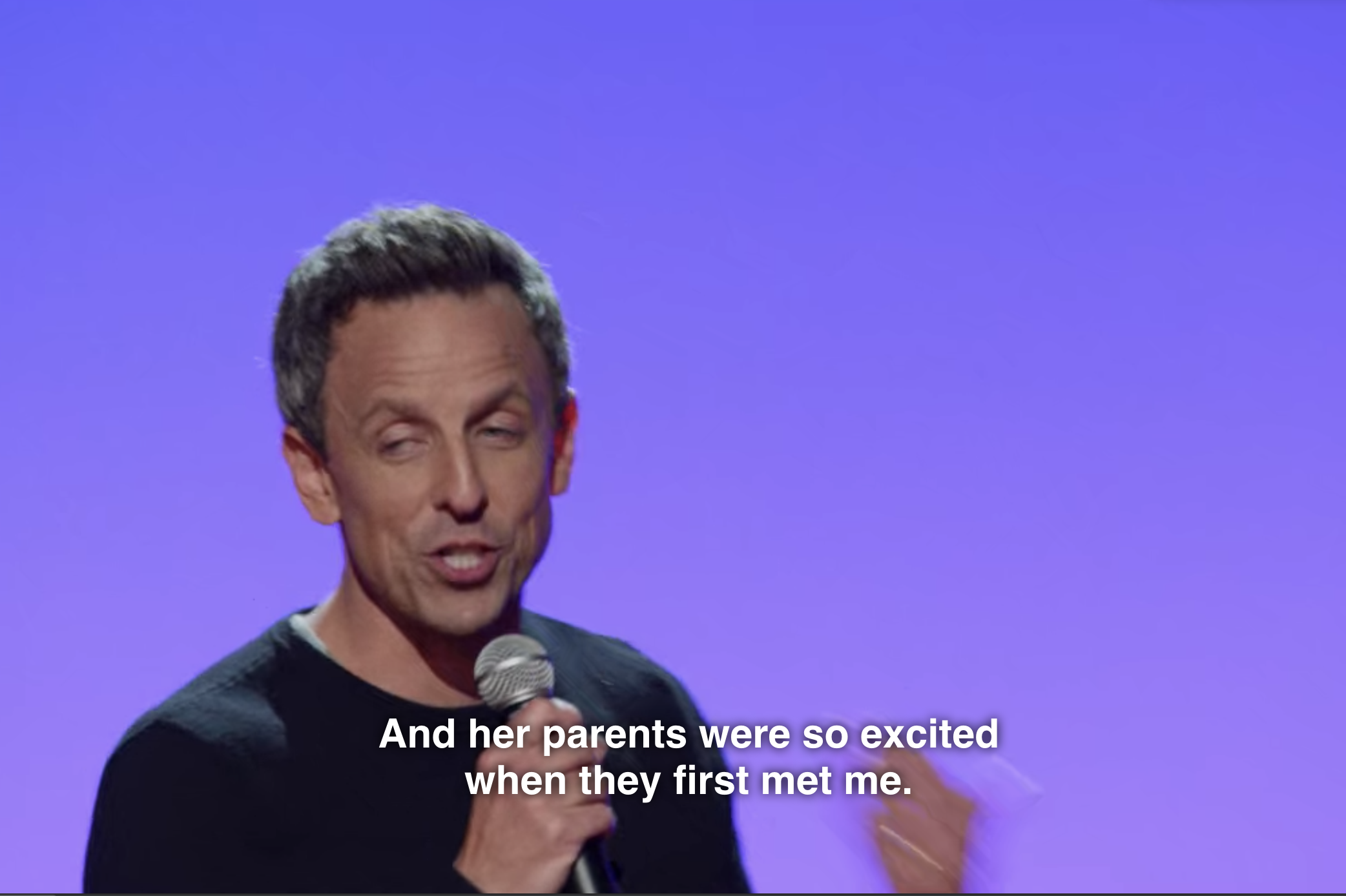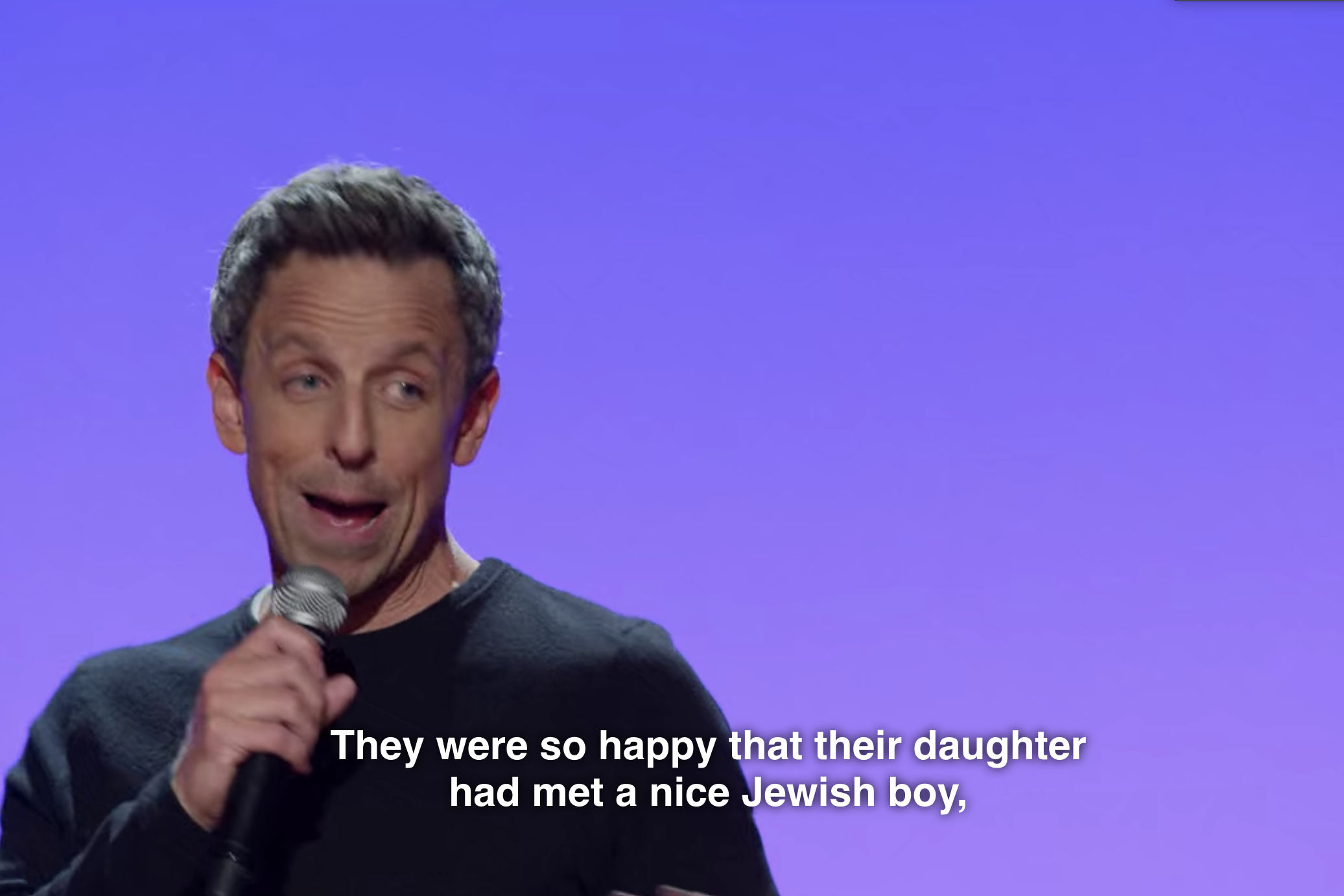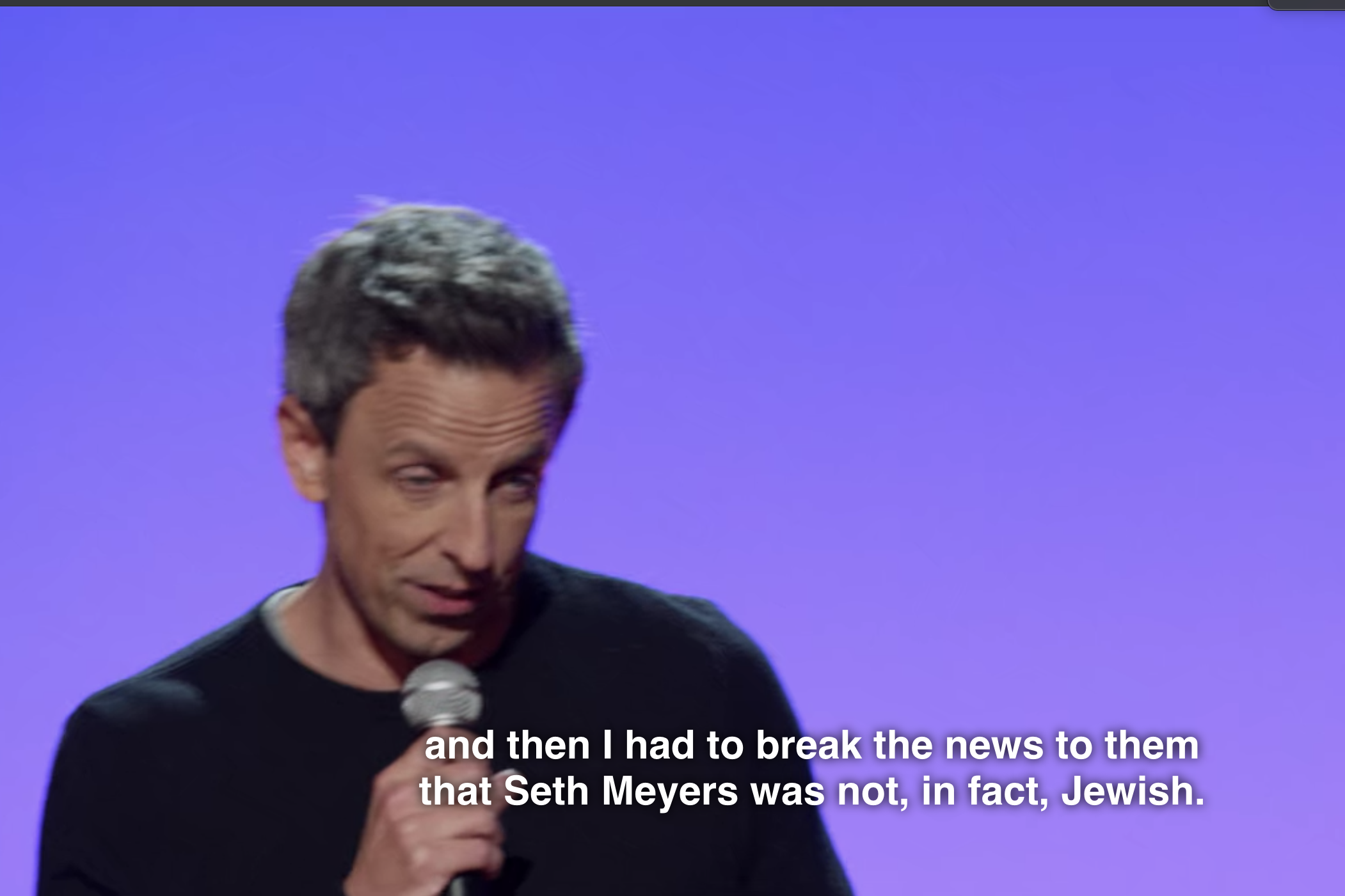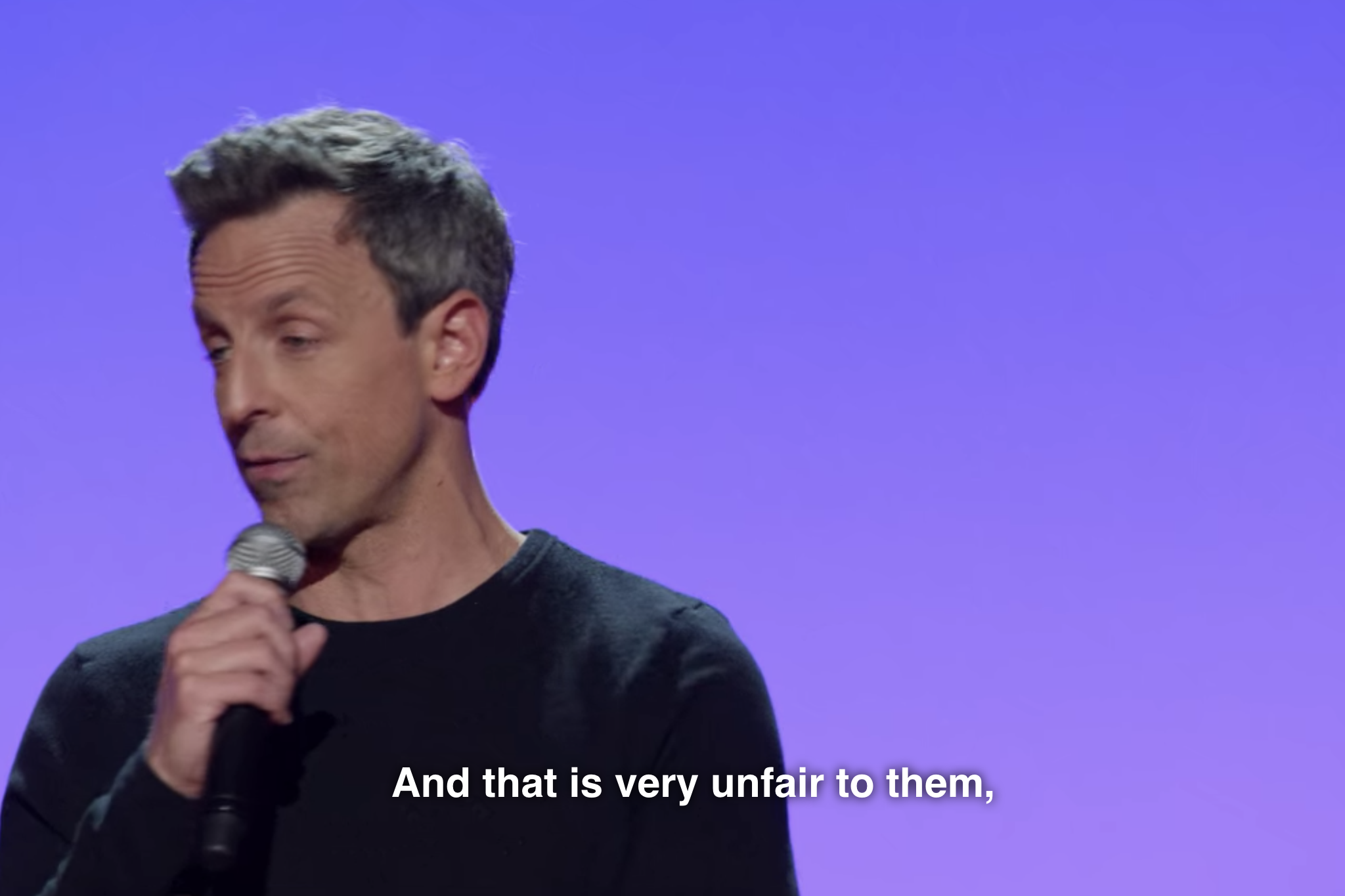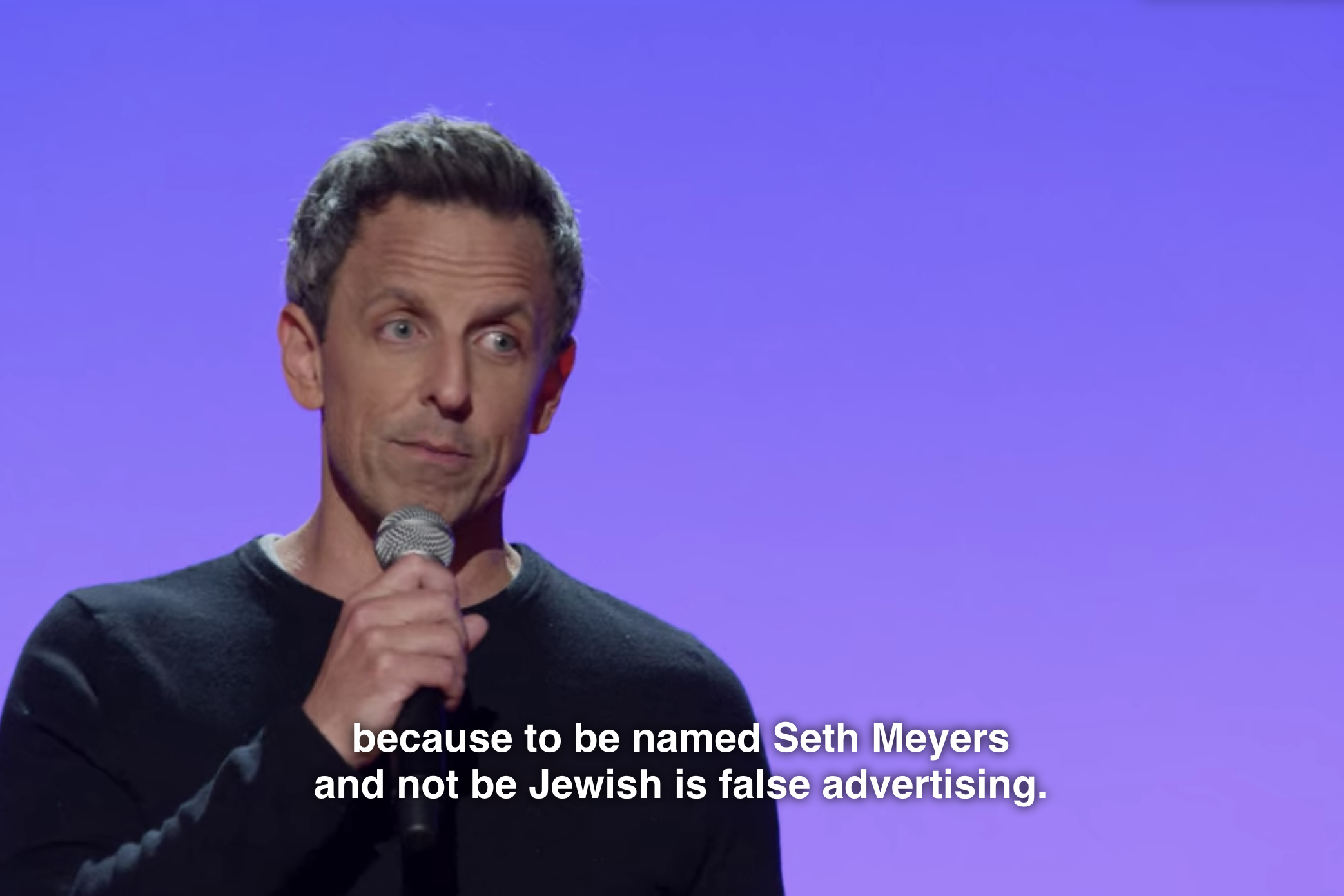 Still, over their five years of dating, Meyers said that his future in-laws grew to think of him as "Jewish enough." And, as he very accurately concurs about Judaism: "I believe that is the only religion were this happens." He also adds that it's so great that it's also the only religion that ends with "ish."
So there you have it: Seth Meyers is not Jewish. But he is Jew-ish.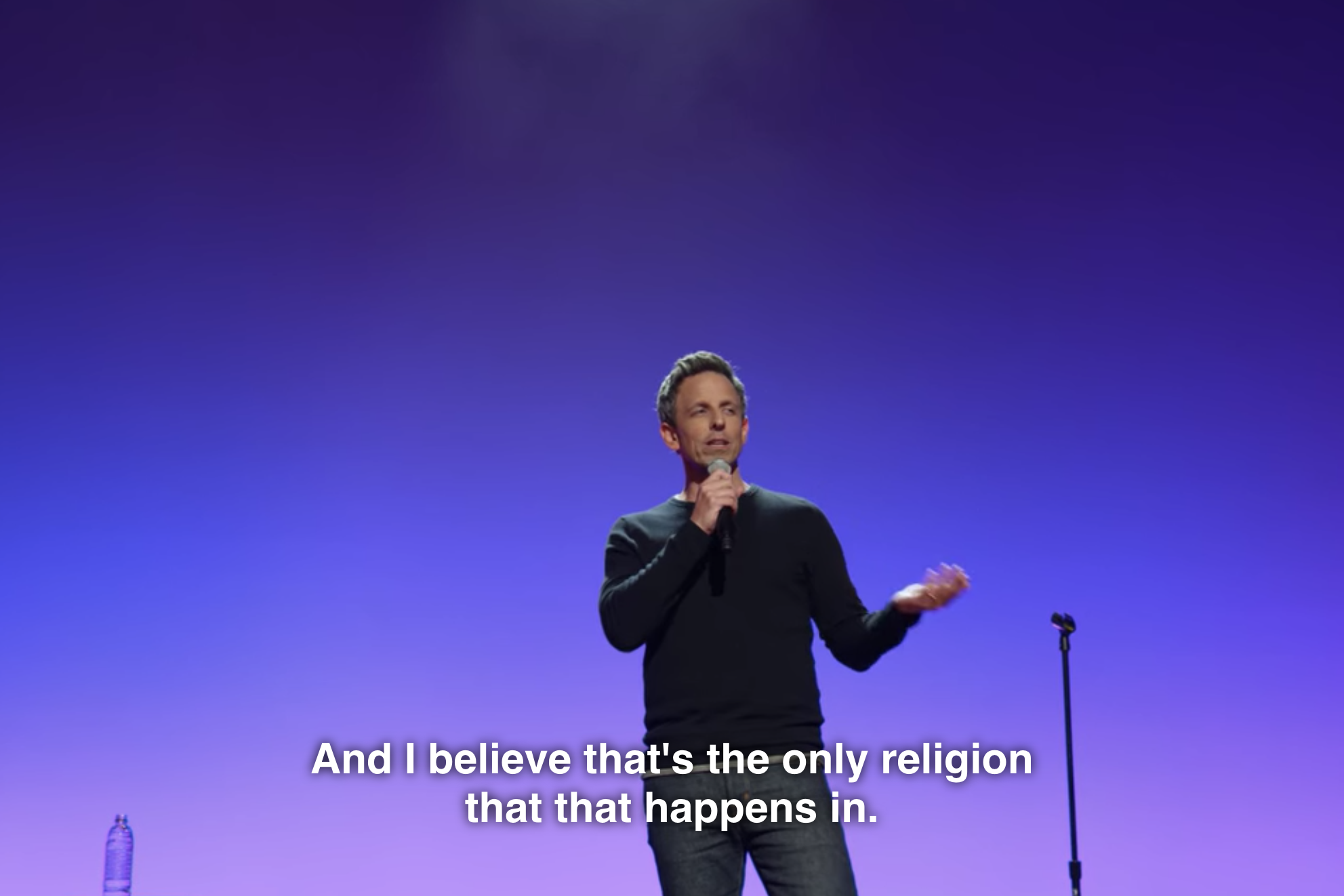 So what else does he joke about in the special? Well, Lobby Baby, as its title suggests, is mostly about parenting and the Meyers' marriage. Yes, it has some political jokes, which you can actually skip thanks to a handy-dandy button on the right of your screen — an odd choice, since anyone who knows Meyers knows that, recently, he's become known for his scathing, incisive jokes about our president and his administration.
The jokes about parenting are excellently accessible: My husband and I laughed out loud at his very relatable mention of "the thunk" — the universally recognizable sound of a toddler's head hitting the ground.
Still, things get a little icky when Meyers takes on gender dynamics. In true Male Fashion ™, he jokes about how he did nothing to help his wife plan their wedding. Like, literally nothing. The jokes work, sort of, because of how affectionate they are, but over and over again, Meyers returns to the theme of how his Jewish wife carries the family's mental load, which means everything thing from taking care of the kids day-to-day lives to knowing whether there's yogurt in the fridge.
These kind of jokes are old news, but the funnyman does manage, somewhat, to turn the meant-to-be-adorable-but-actually-pretty-male-chauvinstic "helpless males making jokes about how they can't do anything around the house" trope on its head.
When Meyers takes the mic on behalf of his wife is when Lobby Baby gets really good.You see, 36-year-old Ashe, a true Wonder Woman who literally birthed her own son at their building's lobby while Meyers helplessly looked for their doctor's phone number, is a human rights lawyer who used to be Assistant District Attorney in Brooklyn, specializing in human trafficking cases.
And, as Meyers says, one of the things that Ashe "loves about the law is [that] each side gets to make their case." And so, after making jokes about his wife and their home life, he goes on to  make jokes about himself — as her. No, he doesn't put on a wig or use a high-pitched voice. Instead, he makes some really good points.
Take how Meyers has literally spent years observing his wife do all the housework, and yet still doesn't know how to do anything. "There's that expression, 'If you teach a man to fish you will feed him for a day. If you teach a man to fish you will feed him for life,'" Meyers says, channeling Ashe. "My question that I ask my husband now is, 'How do you not know how to fucking fish?! You watch me fish every day. And when it's your turn to fish, you eat the worm and throw the whole rod in the water. What is wrong with you?!'"
It's an excellent joke (and metaphor!) — though this viewer does wish that, for someone so insightful, Meyers would actually take a little bit more responsibility for how little of the mental load he carries. (And, like, this is just coming from an outside observer! Imagine how his wife really feels!?!?) Still, I love how much he lauds his wife, and, crucially, Meyers lets his wife get the last word.
I like to think of Lobby Baby as an accompaniment to John Mulaney's special, Kid Gorgeous at Radio City, in what I hope will become a popular new comedy sub-genre: non-Jewish men who are married to Jewish women that they absolutely worship, and who make jokes about how immeasurably better their wives are than them. For anyone complaining about the blight of intermarriage (sigh), know this: it is doing wonders for the reputation of the Jewish wives and mothers.
And for that boon, we're glad to have Meyers an honorary member of the tribe.