Taika Waititi went live on Instagram on March 31 with his two daughters and had them cut his hair. It was amazing and chaotic and exactly what we need right now.
It's also totally relatable: As we are all socially distancing, many of us will either be growing out our hair or turning to our loved ones for haircuts. According to Google, one of the top trending searches in the U.S. is "How to cut men's hair at home."
Waititi, who heretofore had a shock of white hair, did not seem like he had a haircut in quite some time. (He recently tweeted he was at work editing a film, likely his adaptation of the documentary Next Goal Wins, about the national soccer team of American Samoa.)
The Jewish-Maori writer/director/actor has two daughters, Te Hinekahu, 7, and Matewa Kiritapu, 4, with producer Chelsea Winstanley. Waititi and Winstanely have reportedly been separated since 2018.
Waititi is adorable, his daughters are adorable, the entire thing is adorable. They start by taking a buzzer to his head, and singing Cardi B's "coronavirus."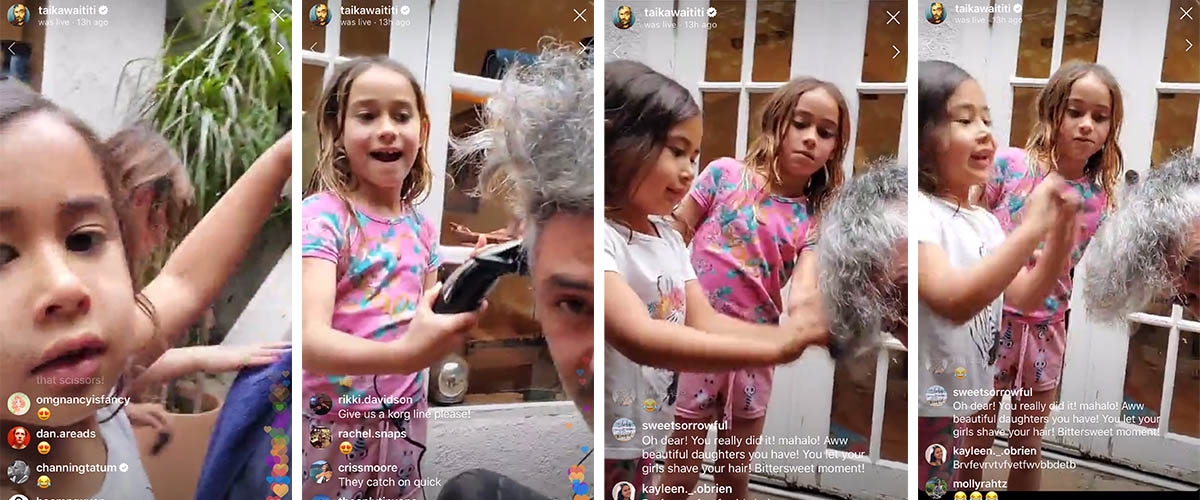 "I'm not shaving all your hair off!" one daughter shouts at a point. Waititi replies,"Well, someone has to." Then Matewa, his younger daughter, starts combing out the top.
"Well, at least no one's going to see me for another three months," he jokes to the thousands watching.
"Daddy, can I cut your hair with scissors?" she asks.
"No, I don't need to go to the hospital right now," he replies.
Soon, Matewa finds scissors and tells her dad, "I'm gonna cut your hair." Taika flips the camera back to himself and allows her to trim the ends.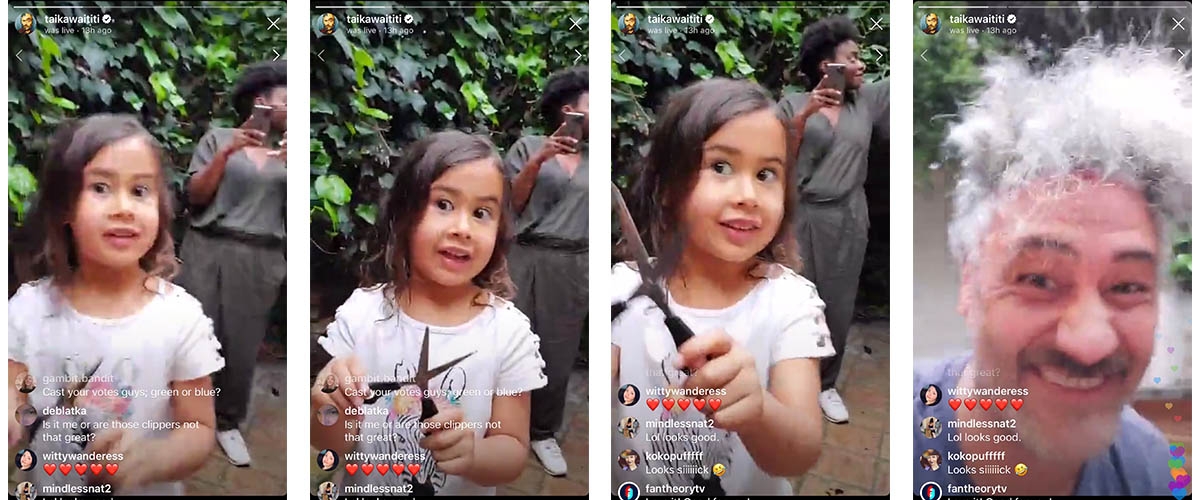 "Oh my god, watch out for the human part of me. So close to my eyes!" He tries to instruct her how to cut, but she isn't really doing much.
"Do you want a turn cutting dad's hair with scissors?" Matewa gleefully shouts to Te Hinekahu, who seems to go by T.K., and Taika stares anxiously into the camera.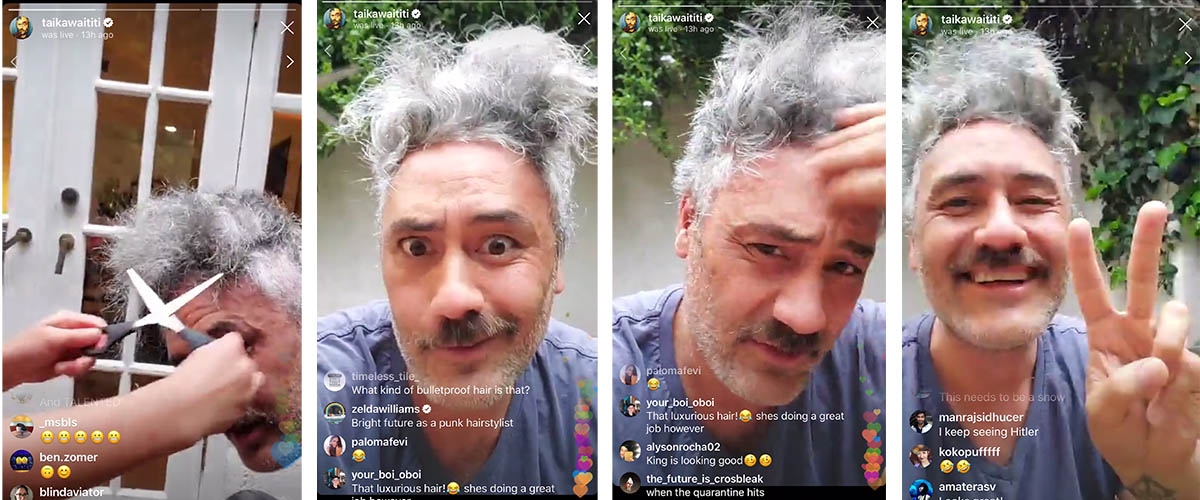 "Okay guys I'll see you in a bit this is not bad," Taika says as he ends his first recording.
"What do you think?" He asks T.K.
"I think its good!" she shouts.
He goes live again, and soon, the girls are joyfully picking up all the hair they've buzzed off their dad and start smushing it into his scalp: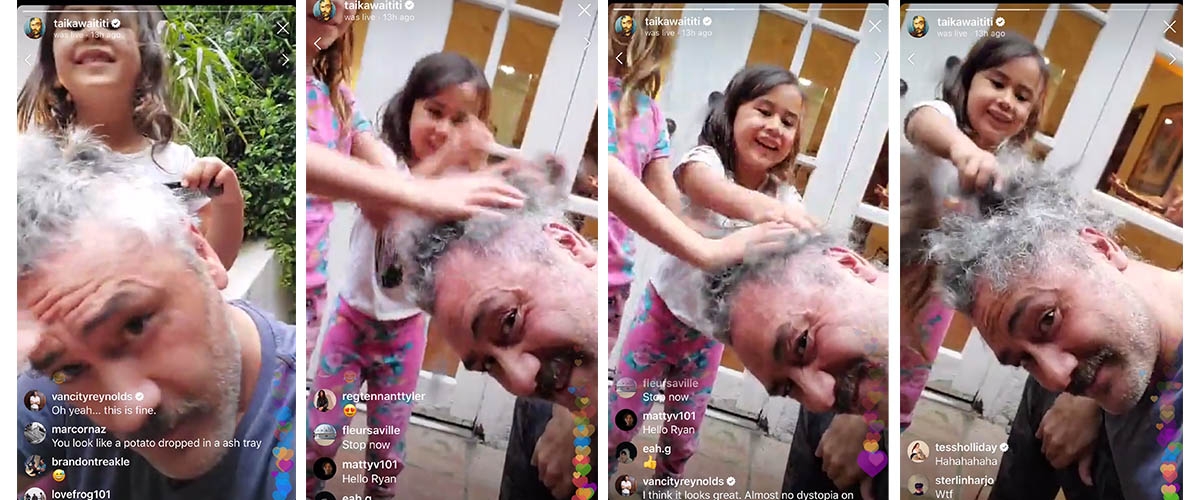 "Ow, he says," as they buzz.
"Sorry Dad!" T.K. says.
"I'm sorry too!" Matewa adds.
"I'm definitely staying inside the rest of the year," Taika jokes as he examines his haircut in the camera.
"Keep going," he tells T.K.
"No," she replies. "I don't want you to be bald."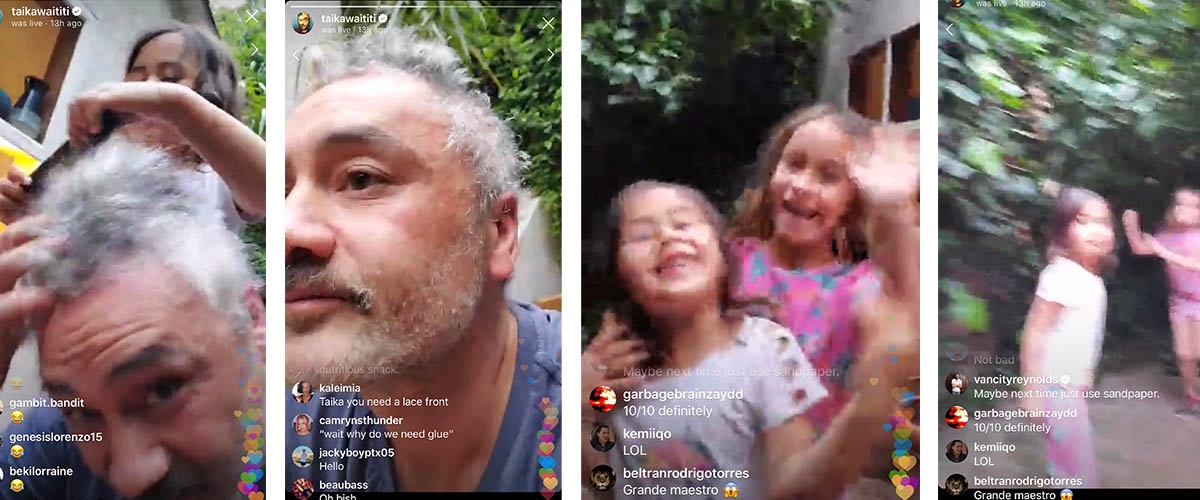 As they end, he says, "I look like a singer in a shit band." LOL.
"Matewa, thank you so much for my haircut. Thank you T.K."
He flips the camera onto his kids at the end, and Matewa tells everyone,  "Have a nice hair – wait. Make sure you get a haircut! Bye!" They blow kisses and wave to the camera, and run off. Then Matewa pauses, and says, "We'll cut all your hair off. Even your face off."
Taika, laughs lovingly, says, "Yep, they're mine. They'll cut your face off!"
Then, they buzz his mustache, but be "very careful of this face. The old moneymaker." (The trust he has for his kids! Remarkable!)
And then he goes live one last time, telling everyone, "I've never had my hair this short before. But I'm enjoying it. Feels clean, cool."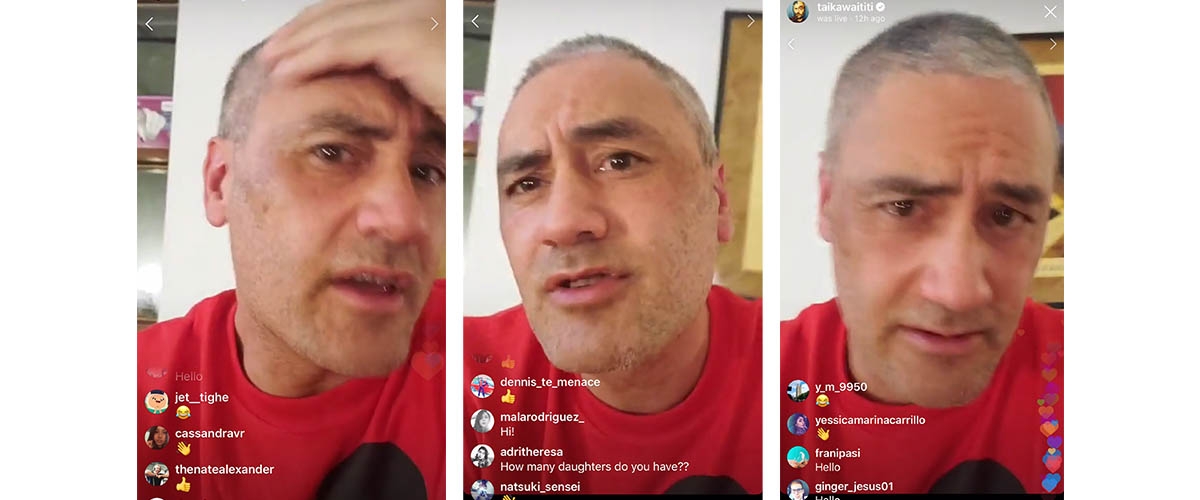 He ends on a genuine note: "Thanks for joining me in the backyard with my daughters, Te Hinekahu and Matewa Waititi. This was the first time I've done an Instagram live."
Taika continues, "Anyway, please be safe, please stay home, do what they tell you. It's literally the least you could do. Literally! And so, yeah, please look after each other. Be kind. Me cutting my hair in the backyard — it's not saving any lives, it's just providing a bit of entertainment for me and my kids…. The biggest shoutout obviously has to go to medical staff, practitioners, and people on the front line, everyday, putting themselves at risk trying to fight this thing. You know, I'm at home, getting a hair cut. We're all in it together, but some people are really in it. So let's spare a thought for them, and send them some love. And some donations! There's a lot of causes out there — so if you can, if you're in that position to, please do."
"Alright well, have a good night, whatever day this is," he ends. "Tuesday apparently. Doesn't matter anymore, does it? There's no such thing as weekends. Could be a Saturday. If so, have a great weekend! Cheers."
You can watch the whole thing (obviously we recorded it for you):
Image of Taika Waititi in header by Rachel Luna/WireImage; all other images via @TaikaWaititi on Instagram.