We love Gal Gadot; you love Gal Gadot. The Israeli mom of two catapulted to worldwide superstardom as Wonder Woman, and her bubbly, down-to-earth vibe is admirable. She's used her celebrity for good: she has been an advocate for victims of domestic violence, encouraged Israelis to get vaccinated, visited children's hospitals, and is simply not here for any gendered bullshit.
She's spoken openly about the challenges of the whole work-life balance thing, explaining, "The Jewish guilt I feel about being a working mom is the hardest thing." But she has the support of her husband, Yaron, an Israeli real estate developer.
The pair met in 2006 at a party in the Israeli desert. It was a "very strange party," Gadot explains. "It was all about yoga, chakras, and eating healthy — we didn't exactly find ourselves there, but we found each other." (Cue the awwws.) They have two daughters: Alma (born 2011) and Maya (born 2017).
"Being a woman is a strength," she said, speaking to a pregnant woman in 2017. "In so many ways." We agree, Gal. So, without further ado, here are all the reasons we love her:
1. She was born in Petah Tikva, Israel; her dad, Michael, is a sixth-generation Israeli, and her mom is the daughter of a Holocaust survivor and a Jewish refugee. Gadot explains she was brought up "very Jewish."
(Swipe to see her and her family, with emojis over her kids faces — she doesn't share photos of them.)
2. Her maternal grandfather, Abraham Weiss, survived Auschwitz and immigrated to Israel after World War II. He passed away in 2013 at age 85. On Holocaust Remembrance Day in 2018, she shared a moving video of the two of them, writing, "At I think of you today, at this very moment of remembrance, which is also a call for all of us to act against discrimination of any kind. Anywhere in the world."
3. Speaking about her grandpa, she explained, "He affected me a lot. After all the horrors he'd seen, he was like this damaged bird, but he was always hopeful and positive and full of love. If I was raised in a place where these values were not so strong, things would be different. But it was very easy for me to relate to everything that Wonder Woman stands for."
4. After graduating high school, she entered the Miss Israel 2004 pageant, and won. (Why'd she enter? "I thought it'd be cool to tell my grandkids that grandma was in the Miss Israel pageant.") When she entered Miss Universe, she intentionally "tanked" the pageant. As she told Rolling Stone, "I knew that I did not want to win Miss Universe. It wasn't my thing. For an 18-year-old, it looked like too much responsibility." So, she pretended to not speak English and wore the wrong clothes.
Here's her winning Miss Israel:
5. Three years later, she was in the Festigal — an Israeli event for kids during Hanukkah — as a singing Hanukkah mermaid. We're not kidding; read this deep dive by Kveller's own Lior Zaltzman.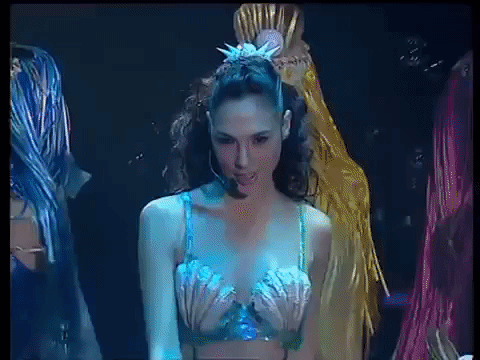 6. Her first audition for a major motion picture role was for the Bond Girl in the Daniel Craig James Bond film Quantum of Solace (she didn't get it – that role went to Ukranian actress Olyg Kurylenko). However, the casting director remembered her, and cast her in Fast & Furious — Gadot's big break in Hollywood.
7. And then came Wonder Woman. She auditioned when she was at a point in her career where she kept getting rejected. She even told her husband, "Maybe I should quit." Then she got cast in the role of a lifetime, and Wonder Woman premiered in 2017 to rave reviews.
8. In the most superhero move ever, she filmed Wonder Woman reshoots while pregnant, and a green screen was placed over her pregnant belly. Director Patty Jenkins explains, "She's pregnant during part of the movie, in a suit out in a field in the freezing cold in others. There are so many things we asked her to do: Now do it on one foot. Now shout while you're doing it. Now it's raining in the freezing cold and you've lost your voice, go. Everyday it was a hilarious gauntlet and she would do it."
9. Because English is Gal's second language, "and because she speaks English with an Israeli Hebrew accent, all the women from Wonder Woman's mythical island home of Themyscira speak English with an Israeli Hebrew accent — even Robin Wright." (Gadot fought her accent for a long time, she told GQ, feeling embarassed until her dialect coach told her to feel comfortable.)
10. She has a crew of Israeli girlfriends (momfriends?) in her life that she's remained close with.
11. She has a dog named Lola, which just feels important to share. (Having a dog instinctively makes us like someone more!)
12. She's set to executive produce and star in a series about Hedy Lamarr, the Austrian Jewish actress who invented WiFi. (Read more about Hedy here, here, and here.) Here at Kveller, we love Hedy as much as we love Gal, so we're very excited about this forthcoming collab.
13. She's open about celebrating Jewish holidays with her family — everything from Rosh Hashanah to Hanukkah.
14. Gadot believes everyone should be a feminist. She said, "People always ask me, 'Are you a feminist?' And I find the question surprising, because I think, 'Yes, of course. Every woman, every man, everyone should be a feminist. Because whoever is not a feminist is a sexist.'"
15. She's a great dancer. Enjoy:
16. She hosted Saturday Night Live in fall 2017, and her monologue addressed her Israeli accent, hummus, and Wonder Woman. Obviously. She also played a pitch-perfect parody of Kendall Jenner, which is so admirable.
We love you, Gal!
Our Favorite is Kveller's ongoing series honoring our "most favorite" famous Jewish moms and dads on the planet. And, like any good parent — you know the trope, "I love you and your siblings equally!!" — we simply can't choose just one.