This Wednesday evening, my son and I sat on my bed and watched Grammy award-winning singer Pink make noodle kugel on TikTok live.
It was a special night, to say the least, and even the singer herself admitted that it was probably one of the wildest things she's ever done.
For those of you not in the know, Pink, born Alicia Beth Moore, is Jewish, and her mother's maiden name is Kugel. So the recipe that she posted earlier this week is called Judith Kugel's Kugel. Honestly, could you even make that up? Pink told her viewers that she loves being named after a yummy, carb-y noodle dish.
Judith was, of course, watching the TikTok live, and the singer kept sharing shout-outs to her mom — and also apologized that the recipe she was using was not actually her mom's, because it included cottage cheese, an ingredient Judith never uses. "She's very offended," Pink shared. The recipe did, for all intents and purposes, look very legit.
As she solicited questions from the audience, Pink said, "Mom, do you want to ask me anything, like why didn't I call you back earlier?" explaining that it was because she was driving.
While she didn't explicitly call out Kanye West (though she famously tweeted out criticism against the rapper all the way back in 2009) or any recent antisemitic events in the news, she did explicitly and proudly display her Jewish identity, wearing a necklace with her name, Alicia, written in Hebrew, and sharing the platter she was going to serve her kugel on which featured the classic Jewish holiday summary: "They tried to kill us, we survived, let's eat."
Pink also said that it felt important to share a Jewish recipe at this moment in time. It's clear that the singer, who took on Neo-Nazis in her recent video for the song "Irrelevant," was making a political statement in her own way.
As new followers kept joining the live, which was ultimately attended by over 20,000 people, Pink kept sharing the fact that she was making noodle kugel, a Jewish dish, even at one point using the Yiddish term lokshen kugel. (She also showed viewers a potted plant in her kitchen called a Wandering Jew, but unfortunately, like the rest of her plants, it was not faring well. Relatable.)
On multiple occasions she extolled the virtues of another Jewish delicacy, challah, which she often makes with her mom — and with her two children, Willow and Jameson, who love braiding the traditional Jewish bread. They go for a six-strand braid — which is pretty impressive — though Willow is currently refusing to crack eggs or touch anything slimy while cooking (also relatable). When someone asked her if she makes French toast, she responded with, "Challah French toast is so good."
Pink said she loves making challah on Hanukkah, even though her mother told her it wasn't really a traditional food for the holiday (which it's not, but there's always a Shabbat to celebrate somewhere among the eight days!). She also said that all her "non-Jewy friends" love it when she makes challah.(In case you missed it, last year she posted a video of her and Willow singing the Hanukkah prayers and it was just so beautiful.)
According to the singer, on Hanukkah, she and her kids love to read Lemony Snicket's "The Latke Who Couldn't Stop Screaming," loudly enacting the book in her kitchen because she "believe[s] in the power of noise," which, a. amen and b. part of the reason why I missed some of Pink's broadcast that night is because my two kids definitely believe in that, too.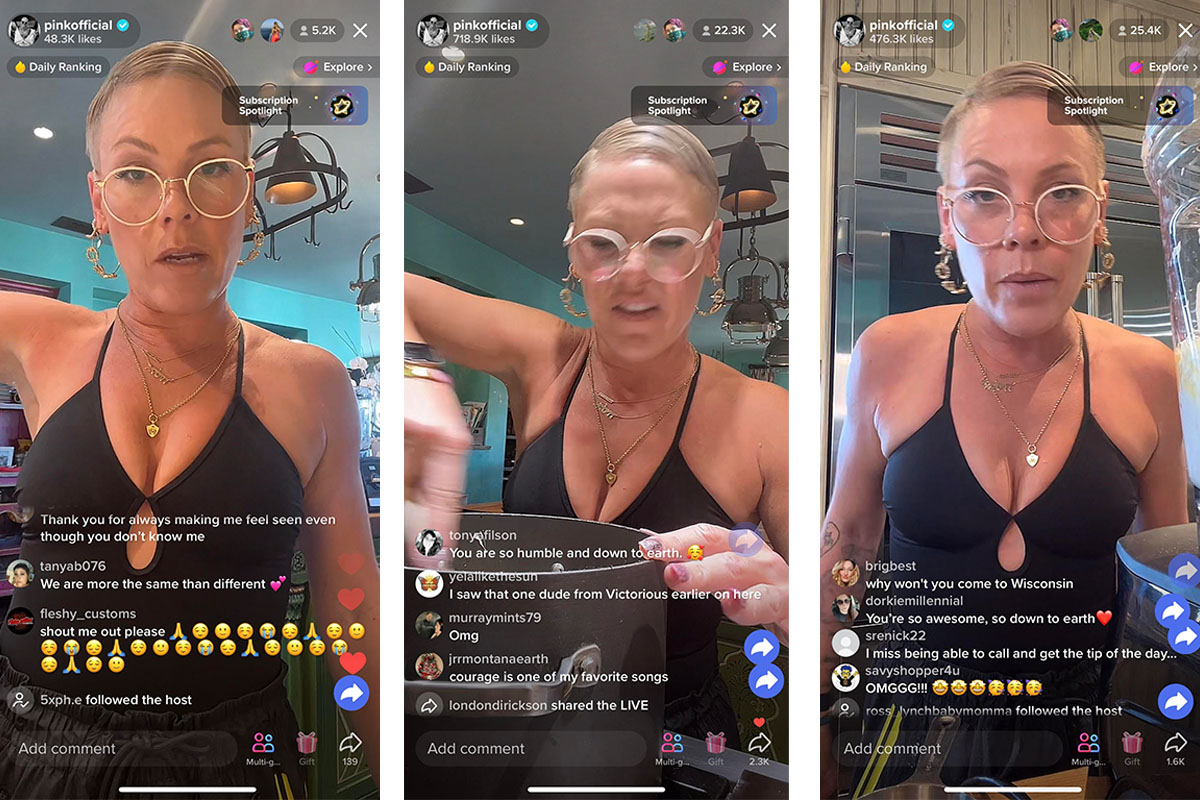 Her ideal Jewish meal, she told viewers, would include fluffy matzah ball soup made from scratch (it's "so damn good!," she exclaimed), fried latkes, kugel and fresh warm challah. Sounds dreamy.
She seemed intimately familiar with kugel and all its traditional toppings — from crushed up corn flakes to graham crackers to her mom's choice of apricot jam. She herself likes to top the dish off with cinnamon sugar. (I tried to get her thoughts about raisins in kugel, which were not part of her recipe, but unfortunately there was no response!) She also urged viewers to wait 15 minutes before partaking in the dish to avoid burning the roofs of their mouths, and it definitely sounded like she was talking from experience.
Pink also shared some sweet parenting lessons. She said that after she and her son Jameson both got COVID back in 2020, "Nothing matters to me except trying to find joy in darkness and cuddling, laughing, and all I want is to see my kids be OK."
She no longer lets that voice in her head dictate what she does and stop her from being present with her kids — and stop her from dancing when she feels self-conscious. That's also the inspiration behind her latest song, "I'm Never Gonna Not Dance Again," which features vocals from both her children.
As her kugel baked in the oven, Pink gave another shout-out to her mom: "I love you very much, Mom. I'm gonna call you in a minute." She also encouraged her viewers to go share themselves and their stories and nostalgia with others. "Let's all share each other," she said, "so that we can stop being afraid of each other."
"I really just enjoy sharing my culture," she said a few minutes before trying to end the broadcast, a thing she couldn't figure out how to do, which I, as a mom trying to figure out TikTok, also found so incredibly relatable.
Personally, I couldn't convince my son to make Judith's kugel this week, despite the fact that I tried to market it as "sweet mac and cheese," but the broadcast did fascinate him just as much as it did me, and he loved watching this traditional, beloved Jewish dish being made. And Pink's effusiveness about challah has made him want to bake it together.
The moment felt so intimate and warm — despite the fact that there were literally thousands of people there with us. And while Pink did say that she doesn't ascribe to any kind of organized religion, it was also just so Jewish to invite people into your home and to share your favorite haimish dish with them, to connect them with this comforting part of our heritage. And apparently, after the kugel came out of the oven, Pink took it all a step further and made a decadent looking matzah ball soup to top it all off.
At a fraught time for Jews in this country, Pink dished us a sweet celebration of Jewish pride this week, and I for one am so very grateful.