After years of waiting, "The Marvelous Mrs. Maisel" finally returned this year with season four, and surprising no one, it is very, very Jewish.
From the platters of bagels and lox to plenty of Yiddish-isms and, of course, a return to the Maisels' Upper West Side synagogue, we got all of the Jewy highlights from seasons past.
We also got amazing Jewish actors in guest roles, with the return of Lenny Bruce, played by Luke Kirby, and Jason Alexander as Abe's college friend Asher. There were also two incredible new characters played by Jewish actors: Gideon Glick as an aspiring magician and Hari Nef as a journalist who writes scathing columns about Midge (chef's kiss performances on both counts).
We had to rank the best Jewish moments from the season, because there were just so many good ones. So here are the top Jewish moments from "The Marvelous Mrs. Maisel" season four:
The Bar Mitzvah: Episode 3
Mazel tov to Akiva Bergman, played by Joshua Turchin, who brought us what is arguably the most Jewish scene in "Maisel" this year and helped the show enter into the exclusive and fabulous club of shows to have aired TV bar mitzvahs. Aside for bringing the usual bar mitzvah trappings, with some beautiful Hebrew chanting, this bar mitzvah had an entire storyline around being asked to do an aliyah. Moishe Maisel gets invited to read the Torah blessings at Akiva's bar mitzvah, despite the fact that he has no idea who Akiva is.
Moishe spends an entire episode practicing his davening skills, only to find out that the whole thing was a mistake — as a different man gets called up to the bimah instead.
The whole kerfuffle winds up being a minor storyline in the episode, and the bulk of the drama at the synagogue surrounds Abe, who has been getting death glares from the rabbi and congregants. Abe had previously panned the play of a fellow congregant, and the rabbi uses the Torah portion as a way to call him out on his transgressions. There are Holocaust references, Yiddish and a biblical argument about how Cain killed Abel. Truly, this bar mitzvah episode had everything.
Read our analysis of "The Marvelous Mrs. Maisel" bar mitzvah.
The Jewish Stand-Up: Episode 2
"The Marvelous Mrs. Maisel" got a bit self-referential in episode two of the fourth season, which featured a Jewish comedian who came "all the way from Crown Heights" making Jewish jokes so predictable that Midge could mutter them along with him at the same time.
Some of these jokes include, "A gentile's favorite wine is cabernet, a Jew's favorite w(h)ine is it's too cold in here," and, "I feel bad for Moses having to lead a bunch of Jews through the desert, what a headache. No wonder God gave him two tablets."
"Hahaha, I'm a Jew," is how Midge sums up the gist of his jokes. And while some would argue that Midge's own jokes have a similar punchline, at least they're a little less embarrassing.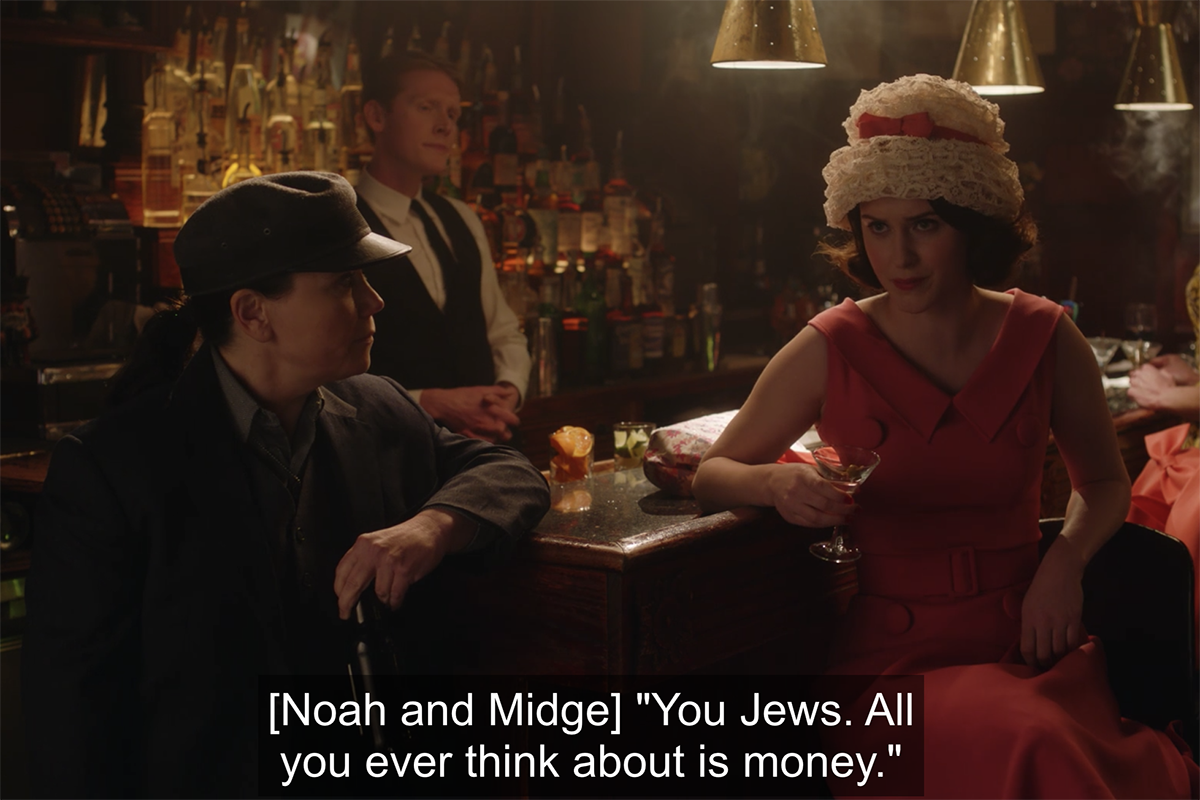 Shirley, Abe and Moishe Talk God: Episode 8
Spoiler alert for season finale: At the end of episode seven, Moishe Maisel has a stroke. As he lays in the hospital unconscious, the entire family is distraught. Shirley spends the night with the Weissmans and she and Abe have a late-night conversation about God: "I think God is a cruel God," Shirley tells Abe. He replies, "I actually think God is more of a brilliant marketing ploy."
Throughout the episode, Abe tries to get Moishe an obit in the New York Times ("Mickey Mouse, a known antisemite, can get an obituary at the Times, but Moishe Maisel can't" is… a line). Towards the end of the finale, Abe gets a disconcerting call from the hospital and, thinking that Moishe has passed, rushes there with a draft of his obit. As he gets there, he sees an alert and awake Moishe, who insists on having the obit summarized to him.
"I do a long run about whether or not God exists," Abe tells him.
"He does," Moishe replies.
"That's been a debate," Abe insists.
"Abe, I'm lying in a hospital bed, give me this," Moishe insists.
"OK, God exists… for now," Abe says.
It's a perfect glimpse into American Judaism's approach to God.
Mei and Joel's Interfaith Relationship: All episodes
Mei and Joel's love affair escalates as the season continues, as Shirley and Rose constantly try to find Joel a nice Jewish girl and he tries to push Mei to meet his parents, which she refuses to do. While Mei insists the fact that she is Chinese American is the biggest hurdle, Joel, who knows his parents, tells her that it's the fact that she's not Jewish that will be the biggest issue.
This only makes Mei more upset: "A Chinese girl is like a double gentile, a triple gentile!" she argues.
Mei finally agrees and she's nervous about everything from her outfit — "initially I asked the lady at the shop if she had a dress with a matzah ball print" — to her knowledge of Yiddish, which she had a Jewish acquaintance help her with while teaching her about "Jewish culture." She was also convinced to buy a pink yarmulke. "Girls don't wear yarmulke," Joel tells her (which is not true now, but remember, this is the 1960s).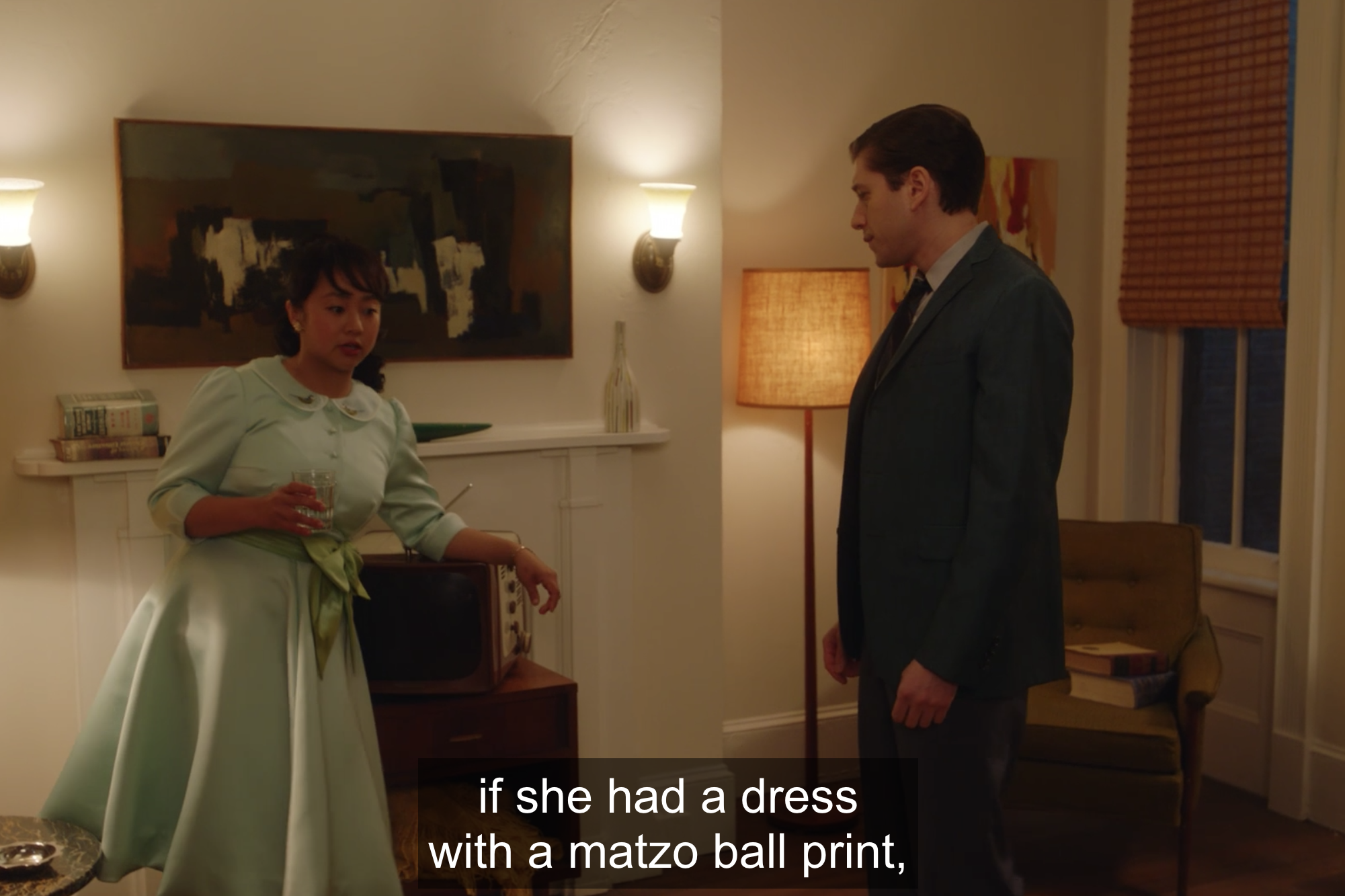 At the end of the day, Joel's assessment of his parents' feelings about Mei is super accurate. While (once again, SPOILER ALERT) Moishe has a stroke right after Joel tells him about Mei being pregnant, when he wakes up, he tells Joel that he is happy about Mei, saying, "Another grandchild, that's a mitzvah." Still, he insists that "she has to be Jewish by the time she meets your mother."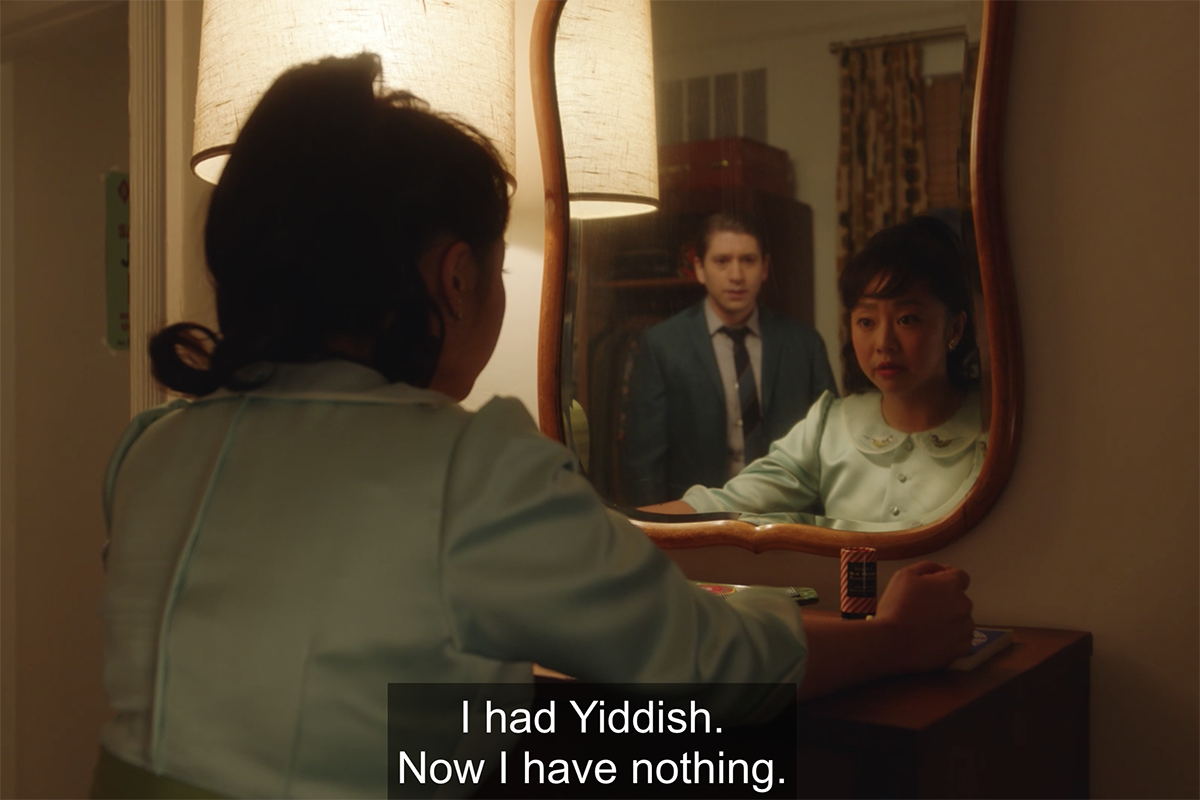 Coney Island: Episode 1
There's a lot of Jewish history to Coney Island. Many of the Brooklyn boardwalk's attractions were run by Jews — including Nathan's Famous hot dogs, an American Jewish landmark. This season, in episode one, the entire Maisel-Weissman family makes a visit to Coney Island to celebrate Ethan's fake birthday (the actual date was an inconvenience for the rest of the family).
"I shtupped your mother underneath this boardwalk," Moishe reminisces to Joel. Midge, who has lied to her family about getting kicked out of the tour with Shy Baldwin and being back in Brooklyn, finally reveals the truth as they ride the Wonder Wheel together.
When Moishe finds out that Midge has been fired and that the loan he gave her to buy the Weissmans old Manhattan apartment may not be repayed, he yells, "2000 feet in the air, that's a very dangerous height to tell a Jewish man he'd been had."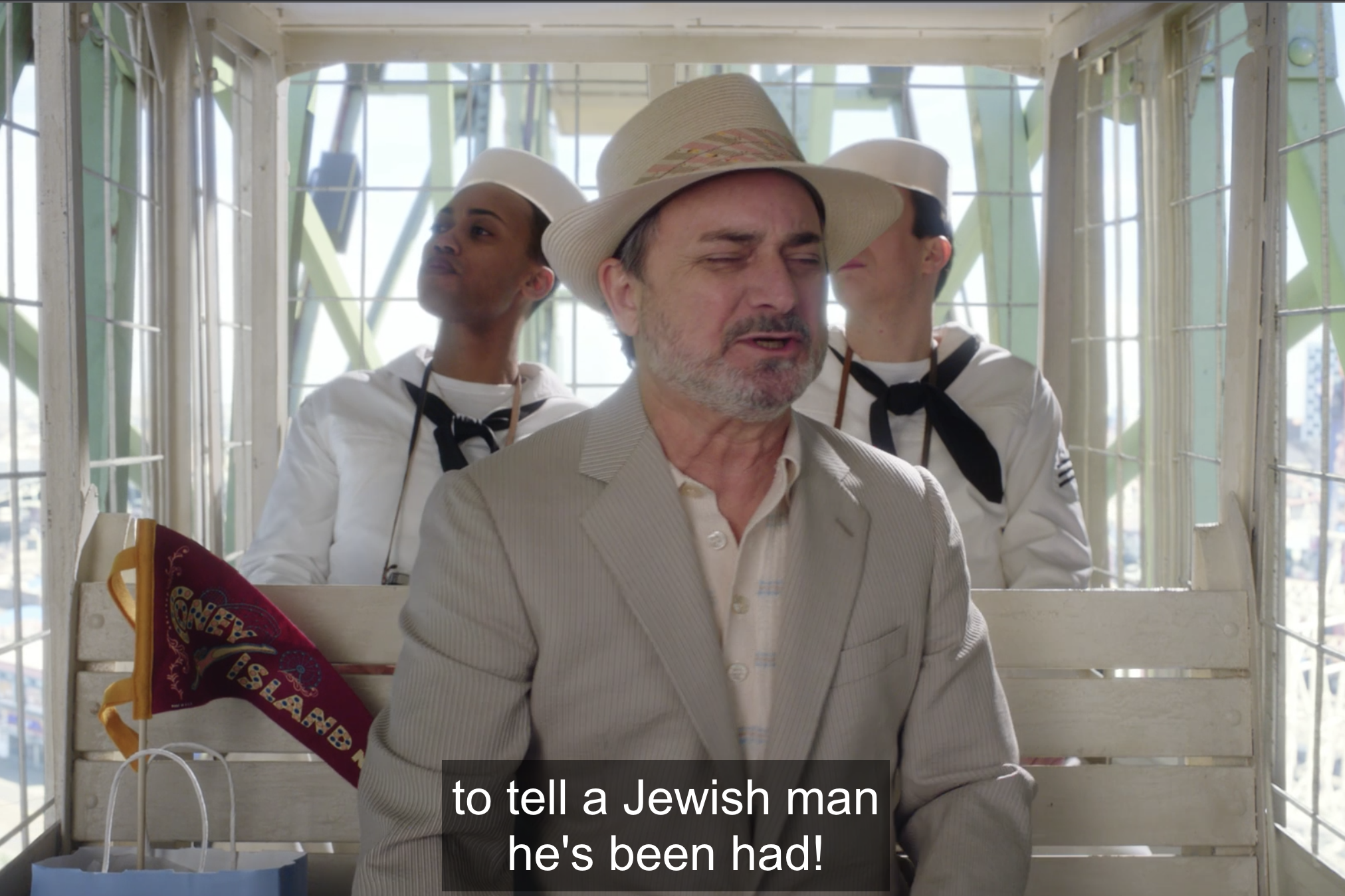 The Return of Lenny Bruce: Various episodes
Luke Kirby's Lenny Bruce is back in full force this season. Playing a fictionalized version of the Jewish comedian that, Kirby's Bruce, while troubled and problematic, is also incredibly swoon-worthy and passionate about supporting Midge's career. When we first see him this season in episode three, he tells Midge a story about his high school teacher heckling him while he was giving a speech about zoos (in which he questions God's existence, no less).
"And she says Mr. Schneider — for I was Schneider at the time — Mr. Schieder, I was merely training you to block out distractions, it's your job to stay focused," he tells her. It's true: Lenny Bruce was born Lenny Alfred Schneider. Later, he teaches Midge the same lesson, by throwing things at her while she's performing a set.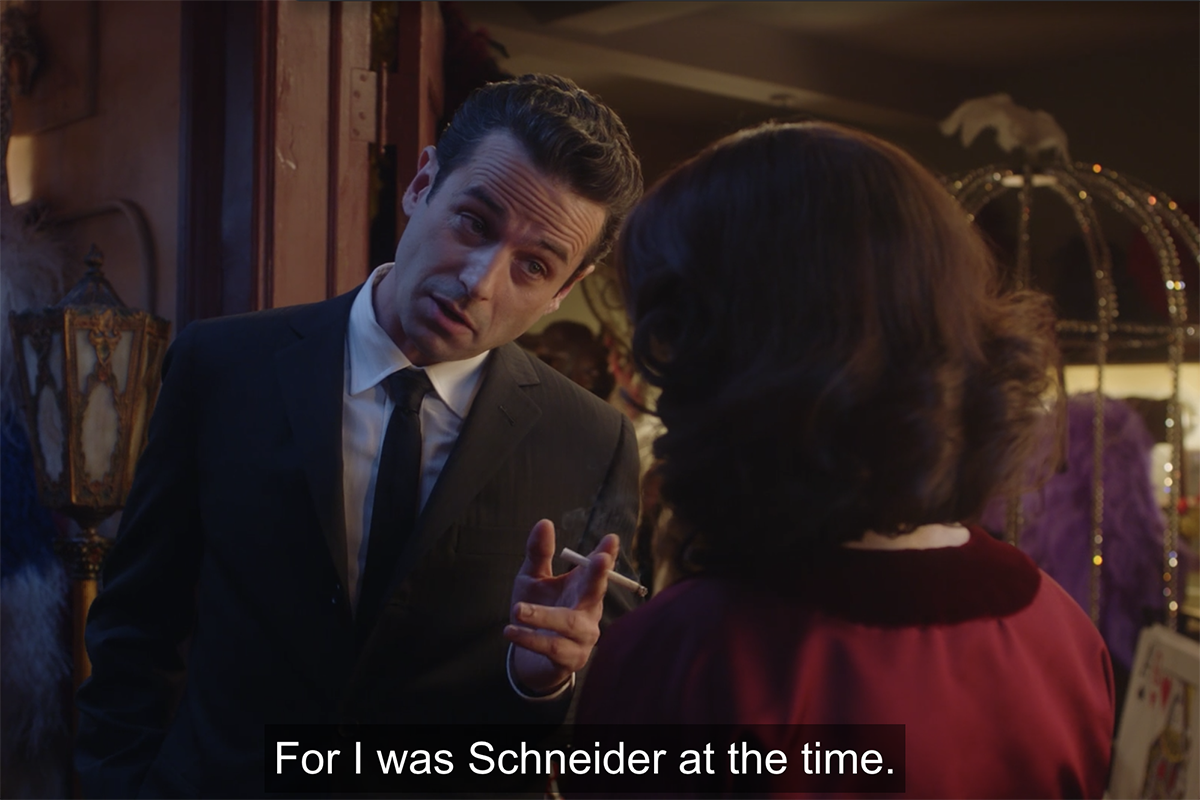 Gitta the Matchmaker: Various episodes
Jackie Hoffman has to guest star in every Jewish and Jew-ish TV show and movie, it's just the rule. The hilarious actress and talented Broadway singer (she was in the Yiddish production of "Fiddler on the Roof") stars as Gitta the matchmaker in the newest season of "The Marvelous Mrs. Maisel," and boy is she terrifying.
As Rose's matchmaking business takes off and she snags a famous Jewish mogul as a client who's looking for a match for his spinster daughters, a New York cabal of matchmakers targets Rose for encroaching on their territory, sending her a threatening letter telling her to stop. While each of the matchmakers has her own physical territory, Gitta doesn't have one territory; instead, she's in charge of the Jews because "Jews are everywhere," as she tells Rose.
As things escalate with the matchmakers, Gitta goes to Abe, threatening him to make Rose stop her matchmaking efforts. "There's a line in the Torah, fuck with me and you die. have a think on this," she tells him, mortifying the bejesus out of the Jewish dad.
Yet, at the end of the day, Rose refuses to relinquish her passion for matchmaking. In a final segment, set to the sound of the Yiddish version of "Matchmaker, Matchmaker," Rose delivers a letter to the matchmakers letting them know she will not be stopped.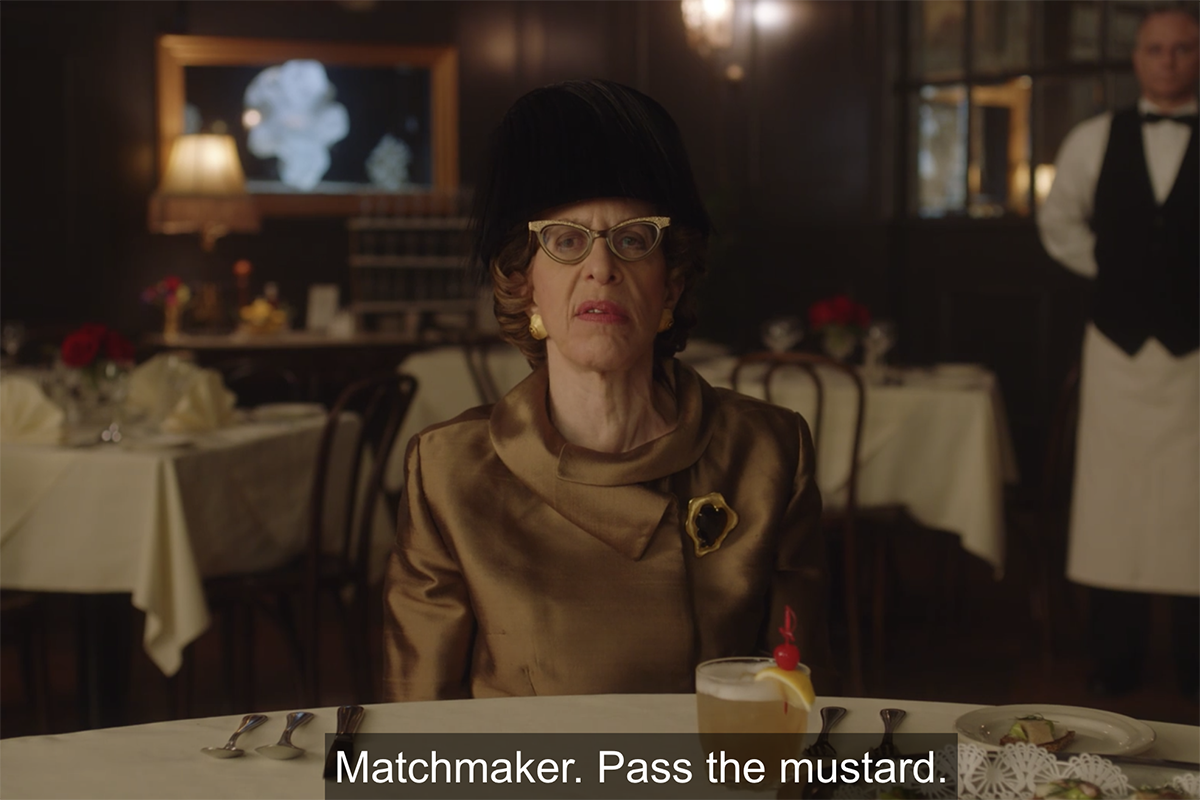 The Very Jewish Midge Flashback: Episode 6
I must say, I'm a bit sad that Midge's very Jewish anecdote about trying to ask her Jewish crush out on the steps of her synagogue with two bottles of RC Cola got cut off by Susie telling her to get back on track, but at least we got a super cute flashback of Midge's childhood.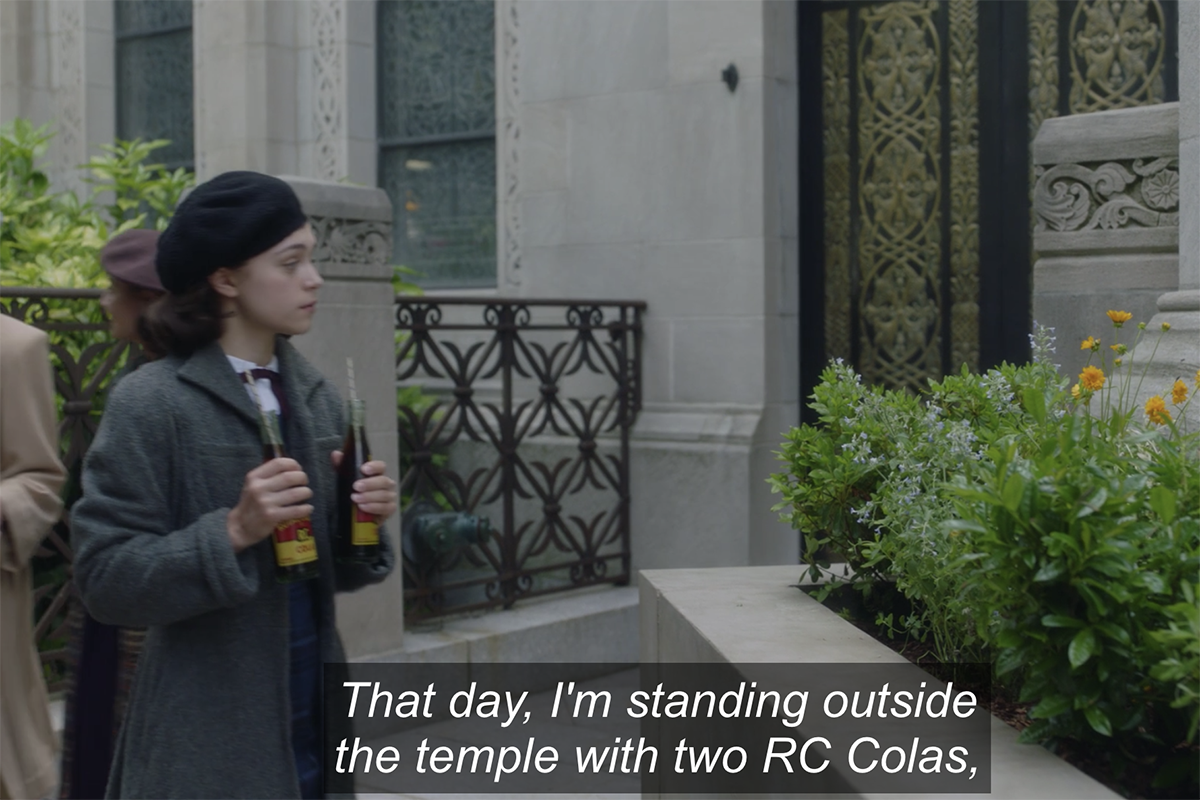 All the Yiddish: All the episodes
There's so much Yiddish in season four, just like in every other season. Both Midge and her parents are worried they're being perceived as "schnorers," or mooches, for their living situation. When Midge tells Moishe, "I just need a smidgen of a skosh more time for my next payment," he asks, "Is that like a bissel?"
Midge tells Ethan to move his "tuches" (butt!). Abe calls people "machers" and remembers playwright Buzz Goldberg when he was just a "pisher."
Aside from the appearance of the Yiddish version of a "Fiddler on the Roof" song, the Ashkenazi Jewish language's most high profile moment comes at a luncheon for Jackie Kennedy, as Midge jokes that Jackie "is fluent in french Spanish and Italian and Yiddish — I have no proof of the last one but I still believe it's true."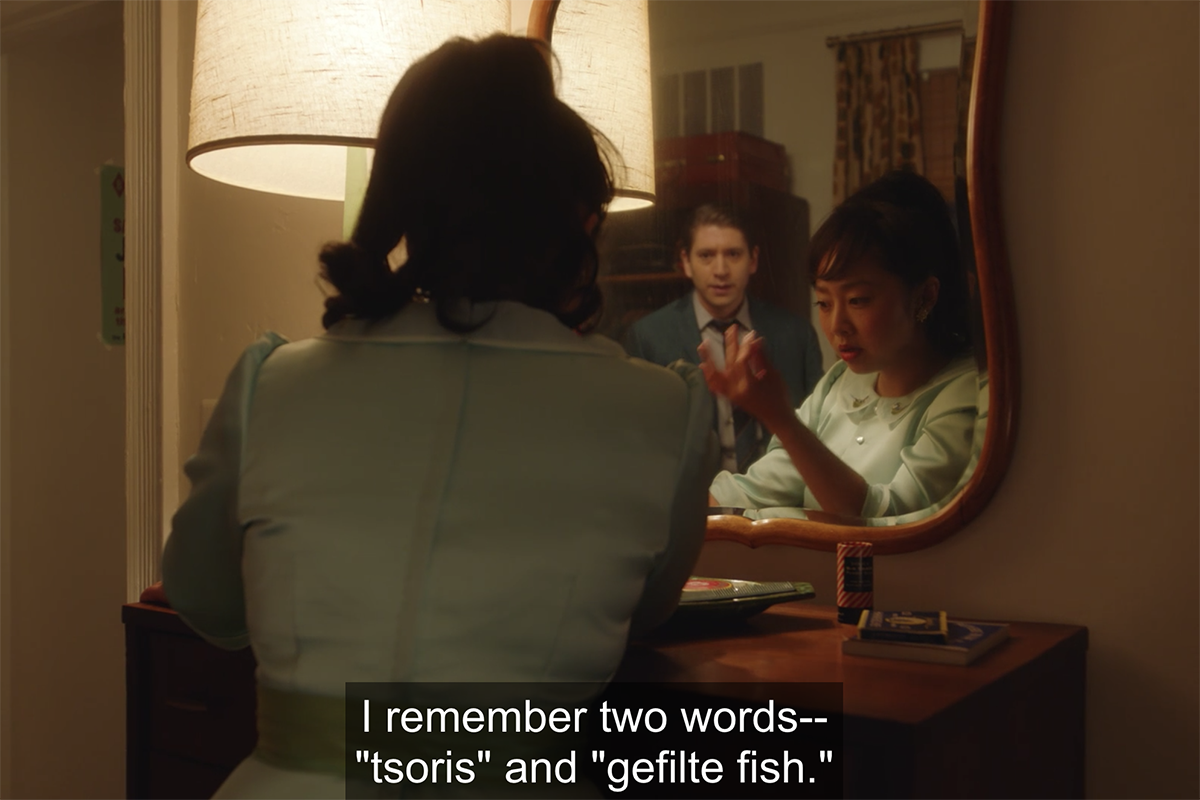 All the Jewish Celebs: All episodes
A lot of Jewish celebrities get mentioned in the various episodes of this season. There's Asher's affair with Dorothy Parker; a man who calls Lenny Bruce "the poor man's Mort Sahl;" Midge tells an audience about Joel writing love letters to Sandy Koufax; and Abe and Rose look forward to Eddie Fisher explaining himself on TV. Bruce jokingly threatens to call infamous lawyer Roy Kohn when Midge attacks him, and Susie and Alfie have a funny exchange about Sigmund Freud. It appears the Maisels are just as obsessed with Jewish celebrities as we are.