Elizabeth Banks's breakout role was in the cult classic Wet Hot American Summer, and since that 2001 film, she's gone on to produce, direct, and act in a wide range of films. She stole our hearts as Effie in The Hunger Games trilogy— and when her directorial debut, Pitch Perfect 2 was released, it was the best debut for a first-time feature film director.
This month, Banks lends her voice to The Lego Movie 2 (which features a Lego Ruth Bader Ginsburg!). We figured it was high time to dive into why we love her so much.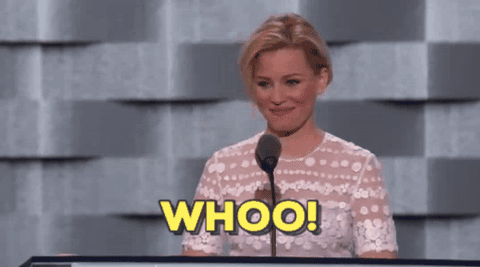 Though Banks isn't technically Jewish, she still fits into our category of favorite Jewish celebrity parents. Why? Well, for starters, Banks and her husband, Max Handelman, are raising their kids Jewish. She also went through almost all of conversion process — but she never immersed herself in a mikveh to finalize it. On a 2013 episode of WTF with Marc Maron, Banks explains why she decided to go through the conversion process: "No religion meant as much to me as Judaism meant to my husband."
As Jewcy explains, "She went through the conversion process, studying with different rabbis. [She didn't do her mikveh] but it's only because she was never in L.A. long enough at one time to have done what she calls the 11-week 'You're a Jew now class.'"
"I'm not officially stamped [as a Jew], but by all accounts, yes," Banks tells Maron about her religious identity. "My kids go to Jewish preschool, we only celebrate Jewish holidays, I love seder… Frankly, because I'm already doing everything, I feel like I'm as Jewish as I'm ever going to be."
So, yes. While she may not be halachically Jewish, as long as Banks feels Jewish, we feel it, too. Let's dive into why the 44-year-old actress is our favorite:
1. She's the mom of two boys, both born via surrogate. And she dresses them in matching pajamas. This isn't that exciting, but it felt like the right way to start this list, because everyone appreciates matching jammies:
2. She moved into directing and producing because, as she tells The New York Times, "I was a frustrated actress. I was bored." (With her husband Max, she started a production company in 2007.)
3. Her projects focus on female-led films. Why? "I'm fighting the male narrative in all our lives." Hell, yeah!
She also explains, "I love women leading by example. That's what I'm trying to do and encourage more women to go after things that they want, stories that they want to tell, get behind the camera, hire more women. I think that change is often glacially paced, but this is a great moment to make some strides."
4. Banks isn't shy about her political activism. She produced an a capella cover of fellow Jewish mama Rachel Platten's "Fight Song" for the 2016 Democratic National Convention with a ton of celebs:
5. She uses her social media platform for good — she speaks out in favor of reproductive rights, abortion access, gun control, voting rights, DACA, #TimesUp, and so much more. She spoke at the 2018 Women's March:
6. A Pittsfield, Massachusetts native, she's a huge Patriots fan. (We wonder what she thinks of Jewish MVP Julian Edelman?!)
#SuperBowlLlll divided house!Let's go @Patriots @RamsNFL pic.twitter.com/2bxXBmQrHs

— Elizabeth Banks (@ElizabethBanks) February 3, 2019
7. She's producing, directing, writing, and starring in a Charlie's Angels reboot! (Kristen Stewart, Naomi Scott, and Ella Balinska will be the angels.) The film is set to be released in September 2019.
"I am very ambitious for the project," Banks says. "I am down for go big or go home."
8. Like all of us here at Kveller, Ruth Bader Ginsburg is her #WCW (Woman Crush Wednesday) "now and forever." (She also posted on RBG's 85th birthday.)
9. She met her husband, Max, on the first day of college. They dated throughout their undergraduate time at Penn together; they were married in 2003.
Let's end with this Instagram of herself, when she hit video instead of taking a photo (#relatable):
Our Favorite is Kveller's ongoing series honoring our "most favorite" famous Jewish moms and dads on the planet. And, like any good parent — you know the trope, "I love you and your siblings equally!!" — we simply can't choose just one.