Adam Sandler's latest film is dedicated to Cameron Boyce, the Jewish actor who tragically died of epilepsy-related complications last year at age 20. Boyce was a unique, enthralling talent — a bubbly joy to watch in Disney's tween hit Jessie; a wonderful voice actor in shows like Jake and the Pirates; and of course, he played Sandler's youngest son, Keithie Feder, in the Grown Ups movies.
Boyce was supposed to play a bully in Sandler's new Halloween Netflix film, Hubie Halloween, but unfortunately, he passed away before shooting began. At the time of his passing, Sandler posted a beautiful tribute to the actor on social media:
— Adam Sandler (@AdamSandler) July 7, 2019
"Loved that Kid. Cared so much about his family. Cared so much about the world. Thank you, Cameron, for all you gave us," Sandler wrote.
Boyce's mother is Jewish and his dad is Black. "I'm Blewish," Boyce once said in an interview. His family celebrated the holidays together. Here they are, celebrating Easter and Passover, just a few months before Cameron's passing:
"The night he passed away, we were out to dinner with him," Boyce's father, Victor, told Robin Roberts in an interview after his death. "We were texting that night, we were texting about the Lakers, we were texting back and forth until 12:30. And somewhere between that last text and the morning, he was gone… Isn't that cliche to say, you never know [when someone you love might pass away]."
Boyce died in his sleep, from a seizure. Boyce had epilepsy and had only had five seizures in his life, and only in his sleep. It was that last seizure that killed him, according to his parents.
Boyce's parents describe him as older and wiser than his age: "He used to say, 'share your wisdom with me, mom,'" his Jewish mother recounted.
"I'm not supposed to outlive my son, I'm not supposed to be undoing his estate," his father said, tearfully, during that first interview.
According to his parents, Boyce believed that "what you leave should be bigger than you." He was inspired by his paternal grandmother, who was part of the Clinton 12, one of 12 Black teens who attended the first integrated school in the South.
"My Nana stuck up for what she believed in and did something amazing. Things are going to happen in your life and you're going to face adversity, but if you grow from that and learn from that, you're a better person because of it," Boyce told People in 2016.
After his passing, his parents founded the Cameron Boyce Foundation, to help fight epilepsy and to support the many causes he believed in. The foundation's first initiative is Wielding Peace, which promotes the end of gun violence.
In a recent interview with Jimmy Fallon, Sandler opened up about why he dedicated his latest movie to the young actor and dancer. He also talked about what a special person Boyce was:
"[he passed away] just a few days before filming," Sandler explained. "That kid was a great kid, I know him from Grown Ups… I watched him grow up and become a superstar. My kids worshipped him. He came to my daughter's bat mitzvah, that was a massive bat mitzvah… he signed everyone's autograph and everyone was freaking out over him."
Sandler also talked about what a mensch Boyce was: "He always had charities going on and always would speak to me about can you do this, can you do that. It was always about charity. He didn't care about anything else."
Sandler also revealed that Boyce was the one who originally ad-libbed one of the most iconic lines from the Grown Ups movie, in which a little girl announces she "wants to get chocolate wasted." The line won a 2011 MTV Movie Award.
.@AdamSandler remembers the late Cameron Boyce #FallonTonight pic.twitter.com/hm589tkHng

— The Tonight Show (@FallonTonight) October 3, 2020
The dedication to Boyce appears at the end of Hubie Halloween. It reads: "Gone way too soon, and one of the kindest, coolest, funniest, and most talented kids we knew. You live on forever in our hearts and are truly missed every day."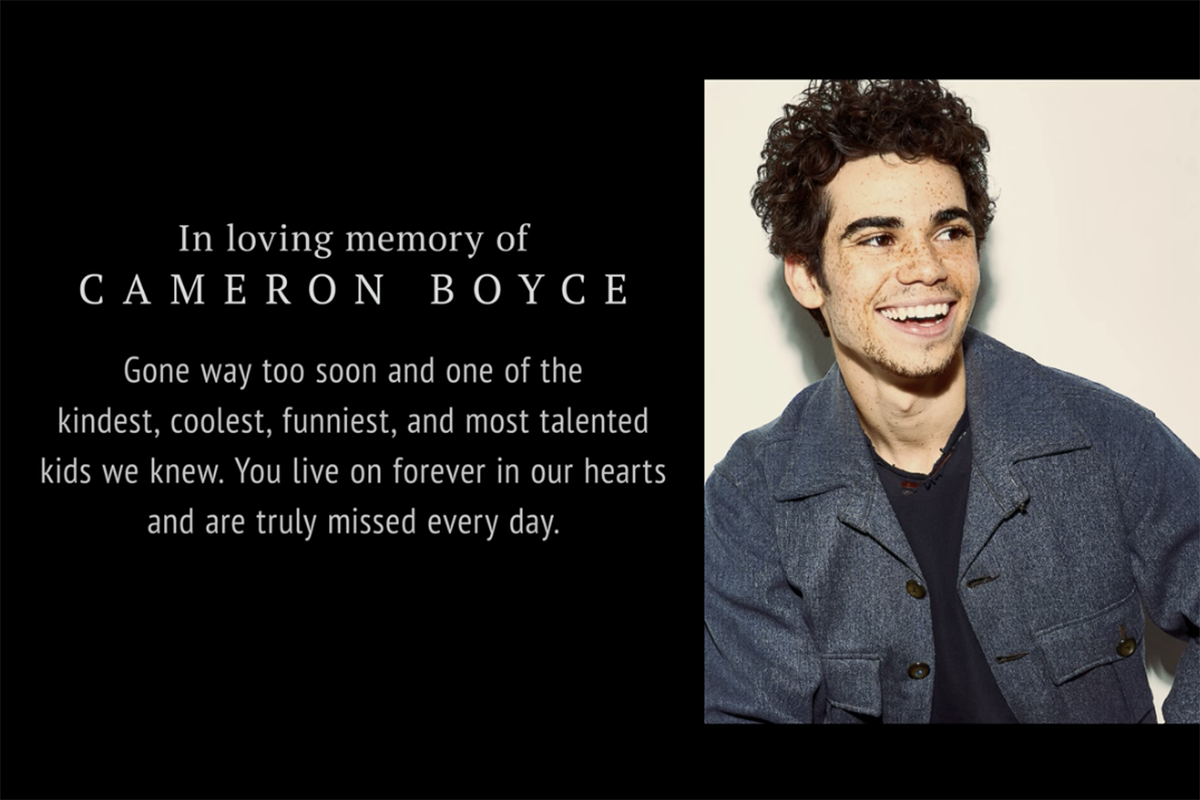 May his memory be a blessing.
Images via Netflix