Jessica Mulroney, the Jewish mom who is BFFs with Meghan Markle — and the rumored godmother of royal baby Archie — is getting her own Netflix show! The show, I Do, Redo, is set to help couples whose weddings didn't go as planned.
"When I believe in something, I go after it at full speed, and I'm blessed to be able to create a show that truly inspires me," Mulroney said in a press release. "We are aiming to make a significant difference in the lives of our chosen couples whose first weddings did not go as planned due to tragic circumstances. This is a side of the wedding industry that has never been shown on television before."
The 30-minute episodes will focus on a couple who had a wedding disaster, and Mulroney — who played a major role in the royal wedding — will help these couples redo their big day. The first season, set to premiere sometime in 2020, will be 10 episodes.
"I really wanted to show a side of weddings that I believe in," she said in an Instagram video. "I connect with couples all the time in such a real way. Although a lot of shows are very fun and exciting and show the Bridezillas and catty behavior, it's definitely entertaining, but it's not the side that I want to show. I want to show something real, something where we can help couples who've had a rough go."
On that same post, literally everyone shared congratulations. Her husband, Ben Mulroney, wrote, "I've had a lot of reasons to be proud in my life. This moment tops the list. Congratulations honey." Mindy Kaling (yes, Mindy Kaling — Jessica Mulroney is her stylist) wrote, "I AM SO EXCITED FOR THIS!! 🙌🏾🙌🏾🙌🏾🙌🏾." (Powers that be: Please bring Mindy on the show!!) Misha Nonoo, another Jewish pal of Markle's, commented "Congrats Jess! 👏🏻👏🏻👏🏻❤️❤️❤️" Even Canadian skating star Tessa Virtue shared her naches, writing, "So proud of you! ❤️"
Mulroney's family also shared their congratulations. Her brother, John Brownstein, tweeted he was so proud.
So proud of my sister @jessicamulroney on her upcoming @netflix wedding show! https://t.co/jEWXeb6p8i

— John Brownstein (@johnbrownstein) October 12, 2019
Her sister, Liz Brownstein, who lives with her family in Israel, shared on Instagram, "proud sister over here," and Mulroney re-posted it, kvelling that her "sister can watch it from Israel!!!"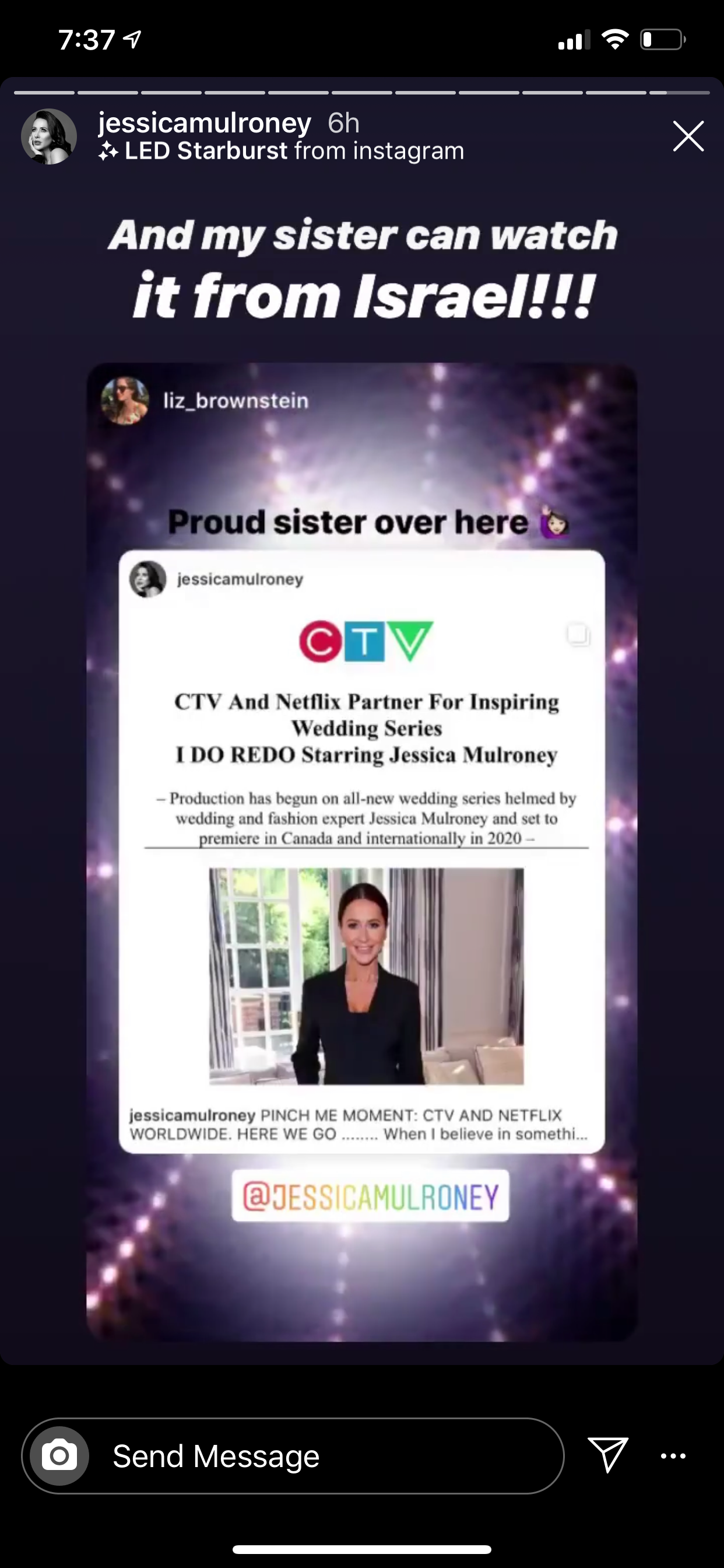 As Town & Country put it, "Not everyone can have a royal wedding, but at least some can have a royal wedding planner."
Mazels on the show, Jessica!
Image of Jessica Mulroney and Meghan Markle in header by George Pimentel / Contributor