In a recent interview with Natalie Portman, the Thor: Love and Thunder star revealed that she has a very relatable mom-problem — without even saying anything.
The Israeli-American actress — who, along with her other Thor castmates, recently relocated to Sydney, Australia for the movie shoot — Zoomed into Australian talk and current affairs show The Project to discuss her relocation, her forthcoming movie, and her new children's book  — Fables (it's Gal Gadot approved!)
But it was what was behind her that made the biggest, um, impression. Literally.
You see, to her right were doodles on the wall — what we in my house call "toddler-graffiti." While my own 2-year-old only manages to create incomprehensible chicken scratches on our white walls, it looks like Aleph, 9, or/and Amalia, 4 (my bets are on Amalia, to be honest), have already decorated the walls of their new home with blue or black marker drawings of the letter "d" and, possibly, some fish. Attempts to erase said doodles were apparently made, but it looks like Portman may not have had the Magic Eraser sponge to make that happen. (Oh, Magic Eraser, you are my one true friend.)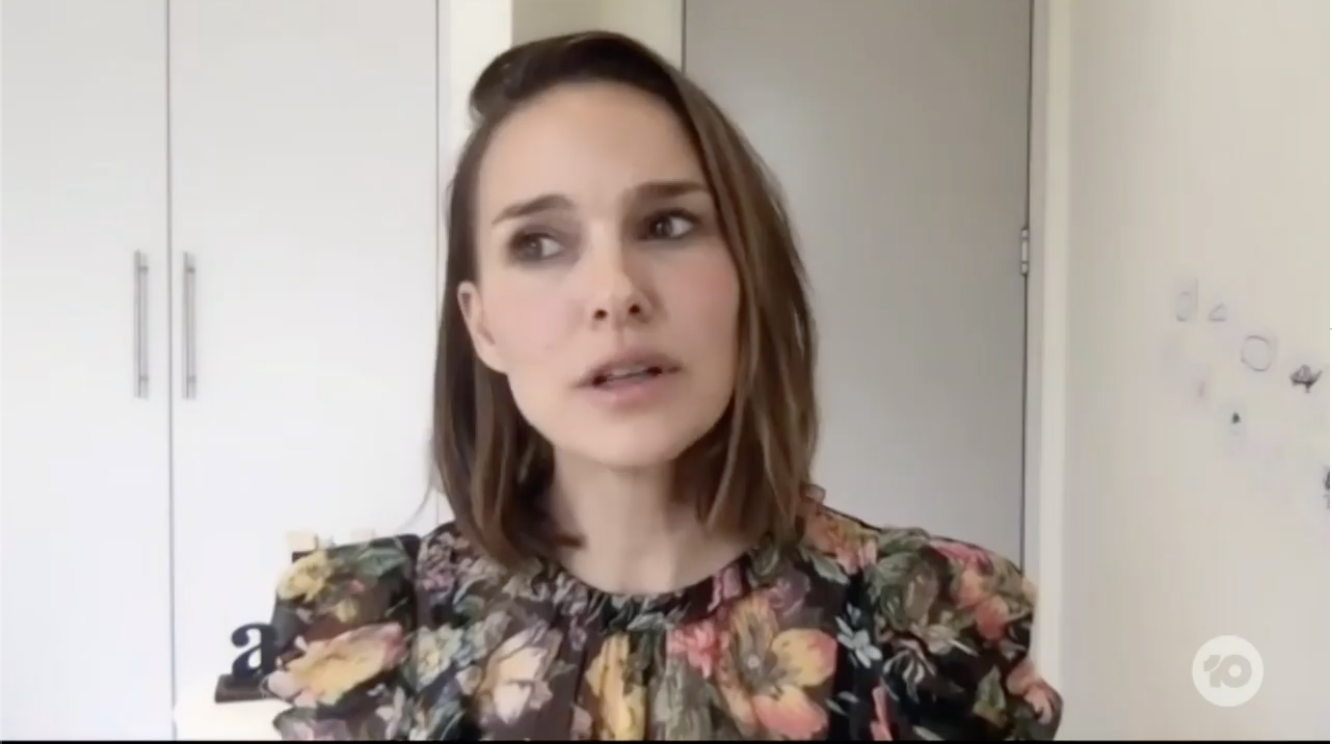 In the interview, Portman also discussed her Jewish classmate from when she attended Harvard (she graduated in 2003) — Jared Kusher. "I would never in my life have guessed that he would take the road he took… he was like a nice, benign figure. If you had asked me who in my class would go on to have a major influence on American politics, I would have never guessed him," she said. She also admitted that while she attended the ivy league school at the same time as Mark Zuckerberg, she has still never joined Facebook.
Portman, who is about to play a female Thor (yes!!!) in the upcoming movie from our favorite Jewish dad, Taika Waititi, also revealed that her daughter has already picked up some Aussie slang.
"On the way to school drop off this morning and I said, 'Oh we're out of ketchup, I need to get it,'" she recounted. "And my daughter was like, 'Mummy, what's ketchup?' and I was like, 'tomato sauce,' and she was like, 'oh!"
Amalia and Aleph go to school with other recently displaced American Jewish children-to-the stars. Apparently, Portman enrolled her children in the same school attended by Isla Fischer (an Australian native) and Sacha Baron Cohen's three kids. We hope there are many future playdates in store!
Image via Emma McIntyre/Getty Images