It's no surprise that many of our favorite Jewish moms use their massive public platforms to break stigmas and advocate for social justice issues. From Pink and Natalie Portman speaking out against anti-Semitism to Amy Schumer advocating for gun control, these moms aren't afraid to speak their mind. 
But you know what else many of these badass Jewish mamas are doing? Going public about pumping breast milk for their babies.
As you're probably well aware, society deems public breastfeeding and breast pumping as icky and something that should be done in the privacy of your home. (As if that's possible, or even desirable?) This mom shaming has been playing like a broken record for decades, and celebrities — like so many of us! — have had enough. 
Whether for their own amusement or to increase awareness of this nearly universal aspect of modern motherhood, these Jewish celebs have shared photos of themselves pumping breast milk, and we are so here for it. 
In honor of World Breastfeeding Week and multitasking mothers everywhere, we rounded up seven incredible Jewish moms who've gone very public about pumping milk. 
1. Pink 
Notorious for speaking out against mom shaming, it's no surprise that Jewish mom Pink, 39, has shared a photo of herself pumping. In August of 2017, the "90 Days" singer posted an incredible mirror selfie of herself wearing a breast pump.
What makes the image even more badass is that Pink took it in London while she was backstage on her Beautiful Trauma world tour. At the time, the Jewish mom's older daughter Willow was 6, and her son Jameson, now 2, was just a newborn. 
2. Nikki Reed
Nikki Reed brought the best date to Variety's 2017 Power of Women Luncheon: her breast pump. The Jewish mom, 31, shared an Instagram post of herself showing off a pump in the back seat of a car, captioned: "On my way to present at @Variety's #powerofwomen luncheon and this is my hot date. Kidding I have another hot date. But this thing is definitely our third wheel."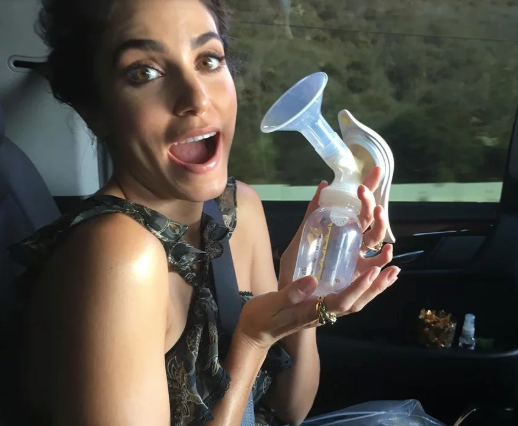 The The Twilight Saga actress' husband, actor Ian Somerhalder, also took the pump for a whirl. "Takes a real man to carry around your breast pump in a 'to go' box all night long," Reed captioned an Instagram story showing Somerhalder doing just that: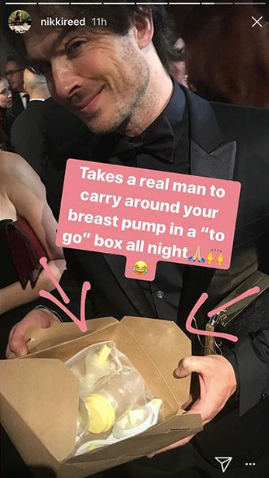 The celebrity couple share one daughter together, Bohdi, 2, who at the time was 3 months old. 
3. Peta Murgatroyd 
This two-time Dancing with the Stars winner is a multitasking mama! In 2017, Peta Murgatroyd shared a photo of herself on Twitter getting her makeup, hair, and breast pumping done — all at once.
Multitasking mum duties. Can't stop the pump. 🐄🐄 I'm working on an exciting new project that I can't wait to share with you soon! 🤗❤ pic.twitter.com/PQko4Iqyxs

— Peta Murgatroyd (@PetaMurgatroyd) January 25, 2017
Using a star emoji to censor her nipple, the Jewish mom shared the image with the caption: "Multitasking mum duties. Can't stop the pump."
The professional dancer shares a son, Shai, 2, with her equally as professional dancing husband, Maksim Chmerkovskiy. 
4. Behati Prinsloo 
OK, Victoria's Secret model Behati Prinsloo isn't Jewish, but her husband, Maroon 5 singer Adam Levine — who recently performed at Adam Sandler's daughter's bat mitzvah!! — sure is, thus making her a Jew-ish mom. Taking a break from the glitz and glam of model life, Prinsloo shared a photo of herself gleefully pumping on Instagram last year, captioned "#pumpanddump." Wonder what she was up to?
The adorable mom shares two children with her Jewish husband, Dusty, 2, and Gio, 1. 
5. Jenny Mollen
American Pie star Jason Biggs might be "the Jewiest looking non-Jew" — as he describes himself — but his wife, Jenny Mollen, is a Jewish mama through and through. The New York Times-best selling author shared a sultry photo of herself in an airplane bathroom wearing her breast pump. Like Peta Murgatroyd, she opted for a star emoji to cover her nipple. "Remember that Kelis song, 'My milkshake brings all the boys to the lavatory?'" she captioned the Instagram photo. 
We recently wrote about Mollen's big birthday trip to Israel where she was bat mitzvahed at the Kotel. She shares two children with Biggs — who documented the Israel trip on Instagram, #husbandgoals — Sig, 5, and Lazlo, 1. 
6. Chelsea Peretti
Comedian and Jewish mom Chelsea Peretti didn't actually share a photo of herself pumping, but that's not what matters. What's important is that she gave her 1.4 million followers a backstage pass to the Oscars through the lens of a new mom.
Peretti, 41, brought the essential supplies to pump for her newborn son Beaumont, now 2, to the 2018 Academy Awards. Her husband, Jordan Peele, won an Oscar that year writing the Get Out screenplay. Mazel tov! "OO OSCARS PUMPING COMPARTMENT COME THRUUUUUUUUUUU," Peretti captioned a photo of her backpack and awards dress. 
The Brooklyn 99 star shared a follow up photo of her pump next to plates of food in someone's trailer. "It will be my great honor to pump tonight at the Oscars," Peretti wrote. "I hope breastmilk really is beneficial to the bb ………….I do it all for that lil angel." Aw!
7. Amy Schumer
New to the Jewish mom club, comedian Amy Schumer shared a photo of herself on Instagram pumping, sans a star emoji to cover her nipples. Given her total transparency, it's honestly not surprising. 
"Guys what are we doing tonight? #Schumerpump #OOTD," Schumer captioned the image. 
The I Feel Pretty star, 38, recently gave birth to her first son, Gene Attel Fischer, who she shares with husband Chris Fischer. 
We love how these moms are breaking the breast pumping stigma!
Images via Mike Marsland/WireImage; Noam Galai/Stringer; Rachel Lung/Contributor; Cindy Ord/Stringer