Hanukkah is coming up on December 18 this year, and there are so many great Hanukkah pajamas (and sweaters!) out there. Kveller has teamed up with a new player in the Hanukkah pajama game to get you a special discount.
Yael Buechler of Midrash Manicures, who released the first Passover pajamas and Shabbat pajamas (at least that we know of!) this year, has recently launched her first set of Hanukkah pajamas, with a very haimish nostalgic design.
"While cleaning out my closet over Passover," Buechler explains, "I uncovered a treasure-trove from my childhood that included my old spin art set, Walkman, cassette tapes and my prized sticker collection (color-changing, puffy, scratch & sniff, and even some unused Lisa Franks!). Ever since, I knew I wanted to bring the '90s into something Jewish that my kids would be excited to wear."
Buechler decided to use a splatter paint design for the pajamas, a motif that, as many millennial readers might know, was super popular in the '80s and '90s (who else has got a trove of splatter paint crafts hiding somewhere in their parents' attic??).
The design is made up of yellows, pinks and blues, dreidels, Stars of David and menorahs. The pajamas are made out of 100% cotton — which means they're soft and great for sensitive skin — and come in sizes 2T to adult XL. My 4-year-old has given it his personal seal of approval and I can confirm that these pajamas really pass the washing machine test.
Buechler recruited her family for fun promotional photoshoots for the pajamas — and even taught her son how to rewind a walkman! Check out these adorable nostalgic ads: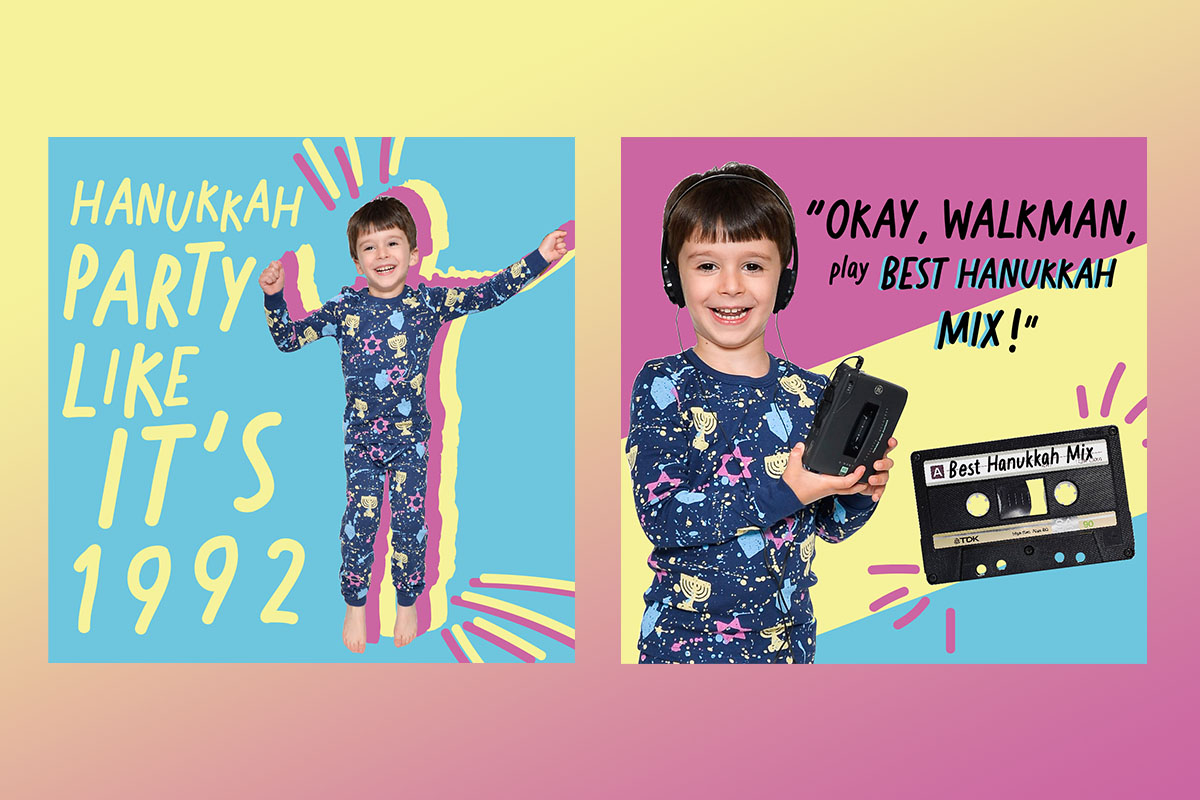 You can get these very groovy pajamas here — use code Kveller20 for 20% off, and you'll also get a special Kveller-branded postcard featuring the Hanukkah blessings (and yes, if you use that code, you will not only get a discount, but you'll be helping support Kveller!). These jammies are perfect for your holiday festivities, especially a cozy Hanukkah family movie night — maybe a '90s classic like "Home Alone" or, better yet, the "Rugrats" Hanukkah special?
Happy Hanukkah!