Cake is great and all, but in my family, the way to our hearts is through bagels.  And while once-trendy cake pops can now be found everywhere, I think it's high time for bagels to get in on the food-on-a-stick action.
In my opinion, bagels are great in any form, and they have so many possibilities when it comes to livening them up. After all, there are endless combinations of cream cheese and toppings — some of my family's favorites include cream cheese and strawberry preserves with sliced bananas; butter with apricot jam; or chocolate chip cream cheese. Then, of course, there are more creative options, like peanut butter or chocolate hazelnut spread, not to mention frosting for a tasty, dessert-like treat!
With all this versatility, the idea of making bagel pops recently popped (pun intended!) into my head after a trip to my local bagelry here in Houston, The New York Deli & Coffee Shop. I was looking at my bag of a bakers' dozen of warm bagels, alongside a variety of cream cheeses, including the most beautiful one: sprinkle! And the idea to "pop-ify" them just came to me.
Luckily, as an avid baker, I keep a supply of lollipop sticks and sprinkles on hand at all times. So I simply sliced the bagels into ½ inch rounds and poked sticks halfway through each slice. Next, I spread one side with frosting — I used strawberry and sprinkle — and topped them all with jimmies or non-pareils. My young son, age 3, gobbled one right up and declared that he loved these "lollipops!" I also made a savory version using scallion cream cheese and fresh rosemary, which I found delicious. Plain cream cheese with everything seasoning would be tasty as well.
Not that kids need to be convinced to eat more bagels, but any time you can make an everyday food just a little more fun and unique, it's a win! Kids could easily put these together with some help slicing and inserting the sticks. Children love to decorate cookies and cupcakes, so why not bagel pops? These handheld treats are perfect to serve as a snack or for family brunch. And, once we have gatherings again, they would make quite the party treat or a fun, edible centerpiece.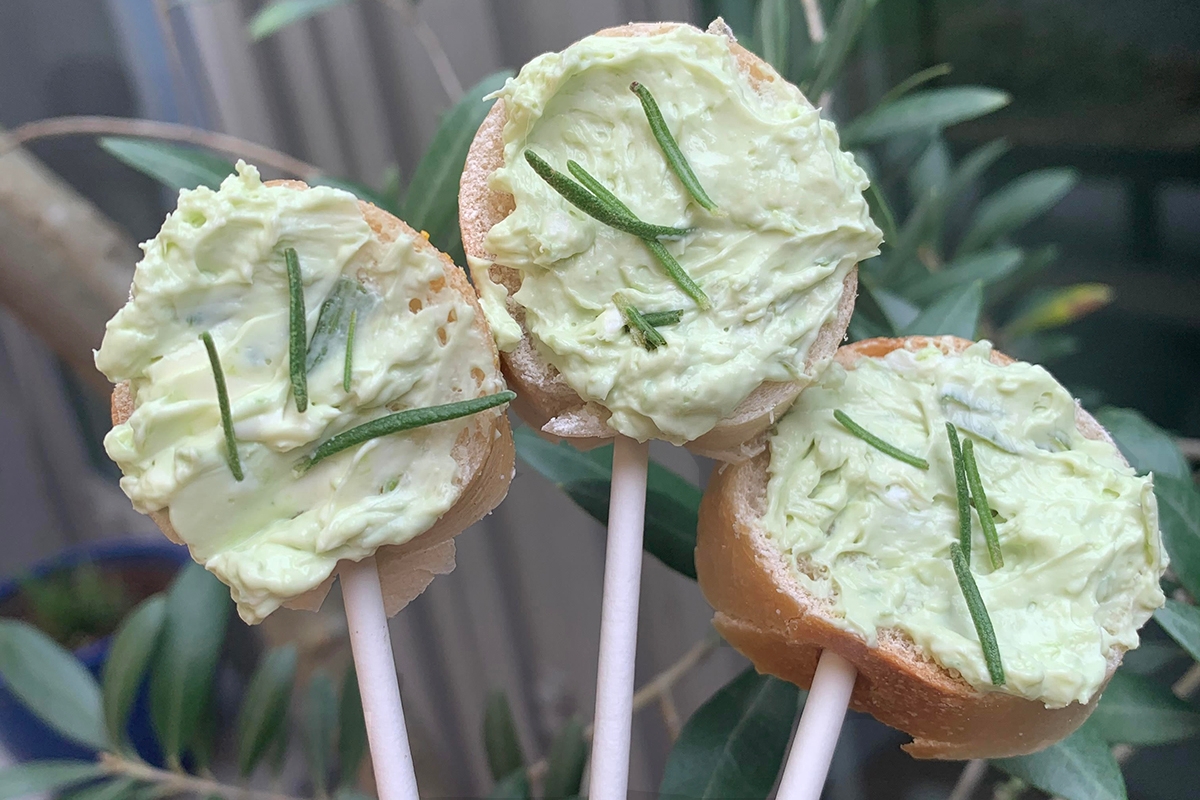 Bagel Pops Recipe
Ingredients:
Bagels
Spreads: cream cheese, frosting, peanut butter, chocolate spread
Toppings: sprinkles, chocolate chips, chopped nuts or dried fruit, chopped herbs or scallions, everything seasoning, capers, little pieces of lox
Lollipop sticks or similar
Directions:
Slice the bagels into ½ inch slices. Poke a lollipop stick, skewer, toothpick or chopstick halfway into each slice, from the outside of the circle in. Top with a little cream cheese or spread of your choice. Sprinkle with your favorite complimentary toppings. Serve on a plate or tray, or poke into a piece of styrofoam or cake pop display.
Images by Rachel Teichman