As you probably know, our favorite show, The Marvelous Mrs. Maisel, does not shy away from Jewish scenes. The Amazon series has spotlighted Yom Kippur, the Mi Sheberach prayer,  Lecha Dodi, and so much more.
This season, however, may feature the Jewiest Maisel moment yet: a bris! Yep, this highly bingeable, retro show goes all-in on the topic of ritual circumcision. (If you'd like more details about this rite-of-passage, please see Kveller's definitive guide to a bris.)
Caution: Minor spoilers ahead.
So, how did we get here? Well, in the seventh episode of the third season, Noah (Midge's brother) and his wife, Astrid, have welcomed their first child, a son. Naturally, they have a bris for him. Noah is not present — it's implied he's been called away on CIA business — but the rest of the mishpacha is there to represent.
Let's get into the best parts of the scene:
1. Moishe Maisel
The bris is hosted at Moishe and Shirley Maisel's new house in Queens (where Midge's parents, Abe and Rose, are also living), and the scene opens with Moishe eating some of the food that's been set out.
Shirley admonishes him: "Bris first, food after! I don't want you upsetting the rabbi."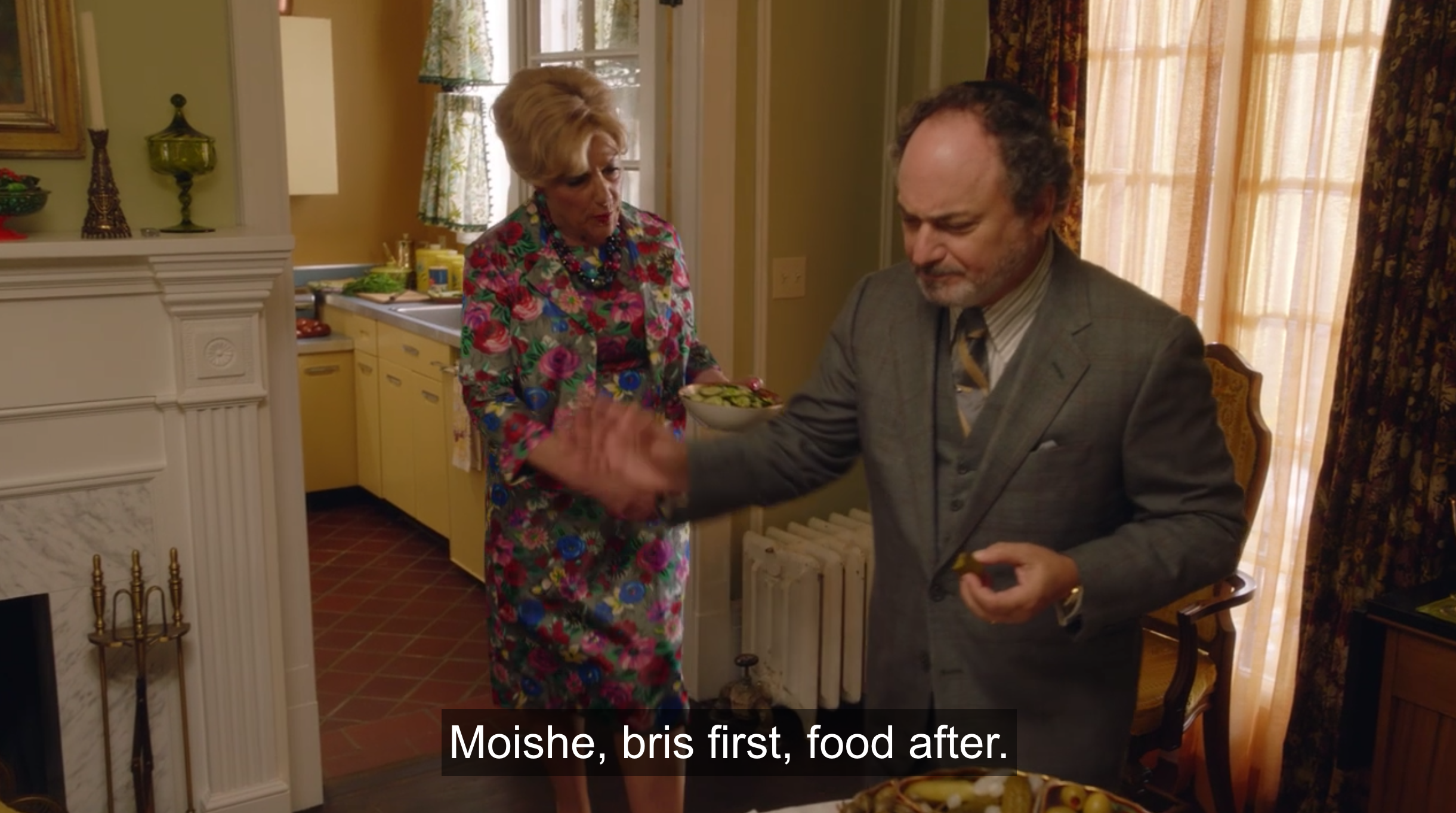 He replies, "The rabbi's happy enough I'm wearing pants. I'm wearing pants, Rabbi!"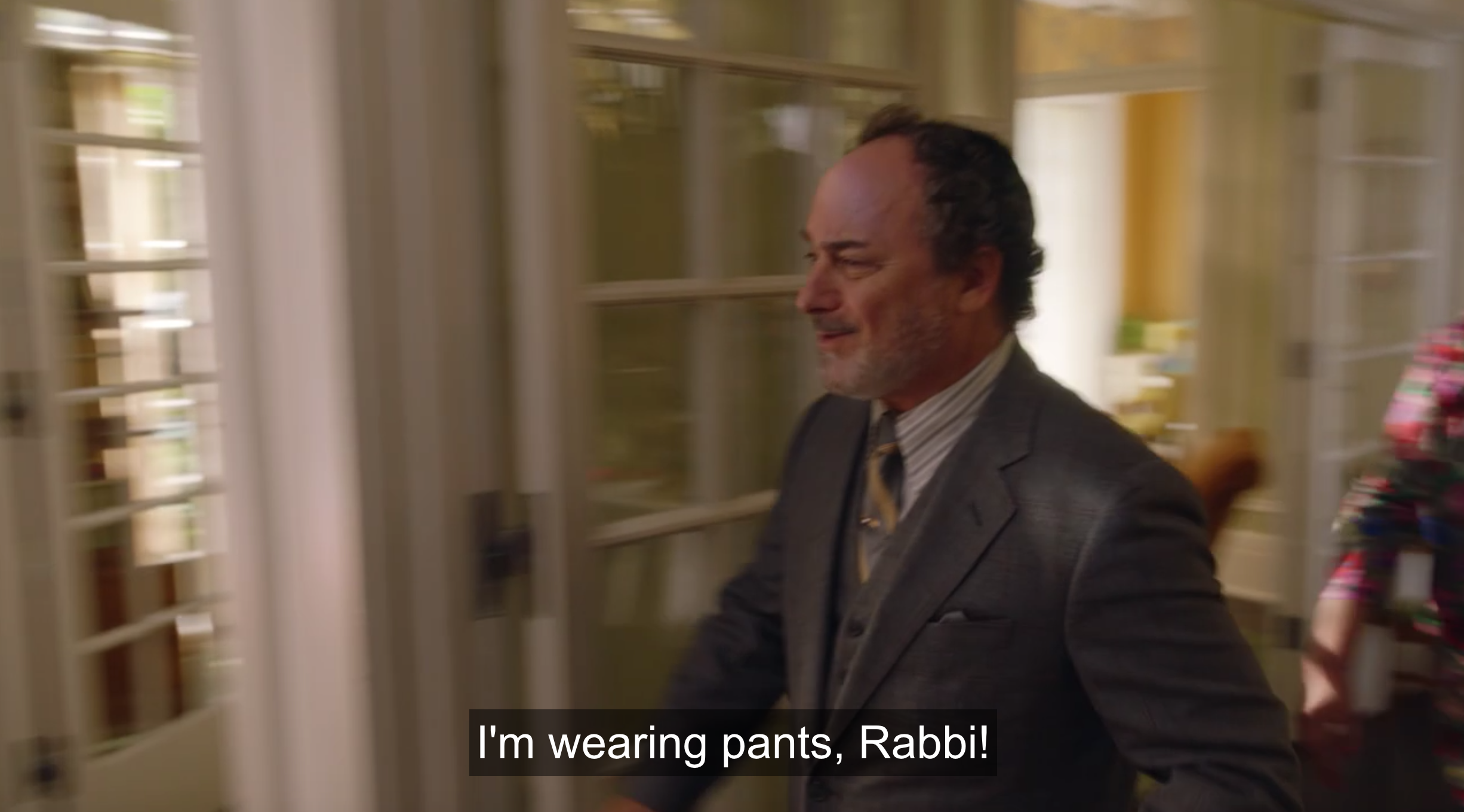 (Throughout the season, it's been a running gag that Moishe does not wear pants around the house, much to the chagrin of Abe and Rose, who are temporarily living with the Maisels.)
2. The Tallit
The visuals of the Jewish men, wearing tallit and kippot, just look right: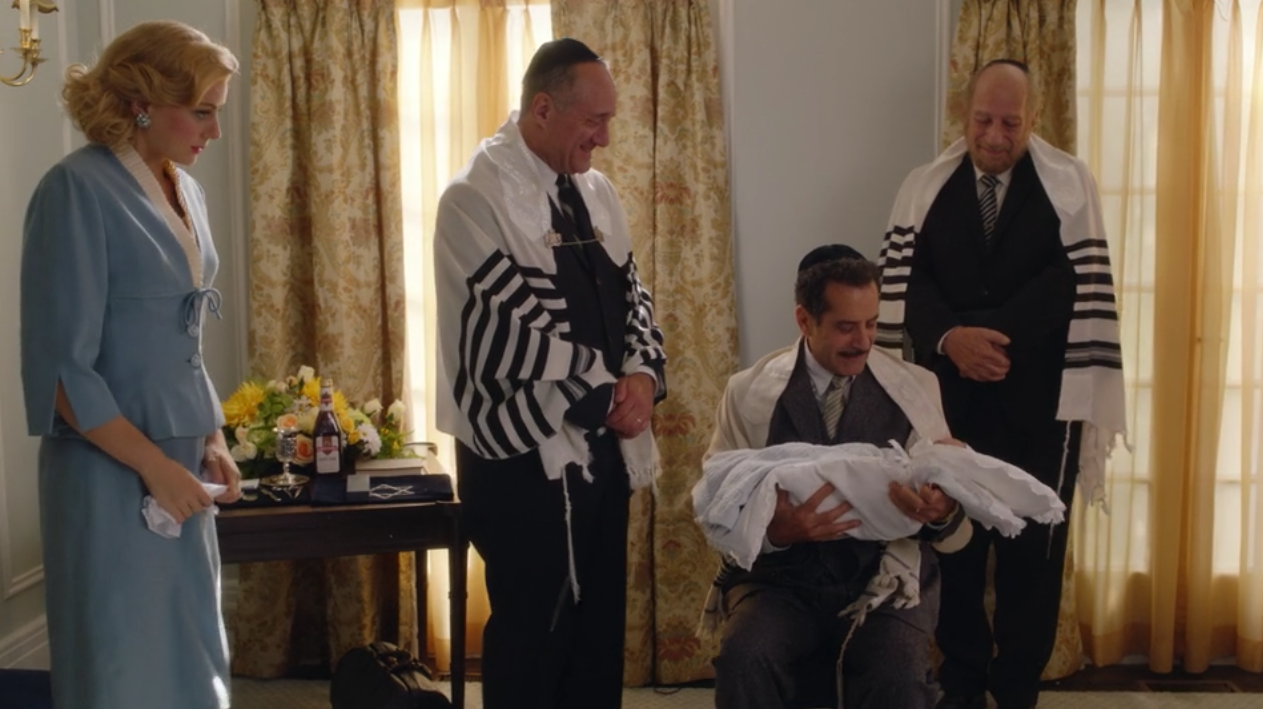 Fun fact: the actor who plays Rabbi Krinsky, Bern Cohen — you may remember him from season one — has played rabbis in 12 other projects, including the Katherine Heigl romcom 27 Dresses. Adam Grupper, the actor who plays mohel David Rosenberg, has also played a rabbi, but only in three projects (notably Ugly Betty in 2009)!
3. Needing a minyan
A minyan is at least a group of 10 adult Jews needed to recite certain public prayers. A minyan would be necessary for a brit milah, the bris ceremony.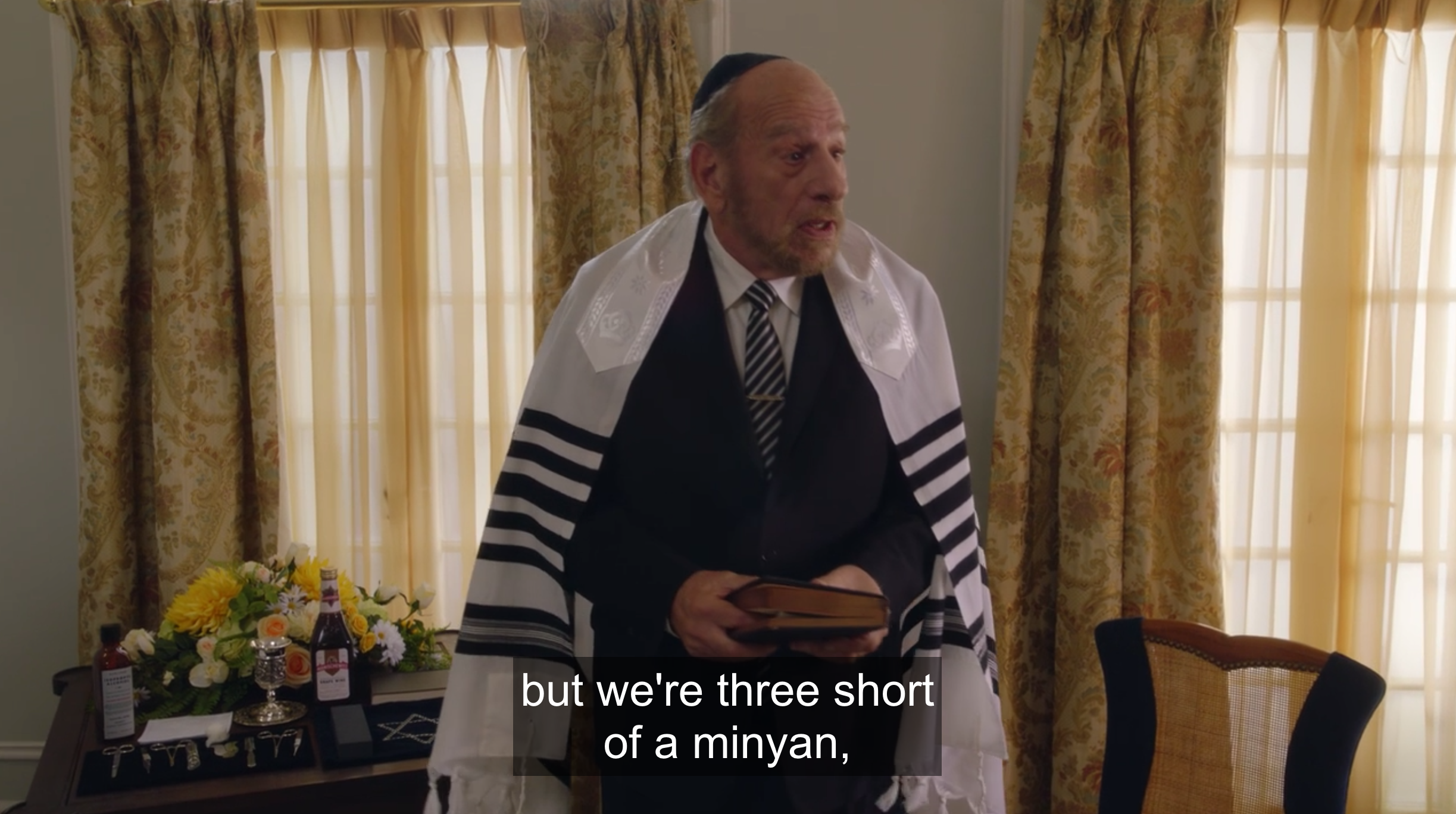 When Rabbi Krinsy says we're three short of a minyan, Joel replies, "We'll round up some Jews for you, Rabbi."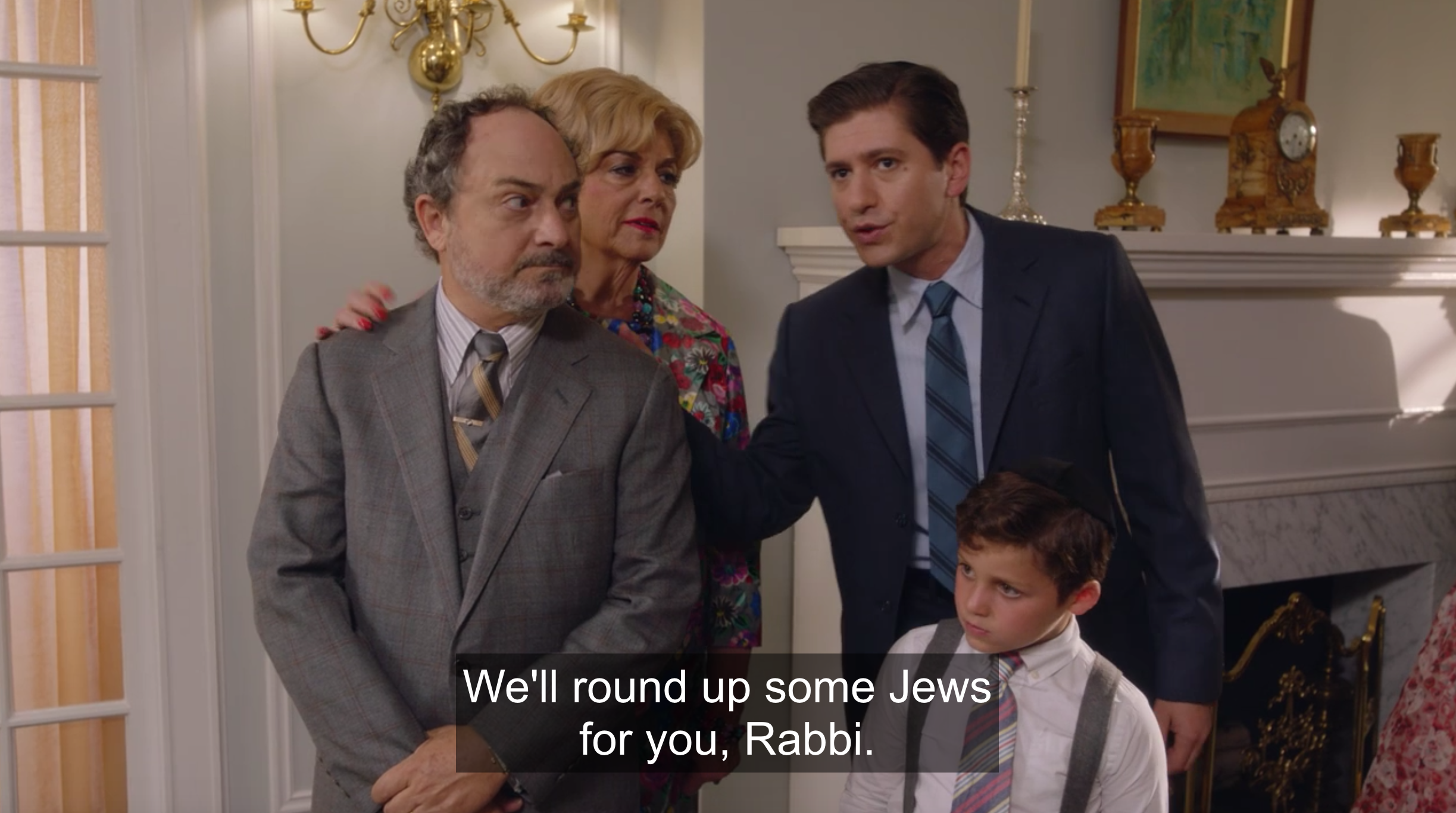 Moishe replies: "Don't say, 'Round up Jews."
Joel immediately concedes, "I know. It sounded wrong."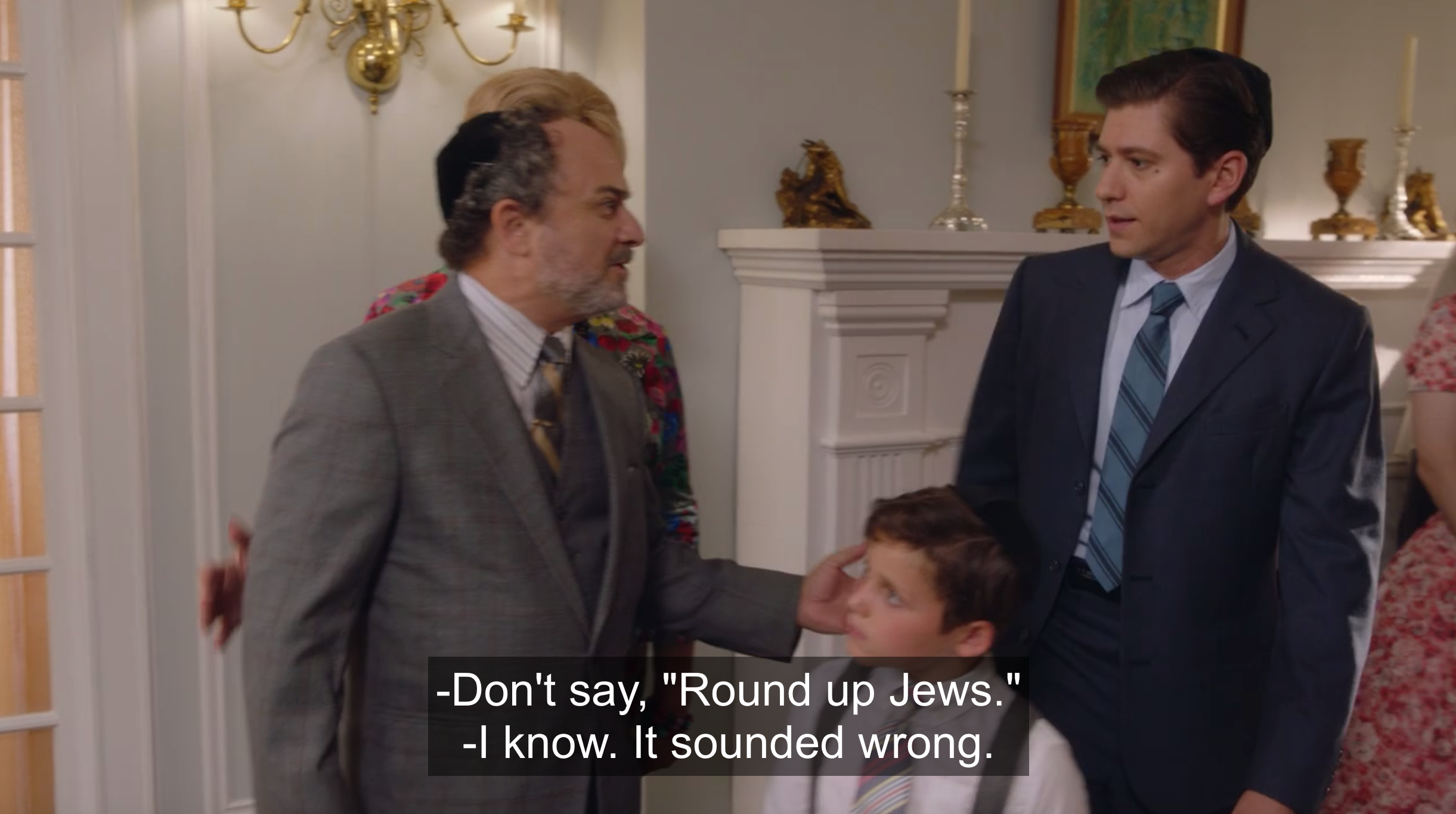 (Truly one of the best Jewish jokes of the season.)
Joel and Moishe go looking for Jewish men to join the minyan, and a few minutes later, walk back in, and declare, "OK! We got a minyan!"
4. Circumcision
As Joel and Moishe go "round up Jews," Astrid starts explaining to her non-Jewish friends the details of a bris.
Astrid: "There's nothing to be nervous about. Almost all boys are circumcised. I mean, you are, aren't you, Cousin Nicholas?"
Nicholas: "Uh, sure."
Astrid: "Well, I know. You showed me a lot."
Nicholas: "I don't — don't think it was a lot."
Astrid: "Oh, it was."
Pause: This isn't very funny at all, as it implies sexual harassment. However, we're including it because Astrid does hint at something else: circumcision is totally normal!
5. Mohels
Astrid continues in her explanation of the ritual: "Anyhow, the only difference is, this just isn't in a hospital, so the instruments aren't necessarily sterile, and the doctor is a man called a 'mohel,' who has no medical training, nope. But it's all right because they give the baby wine, so it's drunk."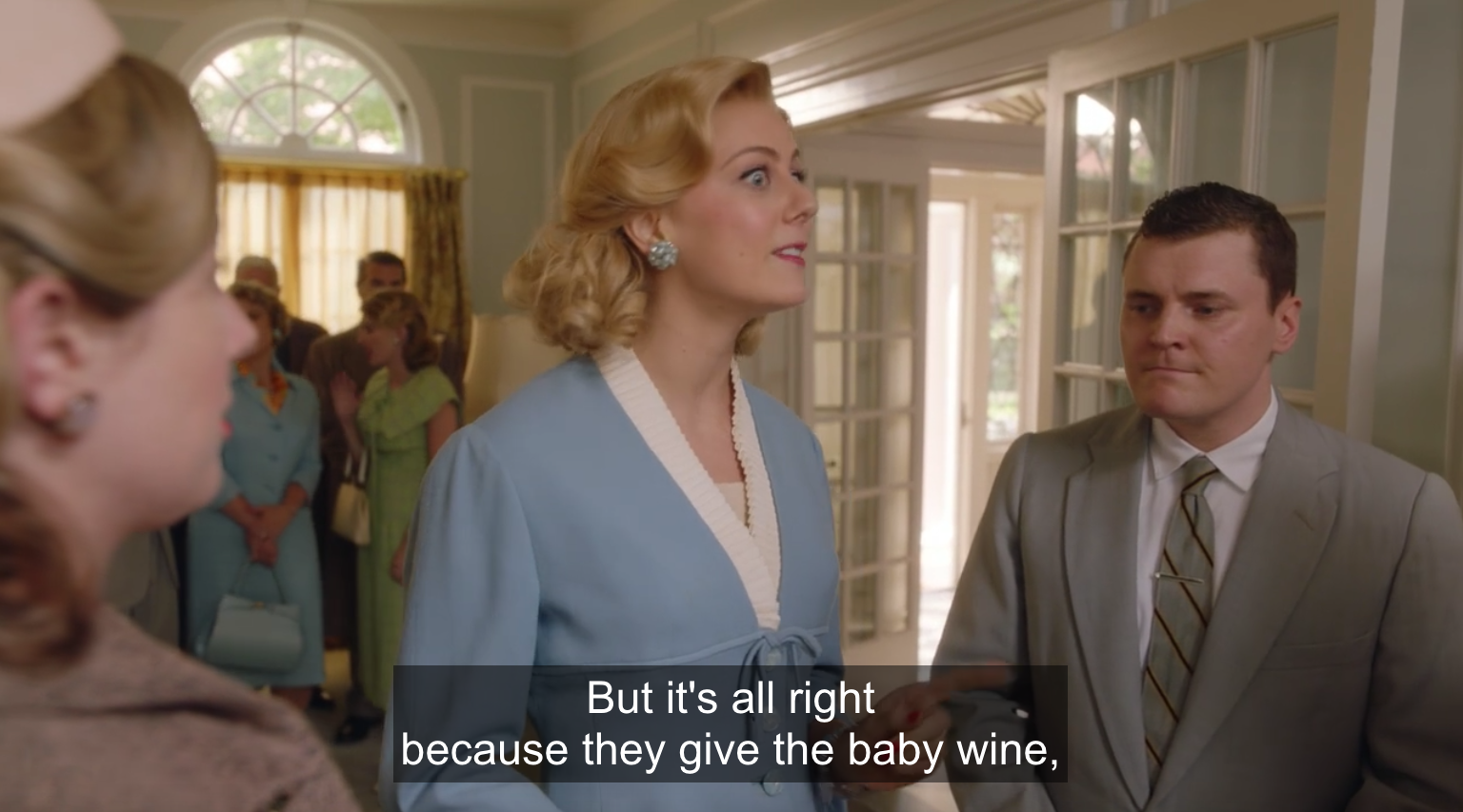 (Quick fact check: Most mohels do used sterilized instruments, so it's perfectly safe.)
And then, we meet the mohel, David Rosenbaum, who proceeds to make some mohel jokes. (Mohel humor: It's a thing! Another fun fact? Seth Rogen's first job was writing jokes for a mohel.)
"I'm hoping this goes better than my last one," the mohel says. "There's nothing funny about a mohel with hiccups. There was another time I had slept badly the night before, and I admit, I was a little snippy."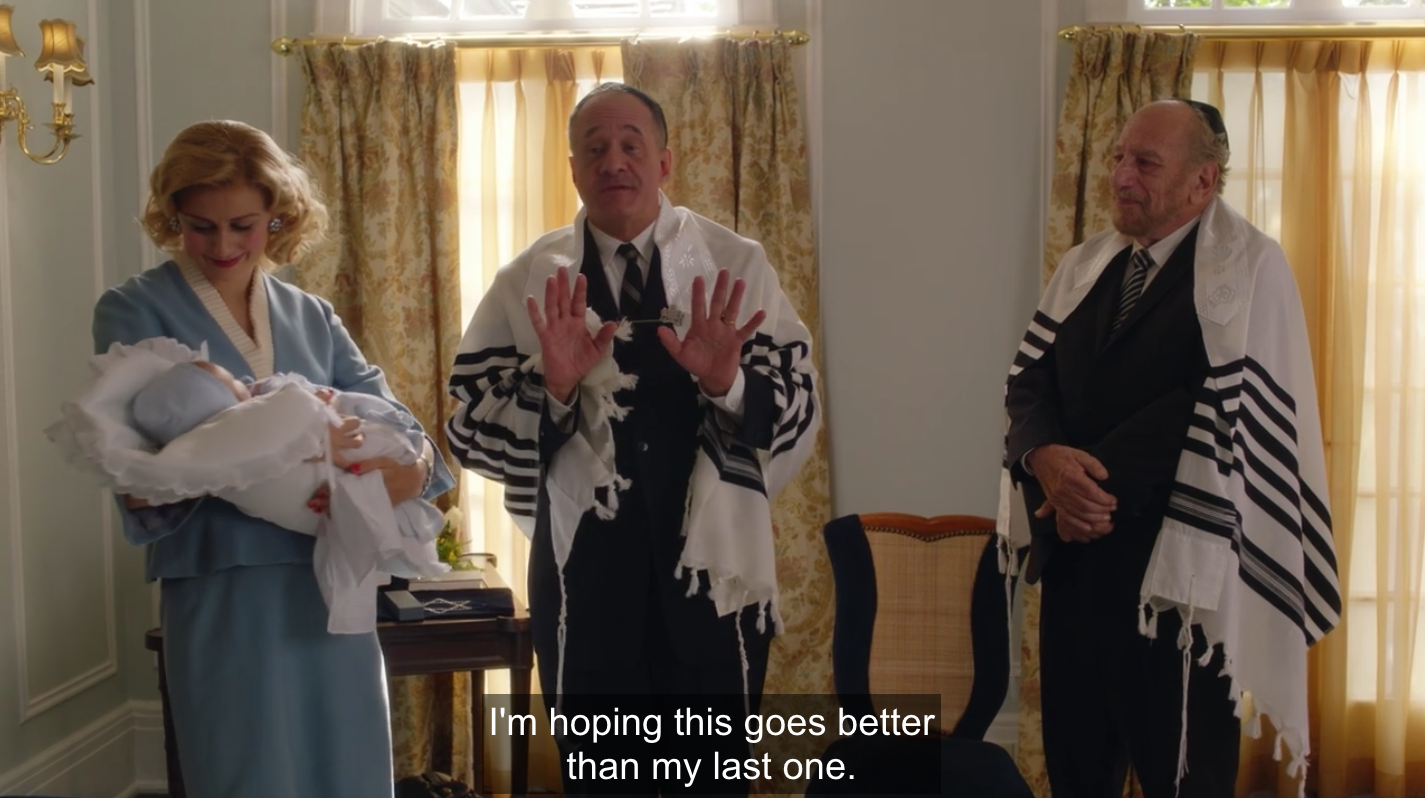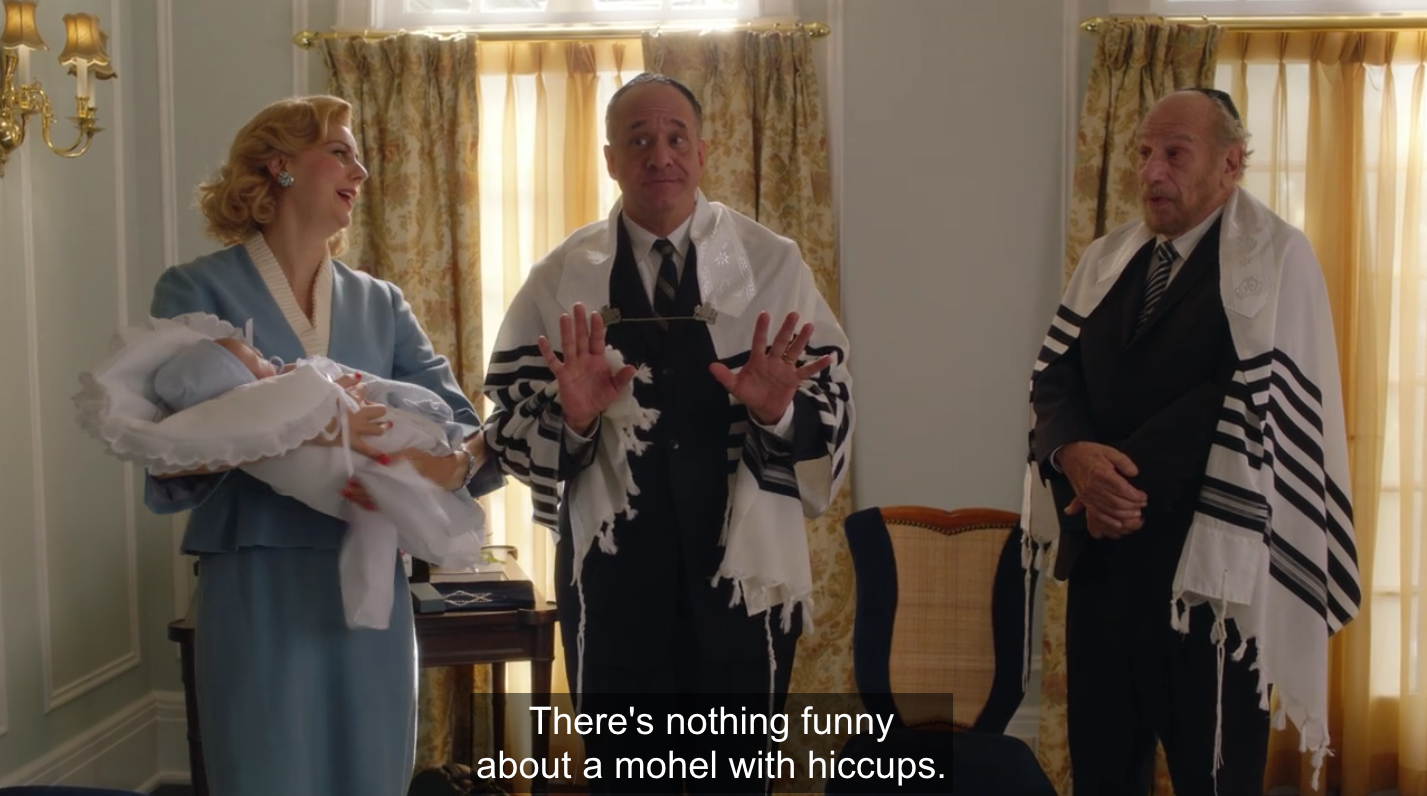 Shirley — the best — says in an aside to Moishe and Joel: "We've had funnier mohels, I can tell you that."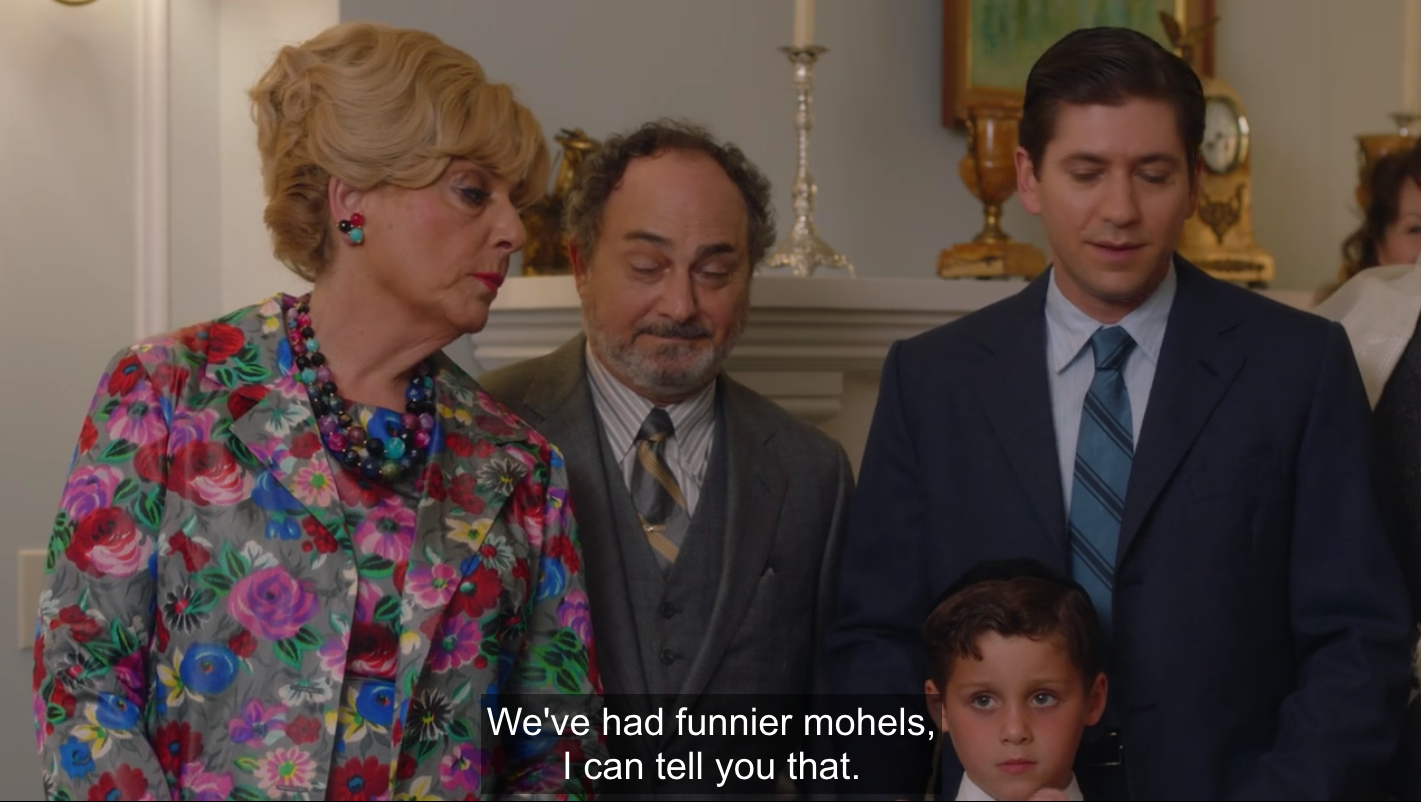 If this isn't the most realistic line of Jewish dialogue on television in 2019, I don't know what is!!
6. Abe as the sandek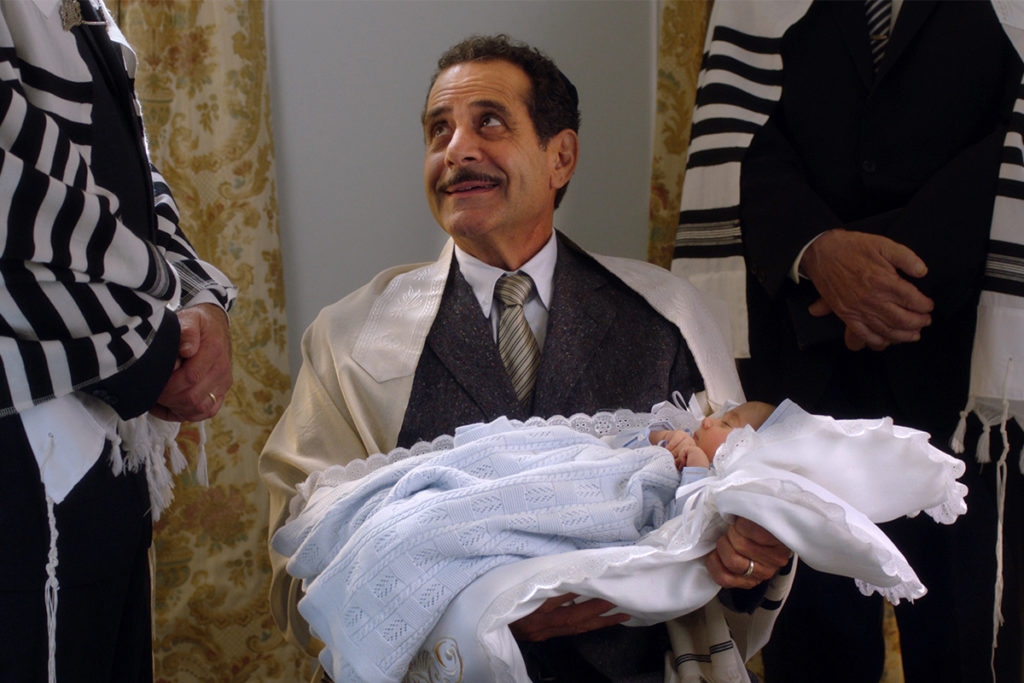 The sandek is the person who holds the baby during the ceremony — typically one of the baby's grandfathers, so in this case, it makes perfect sense for Abe to be holding his grandson. While Maisel doesn't use the term "sandek," it still shows they know how these things go down.
The camera cuts away (ha) before the actual circumcision, but it is proceeding as normal.
7. The baby name
In Ashkenazi Jewish tradition, it is customary to name a baby after someone who has passed away. In Sephardi Jewish tradition, babies are named after a living or deceased relative. (Read alllll about Jewish baby names here.)
Astrid's name for her son? Chaim Christian. Yes, really. After Noah's grandfather, Chaim, and her grandfather, Christian. (Astrid, as Maisel likes to remind us, converted to Judaism. And while they get so much right about Judaism, they get converts totally wrong.)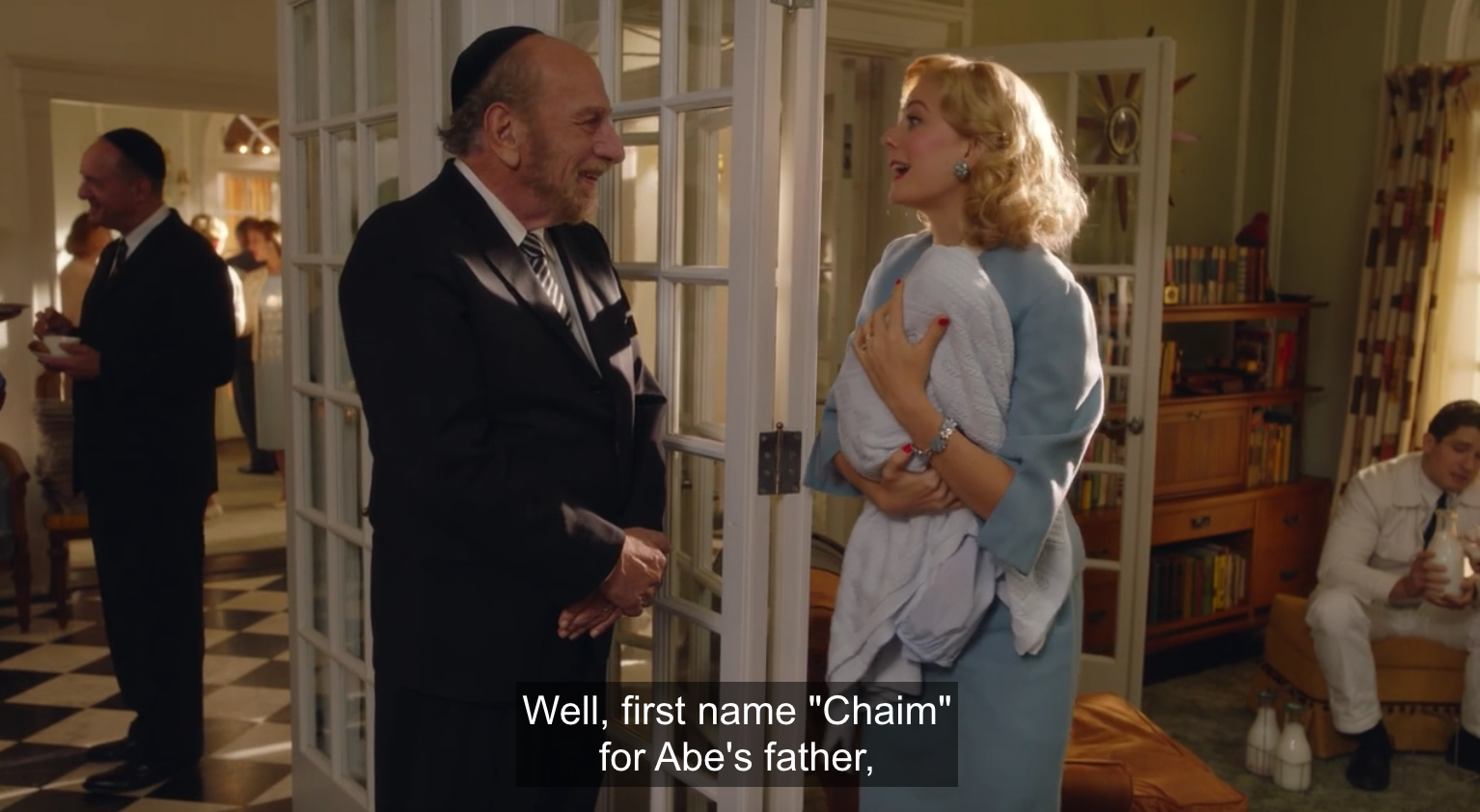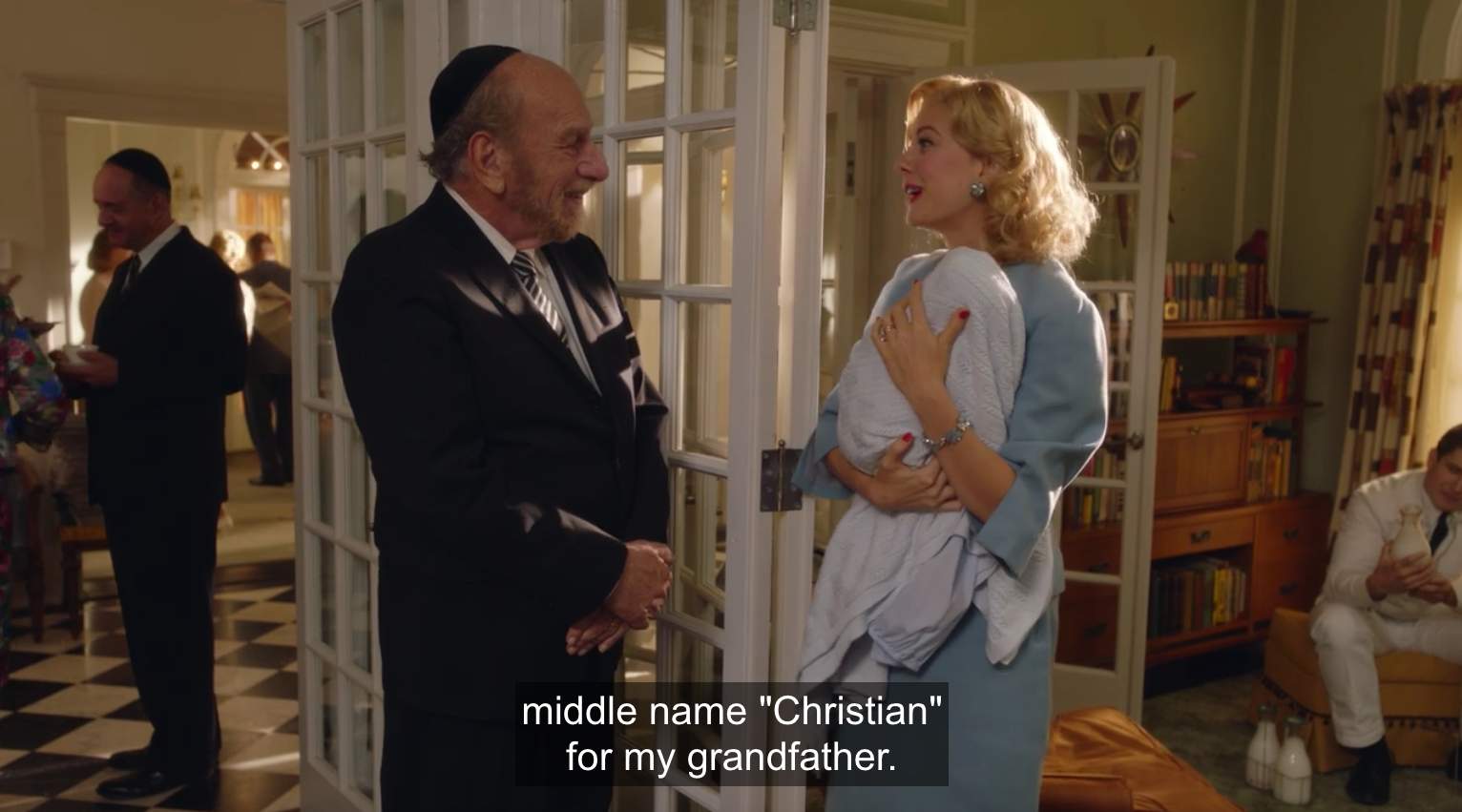 The rabbi has a very diplomatic reply: "It's unusual — the combination."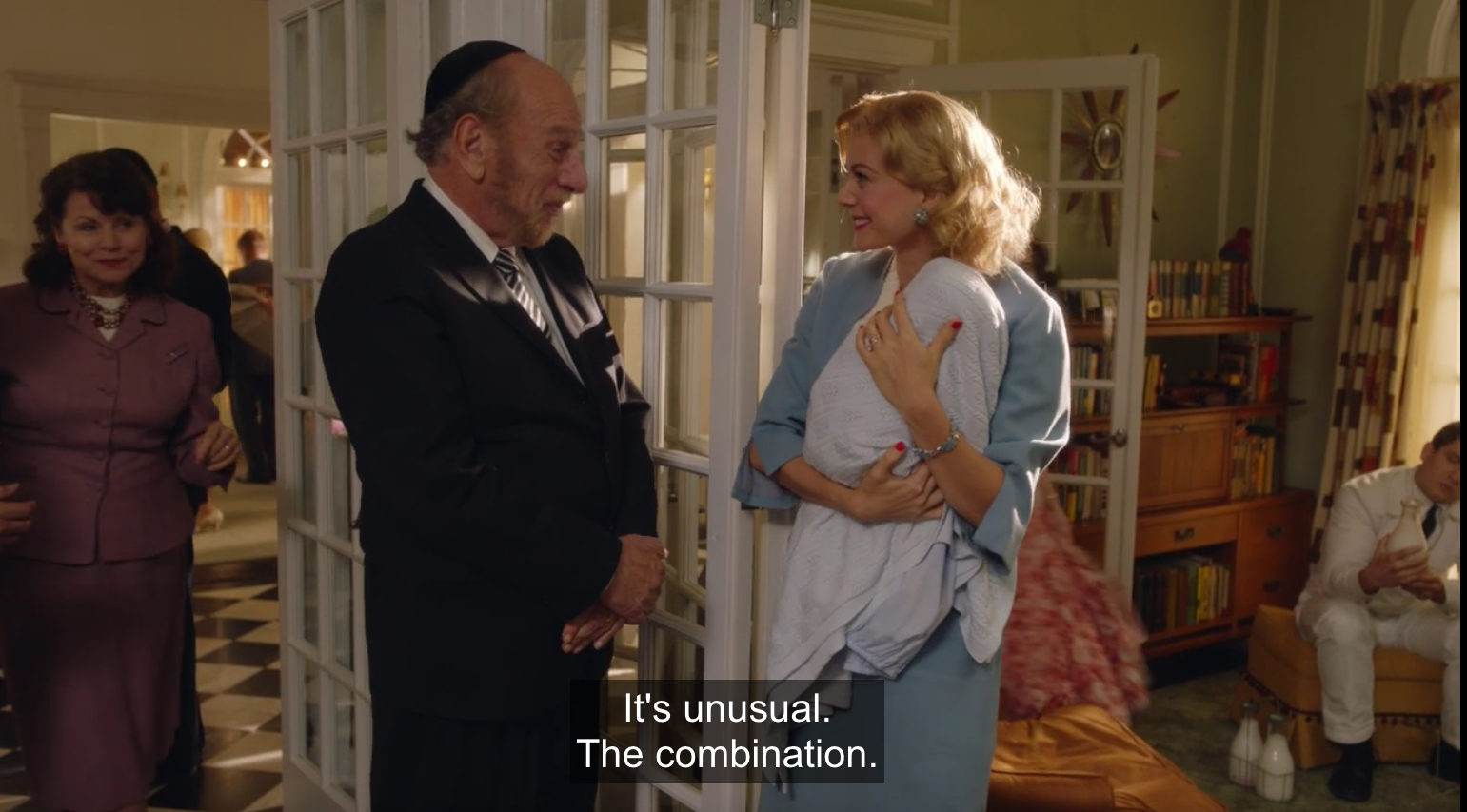 Later, Abe goes, "She really named the child Chaim Christian?"
Midge replies, "She really did."
Mazel tov, Maisel, on a fantastic, realistic bris scene!
If you want to read more: We chatted with the comedian who works as the show's unofficial Jewish fact-checker, and the real rabbi who played a rabbi during the Tisha B'Av scenes in season two!
Oh and last — but in no way, shape, or form the least — we had a sit down with Susie Myerson herself, Alex Borstein, who likened Maisel to Jewish "comfort food." Because, obviously.
All images screenshots via Amazon Prime.