I hardly thought about my bat mitzvah before the (mediocre) day, let alone after the fact. As a Hebrew day school student, my Judaism didn't feel defined by a single awkward event (it was defined by my Torah teacher frequently using the word "smite"). But as my nieces are each bat mitzvahed, I, a proud aunt, am moved by the occasion. Seeing them on the bimah, it seems meaningful, suddenly, to have had a bat mitzvah, too. Sure, we didn't have backup dancers or pyrotechnics in my day, but we were still 12, and kids were still kids, and the Torah was still the Torah, and I was once in their party shoes (dyed the same shade as my dress).
So put on your baby tee, lace up your Docs and, in the words of Kriss Kross, "jump, jump" back to 1992 with me, when Buffy slayed vampires on the big screen, we taped "Smells Like Teen Spirit" when it came on the radio, Princess Diana left Charles, Bill Clinton took office, and I had a bat mitzvah.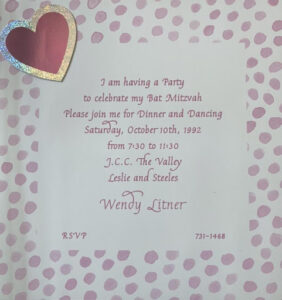 The Dress: A ruffle, bow and sequin monstrosity in a color best described as Pepto Bismol Pink (designer unknown). 
"Can't you see it's fabulous!?" my mother says, as I come out of the changing room. 
I roll my eyes to say I am a mature, almost Jewish woman now, who should get to make her own decisions about what to wear and who to be and… I think I want to get into grunge? This dress is the opposite of everything I want for myself. 
I wear the dress. 
I don't feel "hot, hot, hot."
The Venue: The same place we celebrated my 6-year-old arts and crafts birthday party: The rec room of a very non-exclusive tennis club at which we're not even members. My cousin celebrated her bat mitzvah there less than a year before, but in a much better dress. You know it's my bat mitzvah, though, because my brother's printed up a sign reading "Wendy's Bat Mitzvah" on a ream of computer paper that is taped over the dance floor.
The Food: Overcooked kosher chicken fingers and fries, served buffet style.
The DJ: Todd Silverman. Obviously. Anyone who was anyone in the 1991/1992 bar and bat mitzvah circuit in the suburbs of Toronto had Todd Silverman DJ their party. We moved the date from May (my birthday month) to October (when Todd had a free Saturday night) to celebrate. Worth it. 
The Vibe: 90s bat mitzvah. The world may have been on the brink of the internet, but we're still doing the "Holiday Rap," rolling and clapping our way to teenagehood. No one is smoking outside. At least I don't think anyone is smoking outside? Maybe they are and no one invited me because they know I want to run for office? Or because I straighten my bangs when I have curly hair?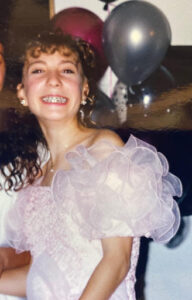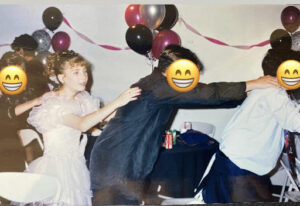 Wait. Do you hear that? 
Oh my God, it's "November Rain!" 
This song has meaning. I sway with Brandon S, arms outstretched on shoulders and hips. Nothing can spoil this magical moment of eye contactless silence between us. My parents try to take a picture of us, and I want to die. It's a bat mitzvah and, even at 12, I know bat mitzvahs are not a cool party. And this is not a cool dress. I'm mortified. This is mortifying. 
But I think I love Brandon S? Except the song ends so I don't love him anymore. I don't know who I like or love or where I fit in. Maybe I love Michael? Michael ties his tie around his head like a bandana so I obviously don't love him anymore. 
Who do you think I should like? Are you sure I look okay? Do I have pink lipstick on my teeth? 
One of the pretty girls arrives in a tight black dress and I am certain I cannot become a Jewish woman if I'm not wearing a black dress. Remind me to tell my mom I hate her. And my shoes. 
Todd slows it down again with "I Will Always Love You." Classic. My camp friend Stephen W asks me to dance, and I wish I could but Jacob juuuuust asked me to dance so I need to sway with him. Stephen joins a group of boys by the dance floor, and I watch him over Josh's shoulder. I admire his silk green shirt tucked into his suit pants. It's the color of his eyes. He has a comfort in his own skin that I wish I had. He moves about so easily, as if being 12 isn't the most embarrassing thing in the world. 
I don't get to dance with Stephen W at my bat mitzvah, but that's OK because I dance with him the following year at his bar mitzvah. And then I dance with him again, a decade later at our wedding, as Billy Joel sings "I Love You Just The Way You Are," because I always swoon when Mark Darcy says this to Bridget.
"Dance with me," I say to him as we make dinner. He wipes his hands on a dishcloth as I put on Guns N' Roses.
"But darlin' when I hold you
Don't you know I feel the same?"
Seeing us dancing, our twin boys join us swaying beside us with their arms around each other. Nothing can spoil this magical moment. 
"Did I look terrible at my bat mitzvah?" I ask him, my head on his shoulder. "Was my dress embarrassing?" 
"What are you talking about?" he says. "Wasn't it just a black dress?"
How lucky to be married to someone who remembers me the way I want to remember myself. 
I love Stephen W. Remind me to tell him after dinner.