"The whole world loves you, Shoshana," my dear rabbi, Allan Finkel, told me recently. It was a super sweet thing for him to say, and I am lucky to be told often how much I am loved by many people.
I guess you could say I am an extrovert. Some people collect books, or shoes, or DVDs, or fine wines. I am a collector of people. I make friends with almost everyone I meet. I have been this way since I was old enough to speak. I have friends of all ages, backgrounds, religions, political beliefs, and walks of life. I have friends I grew up with. Friends I worked with. Friends I met through being chronically ill. Friends from college. Graduate school friends. Friends from hospital stays. Friends from volunteering. Friends from reading pieces I have written. Friends from my synagogue. Friends from the local media. I think you get the picture.
I also have a huge family. That's because in 2017, I connected with my birth family and, in the process, I discovered my birth mother, nine half-sisters, over a dozen aunts and uncles and more than 100 cousins. This is in addition to my family that I grew up with — two wonderful parents who were there since I was a baby, an older sister who is also adopted, five uncles, and several cousins. Plus my in-laws and a sweet sister-in-law are in the mix, too.
I live in a long-term care facility, due to some severe chronic health conditions that require 24/7 medical care. Guess what? Everyone that looks after me here are like friends and family to me, too.
So people like me, and I like people. So what's my point?
Well, the point is that Covid-19 is throwing a serious wrench in my social life. While this is the case for most people, what used to be a packed roster of visits and social events has devolved into me spending almost all my time alone in a (very, very) small room — one I am not allowed to leave. On March 17, the government made the decision to suspend all visits at health care facilities in my province, in order to protect patients from the spread of Covid-19. So I went from visitors anytime to only being able to see the health care providers who were tasked with looking after me.
The first two weeks were hard. I was not used to being alone. My husband used to spend evenings and weekends with me, and I had a ton of visitors during the weekdays. So it was hard finding myself with so much alone time. I get my energy off being around other people, so being alone triggered depression for me. I cried a lot. I was crusty.
Yes, there is texting, phone calls, messenger, FaceTime, and Zoom — but, as we all know by now, it is not the same as being in the same room as someone. As being able to hug someone. As sharing a laugh over a cup of coffee.
But after a month something changed: I got crafty. Like, literally.
I was lonely. I was also hella bored. I decided I was going to do something about it. So I started dedicating Thursday and Saturday evenings to crafting projects (which I documented on social media and hashtagged it #craftingawaytheboredom). Thursdays are dedicated to snail mail, which includes handmade cards and postcards. I also invested in custom stamps that have a cute picture of me and my husband, as well as custom return address labels that feature a funny Bitmoji of yours truly. I have my "regulars" who get a card, letter, or postcard from me every week. And then I have my rotating cast of characters who get mail from me every few weeks or months.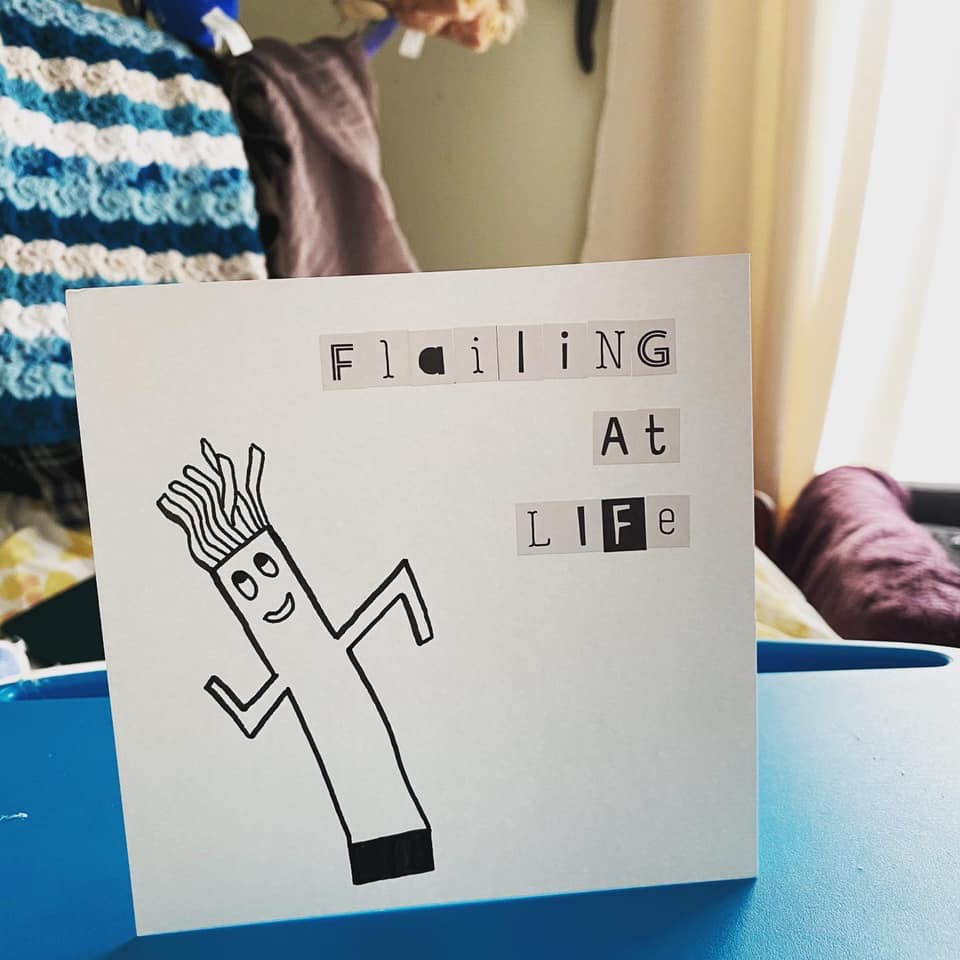 The response has been incredible. After all, people love getting mail — especially something that's not a bill. People keep the cards, postcards, and letters. They display them proudly. They post photos on social media. Everyone marvels at the custom stamps and asks me how I did that (Canada Post has an app where you can make custom picture postage for a bit more than you pay for regular stamps; sadly, a similar program in the U.S. ended in June). Some people even return the favor and send me mail back!
But, honestly: I don't send snail mail to solicit mail back. During these uncertain times, when I can't be with the people I love, it is my (Jewish) way of showing chesed (love and kindness). It's one way of showing people that I am thinking about them — and it's also showing the people I love that I am coping with the isolation and doing something productive. It's easy to just fall into a funk or get sucked into binge watching Netflix. But it's so much more satisfying to do something creative for somebody else.
On Saturdays, I tackle a bigger craft project — usually something that requires a craft knife and a glue gun. This, too, is usually something to give away. For Mother's Day, I made wreaths for some of the female patients on my ward. I made a miniature paper greenhouse for my dad (he's a green thumb). I made a dream catcher for my auntie. I made a seaside scenescape in a mason jar for my older sister. I even made paper gerbera daisies for a palliative patient's room because we aren't allowed to have real plants or flowers because of Covid-19. (Don't ask me what the risk of getting Covid-19 from plants and flowers is, because no one here seems to know — it is a mystery like the kosher meat on our supper trays.) I always seem to fall into the trap of underestimating how long a project will take, so often I am up until midnight or later finishing up. But it always feels good to finish something, and it takes my mind off the loneliness as well as the pain and nausea I contend with every day.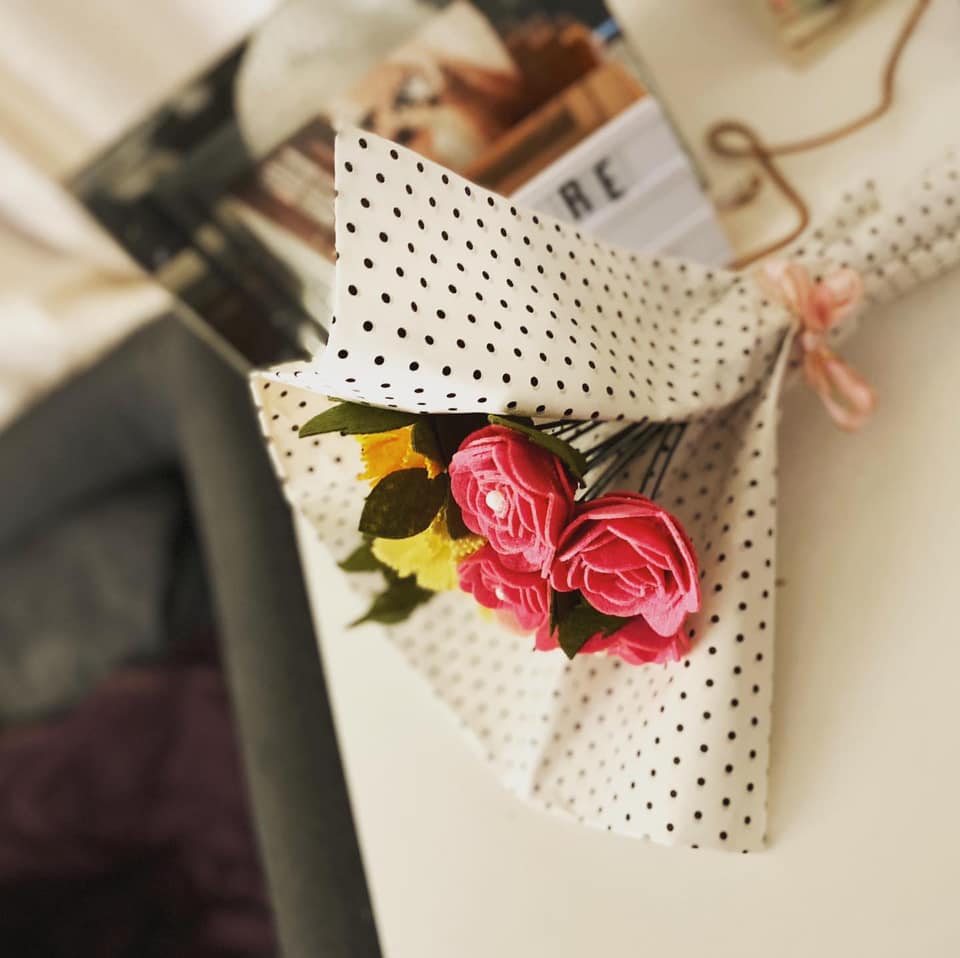 People love the crafts, too. I get requests — so many, in fact, that I am backlogged at the moment. I have a bunch of mobiles to make for friends and cousins who are having babies in the fall. My 11th wedding anniversary is coming up and my husband wants felt succulents, so I know what I will be doing one Saturday with my glue gun. (And yes, I always burn myself. Every time. Without fail. And yes, I did need antibiotics after I cut my finger with the craft knife recently. I will endeavour to practice safe crafting from now on.)
Another way I've been practicing chesed since lockdown: random acts of gifting. I have been the recipient of a lot of gifts and care packages — mostly artbooks, coloring books, and craft supplies. So I have been paying it forward: Every month, I treat a few friends or family members to a book, or a craft or activity kit. I try to choose family and friends who are more isolated or impacted by the pandemic, and I don't tell them they are getting a surprise.
Perhaps not surprisingly, the response to this, too, has been really positive. The gifts are usually $25 or less, so nothing extravagant, but they are always chosen thoughtfully with the individual's tastes in mind. A few people have been so moved that they have cried. Sometimes the timing of the gift is perfect and it comes on a particularly challenging day or week.
Throughout my snail mail project, crafting, and random acts of gifting, I am reminded that the true joy is in giving and not in receiving. By reaching out to my family and friends during this period of profound isolation, I now feel less lonely myself. I've given purpose to a period that otherwise could have easily devolved into a "woe is me" pity party. So, if you're feeling stir crazy or missing your friends and family, show some chesed! Write your zeyde a letter or send your bestie a puzzle — you'll both feel better. As Jews and humans, love and kindness towards one another will help us get through this pandemic.
Images courtesy of Shoshana Forester Smith